May 25 was Africa Day.
So what is the first thing that pops in your mind when you think of Africa?
OK, now what's the second thing?
If you're like most people, you probably have two basic images of Africa. Either you think of something like this: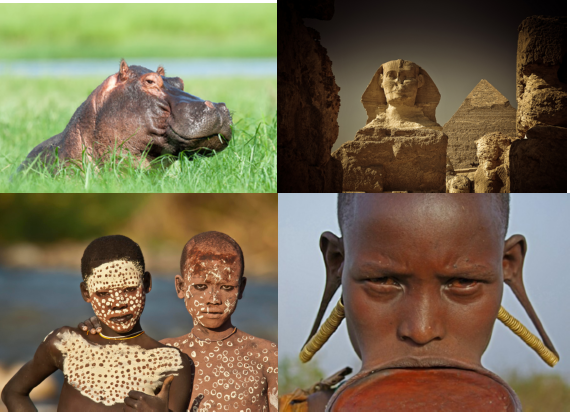 Photo credit clockwise from bottom right: Olivier Darmon, Andy Schepis, Gerry Van der Walt, and Tommaso Nervegna.
That represents "the good" Africa: safaris, colorful tribes, and Egypt's pyramids. It's the stuff we see on National Geographic.
Or perhaps you thought of images like this: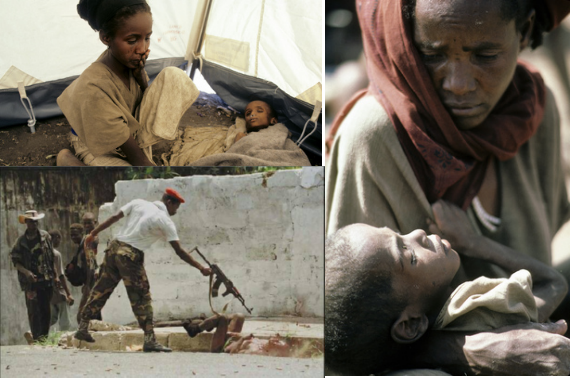 UN Photos by John Isaac.
That's "the bad" Africa: war, famine, poverty, pestilence, and peril. It's the stuff we see on CNN (and The Huffington Post). It's the fabled "Dark Continent."
In short, Africa is either Eden or Hell.
Some of us hold just one of those extreme images in our mind, while most of us hold both. However, few of us spend much time thinking about the immense zone of possibilities that lies in between those two extreme images. That's a pity, because that's where the vast majority of Africa's one billion people live -- in between Eden and Hell. Just like you and me.
The media doesn't cover the mundane. It's not thrilling to report about the hundreds of millions of Africans who did not wake up in a refugee camp, who have never seen a giraffe or lion in their life, and who are eating so much that they're getting fat.
The Unheard African Voices
I'm not talking about the unheard voices of the girls that Boko Haram kidnapped or the refugees in South Sudan.
Although it's a shame that we almost never see long interviews with such troubled Africans to hear their complex thoughts, at least their voices are somewhat captured by the media, since they pass the microphone long enough for the Africans to say, "I'm hungry! Send me aid!"
So they're not completely unheard.
What is unheard is the vast majority of Africans who go about their day without any crisis and who don't live in a mud hut. (See the family on the right, that I stayed with in Senegal.)
When was the last time a TV camera went into a middle-class African home, which has electricity and running water, and asked folks how their lives are? When was the last time a TV show has captured well-dressed Africans (yup, most are meticulously well dressed) and learned about how the dating life is there?
It doesn't happen, because it doesn't sell. It's "uninteresting," TV executives think.
However, Americans would find it quite interesting that most Africans don't live in trees and that they don't have Boko Haram constantly on their butt.
Our extreme images of Africa are not the only thing that is wrong with our view of Earth's hottest continent. We also have a tendency to always focus on the same countries, even though there are 54 African countries.
54 African Countries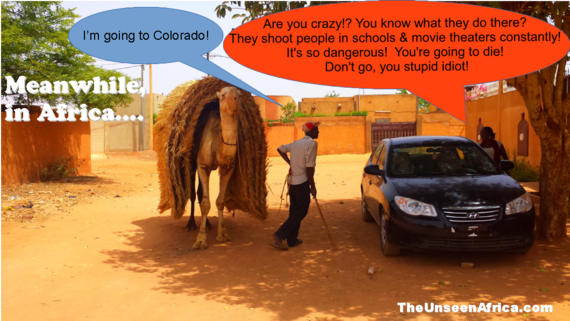 Revealing The Unseen Africa
Clearly, our image of Africa is wrong. Yes, of course, there are trouble spots. Africans have their Detroit and Hurricane Katrina too. And yes, there are some fantastic safaris and pyramids tourists can enjoy, just like our Grand Canyon and Statue of Liberty are worth seeing too. However, just like we don't like it when foreigners have a simplistic view of America, we ought to update our view of Africa.
Here are four things you can do:
As the video explains, I'm going on a four-year journey to all 54 African countries. I've been 17 countries so far (all in West Africa), and I plan to enter into Central Africa next. By the end of 2014, I should be near South Africa. I expect to finish the trip in North Africa in 2017. I don't plan to return to America until then.
Follow the journey, and together we can change Africa's image to one that reflects a reality that is neither Eden nor Hell. It's something that's far more fascinating and complex than either of those two extremes. And it's the real Africa.