Still don't know what to get your loved ones for the holidays? Same here. If you're struggling to find that perfect something that really says, "I love the poo out of you," then I think you've come to the right place. While everyone else is rattling on about the "7 Best Ways to Make Eggnog," or "6 Easy Ways to Suppress Holiday Stress" (lame), I offer you a simple idea that doesn't just say "Merry Christmas, Happy Holidays," but more like "I made this for you, because I think you're special all year round." Plus, eggnog is only cool if you're 12-years-old and stealing it from your parents, or 89 with no real teeth. My solution: grilled cheese. This is not a novel concept, and it's certainly been done before (actually a lot lately), but sometimes the smallest things in life make the biggest impressions (or whatever your last Hallmark card told you).
This isn't so much a recipe as it is a discussion because let's face it, we're not reinventing the wheel over here -- we're making grilled cheese, which is exactly that... melted cheese on toast. We're not going to toss around some ridiculous food jargon like "artisanal" or "organic," because trust me, there's nothing "guilt-free" about this. We're buttering up some toast, melting an unnecessary (and quite frankly unhealthy) amount of cheese, and diving face first into the dairy/carb heavy combos until you're so uncomfortably full that you disgust yourself.

Quick Tip: Don't be shy with the butter, people. Don't be all like, "Oh, I'm going to make a healthy grilled cheese." Seriously? You're eating melted cheese. And bread. There's no "Skinny Girl" version of a grilled cheese, unless you want it to taste like warm chalk and cardboard. Load up on the butter, slap on your favorite stretchy pants, and overindulge. Or don't wear pants. That's certainly fine, too.
Bread: If you don't have time to get fresh baked bread, then I suggest going with Martin's Classic Potato Bread (that stuff Shake Shack burgers are on) because it is definitely the easiest to grill/sear.

Cheese: You should start with the classics -- cheddar, mozzarella, American, etc. -- but get a little crazy and find something like smoked chipotle Gouda to really help catapult you on your journey to Flavor Town.

Spread: A classic mustard will certainly do, but you can also get fancy with a roasted garlic pesto or a fresh fig and apple chutney (classy, I know).

Since you probably don't own a panini press, and quite frankly I don't know why you would unless you're a sandwich aficionado, just grill/sear your creations on a grill pan/sauté pan, and then finish them off in a 425 degree oven until the cheese oozes out like molten lava about to completely engulf and demolish the barriers of crispy bread trying to constrain it.
Jarod Kintz once said: "When trying to find the words to tell her how much I loved her, I stumbled across the ingredients for grilled cheese sandwiches. That's when I realized she was the melted cheese to my toast..." Grilled cheese may seem super simple but, like true love, you can choose to make it as complicated as you'd like. And that's really the goal here -- to confess your true love for someone in the form of melted cheese and toast. Here are some easy procedural tips and suggested combos to try. Go forth and melt your heart out.

Suggested Ingredients:
Bread
Cheese
Ham
Mushrooms
Roasted Garlic Pesto
Bulb of Garlic
Avocado
Vidalia Onion
Black Beans
Basil
Grated Pecorino/Parmesan Cheese
Extra Virgin Olive Oil (EVOO)
Butter
Prep Process:
- Preheat oven to 425 degrees.
- Cut onion into thin slices. Cook low and slow with butter, sugar, and salt until caramelized.
- Sauté mushrooms with EVOO, red/black pepper, worcestershire sauce, butter.
- Roast whole bulb of garlic in aluminum foil with salt, pepper, and butter for 25 minutes.
- Combine 2 cloves roasted garlic with a bunch of basil, pine nuts, 1/2 cup pecorino romano, and EVOO. Chop/pulse in a food processor until you have some beautiful pesto.
- Combine remaining cloves of roasted garlic with 3 tbsp butter and heat until entirely melted.
- Use the roasted garlic butter on both sides of your bread, pile on your ingredients, grill quickly on both sides, put in the oven until cheese is entirely melted.

Suggested Combos:
Rosemary roll. Roasted garlic pesto. Mozzarella. Blue cheese. Grilled ham. Roasted garlic butter.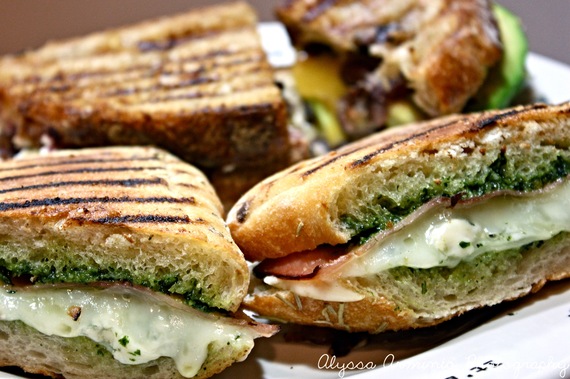 Sourdough bread. Caramelized onions. Sautéed mushrooms. Grilled ham. Provolone. Mozzarella. Roasted garlic butter.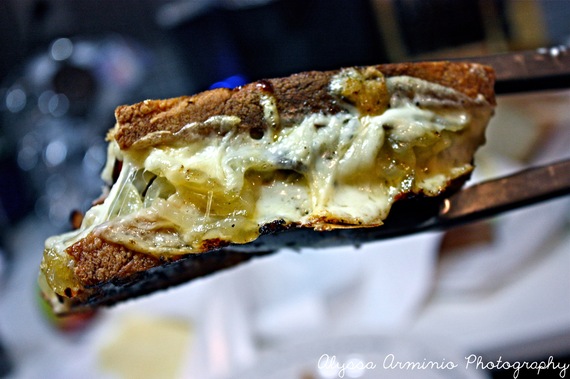 Sourdough bread. Chipotle Gouda. Cheddar. Avocado. Grilled ham. Caramelized onions. Roasted garlic butter.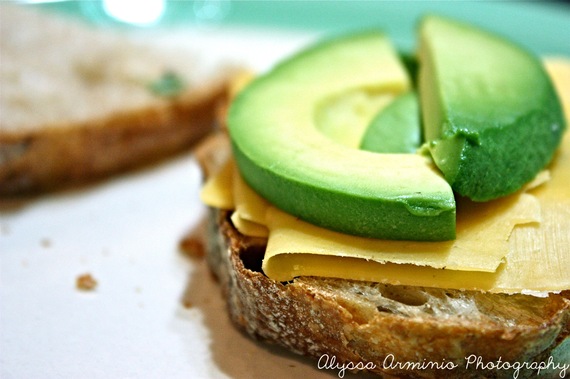 Sourdough bread. Roasted garlic pesto. Goat cheese. Sautéed mushrooms. Mozzarella. Roasted garlic butter.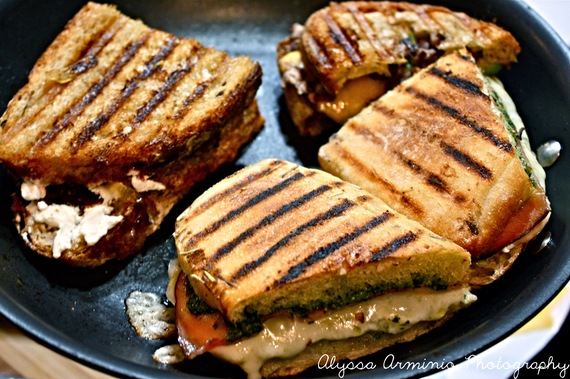 Wine bread. Black beans. Caramelized onions. Chipotle Gouda. Avocado. Tomato. Cheddar. Mustard.
Photo Credit: Alyssa Arminio Photography
Recipe originally found on NYC Food and Travel
Follow NYC Food and Travel on Facebook and Instagram.