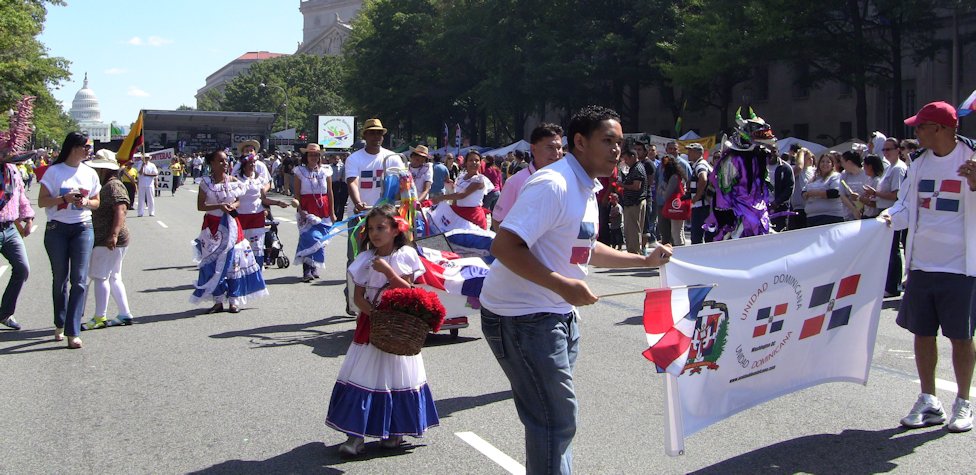 In spite of mounting odds against it, Fiesta D.C. celebrated another successful event. On Sunday, September 23, thousands were witness to a successful Latino festival on Pennsylvania Avenue. The festival, now on its 41st edition, was scheduled to take place at its traditional venue, the Mount Pleasant Neighborhood of Washington D.C., the place where it started more than 40 years ago. But community pressure and complaints from some key residents of the neighborhood forced festival officials to seek another venue. The new venue for Fiesta D.C. was officially announced at a Press Conference called on August 1, 2012. At this Press Conference, it was announced that Fiesta D.C. was leaving Mount Pleasant and heading downtown; news many in the community were expecting.
But not all Mount Pleasant residents were happy to see the festival move from its traditional neighborhood. After learning of the fate of Fiesta D.C., supporters of the festival started an on-line petition asking that the festival not be moved from the Mount Pleasant neighborhood. "This is gentrification at its core," said Rosa Rivas, a resident of Mount Pleasant that was sorry to see the festival moved to Pennsylvania Avenue. "This community is being displaced and divided. The new residents are not respectful of our traditions, and they seem to have the power, including the ears of the politicians," concluded Ms. Rivas, a longtime resident of Mount Pleasant. She shares the sentiment of many other residents of Ward one, where the Mount Pleasant Neighborhood is located, and where Latinos once thrived and were a dominant force. With rising rent costs, many Latinos have fled to neighboring Ward four and Ward five. It is now estimated that Ward four has the largest Latino population in the city.
Upon learning of the objection of the Mount Pleasant neighborhood to host the festival, and the proposed new venue by city officials earlier this year, Fiesta D.C. Chair Maria Corrales convened meetings with the community, seeking advice and guidance from community leaders. These meetings led to a series of other meetings with city officials seeking a resolution to the challenge facing the 40-year-old festival. The outcome of the meetings with city officials yielded three options where Fiesta D.C. could be moved to, including the initial proposed relocation to Pennsylvania Avenue. A final community meeting was held to announce that the festival would take place at the initial proposed venue, Pennsylvania Avenue.
But to many, the fight to keep Fiesta D.C. in its traditional home of Mount Pleasant was more than a need to maintain a tradition -- it was also a test that verified a weakened Latino community in Washington D.C. Currently, a very low number of Latinos are employed in D.C. city government jobs. Latinos have no representation on the School Board, fewer than 15 ANC Commissioners out of 286 ANC Commissioners are Latinos, and since Home Rule was enacted in 1973, no Latino has been elected member of the DC City Council.

Latinos are about 10 percent of the total population in Washington D.C., and according to the US 2010 Census, 55 percent of D.C.'s Latino population resides in Wards one and four.