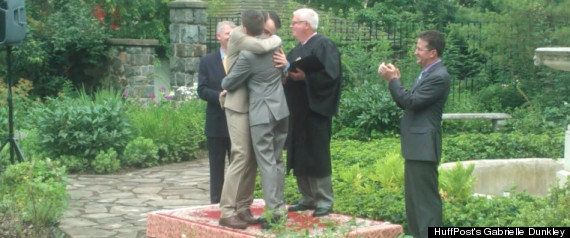 Sam Holloway made a promise to Dan Cole in the third grade. He wanted to be the best man in his best friend's wedding.
On July 1, I watched Sam live out his promise on the day our best friend Dan, a legal clerk, and Joseph Daigle, a financial advisor, married on the first day that Delaware's marriage equality law took effect.
In May, Delaware became the 11th state to recognize same-sex marriage. State Sen. Karen Peterson and her partner Vikki Bandy were the first to convert their civil union to marriage on Monday. Dan and Joe were among the first to legally marry in Delaware without having a previous civil union.
Dan and Joe actively coordinate in the Delaware Stonewall Democrats organization, working closely with LGBT supporters Rep. Paul Baumbach (D-Del.) and Attorney General Beau Biden.
Biden, the son of Vice President Joe Biden, gave the opening remarks at Dan and Joe's big day, calling their marriage a "love story."
"Today, we are witnesses to a historic event for Delaware and our community, and quite frankly, our country," Biden said, standing atop a draped alter in the middle of the historic Marian Cruger Coffin Gardens at the Gibraltar Mansion in Wilmington.
"But more importantly, we are participants in a very personal event, a love story, the marriage of Joe and Dan, a celebration of hope, faith and commitment," Biden added.
Best man Sam confided in me after the ceremony, thinking on the "best man" pact he made with Dan in the third grade and the gravity of such a simple promise.
"In college when he [Dan] came out, the realization hit that that may never happen," Sam said. "He could be the best man in my wedding, but I might not ever get the chance to be the best man in his."
Sam looked at me, blinking away tears.
"And today," Sam said, smiling, "the fact that I get to fulfill a promise I made in third grade -- it's more than life-fulfilling. It's easily one of the happiest moments of my life."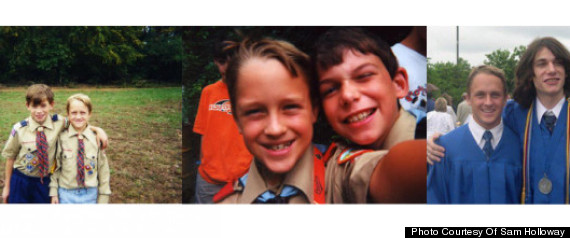 A quiet and unyielding feeling of triumph hovered over Sam and me as we watched our friends exchange vows. Our predecessors did not have it easy. Marriage has been a fight for slaves, interfaith unions and interracial couples for centuries.
While we celebrated the fact that Dan and Joe helped win this generation's battle for marriage equality for his home state of Delaware, we could not forget the tears, the despair, the joy, the rage, the turbulence and the love that came attached to Dan's personal journey to the alter.
His father, Greg Cole, said he was happy to see his son wed on Monday, though he admitted the news of his son's sexuality wasn't welcomed easily in their home at first.
"When he first came home saying he had something to tell me, I had hoped he had won the lottery," Dan's father said. "But I am happy he is doing something that makes him happy, and Joe is great."
After an emotionally riveting day, Dan and Joe took pleasure in practicing one activity they've been waiting to do for so long: publicly bragging about their awesome husband.
"To be able to share this important, intimate moment with so many important people to us was really wonderful," Dan said, holding his husband's hand.
"Marriage isn't about being alone and staying within one person," Joe added. "It's about declaring your relationship and about declaring your unity. Sharing it just seems natural. It is something that I want to share."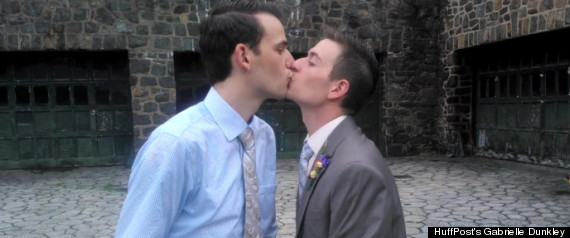 Dan pictured left, Joe pictured on the right.
Dan, whose career centered on giving other people the happiest day of their lives at the Peace office in New Castle County, had to endure watching others benefit from rights that were seemingly pedestrian but ultimately extraordinary to those who were deprived of basic human rights.
After years of dedicating our lives to the fight for marriage equality in our home state as well as our country, I now have the privilege of saying that at least for the day, we are -- finally -- just like everyone else.
Missed the wedding? Watch my 5-minute mashup of Dan and Joe's big day, including an exclusive behind-the-scenes interview and appearances from Attorney General Beau Biden and friend Sam Holloway, below: