Most of the time, when people think of monks, they imagine someone living in a monastery on top of a mountain or in the forests practicing silence or sitting in meditation. My monastery is located in the East Village of New York City, surrounded by nightclubs, restaurants, tattoo shops and nonstop traffic. How in the world did I end up here?

When my parent's multi-million dollar business burnt down, very quickly our fortune collapsed. We ended up losing the business, the house, practically all our savings and all three cars -- the Benz, Lincoln and my brand new Accord. I was 21 years old at the time and felt scared and confused about my future.
Little did I expect that I would have to leave college, pack my bags and move off to a tiny country in Eastern Europe, which had recently come out of the communist bloc -- Bulgaria. Thoroughly uprooted from my society, culture and country, I felt lost and lonely. At this turning point in my life, I delved into the spiritual wisdom of the Bhagavad Gita that would guide me through the unexpected twists and turns life had thrown my way.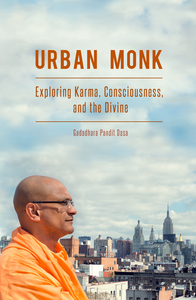 In Urban Monk: Exploring Karma, Consciousness, and the Divine, I describe the journey that took me from living in Los Angeles, to Eastern Europe, to dishing out mortgages in New Jersey as a loan officer and finally, to a monastery. I reveal the teachings and practices that inspired me to lead a more balanced life and calm the turbulent mind. And I share with you, the reader, the spiritual messages that I have successfully imparted on professionals and students as a lecturer and Hindu chaplain at Columbia University, New York University and Union Theological Seminary.