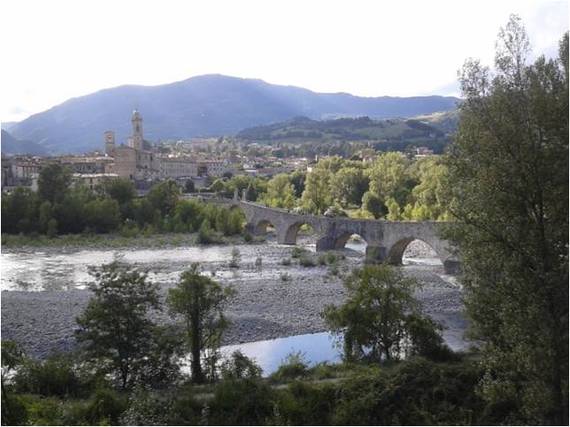 View of Ponte Gobbo, Bobbio
Today I discovered a summer cinema lab (free and open to 25 participants, between 18 to 35, Italians) where all potential talents of moviemaking and short movies could plunge into the European movie scene to learn about the techniques of making movies (going through all the creative process of ideation, screenplay, film direction, production, writing, scenography, photography, acting, shooting, sounds and editing). The concept of the lab per sé is an old idea. But doing it with passion, an idea of Italian familiarity, determination and creativity to re-invent itself and improve every year with a new summer edition -- that's a gift.
Marco Bellocchio, Italian director, screenwriter and actor , well-known for its Pugni in Tasca (1965) movie, established in 1995 the summer school "Fare cinema, incontro con gli autori"-- make movies, meeting the authors -- a lab aimed at teaching young people how to be a good moviemaker. From a small family reunion, it became a wider and resonant event, where renowned actors, movie directors of the Italian cinema are joining and intervening every year with their movies, their work, their knowledge and their willingness to share their cinema tips.
The setting of the lab is characteristic: Bobbio, Marco Bellocchio' s hometown, is a small town located in the province of Piacenza, Emilia Romagna region in northern Italy. The Trebbia Valley where Bobbio is located, described by Ernest Hemingway as "the most beautiful in the world," is crossed by the river Trebbia. It has a medieval history, with the abbey of St. Columbanus (he is believed to have founded it in 614) and the Ponte Gobbo (literally the Hunchback Bridge) for its irregular shape and which is known to have existed before 1196 and may be of Roman origin.
Pugni in Tasca -- fists in the pocket -- is the perfect example of the social impact of movies on our society. Based in Bobbio itself, the movie is a family drama of the '60s, and it is considered a precursor of the social movement of 1968. The metaphor is quite powerful: having fists in your pocket means you are angry at someone or something and you want to protest, disobey, shake and question the statu quo. But you hold on and try to keep moving forward, despite all the difficulties. In the movie, the heavy and oppressed environment of the Italian family where every member has a peculiar issue (epilepsy, obsessive curiosity, narcissism, blindness, mediocrity, desire to kill the other members of the family) adds up to the mood and health of the only one member of the family, a simple guy who wishes and dreams of a regular life, a job, kids, economic wealth and social integration. The enclosed space of non-peace and self-destruction does not evolve the characters in the story.
Cinema is a universal teacher. It educates us and it has the power to shake our minds and to provoke our thoughts.
And young people, especially in this unprecedented historical moment, have to be shaken, stimulated, given trust and instruments to believe in themselves and unleash their creativity. Perhaps technology has even increased our stimuli and desire to reach out, to travel, to discover, to dream big, to be divas, presidents and astronauts, but reality is very different from social media, movies and glossy magazines of top models. We need to use the instruments in our hands. Dig inside ourselves and see what we can actually do. Look around, turn off the phone, take the car and travel to discover some nice hills and parks around us. Simple and easy. Let our minds breath and see with big eyes of curiosity.
Especially in these movie festivals in our cities, we need to take lessons from movie actors, like here for instance Claudia Cardinale, Sergio Rubini and movie directors like Marco Bellocchio, Ettore Scola this year, who can transfer their connaissance of cinema, as they have been previously taught by other directors like Federico Fellini, Luchino Visconti, Sergio Leone and who will transmit and share their experiences with our generation. And as responsible messengers, we will make sure to do it for the next one to come.
In a circle and wheel of knowledge that can actually make energetic progress and improve A.) the way we make movies and the way we represent a snapshot of the reality we are living B.) "delight and instruct" as the message of cinema is C.) mold the opinions and change the system, preventing us from putting our fists in the pocket, but use them instead to (peacefully) make arguments and change people' mindsets for social good.
As Robert Redford, president and founder of another great independent movie festival, the Sundance Festival, states "storytellers broaden our minds: engage, provoke, inspire, and ultimately, connect us."