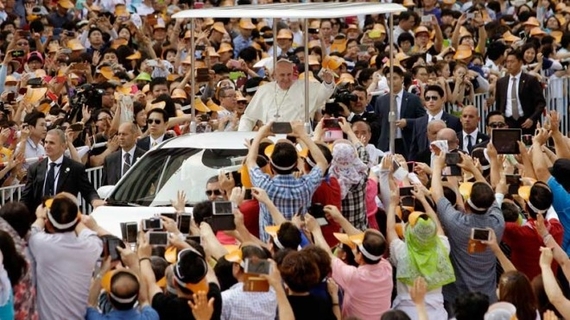 Photo credit: Pope Francis visits South Korea, AP/Photo Lee Jin-man, Pool
By reading newspapers, magazines, blogs, online news and talking to people, the two most used words nowadays are war and peace. War in Iraq, Gaza, Libya, Ukraine; war of oil and gas; war of powers; always war, even third world war.
Pope Francis visited this week South Korea, inciting the Asian Youth to wake up, be vigilant and pray for peace, meeting with comfort women (women forced or deceived into working at front-line brothels for Japan's army during World War II, historians estimate that Japan mobilized around 200,000 comfort women across Asia, many of them from Korea, a Japanese colony at the time) and renewing dialogue on the divided Korean peninsula for more humanitarian aid for North Korea.
A recent study by the Institute for Economics and Peace showed that, in the world, and according to the Global Peace index, there are only 11 world "conflict-free" countries. This means that internal wars are always taking place, in almost every country in the world (11 out of 193 world countries is a very small percentage of success).
Pope Francis is sending a powerful message, that should be taken into consideration by the United Nations, which is celebrating an International Day of Peace on September 21st, as every year. It should invite the Pope to speak during the day, in a conflict zone, and reach out to the world's population. The benefits of war are null, the benefits of peace are collective well-being, collaboration, equality and progress, and desire to push for a greater caring, inspiration and helping out.
Another appointment with technology, digital media tools and their impact on social good initiatives around the world is the Social Good Summit on September 21-22 in New York City. Here grassroots activists, global leaders will discuss solutions for the greatest challenges of our time. The theme of the summit will be #2030NOW, asking the question "what type of world do I want to live in by the year 2030? @socialgood @mashable #SGS2014
The Pope, not as the head of the Catholic Church but more as a messenger of peace ( who also has multiple twitter accounts, mainly @Pontifex garnering over 4 million followers) should be part of the social good summit to explain how we can reach out and do good to make the world a better place. Not only by physically taking planes to strengthen relationships (which is always the best way) but also by empowering people and inspiring them to make a difference where they are. Motivating and raising awareness of the same human origin and the same wish for happiness and shared love.
So starting this September let's make a personal and collective good intention: either by writing down on a board, a post-it or a piece of paper, or by reminding ourselves every day of it, let's think about the impact we can make, as human beings as well as active members of society who can open a door to the unknown and give a smile (and a hand) to create a shared sense of peace and sustainable well-being.