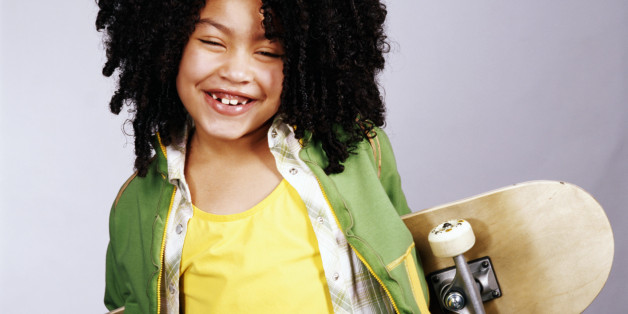 Punky Brewster. Transparent. Sex and the City. Blossom. In art, as in life, fashion is one of the primary ways we express and experiment with our identity. "You are what you wear" means that what you wear can be pretty damn important.
As a grown woman I can wrap myself in Lululemon to prove that moving freely doesn't require looking frumpy, slip into a BCBG dress as a declaration of MILF-hood, or don a black suit to broadcast my intent to get down to business. Doc Martens and stilettos. Skinny jeans and boyfriends. Gore-Tex and leather. I have all these and more at my disposal as I decide and declare what being female means to me.
Our children, however, are painting their self-portraits with a much more limiting palette. Boys get dinosaurs, airplanes, wild animals, skateboards, and all things science. Girls are left with hearts, flowers, tiaras, ballerinas, shopping bags, and domesticated animals wearing bows. As Melissa Atkins Wardy writes in Redefining Girly, the fashion available to girls tells them "with no words at all to be pretty and delicate and stay close to home, while boys are urged to be masters of their universe and travel around their great big world." Boys are also hemmed in, though in more subtle ways, pressured by their clothes to be rough, tumble, and without emotion.
Retailers increasingly set out to give our kids more flexibility in their clothing and self-concept. These labels--many launched by parents--hope to create a world where every child has access to clothes that stretch and launder with ease, to adventurous and intellectual sartorial themes, and to every color on the wheel.
Gender Neutrals
Of course we can already find blue shirts with cars to put on our girls if we mosey on over to the boys' section, but most people still look at it as cross-dressing. The companies below mix and match the motifs, colors, and textures usually reserved for one sex or the other in order to create truly genderless options.
The rocket t-shirts created by buddingSTEM are out of this world.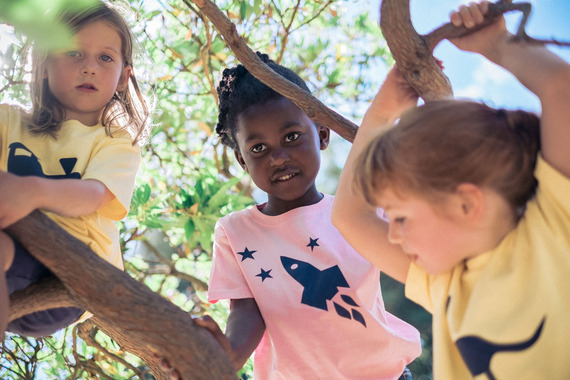 (Photo credit: Christy Kinskey)
Quirkie Kids says any kid can dig both massive prehistoric lizards and fuschia with its "Chompers" dino tee.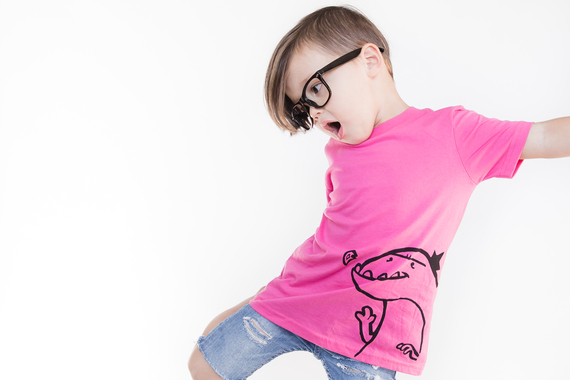 (Photo credit: Mia St. Clair Photography)
Jessy & Jack makes "clothes without clichés for happy little humans," like this "Robot Friends" long-sleeved shirt with gold foil print.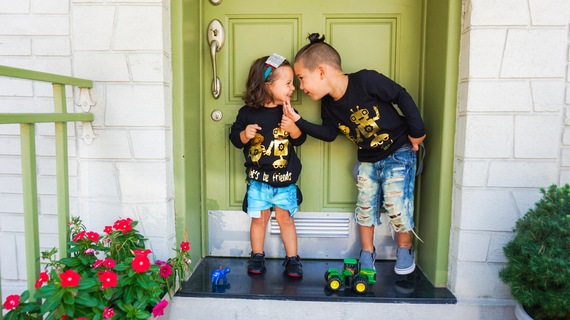 (Photo credit: Monte Simeonidis Attard)
Baby Blastoff! offers a wide range of cool onesies, including an excavator on raspberry pink fabric and household implements like a vacuum and a whisk on bodysuits in traditionally male colors.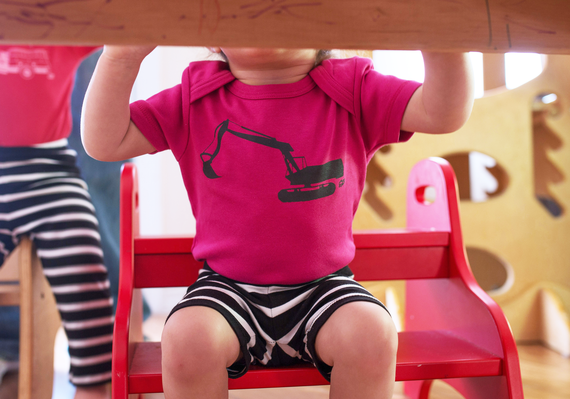 (Photo credit: Coffey Shoppe Photography and Birth Services)
Clothes with a Message
Handsome in Pink seeks to reclaim the term "girly girl" with a white and navy three-quarter sleeve tee associating girlhood with things like fishing, baseball, and feats of strength.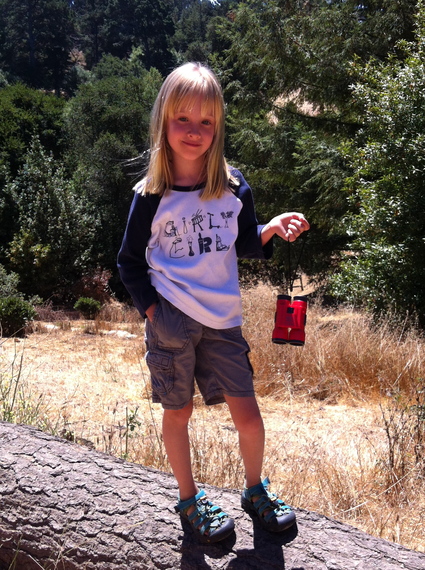 (Photo credit: Jo Rainbow Photography)
Free To Be Kids' "Love Is My Superpower" and "Mr. Nice Guy" shirts send the message that love and kindness are "powerful and masculine."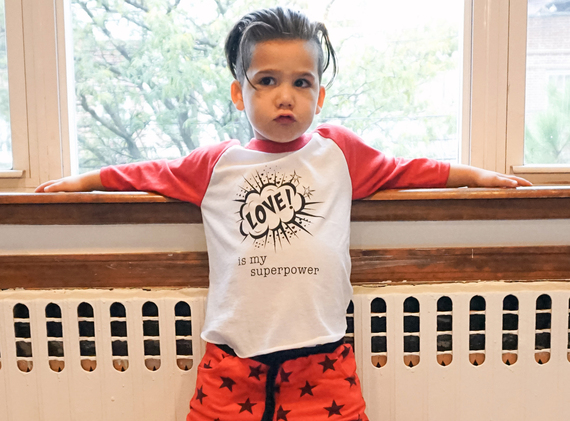 (Photo credit: Monte Simeonidis Attard)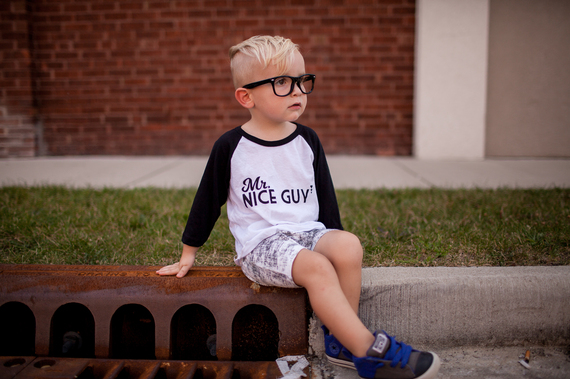 (Photo credit: Liz Donovan Photography)
Quirkie Kids' "The Bravest of Them All" shirt speaks for itself, and for your kid.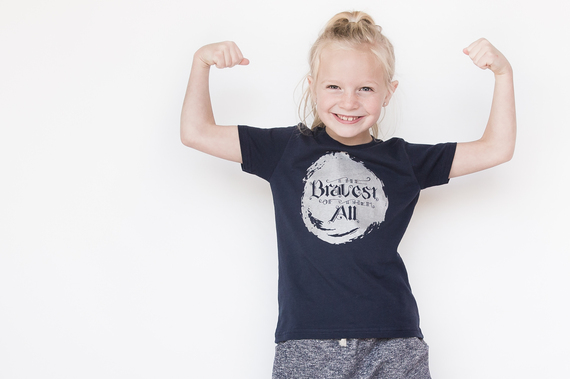 (Photo credit: Mia St. Clair Photography)
So does Sunrise Girl's "Super Girl" long-sleeved shirt emblazoned with the message "Off to save the day!"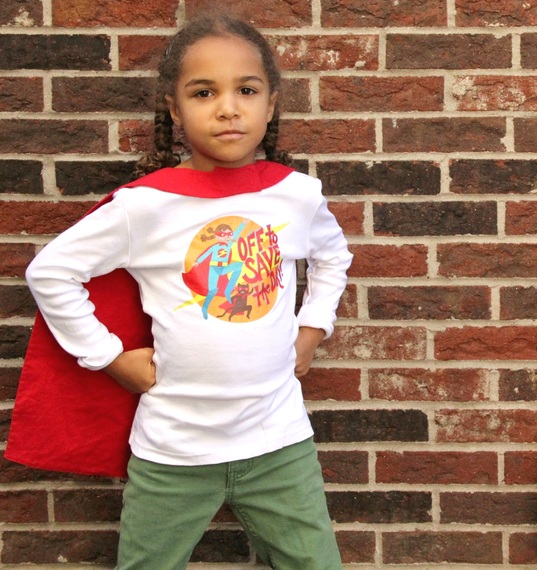 (Photo credit: Sandra Malo Photography)
Clever Belle says of its "Brains = Beauty" tee, "It doesn't shout 'I'm 12 going on 20,' instead defining beauty as the passions women and girls hold dear to them."
"Tough Like Mommy" and "Kind Like Daddy" onesies from Free To Be Kids put a fabulous twist on the parental self-aggrandisement genre.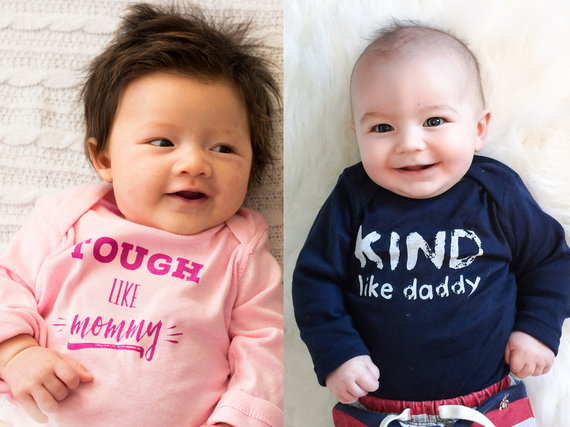 (Photo credit: Kristine Brandenberger, left; Ashleigh Ferguson Photography, right)
Dressed for Action
Princess Awesome's "Trains Busy Dress" tells girls they can like a hulking feat of engineering and the prettiness of flowing fabric at the same time. Cofounders Rebecca Melsky and Eva St. Clair chose "a soft, stretchy fabric" that allows for both tree climbing and twirling, as well as hidden side pockets "for storage of extra trains, acorns, pebbles, and other treasures."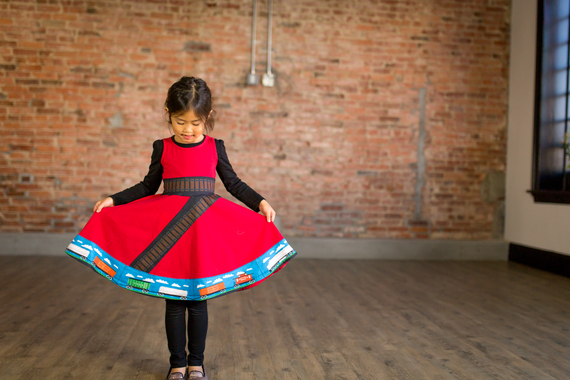 (Photo credit: Katie Wells, Red Turtle Photography)
Svaha, maker of "clothing that empowers," pitches its organic science dress with a pun: "Are you made of copper & tellurium? Because you're Cu Te! Girls will have alkynes of fun wearing this science lab inspired Fit & Flare dress!"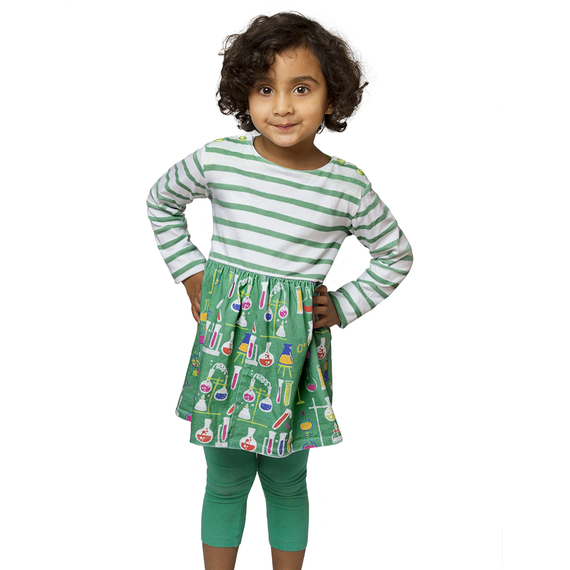 Head to Toe
Many of these companies offer infant, toddler, youth, teen, and even adult sizing plus different cuts, sweatshirts, accessories, and more.
One of my favorite outside-the-gender-box accessories is a statement bib from Jill and Jack Kids reading "Half of all T-rexes were girls."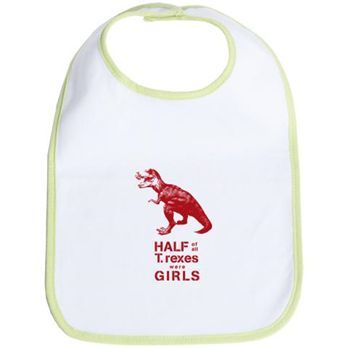 I also love the "Pi" headband by Princess Awesome.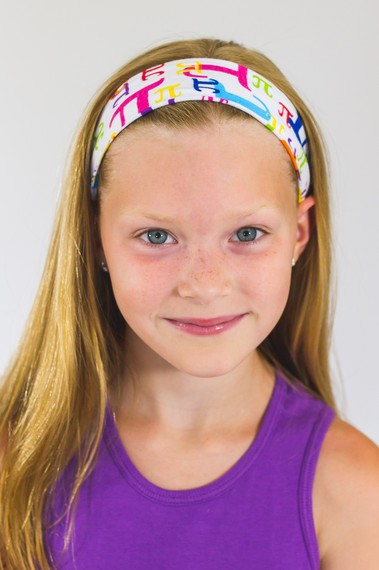 (Photo credit: Katie Wells, Red Turtle Photography)
And Boden's dino swimsuit makes for a ferocious splash.
As we prepare our kids to go out into the world, we tell them the sky's the limit, to shoot for the stars. These new options can help us make sure the contents of their drawers and closets send the same message.
-------------------
A version of this article originally appeared in the Golden Gate Mothers Group Magazine in May 2016
-------------------
Gail Cornwall is a former public school teacher and recovering lawyer who now works as a stay-at-home mother and freelance writer. Born in St. Louis and raised in the Bay Area, she's a serial monogamist of urban living who resided in Berkeley, New York, D.C., Boston, and Seattle before committing to San Francisco. You can find Gail on Facebook and Twitter, or read more at gailcornwall.com.