Tokyo superstores BicQlo, Shinjuku; Yodobashi Camera, Akihabara, and Don Quijote, just about anywhere in town; are big fun. They've refined the concept of 'shop 'til you drop' to the point where you can reach true retail exhaustion without ever leaving the building. That's quite an achievement.
These are not you're neighborhood WalMart, nor are they a shopping mall. Each retailer has a concept with its own unique twist. Or perhaps twisted in the case of Don Quijote. Visiting them is more than a shopping trip. This is a cultural snapshot of Japan and the Japanese right now. Frightening as that may be to contemplate.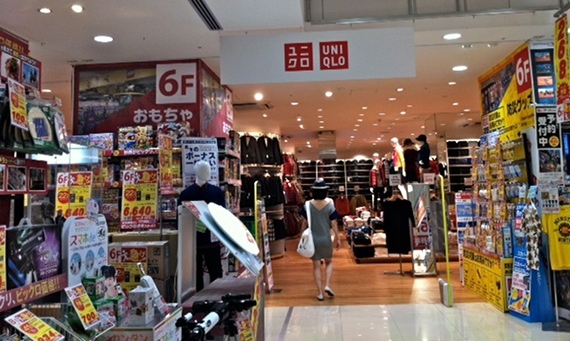 Electronics and fashion flow seamlessly into each other on the BicQlo first floor.

Bicqlo. Bicqlo is a gloriously unholy hybrid of fashion and electronics. Bic Camera and juggernaut fashion brand Uniqlo co-habitate with no shame over eight floors and three basements (three!) of prime Tokyo Shinjuku San-chome retail space.
Nobody has done anything like this here before. Who knew we needed to shop for fashion and electronics on a massive scale at the same time? It's kind of like not knowing you need chocolate until you taste it. After that, there's no going back.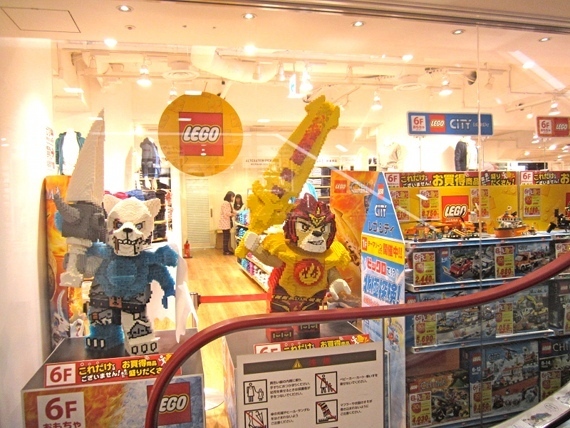 Legos with you leggings, madam?
The store is the size of a city block and packed with locals and visitors. Most of the tourists are still from Asia. Aside from the lure of Japanese rice cookers (everyone agrees they make the best) and digital cameras at Bic, they're here for Uniqlo. The brand is already well-known in this part of the world for stylish, reasonably-priced fashion. Tie-ups with international designers like Lulu Guinness, Ines de la Fressange and even singer/songwriter Pharrell Williams keep the brand fresh.
Understand, Uniqlo for the Japanese is kind of like going to Target for Americans. Feeling down or just have some time on your hands? Head for Uniqlo. There's bound to be something new or on mark down. Fast Retailing, the parent company of Uniqlo, has begun a marketing push into the U.S., so the name may become more familiar to Americans soon.

Uniqlo's new spin-off, GU, has the whole seventh floor to itself. That's pronounced gee-you, not goo. A play on words for 'independent' or 'freedom'. GU targets teens, 'tweens and young working people shopping for super-low prices. (Think Forever 21.) Some of GU's inventory is actually very good, and some looks like it was designed by aliens who think "Yes, this is how earth people dress."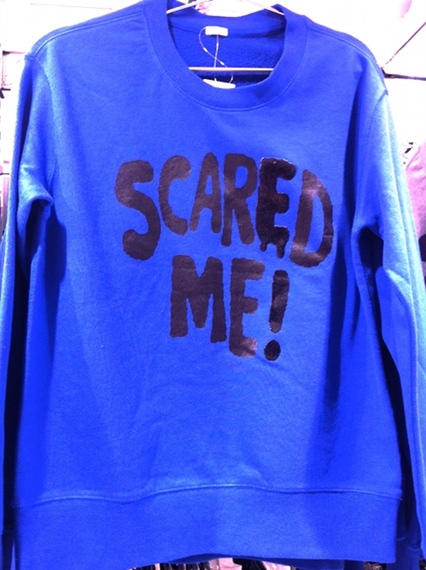 How we dress according to GU.
Uniqlo's diverse demographic - and especially their repeaters - was undoubtedly the lure for Bic Camera in this tie-up. The store gets foot traffic Bic surely would not see otherwise. It certainly gets my feet inside on a regular basis.
Fun hint: Listen for the BicQlo jingle. Everyone in Tokyo knows the 'Biku, biku, biku, Bic Ca-me-ra' version. Here, they created one just for the tie-up.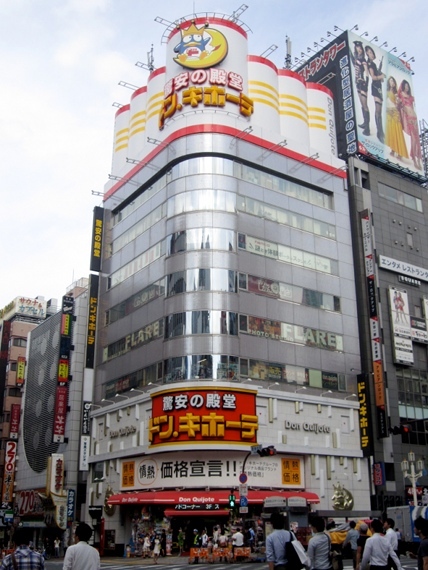 Shinjuku Don Quijote on the cheating side of town in Kabukiza.
Don Quijote: Where else but here can you buy naughty lingerie (for women and men), sex toys, luxury brand handbags, wallets and belts; kids toys, evening dresses, cosmetics; cats-eye colored contact lenses; adult-sized anime character costumes, digital electronics, alcohol and groceries twenty-four hours a day? Don Quijote is a weird, wacky, retailing universe like nowhere else.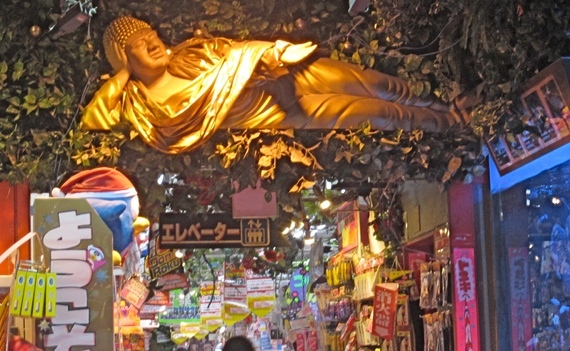 Buddha welcomes you to the Roppongi store. Oh Donki, this is why we love you.
First of all, that is how they spell it, with a 'j'. Most locals just call the store Donki. (Yes, I know, donkey...) The largest store is in Kita Ikebukuro. That's far from downtown Tokyo. So, let's face it, no visitors are going to trek out there. I live in Tokyo and even I don't want to go. There are, however, stores in the tourist enclaves of Roppongi, Shibuya, and Shinjuku. They are easy to find and just as insane as the giant one in Ikebukuro.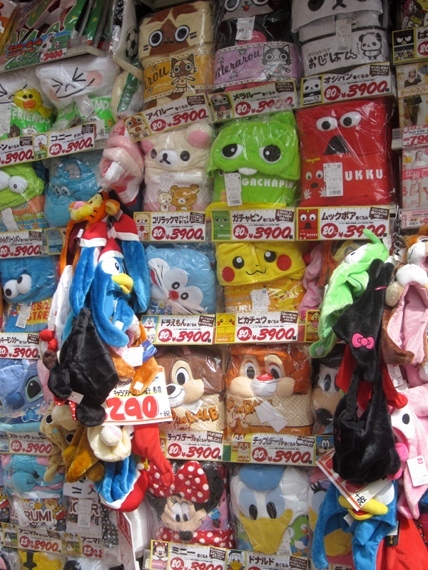 This is the place for adult-sized anime character costumes year-round.
In alcohol-infused Roppongi, you don't even have to go inside for the fun to start. Perch on the rails along the sidewalk and people watch. Especially at night when tipsy party-goers have to stop and stare at the giant tanks of tropical fish outside the front entrance, weaving back and forth in front of the glass and probably making the fish dizzy. Actually everyone, drunk or not, feels compelled to stop and stare at the fish. I know I do.
As the night wears on there are also the inevitable leggy girls with far too much eyeliner rushing in to pick-up one of the super-discounted, slinky, low-cut hostess dresses for work. Ah, Roppongi.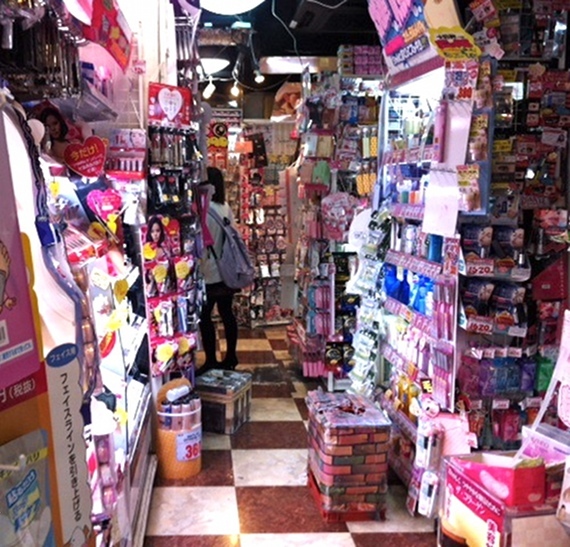 Trying to shop is like navigating Tetris or Candy Crush, but you get to buy things!
I recommend a few limbering up exercise before entering the store, as there will be some tight twists and turns involved. It's actually impossible to tell how big the floors are at any given Donki since what would be one normal aisle anywhere else, fits six aisles here. Every store is a retailing maze that winds in and around itself. The amount of goods carefully stacked and fitted together without an inch to spare would make a Tetris programmer proud.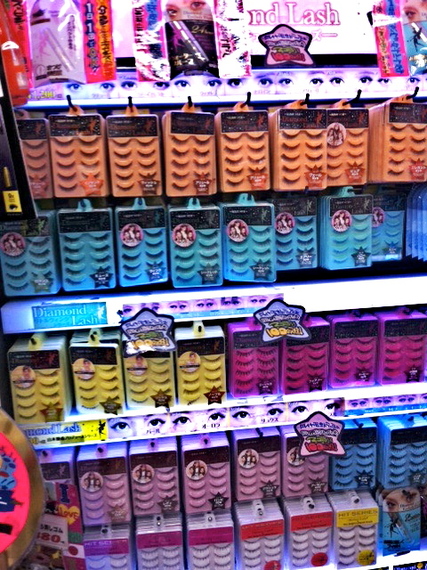 They've got your eyelash emergencies covered.
FYI, they usually have a great selection of color contacts if you're into CosPlay.
Start at the top floor -- there are elevators somewhere in every store, just look for them - and work your way down.
Fun Hint: Listen for the ubiquitous Don Quijote jingle. "Don, don, don, don, Don Quijote..."

Akihabara Yodobashi owns this side of the station, pretty much literally.
Yodobashi Camera Akihabara:
Don't come to Yodobashi in Akihabara if you don't like electronics and digital gadgets. Just don't. Okay? You'll hate it. For the rest of us, "Akiba" Yodobashi is a fun, frantic, near epileptic-seizure-inducing combination of bright lights, marketing pitches, endless jingles, background buzz, giant full-color ads floor to ceiling - even in the escalator halls - and shiny things to buy.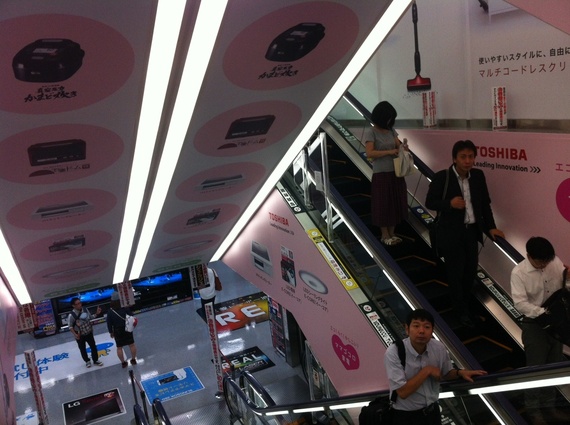 The escalator hall has a SciFi the-future-is-retailing-whether-you-like-it-or-not vibe.
This isn't just a store, it's a destination designed to keep you entertained far beyond looking at electronics. That's why there is a reflexology salon on the seventh floor for asian massage. Restaurants spread out over the eighth floor. Good restaurants. Two cafes on the first floor. And fun things like individual photo print stations for low-priced print-outs and photo editing. Oh, and should you get a sudden urge for sporting activity, Yodobashi has you covered. Get yourself up to the ninth floor batting center and sport hard.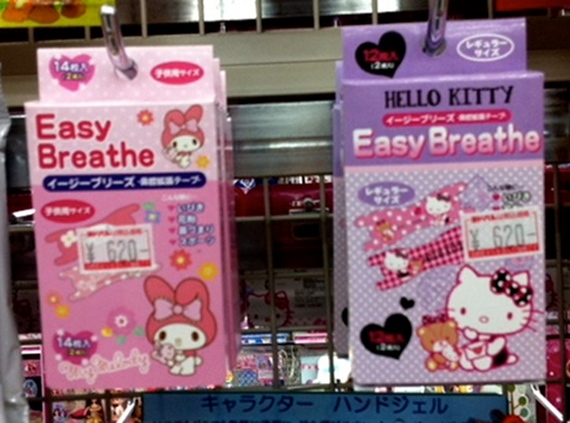 Forget electronics. Where else but Yodobashi could you get character snore stoppers? That sign underneath BTW says 'character hand gel'. I don't even want to know.
Akiba Yodobashi is an irresistible draw for the Otaku crowd. (Those devoted to all things anime and game playing.) The sixth floor is only about character goods and toys. They may not have the best selection of rare items in the district, but they have a lot of product and genres.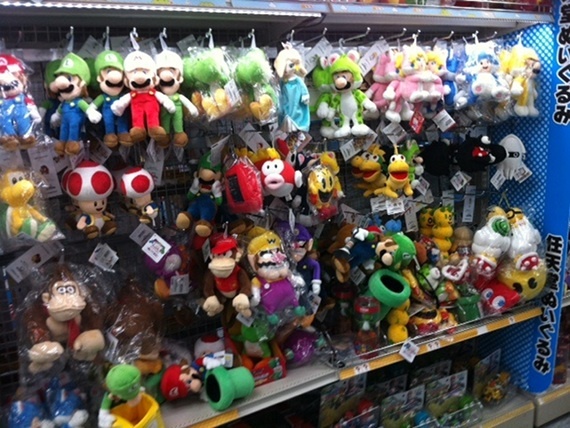 Stuffed game characters used to be available mostly at UFO catchers. Toy makers have since wised up.
One warning. Consider carefully before ascending that escalator if you're traveling with children. The sixth floor can be really good fun or a disaster - because the kids will want everything.
Access.
Bicqlo:
Hours: Daily, 10 a.m.-10 p.m.
Shinjuku San-chome Metro Station, Exit A5. Also a five minute walk from Shinjuku East Exit.(With Studio Alta's big screen in front of you, go down the street to your right. Uniqlo is a couple of blocks straight ahead on the right.
Japanese Website.
Don Quijote:
Hours: All stores, 24 hours, daily.
Roppongi: Tokyo Metro Roppongi Station. Five minutes. Go to your right at the big Roppongi Dori intersection. Keep Tokyo Tower in front of you. The store is on the left.
Shibuya: Shibuya Station. Take the main Hachiko Exit. Cross the giant intersection to your left where you see the big silver 109 building. The road forks around that building. Take the side that bears to the right. Keep walking until you see the main Tokyu Department Store. Donki is at the corner, on your left.
Shinjuku: Shinjuku Station. Take the East 'Studio Alta' exit. At street level you will see the huge Studio Alta screen. Cross to that side of the street and go to your left to the first little street. Turn right and follow it, you'll see Donki on the other side of the busy boulevard.
Akiba Yodobashi Camera:
Store hours: 9:30 a.m. to 10 p.m., daily.
Restaurants: 11 a.m. to 11:30 p.m.
Akihabara Station. Take the Central exit (towards the Tsukuba Express) and bear to the left after the ticket taker. You should see the massive building right across the street.
Akibahabara Yodobashi Japanese website. Floor guides have enough English to navigate by.