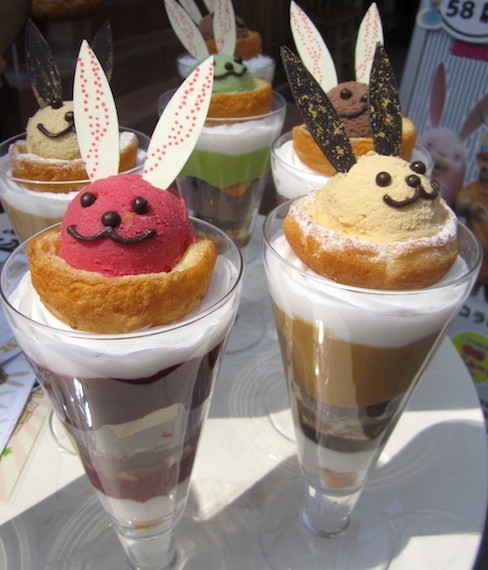 Cute enough to eat at Nicholas House cafe. Photo by Gail Nakada.
Want to sample the sweet treats on point in Tokyo during your trip? Get in line.
The Japanese are passionate about sweets, as in a grande passion. Gucci sells its own line of boxed, logo-stamped chocolates upstairs at their Ginza store. So does Bulgari.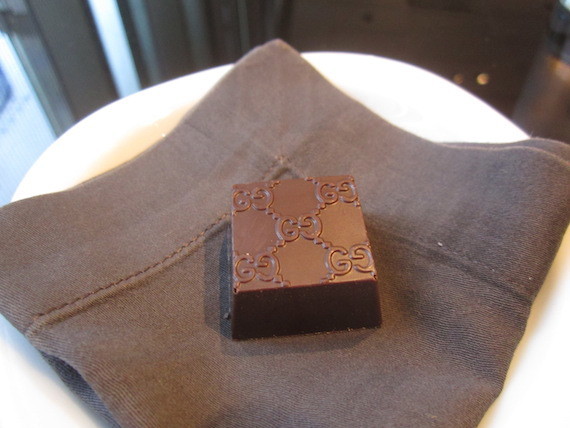 Edible Gucci. Chocolate from the Ginza Gucci store. Photo by Gail Nakada.
Brussels' chocolatier extraordinaire Pierre Marcolini is here along with Max Brenner and Fabrice Gillotte. Gourmet flavored popcorn from Garret's and Kukuruza have become must-have treats.
Department stores divide their expansive food halls into two sections: food and sweets. Even convenience stores like the Seven Eleven chain have in-store goodies ranked on their web pages.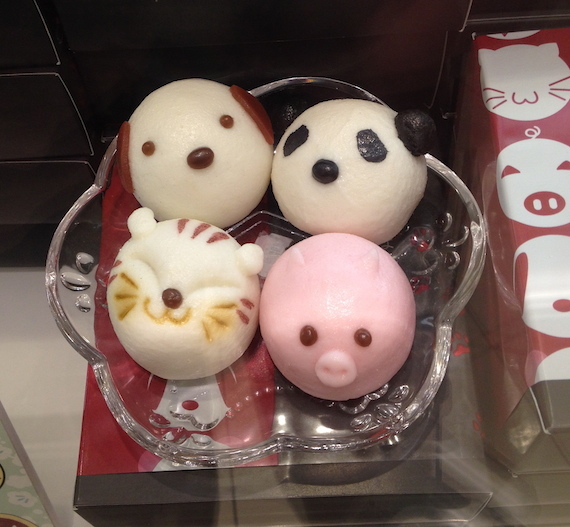 Cute sells. And it's so tasty, too. Photo by Gail Nakada
And what do the Japanese like almost as much as sweets? Trends. TV reporters, magazine editors, and bloggers hunt desperately for the newest, new thing to feed their followers' appetite. Variety and talk shows devote segments on almost a daily basis to new and popular sweets in bakeries, cafes, and department stores. Magazines run regular features on desserts and chirashi (handouts) keep people informed of special food events.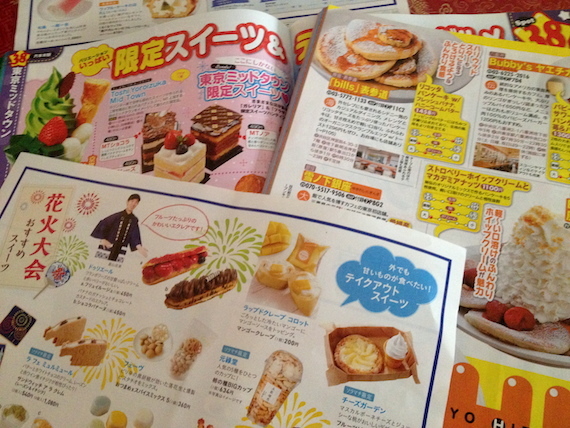 The media helps foodies keep up-to-date on their sweet obsession. Photo by Gail Nakada.
Some of these food finds are in obscure parts of Tokyo. Since visitors just do not have time to track them down, I've put together popular treats in places sure to be on most itineraries.
Harajuku: This fashionable district has as many cafes as boutiques and is a favorite among the Japanese (and visitors) to spend a day strolling on the boulevards and crowded side streets window shopping and eating. And eating... And eating...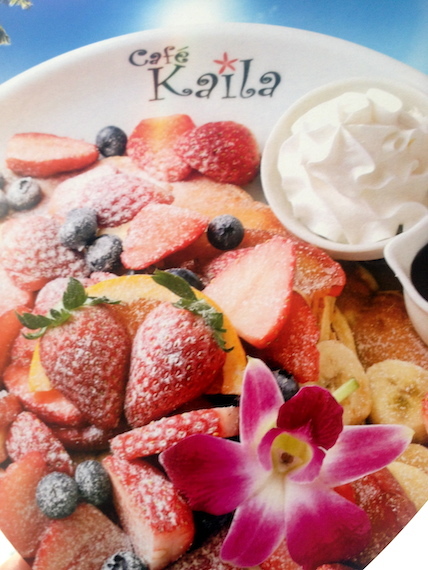 Hawaiian Pancakes from Cafe Kaila.
Hawaiian Pancakes: This is actually a pan-Tokyo food passion, but Harajuku is definitely the epicenter of this food phenomenon. We're not talking about your mom's pancakes, okay? Zen simplicity goes out the window when it comes to Hawaiian pancakes. These confections are piled high with whipped cream, mounds of fresh fruit, specialty syrups, nuts, and/or chocolate.
They call them Hawaiian pancakes mostly because of the cafe Eggs n' Things. Started by Jerry and Jan Fukunaga in Honolulu, it became such a hit with Japanese tourists, the restaurant finally brought the concept to Harajuku. Other Hawaiian imports like Cafe Kaila made the move and the sugar stack race was on.
A plate of strawberry, whipped cream, and macadamia nut topped pancakes at Eggs 'n Things is 1100 yen ($9). Kaila's original pancake set (the ones with the strawberries) goes for 2300 yen ($19).
Access: Cafe Kaila is in the basement of the Gyre Building on Omote Sando across the street from the big, white Ralph Lauren store. There is always a long line. Hours: 9- 8 (last order 7:20 p.m.). Website.
Eggs n' Things is a little harder to find. After the main Meiji Dori and Omote Sando intersection, keep walking up Omote Sando. At the first street, turn left and follow it a few dozen yards to the cafe. Website.

Far more than pancakes lie in wait to ambush your diet in Harajuku.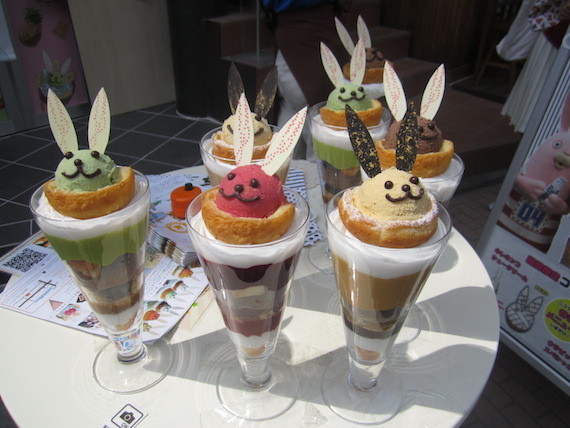 Bunny Parfait's from Nicholas Charles cafe. Photo by Gail Nakada.
Bunny Cakes: Frenchman Nicholas Charles has charmed his way into the Tokyo sugar rush with his signature bunny-themed cream puffs, parfaits, and crepes. Honestly, bunny sweets? It was a sure thing. Formerly in Ginza, the Nicholas House cafe has relocated to Harajuku just off Omote Sando. Japanese line up to pay 500 yen ($4.00) for a bunny cream puff. Sure, that's about a dollar a bite, but come on! They're just so cute. At the cafe, customers are invited to put on bunny ears for the perfect sweet bunny experience. Japanese website.
Access: With Harajuku Station behind you, walk past the big Omote Sando and Meii Dori intersection. Take the first little street to your left. The cafe is about a dozen yards in. Hours vary.
Chocolate: Chocoholics searching for blood sugar bliss continue to queue for the Max Brenner Cafe. on Omote Sando. I know I have mentioned it before, but the cafe's prime location, reasonable prices, and decadent menu continue to make it one of the top cafes on the boulevard. Have a look at the menu in English.
Access: On Omote Sando boulevard, in the Omote Sando Hills Complex, ground floor.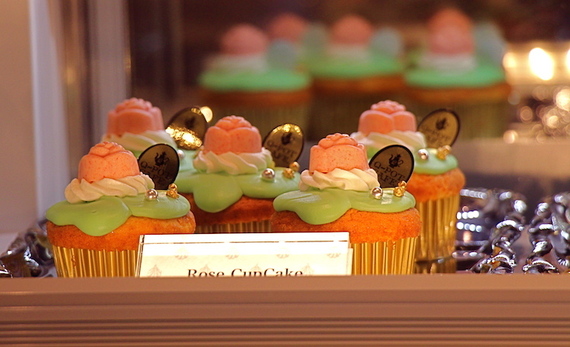 Q-Pot Cafe serves jewel-like cakes in a whimsical setting. Photo by Gail Nakada.
For more on cakes, check out my Huff Post article on the whimsical Q-Pot Cafe also in Harajuku. This patisserie takes cake and fashion to an only-in-Japan level.
Gourmet Popcorn: Two Seattle-based chains, Garrett's and Kukuruza, dominate this growing trend. Kukuruza has over thirty different flavors - sweet and savory - though only some are available at any one time. Garrett's is known for mixing in nuts like cashews, pecans or almonds with their sweet flavors.
Each has an outlet in Harajuku popping up gourmet flavors and ringing up sales. There are often lines, so don't just try to stroll in. Staff at both locations keep the lines back from the entry to prevent the sidewalk from being blocked. You have to look behind you.
Access: Kukuruza is on Omote Sando. With Harajuku Station at your back, walk past the Omote Sando Hills complex to the Omote Sando Hills Annex, and it is on the left. Hours: 11-9.
Garrett's Popcorn is just around the corner from Harajuku Station on the way to Omote Sando boulevard, on the right. Hours: 10-9.
Shibuya: Shibuya is about shopping, nightlife, and a bit of naughtiness. There are plenty of eating places and cafes, but Shibuya is not really known for its gourmet profile.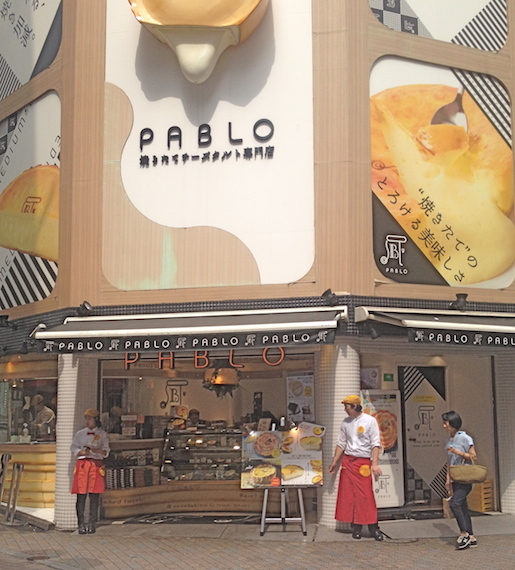 Pablo's Tarte's gives Shibuya its own destination sweet. Photo by Gail Nakada.
Cheese Tarte: The district has finally scored its own hit treat with Pablo's Cheese Tarte. The take-out-only shop is located right on bustling Center Gai a few dozen yards from the main crossing in front of Shibuya Station.
Since Pablo's has a giant cheese tarte suspended directly above the shop entrance, it's kind of hard to miss. Their oversized sweet cheese tartes - in several variations, including fruit - are big enough for two and priced starting at 787 yen ($6.25).
The bakery has been featured in Asian travel journals and when I was there, a number of Chinese and Thai visitors were happily snapping selfies of them and their goodie bags. The tartes are baked fresh right at the store and only a limited number made every day.
English website.
Hours: 10-10.
Tokyo SkyTree: This is one of Tokyo's top sights for Japanese tourists and as such is meant to wow visitors (and locals) with the selection of food and retailers in the expansive mall sprawled around its massive base. Travel digests regularly devote pages to what visitors should sample.
(Here's an English Floor Guide to the SkyTree Solamachi mall to help you navigate.)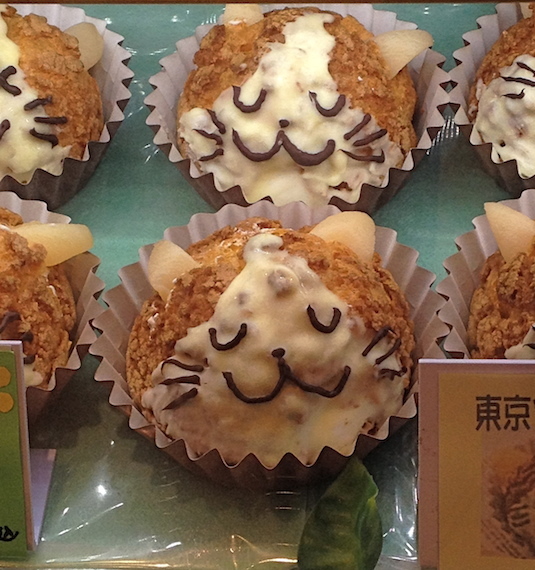 Kitty cakes stuffed with cream at Fujiya Sweet Oven. Photo by Gail Nakada.
Cake: The second floor on the tower side has so many choices for sweets, it should carry a health warning.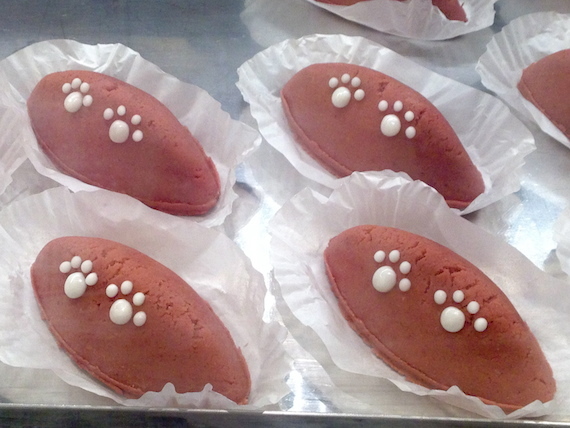 Pawprint sweetpotato cakes from RaPoPo. Photo by Gail Nakada.
Signature sweets change with the season and for special promotions, so the sweets you see in here may not be available. Don't worry, there is sure to be an amazing selection of irresistible goodies no matter when you come. Stroll through and see what looks appetizing.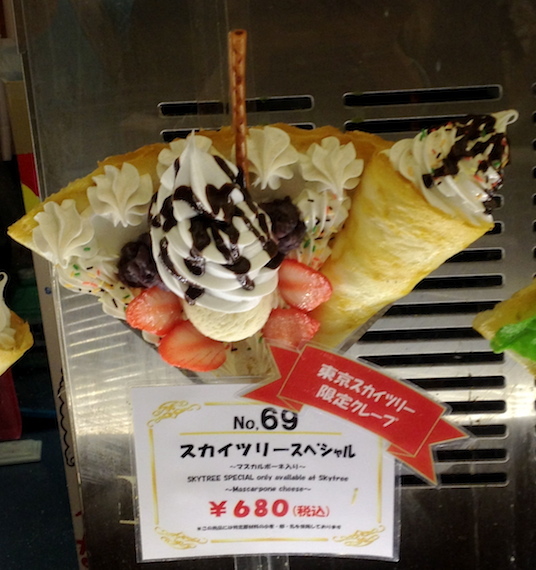 The 'Sky Tree Special' at Marion Crepes. Photo by Gail Nakada.
Crepes: Marion Crepes in Harajuku is famous for its overstuffed, take-away dessert crepes. SkyTree has a branch that features an exclusive "Sky Tree Special." A crepe topped with a tower of whipped cream chocolate syrup and rainbow sprinkles with a tall pretzel stick on top to symbolize the tower's antenna. 680 yen ($5.50). East Yard first floor.
Soft Serve: Sky Tree offers far too many choices for soft serve ice cream and yogurt. A popular choice for well-dressed young women is Samantha Thavasa Anniversary boutique and sweets on the first floor. Samantha Thavasa produces trendy and beautiful leather bags and accessories. They also make character-themed eclairs, cookie pops, and berry flavored soft yogurt the same pink as the stylish interior.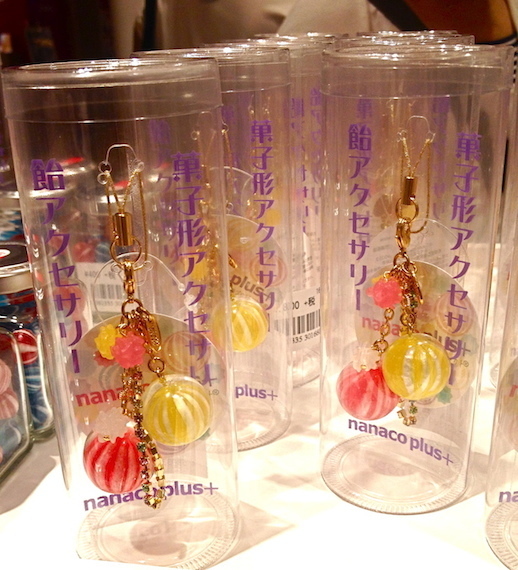 Candy charms from Nanaco. Photo by Gail Nakada.
Wearable Candy: Japanese are way more devoted to sweets than you. They don't just eat sweets, they wear them. Candy and cake themed charms are commonplace and come in every price range including high-end pieces. As in real pearls and gold on your macaroon phone charm high end.
Nanaco Plus takes traditional, colorful, Japanese hard candy and encases it in plastic to create candy charms and accessories. Luckily Nanaco keeps their prices very low. A single charm, for example, is just 500 yen ($4).
Access: East Yard, fourth floor. Website.

Asakusa: This is the old shitamachi of Tokyo - the blue collar downtown from samurai days. As such, the treats here reflect those traditional esthetics.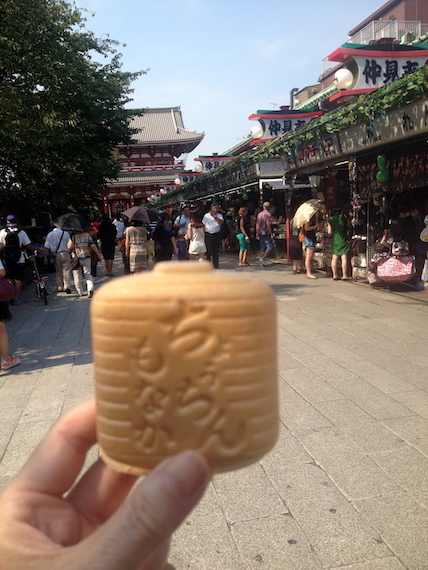 Japanese-style ice cream sandwhich at Sensoji Temple. Photo by Gail Nakada.
Fresh Ice Monaca: Monaca, thin, crisp, convex wafers, are not an import. This old-fashioned treat is sold stuffed with chestnut or sweet bean paste. The wafers were used to create Japan's first ice cream sandwiches. You can still buy fresh ice monaca on the Nakamise shopping street leading to Sensoji Temple. The ice cream is scooped up and stuffed into the monaca while you wait. Cost: 330 yen ($2.50) each.
Ningyo Yaki: These bite-sized sponge cakes are baked in the shape of animals, characters and temple buildings.They are stuffed with sweet bean paste or plain. Here in Asakusa, they have a long-standing - as in centuries long - fan base. Kimuraya, with their distinctive dove logo, is the most famous Ningyo Yaki maker on the Sensoji Temple shopping street. Baked them fresh right on the spot; a little bag of cakes is 500 yen ($4).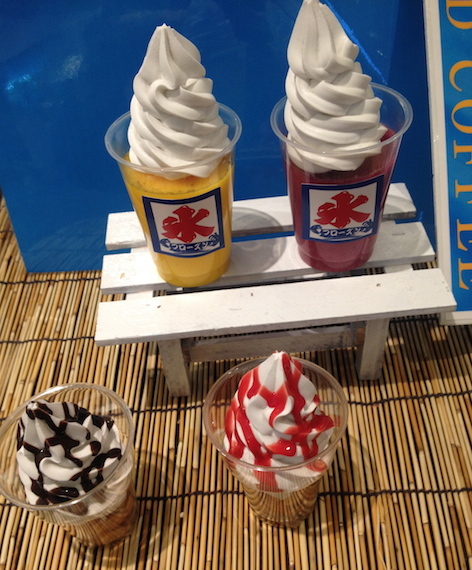 Shave Ice: A summer staple all over the country. Asakusa adds soft serve for take-away treats. Photo by Gail Nakada.
Ginza
Depachika: Tokyo's Depachika (department store basement) food halls are legendary. Trying to pick out one cake in the maze of confectioners is like focusing on a single zebra in a vast herd. There are so many choices you can go cake blind.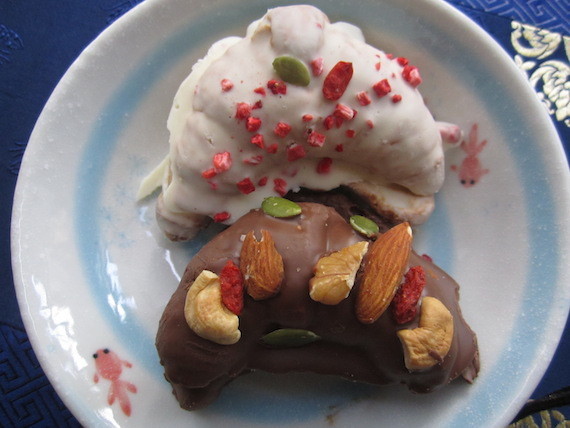 Frosted croissants are the new, new thing. Photo by Gail Nakada.
Frosted Croissants: Right now, Cafe Ohzan's frosted rusk-style croissants are getting a lot of attention. Old fashioned rusks are dried, crispy, crusts of bread very good for teething babies. Ohzan crust croissants are not suitable for babies. And if you're watching your blood sugar, probably not for you either! This crisp, crunchy confection is dipped in chocolate or vanilla syrup and then covered with nuts and fruit or just left as is. You can also buy them plain. One frosted croissant rusk is around 460 yen ($3.70.).
Their website has mouth-watering photos of these and other goodies.
Access: Mitsukoshi Department Store, B2. The 'A' section is where all the sweets are. Hours:10:30-8. Closed Mondays.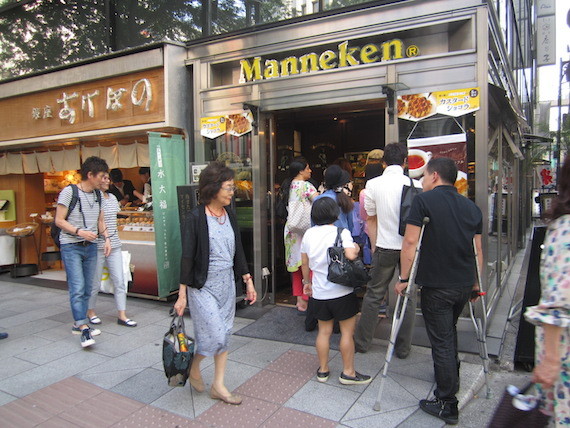 Belgian waffles are a more conservative sweet in Tokyo than at home. Photo by Gail Nakada.
Belgian Waffles: Manneken serves authentic Belgian waffles served at its sidewalk stand near the main Ginza intersection. European visitors will be disappointed to learn they don't have all the gooey, creamy toppings you can get in Brussels. This is because most visitors buy the waffles and take them home rather than eating them on the street, as is the style in Europe. Manneken makes up for it by featuring flavored waffle bases like strawberry and green tea, or sandwiching creamy fillings between two waffles.
Have a look at the waffle menu on their website.
Access: On Harumi Dori, a few yards from the main Ginza intersection, near the Police Box and Excelsior Coffee. Hours: 11-10.
Japanese Wagashi: If you prefer to try some local flavors, Akebono right next door to Manneken has served up traditional wagashi (Japanese sweets) since 1912. They are famous for their daifuku, mochi stuffed with sweet beans. Don't let that description put you off. Akebono also serves daifuku filled with seasonal fruits and creamy filling. It's chewy, but tasty. Website.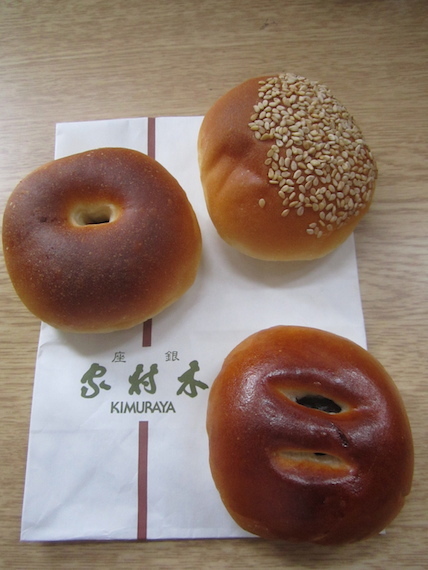 Anpan rolls stuffed with chocolate, cream and other goodies. Photo by Gail Nakada.
Anpan Sweet Buns: Anpan is a simple, very soft, baked roll stuffed traditionally with dark or light sweet bean or chestnut paste. Kimuraya, right across the street from Mitsukoshi, is one of the best bakeries in Tokyo and a specialist in anpan.
Don't worry if beans are not your thing. Kimuraya has updated this confection with cream cheese, custard, chocolate, and fruit fillings. Japanese tourists and locals came here to buy bags of anpan to take away (you can freeze them!). The anpan boom has spread to Asia and the Ginza branch is just as full of Asian tourists as locals. Website.

Ueno
Panda Cakes: Ueno Zoo is home to the country's most famous pandas and pandamania never grows old. Panda cakes are all you really need to know about popular sweet treats in Ueno.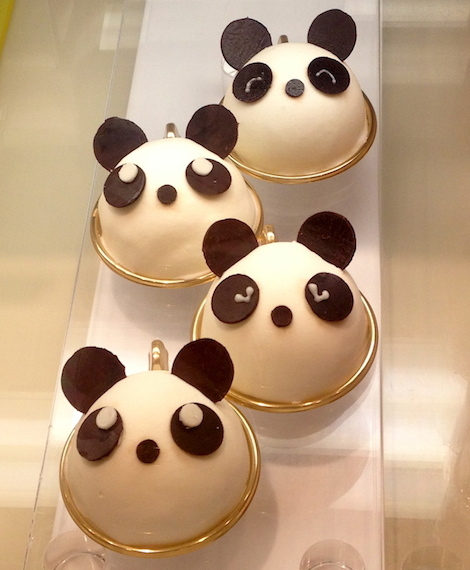 Panda cakes are a must-have treat from a visit to Ueno. Photo by Gail Nakada.
All the best panda confections are gathered together inside Ueno station. This is very important to remember. Walk to the back of the shopping and dining area at the rear of the station concourse for the park-side exit. Even if you don't like sweets, a walk through this part of the station should be on your itinerary. Every bakery has a panda treat and Kinokuniya Supermarket (yes, it's inside the station) has a big display of Panda goodies.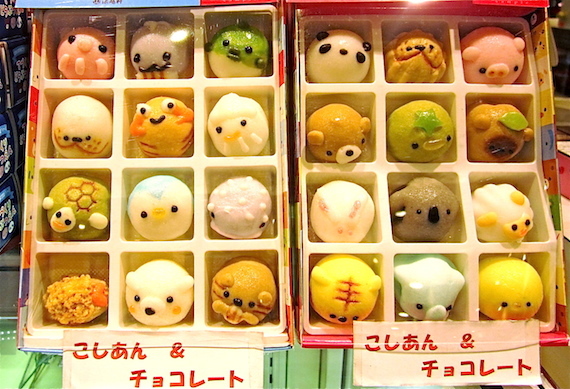 Ueno's is home to the city's zoo and animal-themed sweets are big sellers. Photo by Gail Nakada.
Tokyo Station
You need to think of Tokyo Station less as a train station and more of a shopping and dining complex that happens to have trains (and gazillions of people) moving through it.
Since the station serves as such an important hub for inbound and outbound travelers, the focus is often on treats that can easily be taken away as gifts or eaten on the go. Though there are also plenty of sit-down restaurants and cafes serving every sort of gourmet delight.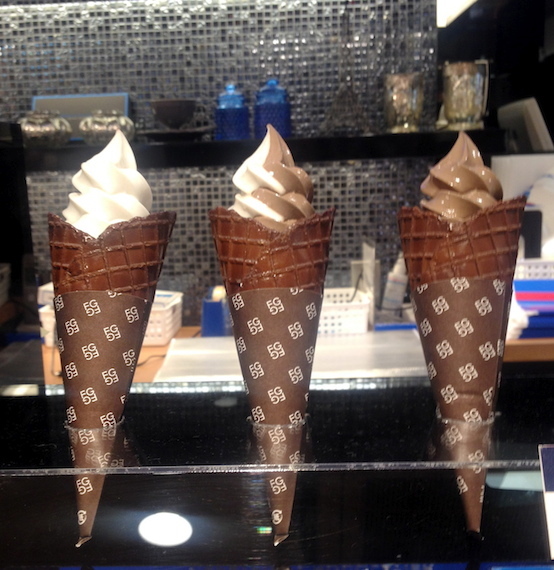 Chocolate overload courtesy of Fabrice Gillotte. Photo by Gail Nakada.
Chocolate Soft Serve: French chocolatier Fabrice Gillotte has been getting a lot of media attention for his soft ice cream infused with rich chocolate. This is not just another soft serve cone. It's like a little box of chocolates whipped up in a chocolate waffle cone. This dish has been featured on TV and in magazines and all but eclipsed the other cakes and snackables the Gillotte patisserie sells. Its reasonable price of 360 yen ($3) has people lining up at Tokyo Station. Website.
Okashi (sweets) Land: Satellite shops from famous Japanese confectioners sell both fresh and packaged candies, snacks and sweets. Located in the basement floor of the central concourse on 'First Street'.
This obsession with sweets isn't just about appetite. Gift giving is a deep-rooted social obligation. People agonize over choosing something that reflects the value of the occasion, the recipient, and the giver. Gourmet chocolates, cakes and cookies play a huge part in this cultural give-and-take.
It's interesting to note, despite having a bakery on nearly every commercial corner, the Japanese are not battling obesity as this chart shows.
In fact, their consumption of sugar has actually fallen since the 1970s.
Tempting as all these high calorie choices are, the Japanese pick and choose what to indulge in and moderate their consumption.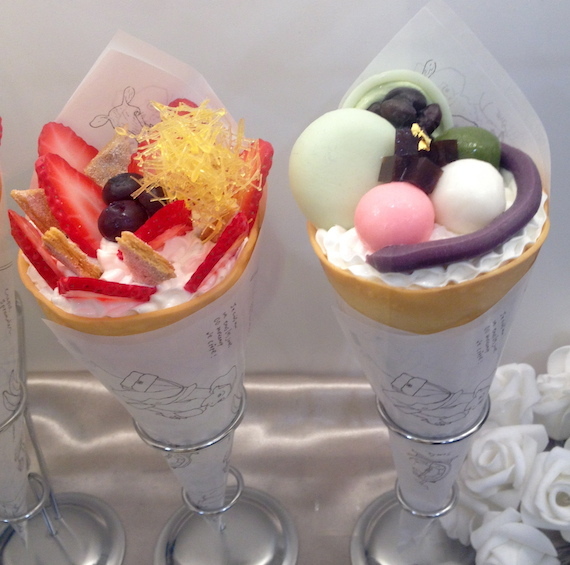 Japanesque parfaits. Photo by Gail Nakada.
Good luck with that...