In Tokyo's elegant Ginza district you can eat your way through some of the best design houses in the world: Chanel, Gucci, Bulgari, Hermes, Alfred Dunhill, Furla. Luxury brand cafes let you indulge your haute couture sensibilities without breaking that pret a-porter travel budget.
Many top design names have diversified their holdings far beyond fashion. Branding lounges, restaurants, and even hotels with their distinctive logos. And where better to expand than Tokyo?
Here, where and how you choose to spend you money does not necessarily reflect you social status. Even average high school girls in this city feel entitled to their Burberry cashmere mufflers to complete that winter school uniform. Japanese may live in cramped, cluttered apartments, but they dress and eat like Hollywood celebrities.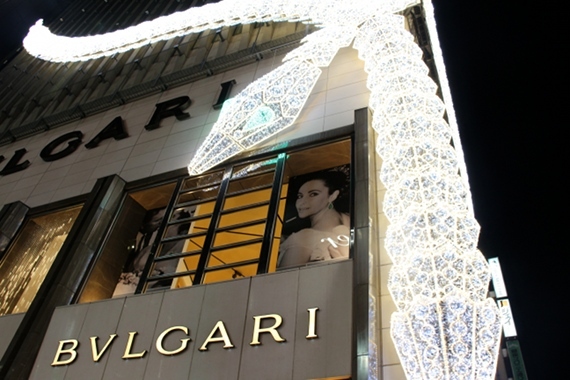 Bulgari with its winter sparkle on.
Luxury brand cafes are not the extravagance you might think. Sure, a visit can set you back 150 dollars for a prix fixe lunch menu - but it doesn't have to. You can actually indulge in a cup of coffee, soak up the ambiance, rest your feet, watch Ginza go by, write your postcards, and get out for around ten dollars. Except maybe at Bulgari...
The staff at these venues could not be nicer. Looking for snooty service? You won't find it here. Most have bi-lingual staff and an English menu. So you have no excuse not to pick one and try it out.
Gucci: Gucci Cafe. This is a calm, open space popular with the ladies who lunch and, a little later in the day, the ladies who date. Women with pretty clothes and pretty hair, a few men.
It's not a feminine place, however. The cafe has a retro-sixties, beige and brown, Danish-modern vibe. Open and uncluttered. Comfortable and relaxing. It's a big space, but there are only three tables by the tall windows overlooking Harumi Dori. Across the street you can see the Armani store next to a Matsumoto Kiyoshi discount drugstore. Ah, Tokyo. Zoning? What's zoning?
The cafe is reasonably priced: A salad lunch for 1400 yen ($15); beer 1000 yen ($11), espresso 800 yen ($9), Earl Gray tea 900 yen ($10).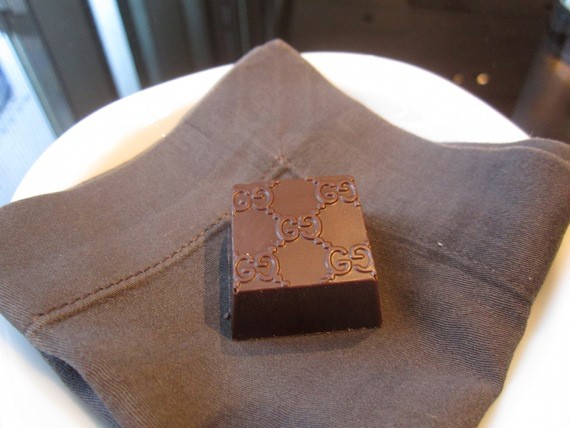 Gucci logo chocolate is on the dessert menu at the Gucci Cafe.
Save room for chocolate. The Gucci Cafe has chocolates marked with their logo for just 300 yen ($4) each in a choice of four flavors. You can also buy boxed chocolates at the desk in the front of the cafe starting at 2500 yen ($26). (If you think that's expensive, wait until you see what Bulgari charges.)
Other Gucci touches: the menu is in a Gucci embossed leather portfolio and your bill comes on a little double 'G' embossed leather tray.
Hours: Daily, 11-8.
Tel.: 03-3562-8112
The website is only in Japanese and doesn't have any info on the cafe. But, here it is: Website.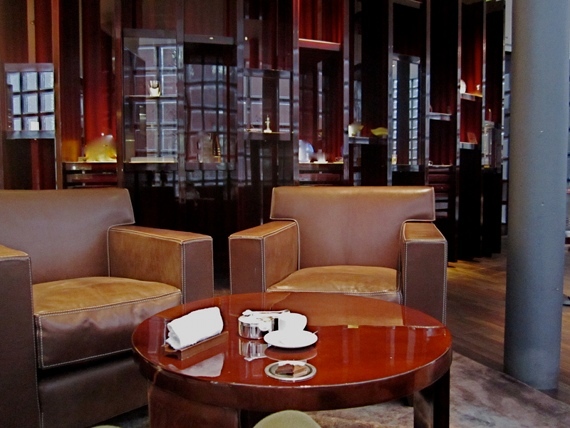 Interior of the petite Hermes Le Cafe
Hermes:Maison Hermes Le Cafe. This tiny cafe is designed for the cognoscenti. Though not exactly a secret, there's no sign pointing the way, nothing on the website, and it's not even located in the main part of the building.
To reach the cafe, turn down the side street that borders the massive Hermes building. Go in the second set of doors, the ones on the right, and up the staircase. This floor displays Hermes china and crystal. The cafe entrance is on your right.
With just a few tables surrounded by oversized arm chairs, the place has a private-club feel. Japanese celebrities including some famous Kabuki actors from the Kabukiza theater a few blocks away reportedly like the cafe because there are no paparazzi to plague them. There are also no windows and no view. Honestly, the place is just a little claustrophobic.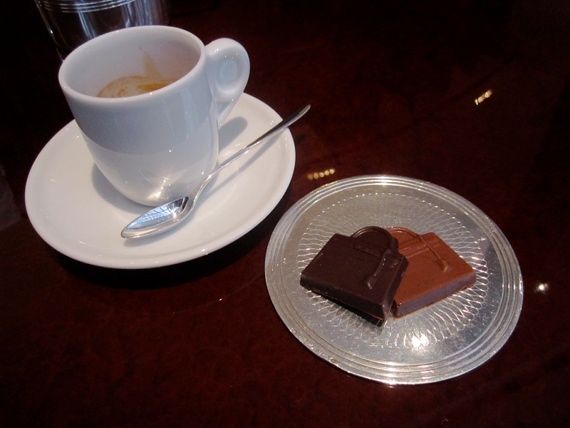 Espresso and chocolate Birkin...ah, perfect.
Not that it matters. The real reason to come for Hermes lovers is the exquisite chocolate Birkin bags that accompany your espresso and coffee. Two little perfect replicas, one in dark chocolate and one in light. Espresso is just 900 yen ($10) including the chocolates. You'll never get a better bargain at this brand.
Hours:Mon.-Sat., 11-8. Sun., 11-7.
Telephone: 03-3569-3300
The website is only in Japanese and has no info on the cafe. If you want it, here it is: Website.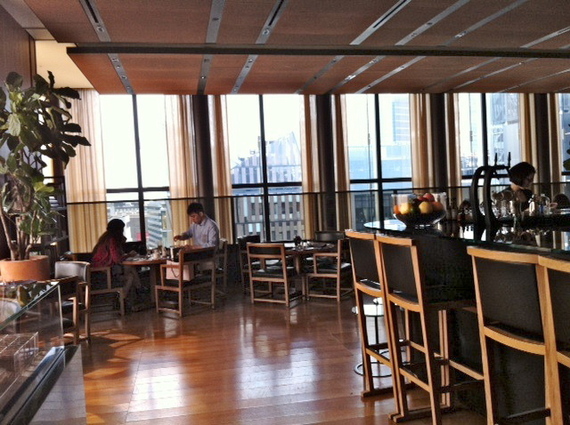 Interior of Bulgari's, Il Bar.
Bulgari: Il Bar; La Terrazza Lounge. The Ginza store is currently the largest Bulgari in the world. Il Bar, on the tenth floor, is a bit more than a cafe and a little less than the elegant Il Ristorante one floor below. The cafe is all dark wood tables and chairs, a black resin bar and a small sofa seating area in the back.
Il Bar actually overlooks the restaurant below, which is kind of cruel since that floor has massive windows all the way around and some stunning views. The lunch menu is from 12-3 and light meals available 3-9:30 (last order). The bar serves signature Bulgari Gin and Tonics for 2200 yen ($23). Food prices are, for example, the luncheon pasta set at 4000 yen ($41) and the hamburger and fries from the later menu at 3900 yen ($40). A dish of ice cream is 1900 yen ($20). You can also have coffee and tea, of course.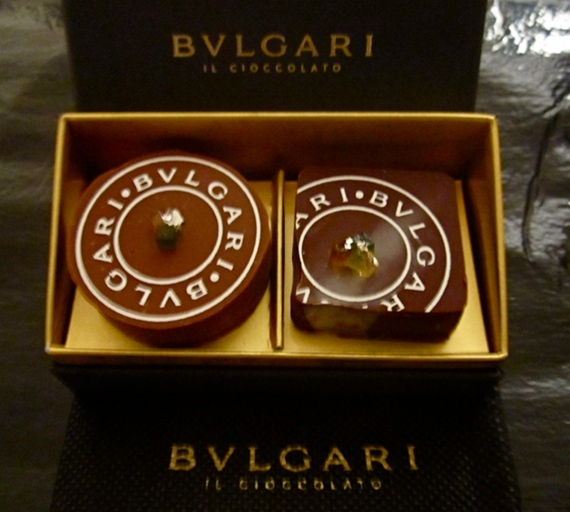 That's not a camera flare on the Bulgari chocolate gem. It's a blush of white chocolate...
Also on the tenth floor is Il Cioccolato for Bulgari's famous chocolate gems. These beautiful chocolates average about 1200 - 1500 yen ($13-16) a piece and are packed to take home like little works of art.
I would suggest - weather and season permitting - visitors head for the eleventh floor and the relaxed rooftop La Terrazza lounge. Although it's closed during the winter months, this is a great place for coffee or drinks if scheduling permits. The umbrellas, the comfy outdoor chairs and sofas, all in soothing gray tones make the terrace feel like a resort hotel.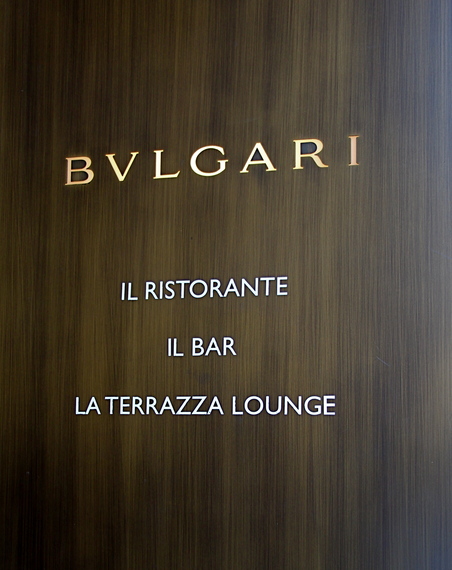 Entrance to the restaurants is at the side of the building. The Bulgari concierge will help you with your choices and usher you into the elevator.
Hours: Daily, 11:30-10.
Telephone. 03-6362-0555
English Website.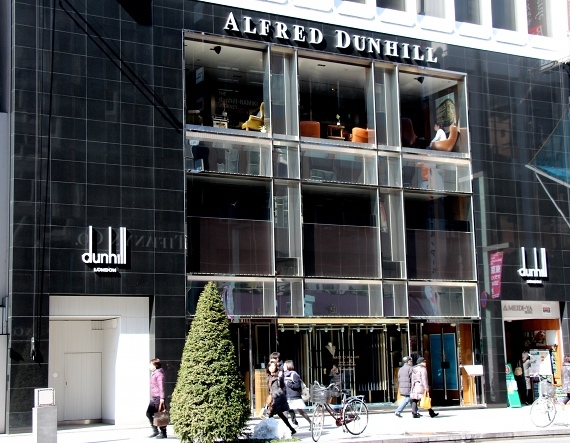 On Chuo Dori, outside the Alfred Dunhill cafe.
Alfred Dunhill: The Aquarium. The third-floor cafe is a cool urban take on the iconic British Gentleman's Club. Artfully distressed deep leather chairs hug low, wooden tables, carefully accented with books, plants, and furnishings. A cafe/lounge with a masculine feel that manages to be the opposite of stuffy old-school.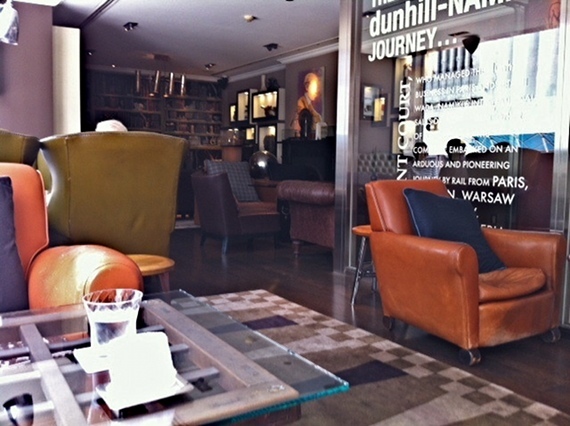 Alfred Dunhilll, The Aquarium cafe/lounge.
Go through the right-hand set of doors at Dunhill and immediately up the stairs on your left. A small counter bar is on the second floor, continue on for the cafe. The cafe is named after one of Duhill's classic lighters, not for the little aquariums near the stairs.
Unlike most of the places mentioned here, the Aquarium does not shut you off from the city. Oversized windows open up Ginza and all the people and traffic passing by. This is one of my favorite places in this district to just sit and look.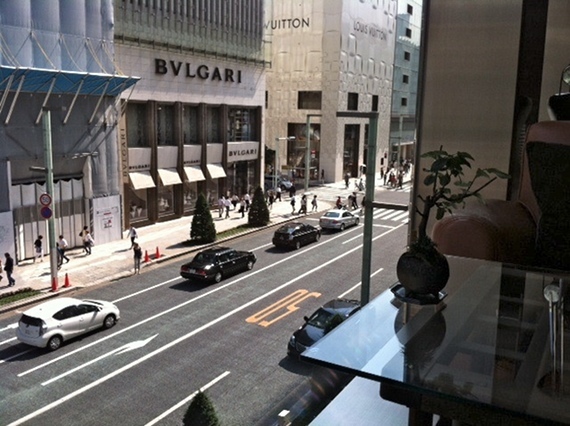 The Dunhill cafe lets you watch what's happening on the boulevard.
During the day, lunch (hot sandwich, pasta) averages between 1400-2000 yen ($15-21). Beer starts at 900 yen ($10) and a Gin and Tonic or glass of Glenlivet single malt is 1300 yen ($14). Be careful, though, when the atmosphere shifts from cafe to lounge after five p.m. A thousand yen table charge in the lounge and ten percent service charge will be added to the bill.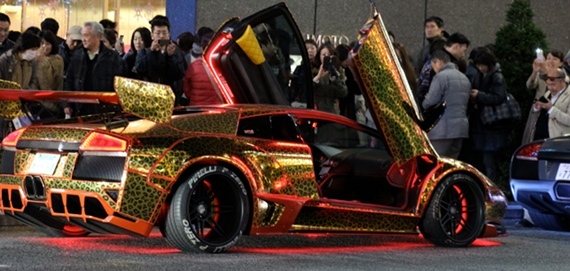 You never know what might roll up in Ginza at night.
If you can afford it, the Aquarium is a perfect place to start or finish the evening with a cocktail or glass of champagne and watch Ginza shine.
(BTW, Dunhill Ginza also has a barber in-house. Not at the cafe of course...)
Hours: Mon.-Sat., 11 a.m. to midnight (last order 10 p.m.). Sun., 11-10.
Tel: 03-3562-1893
English Website.
Chanel:: Beige and Le Jardin De Tweed. First, you need to know the cafe and restaurant on the tenth floor of the Chanel Building, is branded by the famous French chef, Alain Ducasse. Not Chanel.
Beige is, as you would expect from a Michelin-star class chef, a first class restaurant. The terrace cafe, Le Jardin De Tweed, is open just from March through October, and only on days when the weather permits al fresco dining.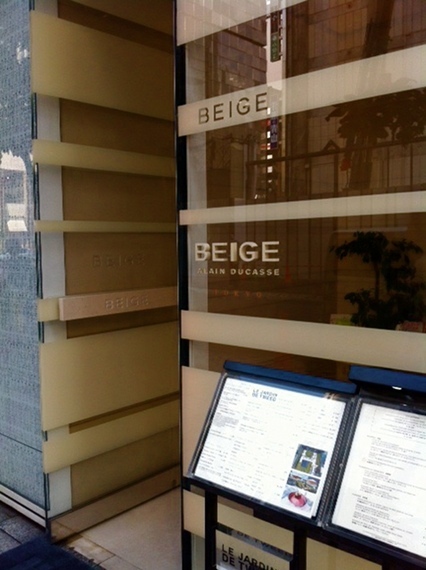 The entrance to Beige is as you might expect, beige.
Don't be afraid to try Le Jardin De Tweed if the season permits. Coffee or a glass of beer can be had for a thousand yen ($11), which, considering the location, is not bad at all. House wine, red or white, is available at 1500 yen ($16) a glass. There are a few Chanel touches here and there, like the wall of interlocked C's.
Entrance to the cafe and restaurant is through the concierge at the side of the Chanel building, not the main Chanel entrance.
Hours: Le Jardin De Tweed: Closed Monday and Tuesday. Open 12 noon with the last order for food at 8:30 and the last order for drinks at 9:30. Beige is closed both Monday and Tuesday. Lunch: 11:30-4:30 (last order 2:30). Dinner, 6-11:30 (last order 8:30).
Tel: 03-5159-5500
Le Jardin De Tweed Website
Beige Website.
Furla: Furla Cafe. If you love Furla and want to have coffee with your brand, you might give this cafe a try. Tiny and shiny - you can actually see your reflection in the chairs - it's only eight tables wide. That's with four of them pushed together!
The cafe is tucked into a corner of the basement, squeezed in among the gorgeous display cases of bags, shoes, and wallets. I like Furla. One of their Satchels in a candy color? Please, yes! But the cafe seems like an afterthought, the coffee is bland and the menu the kind of fare you can find anywhere.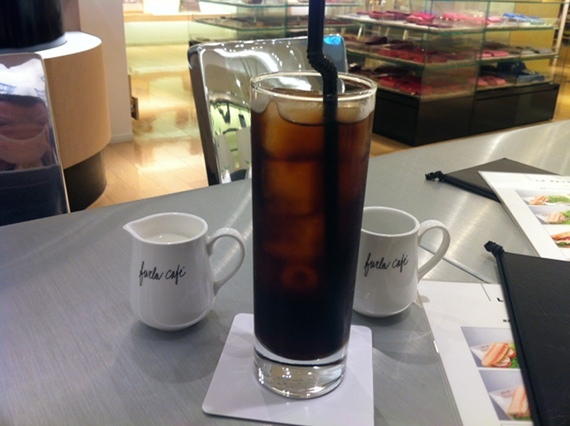 If you are passionate about this Italian design house and want only to gaze upon examples of your brand, perhaps this is not a problem. An ice coffee will cost you 900 yen.
Open daily, 11-8 (last order 7:30).
Tel: 03-3564-7570
Japanese website.
Though these are most of the top tier cafes, there are many more fashion-branded venues to choose from around the city. Tokyo, where you can buy your brands and eat them, too.