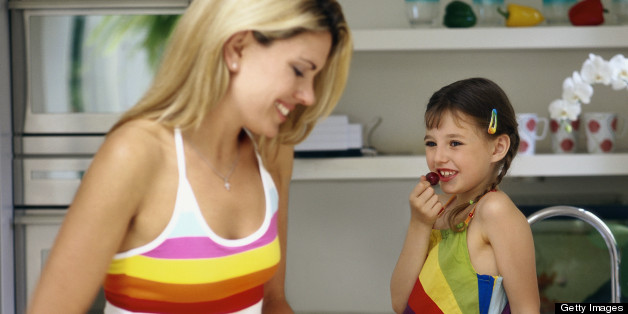 by Carolina del Busto for GalTime.com
Mother's Day is just around the corner, and we believe that you should celebrate moms more than just one day a year -- my mother would say everyday. And what's one thing many moms love to do? Cook. Truthfully, I'm sure moms have enough on their plate already without having to factor in daily meals for the entire family, but there are those rare moments when cooking can be somewhat therapeutic and trying a new recipe can transform an ordinary kitchen into a tropical paradise.
So, in order to help give your mom -- or yourself -- that sweet little escape, we've complied a list of the best cookbooks written by moms for your mom or yourself. The tangy lemon twist here is that these moms are super-rich celebrities -- and some aren't actually moms yet. However, we still feel gifting one of these will make any gal -- or guy -- feel like a celebrity master chef after trying just one recipe.
Gwenyth Paltrow - It's All Good
This will be the sophomore cookbook for the already accomplished actress and mother of two. What's really great about this cookbook is that it's quite personal for Paltrow. According to the book description, she was anemic and vitamin D deficient, so she was given a very strict diet by her doctor that eliminated lots of foods we deem essential -- like coffee; who can possibly live without coffee? But low and behold, Paltrow stuck to her diet and got better, and now she's sharing her recipes for how you can do the same. These meals are so healthy that you'll feel lighter just skimming the pages of the book.
Patti Labelle - Recipes for the Good Life
Patti Labelle is a force to be reckoned with in the music world, but she is also a force in the kitchen. Cooking, like her velvety voice, is a gift, and it is a gift she happily shares with the world. Patti believes that food can bring people together, and with her third cookbook, Recipes for the Good Life, she strives to give you meals that will fill your table with more than just good food.
Padma Lakshmi - Tangy Tart Hot and Sweet
For any Top Chef fans out there, you'll recognize Padma Lakshmi as the sexy host. Aside from her hosting gig, Padma likes to travel the world, and whereas most people collect souvenirs, she likes to collect recipes. In Tangy Tart Hot and Sweet you'll get recipes inspired by Padma's travels -- there are Eastern-inspired dishes as well as some that hit close to our Western home.
Antonia Lofaso - The Busy Mom's Cookbook
It's no surprise we have two Top Chef cookbooks on our list, but what is a surprise is how Antonia Lofaso found time to write this book! The single mom juggles Top Chef appearances with being an executive chef at the Los Angeles hot spot Black Market Liquor Bar with being an all-star parent. Like many other moms out there, Antonia is no stranger to a busy schedule and that's what makes The Busy Mom's Cookbook a golden addition to any mom's bookshelf.
Gloria Estefan & Emilio Estefan - Estefan Kitchen
Gloria Estefan has been turning the beat around for decades in the music biz, but she has also been a successful restaurant owner since the early 1990s. Along with her husband and producer, Emilio Estefan, the Estefans own two Cuban-themed restaurants located in South Florida: Larios on the Beach and Bongos Cuban Café. With their co-written cookbook, Estefan Kitchen, Gloria and Emilio are basically taking you behind the scenes of what goes on in the kitchen of their restaurants. These easy to make recipes will transport even the weariest of mothers to a Caribbean escape.
Martha Stewart - Everyday Food: Great Food Fast
I can personally vouch for this one. Though some may still be upset at Martha -- we're on a first-name basis in my head -- I still adore her. My cookbook is stained on almost every page from use, and yours soon will be too. The recipes are extremely easy, and the best part is, it has pictures -- so when your dish comes out looking just like the picture, that's the cherry on top.
Teresa Giudice - Fabulicious!
We all have our guilty pleasures, and for some it comes in the form of The Real Housewives of New Jersey. Orange spray tanned skins aside, Fabulicious! is nothing to feel guilty about. Teresa Giudice's second cookbook offers a good variety of things that are rare in cookbooks, such as light lunch meals and recipes to try with your kids. This "Italian family cookbook" reminds me of one a la Carmela Soprano, Entertaining with the Sopranos.
Rachael Ray - My Year In Meals
For those of us foodies, Rachael Ray is a household name, and there's no better way to bring Rachael into your home than with My Year In Meals. This flavorful collection of over 500 recipes will keep you in the kitchen cooking meal after meal, and enjoying yourself too. And for those moments you just want to unwind, flip over the book and find yourself choosing between a hundred different cocktail recipes -- and Lord knows some moms could use a wind-down cocktail after a stressful day.
Jessica Sienfeld - Deceptively Delicious
Being married to Jerry Sienfeld requires a unique sense of humor, so luckily for moms out there, Jessica Sienfeld is so unique, she's deceptive. Deceptively Delicious, that is. Jessica has come up with the solution to getting kids to eat healthy: hide veggies in their food. It's so brilliant you'll wonder why you didn't think of it before. Adding to her credibility, Jessica works with a nutritionist to make sure your kids are getting great healthy benefits with each meal.
Eva Longoria - Eva's Kitchen
Some say that Latin women have cooking in their blood. That certainly rings true of Eva Longoria, who shares some top-secret family recipes in her first cookbook, Eva's Kitchen. There's something for everyone in this book, from apple cider to empanadas. I also own this book, and I will say that though some of the recipes may appear difficult at first glance, just stick with it - if Gabrielle Solis can do it, so can you (and your moms)!
More from GalTime.com: