These are challenging times for the companies that make automotive GPS systems. They refer to them as PND's or Personal Navigation Devices. My wife refers to them as annoying. Even though many of us have given up printing out directions in favor of plugging in addresses into a GPS, the standalone GPS market is being sliced up by the Swiss Army Knife of technology, the ubiquitous smartphone. After all, if you have a five inch screen that will give you the same information as a GPS with a lot more functions, doesn't that make more sense? There are lots of ways to secure the phone to your windshield or your dashboard so it's easily visible. At the risk of eating their young, the PND makers have also come up with their own smart phone navigation apps. But they cost money, a lot more than your average $2 or $3 app price. Enter Google Maps, which does voice search, and turn by turn navigation. And it does it all for free. How do you compete with free?
The response from the likes of Garmin, Magellan, and TomTom is to get bigger, fancier, and smarter. Garmin has introduced two new models that caught my eye. At the top of its line is the Garmin Nuvi 3597.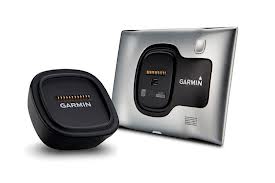 This is the first in what Garmin is calling its Prestige line. It has a 5" diagonal screen and comes with all the functions you'd expect from a top of the line Garmin unit including voice command, lifetime maps, and lifetime traffic. But the first thing you notice is the industrial design. It is downright elegant, with a brushed metal body. It also comes with a powered magnetic mount. No more fumbling to clip your unit into its holder. That makes its so attractive, I strongly suggest you take it with you when you leave your car. The unit also has a smartphone link so you can share apps with your iOS or Android device. Among the other features, lane guidance with voice prompts, so you know which lane you should be in before an interchange. Also, it has great graphical views of intersections so you won't be surprised when you go into a complex maze you're not familiar with. Alas, no device is perfect and I found this one came up short on some major points of interest, including being unable to find my local Department of Motor Vehicles office. Price tag is $380.
Garmin's Nuvi 2797 is part of its Advanced line. Not quite as full featured, but this one still responds to your voice commands. This has the largest screen Garmin makes, 7" diagonal, which is great for baby boomers and seniors whose eyesight isn't what it used to be. It carries a suggested price tag of $300.
Magellan is betting on the future of connectivity. Its new Magellan Smart GPS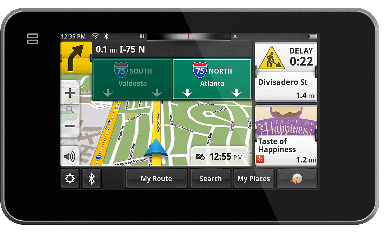 is an ambitious attempt to seamlessly connect a GPS device with the rest of your digital world. The unit, with a 5" screen, not only includes the kinds of guidance information you'd expect, but it gives you immediate access to things like Yelp and Foursquare, so you can find restaurants, gas stations, and many other points of interest nearby. The SmartGPS allows you to connect to the rest of the world in three different ways, via WiFi, through your smartphone, or directly to your computer. This will allow you to update your points of interest based on location, or to plan and optimize routing for an upcoming trip. The WiFi is designed so that if you have wireless in your home, when you pull into your driveway, the SmartGPS will automatically sync up to the latest information from the Internet. The device is available online and from Best Buy for $250. It also has available apps for Android and iOS (due this month), with upgraded turn by turn directions coming for iOS later this summer. While the device has plenty of opportunity to customize the features you want to see on the screen (or hide), frankly it is pretty busy, and without a co-pilot in the passenger seat, trying to find some of the information can be distracting. Unlike Garmin, Magellan does not offer interactive voice on any of its current models. The company doesn't think the technology is quite up to snuff yet. But given the accuracy I've found with both Google Voice Search and Garmin's voice commands, I think Magellan is missing the boat, especially for a Boomer and Senior audience that wants to stay focused on the road and not the screen. Since the Magellan SmartGPS is built on the Android platform, it should be relatively easy for its programmers to integrate Google Voice Search or comparable programs from Nuance, the makers of Dragon. And I will be surprised if that capability doesn't show up in the next version, or perhaps as a software or firmware upgrade.
European based TomTom is promising new offerings in its TomTom Go line later this summer. TomTom appears to be placing its bets on smarter real time traffic and routing information. The company's units, which do respond to voice commands, will combine traffic broadcasts along with crowdsourced routing, including differing routes depending on time of day that will presumably save time and aggravation. The devices will offer up detours and alternative routes based on real time conditions, and will presumably provide more accurate information about arrival times than TomTom's competitors.
Because of the high cost of navigation systems that are built into cars, the PND makers do have room to grow their market, and their easy to use features and large displays could continue to make them attractive to or Boomers and Seniors who like to deal with a single function device they can attach to the windshield. But for younger users who've already come to rely on smartphones as the center of their digital world, the standalone GPS makers face an uphill fight.