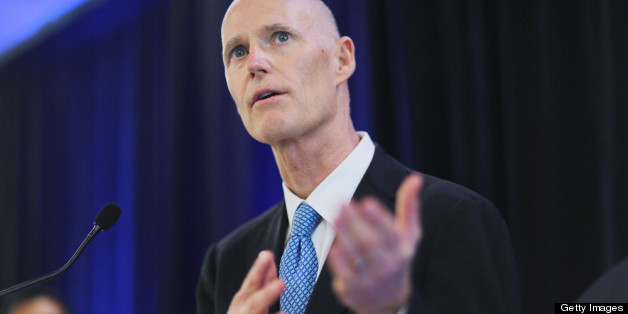 In science and statistical analysis it is called "Testing the Null Hypothesis." As described in the 1930s by a statistician named Ronald Fischer, during an experiment, when looking at observed data after an event or testing the use of some treatment on a patient, the null hypothesis is the theory the change in data is unrelated to the event, or that the treatment used had no positive or negative effect on the subject.

When given the choice of accepting or rejecting the Patient Protection and Affordable Care Act (PPACA) (or Obamacare)'s next big action step of expanding Medicaid to cover almost 1.2 million additional Floridian citizens, our state legislature decided to try some experiments instead.
One of the main concerns in Tallahassee, mainly among the Republican legislators, was over having to accept almost $51 Billion dollars from the federal government while offering the Medicaid health plan to families and individuals under 138 percent of the Federal Poverty Line (FPL). In Texas, Gov. Rick Perry called the federal funds "bribery" (Since when do politicians have to be bribed to do the right thing?) Here in Florida, legislators have offered reasons including everything from becoming increasingly "addicted to federal money" to fear that the U.S. government will default on their promise to the states, even though they have never failed in the past to pay their 53 percent match to our 47 percent funding of Medicaid since its inception in 1965.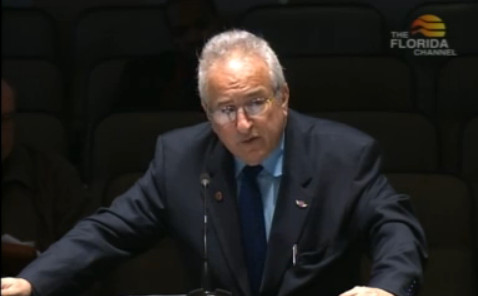 My testimony in front of the Senate Select Committee on the PPACA. Photo captured from public-owned Florida Channel.
Our legislators know that over one in five citizens in Florida has no insurance, the third worst rate in the country. So they put their heads together to come up with alternative plans to cover the poorest and most vulnerable uninsured, without taking federal funds or expanding Medicaid. They want to see what effect it will have, if, instead, they implement a plan that uses $237 million a year out of the state budget to cover around 115,000 families, women and children, leaving almost a million childless adults still without insurance.
This week, they were also heard talking about an even worse experiment -- doing nothing this session, and tabling the discussion until next year, then sitting back and watching to see what will happen until next year.
Sen. John Thrasher (R-St. Augustine) told the Herald/Tribune bureau that the Medicaid Expansion is a "big, complicated issue" that takes time to resolve.
This week, the PPACA will be three years and one month old. It will have been 10 months since the U.S. Supreme Court ruled it constitutional, with the caveat that Medicaid Expansion should be optional to the states. It has been two months since our Governor, despite a large and vocal opposition to PPACA since he started campaigning did 180-degree reversal in favor of the Expansion. The Republicans in the U.S. House have even had the chance to attempt to repeal the PPACA 37 times. With all due respect, how much more time does you and your fellow legislators need, Senator?
Speaker of the House Will Weatherford recently stated that, if we don't expand Medicaid, "That doesn't mean that the world comes to the end." This is quite true. But this is what will happen -- over the next 10 years, $55 Billion dollars, earmarked for the state of Florida, will be spent on the Healthcare of another state. Hospitals will lose billions of dollars in Disproportionate Share Hospital (DSH) funds that help to cover the cost of treating uninsured patients. 1.2 million Floridian citizens will still be without insurance, preventing them from seeking preventative or primary care, and making it more likely that they will not only use the Emergency Rooms for care, but could very possibly be in far worse shape, sometimes bordering on catastrophic, because their visit to the hospital was the first doctor they had seen in a very long time. Without DSH funds, the cost of treating "self-pay non-payers" will be completely borne by the hospital, forcing them to raise costs and/or limit staff. (Some call those rising costs "hidden taxes", which are the reason they bill for $100 Tylenol).
If the legislature decides to do nothing this session, we will lose $5 Billion in federal funding this year that could have gone to the state, create jobs and help hospitals pay for the care of the uninsured. Yet, the esteemed elected officials in Tallahassee seem to believe that nothing will happen, and if it does, it would be unrelated to their actions, or lack thereof, this session.
They are trying to prove the null hypothesis. The only problem is that Fisher showed that you cannot prove the null hypothesis, you can only disprove it, by verifying a true relationship to an event or your actions and the resulting effect or that a treatment has a negative or positive reaction.(Just because you did not see a relationship or effect does not mean that there is none).
What they do before the end of this session will affect us all in our state. The results of Medicaid Expansion is not a leap of faith, it is a statement of fact. We may just have to show them the relationship between their actions... and our votes.