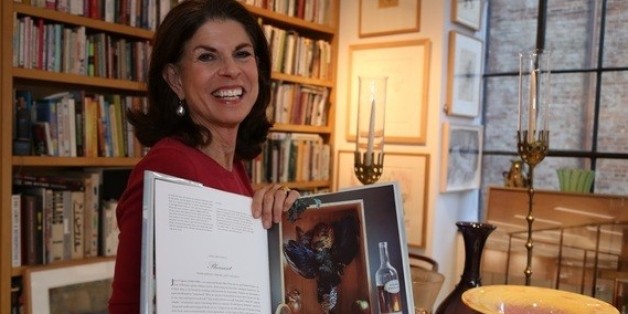 The Wall Street Journal's Gail Monaghan is a legendary party hostess whose books and feature food column have given us a glimpse into a divine and glamorous culinary universe.
She is cheery and called from the kitchen when I entered her Midtown Manhattan apartment for a brief snacking and tea, and of course, conversation.
"I have leftovers," she added, scurrying between her kitchen and pantry, which just the night before was filled with young cooks and foodies from her weekly cooking classes.
She is my culinary fairy godmother and outside of her grand dinner parties and television appearances, I get to see this mother of two for who she really is -- and eat a slice of her signature Baked Alaska now and then.
But what started as only a small business venture over 15 years ago -- in the very kitchen we were chatting in now -- baking scones and cookies for several New York City eateries, including Dean & Deluca and Petrossian, propelled this designer-turned-chef into the spotlight.
Spurred on by her dreams of writing her own cookbooks, Monaghan penned Perfect Picnics for All Seasons and The Some Like it Hot Cookbook. Little did she know Mark Magowan was scouting her to create and lead a new cookbook division for Harry N. Abrams.
"It was all quite serendipitous really -- in 2001, I had been working closely with the Felissimo tea room, but when it closed down, the offer to acquire and edit new cookbooks was a godsend," she said, taking a sip of her tea. "For material, I immediately went to people that I respected in the food industry."
Monaghan pushed through Lora Zarubin's James Beard Award-winning cookbook I Am Almost Always Hungry and James Beard Award-winning chef Jeremiah Tower's Jeremiah Tower Cooks, before the tragedy of 9/11 caused Abrams to restructure.
Lost Desserts, Monaghan's magnum opus, lay open on the table. Its sequel, The Entrees, had been tucked beneath it. Both are culinary excavations, the results of years of research, rediscovery and contemporary adaptation.
Like all great things in Monaghan's life, the idea behind these two books came to her when she least expected it. She was asked to bring the ceremonial cake to a birthday dinner for Zarubin. Unsure of what to make, she remembered a recipe her aunt had sent her years before, a Blum's Coffee Crunch Cake.
The dessert evoked both nostalgia and awe, reminding Monaghan of eating expeditions with Aunt Iva, to the very first Baskin Robbins -- located in Beverly Hills right near Blum's. The two of them spent endless hours in the backseat of Aunt Iva's car, taste-testing and critiquing all 31 flavors.
When Zarubin's guests saw the Blum's Coffee Crunch Cake, it too reminded them of their own favorite childhood sweets.
"Everyone started talking about all the fabulous desserts that were lost and people didn't eat anymore. And Lora, who at that time was food and wine editor of House & Garden said that she thought it was a great article idea, a lost desserts article was a great idea."
Almost immediately after its publication, a friend with whom Monaghan had worked with at Abrams offered to pitch the article in book form to Rizzoli. They accepted it and what started out as six recipes in a House & Garden article -- became a hunt for the lost iconic dishes Monaghan encountered growing up and on her travels abroad.
She pointed to a photograph of her most treasured find, a beautifully photographed white nougat masterpiece, covered in a layer of soft and flaky meringue, and garnished with at least one cup of bittersweet chocolate shavings. I peered over, almost as if we were discovering something that only few had seen before.
"This fané recipe was given to me by Countess Cristina de Vogüé after spending a New Year's weekend at the fabulous chateau Vaux-le-Vicomte," said Monaghan.
It's one of the many decadent dishes Monaghan had rescued during her culinary travels. And every page of Lost Desserts and The Entrees holds a story, accompanied by some of the most visually stunning food photography ever. After all, Vogue's Eric Boman shot both cookbooks.
Monaghan's work received praise from critics, first Bloomberg's Peter Elliot who named Lost Desserts the 'best sweets book of the year' and later Publisher's Weekly called The Entrees one of the 'best cookbooks of 2010.'
Deborah Needleman and Ruth Alcheck, who were hired at the time to rework the Off Duty section of theWall Street Journal, took notice of the reviews and phoned Monaghan to write for them.
Now with a platform to reach thousands, people flocked to Monaghan's cooking classes, which the Daily News at one point said they doubled as match-making sessions. We joked and I asked her how many people owed their happiness to her.
"I guess they just really enjoyed my cooking," she laughs. "You know, I was completely surprised when I read that, but when I started asking around, yes -- people started to tell me so-and-so met this person at your cooking classes."
Nowadays, Monaghan is selective of her upcoming projects. She recently signed on to write another yet-to-be named cookbook, "All I can say is that this next book will incorporate the many tricks and secrets I wish I knew twenty years ago when I started teaching my classes." She regularly joins ABC's The Chew hosts Carla Hall, Daphne Oz, Mario Batalli, Michael Symon and Clayton Kelly, per request, "Oh yes, I love them!" And she spices up her cooking classes with occasional tributes to chefs Yotam Ottolenghi, David Tanis, and April Bloomfield, "They are some of my favorite chefs right now."
Because of her Wall Street Journal exposure, Monaghan is one of the most widely read food writers in America. And it is easy to see why she commands so much attention; with elegant prose and a Rolodex of culinary knowledge, she is becoming a key culinary fixture in the food industry.