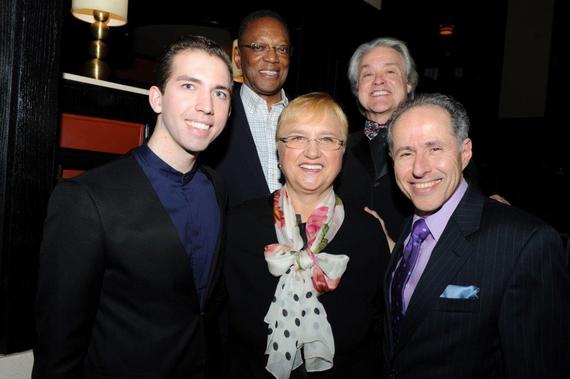 (From left to right: Gary Duff, Alvin Hall, Lidia Bastianich, Daniel Brewbaker and Michael Boriskin. Photo credit: Tracy Ketcher)
Not often do the realms of food and music come together but this year's The Awakened Palate, organized by Copland House, turned out to be the culmination of both and it was, by far, a magical celebration worth waiting for.
Woven throughout a menu of musically inspired courses at Lidia Bastianich's Del Posto restaurant, was the newly commissioned cantata from American composer Daniel Brewbaker. The evening, a collaboration between Bastianich and Brewbaker, attempted to capture the seasons of Italy not only in spirit but also in taste and ambiance.
"When they asked me to create a meal around a composition of Daniel's for this event it was great. We sat down, and for me the seasons are so beautiful--they express so much about food and about Italy... and I told him Vivaldi did his thing, but you could do your thing!" laughed Bastianich.
As she sings the verses of Gioachino Rossini's Mangiare Veramente to me in Italian, she tops it off by echoing the words in English, "There's no better occupation than eat, than truly eat! The appetite for the stomach is what love is for the heart. The stomach is the director that conducts the big orchestra of our passions."
A closer look at the program menu revealed NOTES of White Truffle, Apple and Potato, a HARMONY of Prosciutto di Parma, and a RHAPSODY of Swiss Chard Goulash, all served as courses, with a final touch of Preserved Summer Fruits in CONCERT with Sheep's Milk Ricotta and Almond Macaroon Shard for dessert.
With minor culinary license and a many day's worth perusing through Italian poetry, which also makes a separate appearance by way of a pull out (to muse upon while listening to Brewbaker's music)--Lord Byron's 'Spring in Friuli' gets an updated translation, which includes items on the night's menu.
"My hope with this piece was that people would feel like they were in Friuli, Italy... for my music to be nourishing to the soul in the same way that Lidia's food is," says Brewbaker before being whisked away to orchestrate the next portion of his composition.
Within seconds, I spot Paul Schaeffer and the guests of honor, Carol and Robert Morris, walking by, Alvin Hall of BBC fame, Copland House's Treasurer Ezriel Kornel, and pianist and Creative and Artistic Director Michael Boriskin, among the 250-plus attendees who have come out to honor the late Aaron Copland and the nonprofit that bears his name.
"An event like this is really distinctive and kind of magical when you get a chance to see all the different components come together. We're all constantly rushing around in our lives and this is a bit of an oasis that reminds us to focus on cuisine and the arts and coming together for both," says Boriskin.