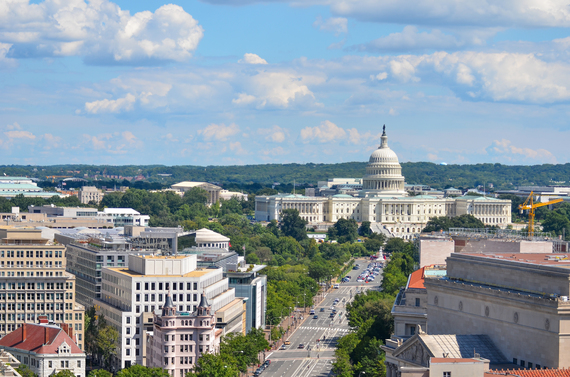 This week I had the great pleasure to attend SUSTYBIZ16, a three-day event organized by the American Sustainable Business Council and held in Washington DC. Having been in the sustainable business world for over ten years, I knew that the ASBC and its members represented over 200,000 businesses and 325,000 business executives, owners, and investors and that they advocated at both the federal and state level for a broad range of policy initiatives that promote a sustainable economy, but I had not had the opportunity to engage with them. It was when Greg Wendt, a good friend and Founder and Advisor of the Green Economy Think Tank told me about this year's topic, "Looking Beyond the Elections" that I was intrigued to the point of jumping on a plane and heading to DC.
The theme of this year's conference was to explore what progress we can expect on key sustainability policy issues over the next few years. While sustainability should be a bi-partisan issue, this remains a gray area depending on who the new president is as well as in the composition of Congress and the U.S. Senate. The outcome is critical to me as Greenopia will be in serious trouble if government regulations fail to support the growth of sustainable business practices. We are a company of over 110,000 eco-friendly businesses and growing. Most of these businesses are small to midsize. The better their access to capital and regulatory support, the less of a struggle it is for them to conduct eco-friendly businesses or as I like to say, do business with a green heart.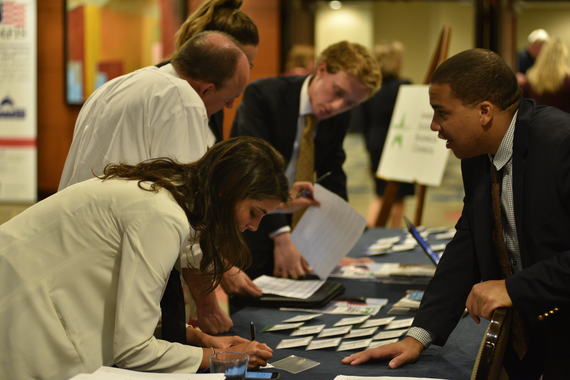 The first full day I had the honor of meeting and hearing speak several of the ASBC board members including Richard Eidlin, VP Policy and Campaigns, David Levine, co-founder and President, and David Brodwin, VP Media and Communications. I heard Jeffrey Hollender, co-founder and former CEO and founder of Seventh Generation discuss climate change and food justice with US Representative Ruben Gallego of Arizona and Pat Heffernan, Board Member and Founder and President of Marketing Partners speak on a panel on another issue near and dear to my heart, Women and Equity.
What impressed me about each one of them, as with everyone else I met and heard speak at the conference, was that this was a group that was passionately committed in that ALL businesses should operate in a sustainable manner, both in front and back end practices. This was a sentiment that was not only echoed by the conference attendees but also the politicians who stopped by to show their support. It was quite thrilling to be among these eco-pioneers and to listen to their stories of both stresses and successes.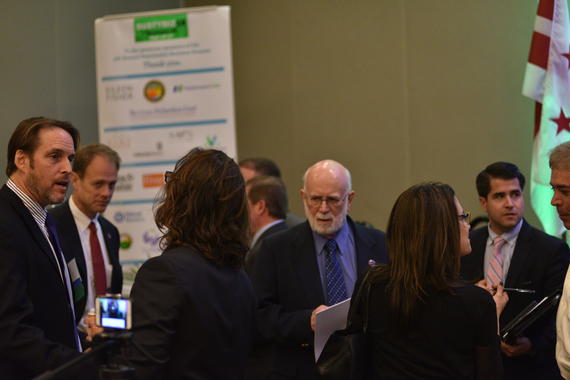 But despite the feel good attitude that was pervasive throughout that first day, I could not ignore this gnawing feeling of impatience. Although the ASBC, Greenopia and other sustainable business associations like us have been positively impacting many businesses across the US, there are still hundreds of thousands more to be reached with this messaging. Given the LOHAS (Lifestyles of Health and Sustainability) market generates over $300 billion in annual revenue, it astounds me that more businesses are not focused on targeting this growing consumer base who seek low carbon footprints and value sustainable practices.
The band of businesses at SUSTYBIZ16 had started as outliers but now really need to be the norm if we are going to slow down climate change. All I could think of as I went to bed that night was how urgent this mission is and what a massive opportunity for green growth it represents!
The second day was spent divided between Capitol Hill, lobbying in support of Senator Dianne Feinstein's new Personal Care Products Safety Act, and the White House where we sat in session in one of the meeting halls listening to the various departments explain what they had accomplished and what they were planning to hand off as their green recommendations to the next administration. Zaid Hassan, from the Office of Public Engagement and International Affairs, ran the meeting and kept us on schedule through the various departmental reports.
As much as my spirits might have lagged the day before, they were lifted up at hearing all the good things the current administration has accomplished during the past eight years, like the Clean Power Plan that puts our nation on the path toward a 30 percent reduction in carbon pollution from the power sector by 2030, or America's Great Outdoor's Act, the most extensive expansion of land and water conservation in more than a generation, designating more than 2 million acres of federal wilderness, thousands of miles of trails, and protecting more than 1,000 miles of rivers.
After two full days of intensive meetings with new people and absorbing mountains of information, I left DC exhausted but I also left with a renewed faith that the Obama Administration was doing everything in its power to secure that the rules supporting green businesses would continue far in the future, no matter what changes occur in the oval office. Just as the founders assured liberty and justice for all, their goal is for ALL businesses to have the freedom to operate in a sustainable manner. This might appear to be a lofty goal, but it's one that's imperative if we all want to survive on this planet and live with green hearts.