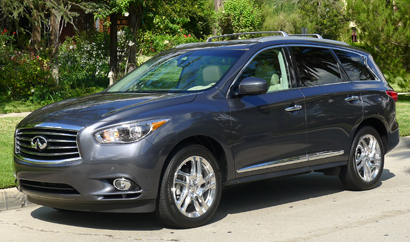 The combination of high fuel prices, not wanting a mommy-mobile and maybe just a bit of common sense has swayed buyers into shopping for crossovers. SUV owners who finally realized that they didn't need all of the fuel-robbing bulk and family chauffeurs seeking more style have found crossover vehicles to be an excellent compromise. The typical crossover consists of a passenger car chassis, high seating position for a better view and a large cargo area. Most are available with all-wheel drive and some offer seating for as many as eight. Like any other type of vehicle, they range from bare bones to ultra-chic, and market segments are becoming more crowded. View the following car reviews for our top ten favorite crossovers.
GMC Acadia Denali
This luxurious crossover offers comfortable three-row seating and plenty of cargo space, making it perfect for carpool lanes and camping trips alike. The Denali trim level adds stylish touches like chrome highlights, mahogany wood accents and a distinctive honeycomb grille.
Read a complete car review of the GMC Acadia Denali
Mazda CX-5
Larger than the Mazda 3 and smaller than the CX-7, the CX-5 navigates the narrow space between hatchback and SUV with ease, providing the petite size and pep of the former with the comfort, convenience and extra cargo room of the latter.
Read a complete car review of the Mazda CX-5
Infiniti JX35
Built with both performance and passenger comfort in mind, the Infiniti JX35 combines a roomy, seven-passenger cabin with an efficient powertrain and plenty of luxury touches. Intelligent safety features such as the Backup Collision Intervention System make this crossover a great pick for families.
Read a complete car review of the Infiniti JX35
Volvo XC60
Wrapped in an attractive sculpted body, the slender yet roomy XC60 provides families with a comfortable and safe ride. This five-passenger crossover comes standard with a 240-hp inline 6-cylinder engine, all-wheel drive, and Volvo's innovative City Safety feature, a low-speed crash prevention system.
Read a complete car review of the Volvo XC60
Lincoln MKT
This large luxury crossover offers a host of technologically advanced amenities and plenty of power from its 3.7-liter V6 engine. The MKT easily seats seven with its three rows of spacious seating, while road-trippers will appreciate the nearly 76 square feet of cargo space. Those looking for even more oomph may want to opt for the twin-turbocharged 3.5-liter EcoBoost V6, which offers the performance of a V8 with the fuel economy of a six-cylinder.
Read a complete car review of the Lincoln MKT
Toyota Venza
Featuring clean lines and a comfortable interior, the Toyota Venza is the perfect vehicle for moms and dads who don't want to sacrifice style for functionality. Added to the crossover's cool looks are a bevy of standard safety features, which helped the Venza earn a five-star rating for frontal and side crashes from the National Highway Traffic Safety Administration.
Read a complete car review of the Toyota Venza
Ford Edge
This stylish crossover, which combines solid performance with intelligent technological features, offers drivers a luxury feel at a great price. The Edge's responsive handling and available all-wheel drive ensure driver satisfaction, while the car's quiet interior and easy-to-use in-dash interface make for a comfortable cabin.
Read a complete car review of the Ford Edge
Cadillac SRX
The latest iteration of the Cadillac SRX features a slimmed-down size and improved gas mileage. Caddy's take on the crossover also features a well-equipped interior and plenty of extra amenities that will appeal to those looking for the ultimate in American-made luxury.
Read a complete car review of the Cadillac SRX
Buick Enclave
This eight-passenger luxury crossover is equipped with a 3.6-liter V6 engine, all-wheel independent suspension and electronic stability control system, and exhibits quiet and smooth road manners. Features include a power liftgate, Bluetooth interface, rearview camera system and ultrasonic rear parking assist.
Read a complete car review of the Buick Enclave
Honda Crosstour
This XL version of the Honda Accord provides sedan-like looks and handling with the utility and storage space of a wagon. Opting for a sloping roofline and lift-up rear hatch in place of a trunk, the Crosstour has nearly three-and-a-half times more cargo room than the Accord sedan.
Read a complete car review of the Honda Crosstour
MORE ON GAYOT.com
More Information and Photos of the Top 10 Crossover Vehicles
Browse More Crossover Vehicles