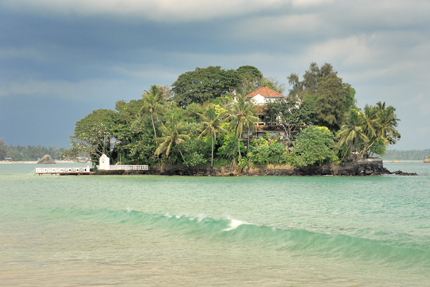 Instead of another cookie-cutter hotel room, why not stay in a bubble in a French forest, or ride an elephant onto your private island in Sri Lanka? A stay at one of GAYOT.com's Top 10 Extreme Hotels Worldwide is a guarantee of a one-of-a-kind vacation unlike any other.
ITALY
Matera
Le Grotte Della Civita
This enclave of cave buildings is not what most travelers envision for accommodation when planning their Italian hill town escape. But although the architecture may bring to mind Fred Flintstone, the décor is all about rustically sophisticated charm. The eighteen guest rooms are spread throughout a complex of ancient cave dwellings in Matera, a UNESCO World Heritage Site that has been inhabited since the Bronze Age. Each features simple furnishings influenced by traditional designs (a local museum was consulted during the reclamation process) and made by area craftspeople. The caves have been modernized for comfort (running water, electricity, etc.), but the focus is on conservation and historical integrity, ensuring a memorably authentic experience.
FRANCE
Allauch
Attrap' Rêves Allauch
Sure, not everyone dreams of starring in their own space odyssey, but for those who do, this family-owned enterprise provides an apt setting. Campy meets camping in six bubble accommodations with themes ranging from 1001 Nights to Zen. But these bubbles offer more than just a unique experience. Made from recycled materials, they are eco-friendly, and they are deflated at the end of the season, ensuring minimal impact on the surrounding pine forest. Although the bubbles are sheer, privacy is ensured, from individual bathrooms to secluded locales within the property. Packages heighten the experience, with extras such as Champagne, gourmet dinner, massages and a telescope and star chart for the ultimate in bedtime star-gazing. Though this Provençal property feels isolated, you can easily visit the pottery makers of Aubagne or the nearby town of Allauch overlooking Marseilles. Better yet, if you enjoy this experience, you can check out Attrap' Rêves' other bubble destinations throughout France.
SRI LANKA
Weligama Bay
Taprobane Island
Built in the 1920s by a self-appointed count and later owned by the expatriate writer Paul Bowles (who penned Spider House here), this two-and-a-half-acre private island boasts just one sumptuous, five-bedroom villa. Although guests can wade to their exclusive hideaway from the shores of Sri Lanka, it's more fun to ride in on an elephant. The concept behind the villa's design was to avoid closed spaces, which means that there are views of the sea from almost every point in the house, including the stunning infinity pool and the individual terraces attached to the four double bedrooms. Adding to the sense of luxury is the island's attentive staff, which includes security guards and a dedicated chef whose many specialties include Sri Lankan curries.
SWITZERLAND
Les Cerniers
Whitepod
Accessible by shuttle, snow bike and ski lift -- depending on the season -- the camp at Whitepod delivers an exclusive Swiss Alps experience. Situated at 1,400 meters, it consists of just fifteen pods designed to resemble igloos. These pods are in fact dome-shaped tents, pitched on raised wooden platforms surrounding a refurbished alpine chalet. Each well-insulated lodging is heated by a wood-burning stove and has its own private front terrace with beautiful views of the valley, and the chalet features a communal area, where guests gather for breakfast and evening drinks around the fireplace. Along with majestic views of the snow-covered mountains, the camp offers ski lessons, guided snowshoe tours, cross-country skiing, dog sledding and massages at Chalet Les Cerniers, the camp's starting point (a fifteen-minute walk from the pods), which also features a full restaurant.
SPAIN
Cortes de la Frontera
The Hoopoe Yurt Hotel
Usually, yurts are associated with the outer reaches of Mongolia, but Hoopoe has made these traditional tent-like accommodations an accessible "glamping" experience by setting up six in the rugged Andalusian landscape of southern Spain. Situated within three hectares of olive groves and cork oak forest, each yurt at this fully solar-powered retreat has its own private bathroom and is decorated with antique furniture and textiles from a variety of different countries. Breakfast is included in the rates, and three-course dinners begin with tapas in the Herb Garden Bar. Although drifting in a hammock is a tempting way to spend your entire holiday, the surrounding attractions are well worth a day trip, including ancient cave paintings, the Moorish town of Ronda and the sherry bodegas of Jerez.
Top 10 Romantic Hotels in Spain
MORE ON GAYOT.com
The Rest of the Top 10 Extreme Hotels Worldwide with Photos
More Top Extreme Hotels Worldwide