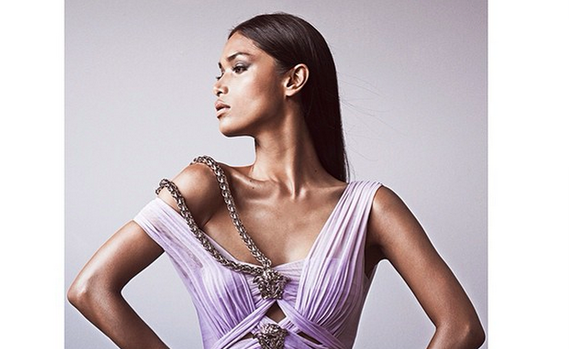 It was exactly a year ago when I allowed myself to be fully seen by the world as the woman that I am: a proud transgender female.
I also came to realize that to arrive at a position of strength, I needed to better understand the many intersecting identities that had shaped my thinking. I was born and raised in a little alley in Manila, and I always had big dreams. As the sole breadwinner in our family, my mom showed me the meaning of resourcefulness. Besides being an elementary school teacher, she had many side jobs, ensuring we always had enough food on the table.
I am a daughter. I am an immigrant. I am a person of color.
For a long time, I was paralyzed by fear in accepting my truth. Afraid of what people might think of me, afraid of losing modeling jobs. I finally decided that I could not be paralyzed anymore. I realized that to accept vulnerability is to allow your authenticity to shine.
After launching Gender Proud, I was deluged with support; my community of friends - most of whom did not know about my trans identity -- were deeply proud of me. The media treated my story with respect, and I went on tour to universities all over the country, where students welcomed me with open arms.
The trans movement has had an incredible year. Laverne Cox was on the cover of Time, Janet Mock had a NYT bestselling book and a 14-year old, Jazz Jennings is America's newest sweetheart.
It is through stories that we've come to humanize our journey and its through visibility that we've saved lives.
Alas, visibility is not the same as equality. The first seven weeks of 2015 were horrendously violent; we've already seen seven deaths in our community. In comparison, there were 12 murders in all of 2014.
Leelah Alcorn's death in December showed us the tragedy that lies in denying our youth their truth, and it reminded us that "conversion therapy" is actually abuse.
There many more battles in front of us -- Indiana's Religious Freedom Act, to start -- I'm encouraged by the countless signs that the world is aware and listening. I would like to believe that conscious communities will not allow the spread of prejudice to continue.
I'm writing this from the airplane, en route home from an annual gathering called the Trans100. On the final night, a list of 100 names is read; trans community members who are being recognized for their advocacy work. Excited about what they're creating, I look forward to standing alongside that growing list of change makers.