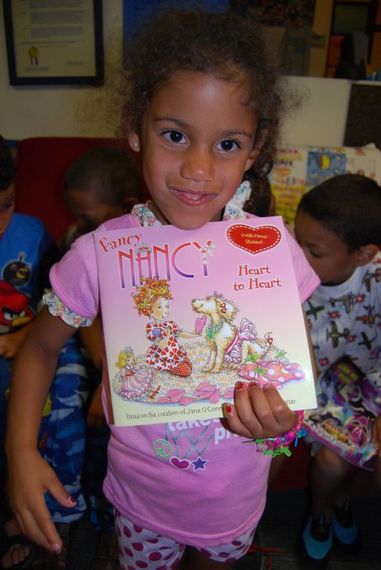 There are few instances in life when you see true inspiration in action, when it's standing in front of you, revealed right before your eyes. More than a decade ago when I was first handing out pajamas and books in shelters someone told me about a nun in Queens who was sheltering children. I was immediately inspired to call her. I learned she was caring for children whose moms were in prison or rehab. Seldom was there a caring father involved or grandparents or relatives to step in. Since the children were alone, she decided to petition the courts for temporary custody of them. She soon found herself a mother to motherless children. I don't know how she managed or how long she thought she would be their mother, but that doesn't matter. What does matter is how it's all turning out - how these children are growing into some of the most loving, smart and selfless children I have ever met.
Since we started inviting children to our Reading Centers, HOUR Children have been regular readers with us. We've seen toddlers grow into teenagers and find love and happiness while in their new-found home with Sister Tesa and the other children and staff. We've heard about successful reunions with families when moms were released and how trying and difficult it can be but how worthwhile when it does work out for all. Everyone is cared for and cared about at HOUR Children - family is what matters.
The other day we had the opportunity to visit HOUR Children in their environment and watch Sister Tesa in action. We were in a party room with more than 50 children ready for a party! Carter's Babies & Kids provided us with beautiful pajamas and Scholastic Book Club delivered books and a big red Clifford the Dog costumed character to help hand out all the gifts and take pictures with the kids. I watched Sister with the children - there were babies and toddlers, tweens and teens - and they all gravitated toward her, reaching for her to hold their hands, pick them up, give them a cookie, put on their new pajamas over their clothes or read to them from the pages of their new book. She granted every wish. She knew every name. She even wiped their tears when they were afraid of the big red dog and then lovingly coaxed them into giving him a hug.
I was in awe and deeply moved. For more than two decades this woman believed in her purpose and remained focused on her mission - to personally love each and every child. Not for the length of time she was responsible for them, but forever. Founded more than 25 years ago, Hour Children® was named to acknowledge the important hours that shape the life of a child with an incarcerated mother - the hour of their mother's arrest, the hour of their visit, and the hour of her release. We spent an hour with Sister Tesa and witnessed the truest form of inspiration I have ever seen.