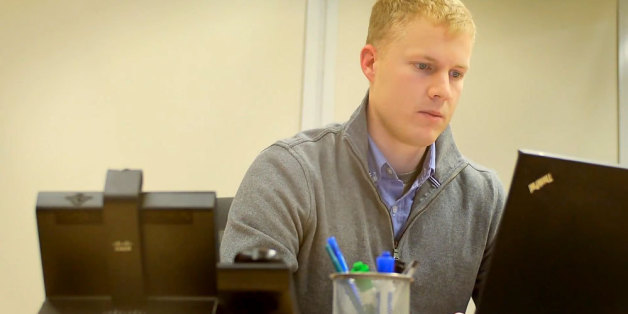 Earlier this year I spoke at a hiring event that was focused on helping transitioning service members -- those exiting the military -- match their skills and interests with civilian jobs. During the event, I met with many of these men and women, including several wounded, ill and injured. What I found was that they were all consistently respectful, articulate, intelligent and remarkably humble about their skills, abilities and experience.
They were very thankful for the opportunity to be matched up with employers who valued candidates with their skill sets. It was a personally moving experience to talk with people who have served our country and sacrificed so much, and now simply want to find a good job so they can take care of their families. They are very service focused and many told me they did not like being called "heroes" -- that the true heroes were their friends that did not come home. Early in the day, the 4-year-old son of one of the troops came up to me, hugged my leg and said, "Thank you for helping my Daddy get a job." That one hug distilled down everything our company, Futures Inc., does. I like to share that experience with all our employees and partners when they ask about the impact of our work.
The U.S. is on the front end of one of the greatest talent shortages in history. Around 10,000 baby boomers are aging out of the workforce every day and demand for skilled talent is growing. Meanwhile, over 300,000 personnel will transition out of the U.S. Armed Forces over the next 12 months and will struggle to find good jobs. Most employers don't understand how military training and experience translate into the knowledge, skills and abilities (KSAs) needed to run their businesses. Bridging this gap is the primary focus of our company and the technology solutions we build. Our advanced skills latticing technology translates military experience and training directly to civilian job requirements. This technology is what drives the U.S. Military Pipeline.
I started on this journey 14 years ago when I was coaching high-school wrestling in Fayetteville, NC, near Fort Bragg. I saw firsthand the talent and leadership of the military personnel in that community. At the same time, I was working on my MBA at Duke and discovered that the Fortune 500 companies I encountered through that program had no idea of the level of talent available from the military. I realized that if we could match up military skills and training with civilian job requirements we could literally change the lives of 18 million veterans in the U.S. workforce.
That realization led to the creation of a platform to help all service members and veterans explore careers that match their skills and interests. Thousands of military families, across all services, worked with us to shape the requirements we use today to support hundreds of thousands of service members and veteran job seekers.
In 2012, Futures Inc. was contracted under the Employer Support of the Guard and Reserve (ESGR) to create H2H.jobs for the Yellow Ribbon Integration Program. We configured our Software-as-a-Service (SaaS) platform, called Pipeline, to provide the complete technology solution for the entire Reserve Component of over 1 million total Reserve and National Guard. The program was wildly successful, with over 1.3 million users and 252,000 documented hires in less than two years.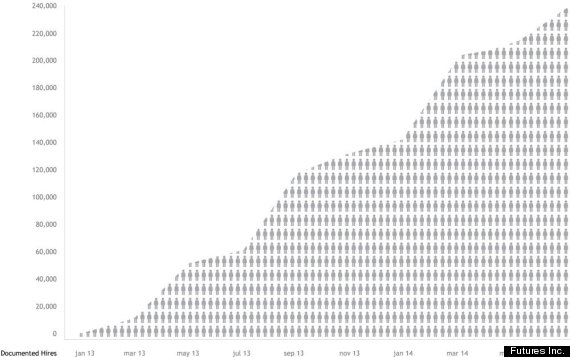 Building on the success of H2H.jobs, Futures expanded the scope and capability with the rollout of the U.S. Military Pipeline in early 2014. This site is a free resource to transitioning military personnel across all branches, along with veterans and their families. Earlier this year, the USO approached us with a request to make this technology available to troops "behind the fence" to quickly bridge the gap to employment post-separation. Answering that call, we built the USO Employment Pipeline, which is now available in over 161 USO locations around the world.
Unfortunately, on September 11, without any prior notice to Futures, ESGR shut down the H2H.jobs technology platform and redirected visitors to the H2H.jobs website to the VA's eBenefits Veterans Employment Center site. At that time, we had over 30,000 military job seekers being supported by 403 case managers. No transition plan was offered to the veteran members other than a directive that H2H was being replaced by the eBenefits platform.
Fortunately, we were able to immediately point all H2H users to the U.S. Military Pipeline. Today we are supporting over 250,000 active users of the site providing them access to over 3.8 million job openings. All service members interested in finding a meaningful job are encouraged to register on the Pipeline today.
I believe we can rise above political pressures and work together, as public and private organizations, to provide our military personnel with the best possible service to help them find employment. We owe them that much. We asked them to serve their country, now it's time for their country to serve them.
For more information, please visit Futures Inc. or U.S. Military Pipeline.
Futures Inc. is a partner of Cisco CSR. Cisco sponsors The Huffington Post's ImpactX section.