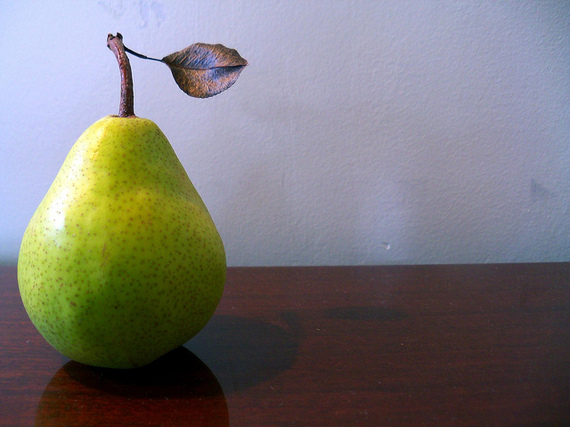 Pears are delicious. And make a killer addition to every, single stage of dinner -- appetizers, soup, salad, entrée, side dishes and dessert. Or forget dinner altogether and just go crazy with the wine and cheese. With pears in hand, anything goes.  
Simply put, if you're not already in love with pears, you should be. Here's everything you need to know about this delicious tree fruit that will help you get more acquainted.
Shopping
Choose pears that are blemish-free. They are perfectly ripe and ready to eat when the stem end or neck gives slightly to light pressure. Here is an easy-to-use ripening guide. If you buy them very firm, that means they will do their ripening once you get them home, and likely last longer.
 
Storing
Pears should be stored at room temperature until they are fully ripe, at which point they should be stored in the refrigerator. 
Cooking
In addition to enjoying pears raw, they can be baked, poached and grilled. Here is a great recipe for a pear, bacon and brie grilled cheese sandwich.
Start the Day Right -- A bowl of Raisin Bran is better than nothing, but wouldn't everything just be better if you started your morning with pear and gouda crepes? Hint: The answer is yes!
Beyond Tex Mex -- Make the common quesadilla gourmet by adding Bartlett pears. Think pepper jack and crumbled blue cheese, chopped onions and hazelnuts, thinly sliced pears and a little basil. Warning: You will be full before you even get to your salad. 
The Kitchen Sink -- Soup's on -- roasted pear, pea, and mint relish with carrot and fennel soup to be exact. Or try a pumpkin and pear pureed soup. Or perhaps a rich curried butternut squash and pear bisque is more up your alley. The point is, lots of pear soup options. 
Load up on Greens -- Refreshingly light and juicy, pears are a perfect for spicing up a salad. Try Bibb lettuce with pears and gorgonzola. Or add pears to chicken salad or a Chinese chicken salad for a sweet surprise. Try roasted pears over arugula with warm goat cheese. So many options!  
When in Doubt -- Pizza -- Canadian bacon and pineapple is played out, but try roasted pear and ricotta cheese for an instant fruit-on-pizza favorite. 
Mmmm, Pork Chops -- A perfect compliment to pork chops, try grilled pork chops with balsamic caramelized pears. Or serve a prosciutto-wrapped pork loin with caramelized sweet potatoes and pears. Mmmm, good. 
Time for Dessert - When it comes to pears, it's pretty safe to say you can't go wrong with a pie, cake, tart, or crisp of any kind. But don't overlook the glory of a perfectly poached pear served a la mode.
If you're still not convinced that you should be eating pears, consider that Rick Ross (yes this Rick Ross) just gave a shout out to pears for helping him lose weight. Check out his "Shout out to all the Pear" vine over at Modern Farmer.