I have a soft spot in my heart for plays that toy with the accepted parameters of theatre. Whether they turn a known piece upside down and inside out or simply show the audience what things look like from an actor's point of view, I love plays that give theatergoers a look at what really happens onstage.

Several years ago I caught a play at the Bay One Acts Festival directed by Alex Curtis that utterly charmed me. Tim Bauer's rollicking, breathless romp through Romeo and Juliet kept the audience and actors gasping for breath. Three Little Words was based on a simple premise. Four actors are tasked with performing the entirety of Shakespeare's classic tragedy with a new set of rules:
The four actors must impersonate all of the characters in Shakespeare's play.
Each actor can only speak in sentences that use three words.
Each actor can only speak one sentence before another actor must pick up the story.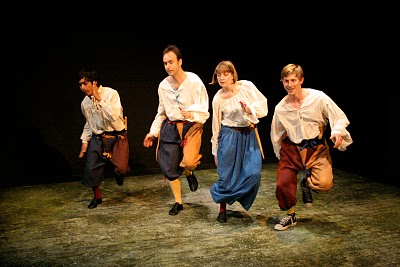 Jasen Talise, Dave Dyson, Megan Briggs, and Nick Dickson
in Tim Bauer's Three Little Words.
"My main rule in writing a short play is to convey the essential information, the setup, as quickly as possible. If I only have ten minutes, I don't want the audience to spend the first three minutes wondering who the characters are and where they're supposed to be," explained Bauer. "I suppose that comes from my improv days, when you'd walk onstage and say 'Great day for fishing' so that the audience and your fellow improvisers immediately knew why the hell you were miming holding a fishing pole."
Bauer's play certainly kept his cast of four (and the audience) on their toes. Although the breathless moments may have caused some contractions to seem like one word instead of two (and there were some instances where four words actually slipped into one sentence), for the most part the cast did a masterful job of sticking to the rules. This was also the kind of situation where, the more familiarity one had with Shakespeare's script, the more fun was to be found in Bauer's abbreviated text.
In addition to playing the lovestruck Romeo, the training Nick Dickson had received attending the Clown Conservatory at the San Francisco Circus Center came in handy for pratfalls and other moments of broad physical comedy. Young Jasen Talise (an exciting Asian-American actor) scored strongly as the nurse and in other supporting roles. Megan Briggs was a quick-tongued Juliet while Dave Dyson took on Friar Lawrence and a host of other roles. Needless to say, a good time was had by all!
* * * * * * * * * *
What are the actors thinking when they're required to break through the fourth wall? Ken Slattery has furnished some delightful insights with Death to the Audience, produced by Precarious Theatre as part of the 2012 Bay One Acts Festival.
In Slattery's farce, Mars, the God of War (Andrew Calabrese), is a big brutish character who plans to attack the audience by breaking through the fourth wall. However, weary from spending too much time downstage left, two of his spear carriers are quick to fill him in one who's who and what's what in live theatre.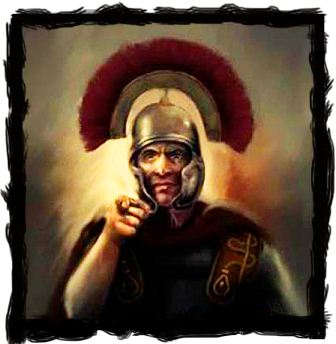 Poster art for Death to the Audience
Having originally created Death To The Audience for San Francisco Playground (when the assigned topic was "Son of Juno"), Slattery confesses that:
"Gods are larger-than-life characters, a little childish, definitely not adults, and that seems to suit me generally when it comes to writing comic characters and situations. I wrote it in March 2004, so I can't remember exactly how I came to have the idea, but I'm sure I researched who Juno was, discovered Mars was her son, read that Mars was the God of War, and somehow progressed to writing a play where Roman characters onstage decide to declare war on the audience. PlayGround topics often work like that; they usually require a little research that inevitably opens up all sorts of ideas you wouldn't have thought of having."
With Juno (Erin Carter), Minerva (Hannah Knapp), Spear Carrier #1 (Vince Rodriguez), and Spear Carrier #2 (Sarah Meyerhoff) nervously keeping an eye on Mars to make sure his actions don't result in total disaster, Death to the Audience is filled with lots of sly in-jokes for theatre lovers. M. Graham Smith's stage direction rams each point home with care, comedy, and absolutely no compassion.
* * * * * * * * * *
Down in the South Bay, San Jose Rep delighted audiences with Theresa Rebeck's backstage comedy, The Understudy. Although many an actor has earned good money working as an understudy, precious few have become famous in their own right.
The understudy in Rebeck's play has little to no chance of becoming an overnight sensation like Shirley MacLaine or Salvatore Licitra. In fact, Harry (Gabriel Marin) is a bit of a shlub, a down-and-out actor whose cynicism and disgust with the film industry's casting choices are confessed directly to the audience. The actor Harry is understudying, Jake (Craig Marker), was recently transformed into an action hero in a small role where he got to utter such brilliant lines as "Get in the truck!" for a salary of $2 million.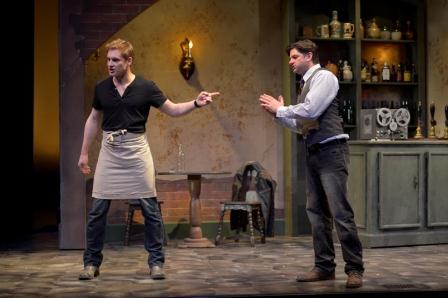 Craig Marker and Gabriel Marin in The Understudy (Photo by: Kevin Berne)
As it turns out, Jake is understudying Ben, a Hollywood superstar with a multi-million dollar price tag who is trying to gain some legitimate theatre credits by acting in a supposedly "undiscovered masterpiece" written by Franz Kafka. What should be a simple, low-voltage understudy rehearsal is transformed by some unexpected developments:
The stage manager for the production, Roxanne (Jessica Wortham), is a former actor and control freak who was once engaged to Harry. Unfortunately, Harry disappeared two weeks before they were to be married. It would be a severe understatement to say that Roxanne "has issues."
While Jake may be getting a decent quote for minor roles in Hollywood -- and is eagerly waiting to hear from his agent about a potential new contract -- he's increasingly aware that he lacks Harry's talent and craft.
The pothead working the control booth keeps screwing up the lighting, sound, and turntable cues for the rehearsal.
The theatre's loudspeaker system is still on, which means that even when Roxanne, Harry, and Jake think they are only speaking to the person in front of them, their words are being broadcast to the dressing rooms and backstage toilets.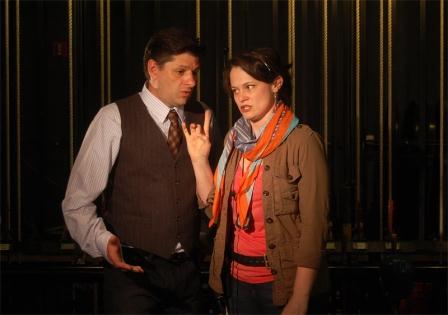 Gabriel Marin and Jessica Wortham in a tense moment
from The Understudy (Photo by: Kevin Berne)
Rebeck, who is a well-established writer for stage, film, and television, obviously knows all kinds of back-stabbing dirt commonly heard in the theatre and doesn't hesitate to spice up the evening with everything from misplaced cues to a sly dig at Jeremy Piven's infamous case of mercury poisoning in 2008. Annie Smart's rotating unit set becomes an unexpected and uncontrollable character as it moves back and forth with a life of its own.
As directed by Amy Glazer, The Understudy is a theatergoer's delight, filled with lots of inside jokes about actors, and plenty of digs at the injustices of the acting profession. It also contains extremely juicy roles for Bay area regulars Gabriel Marin and Craig Marker, who handle the testosterone-driven side of the equation with great comic skill. Julia Wortham's seething portrayal of Roxanne becomes increasingly manic and hysterically funny in a performance that blazes with managerial anger and jilted frustration.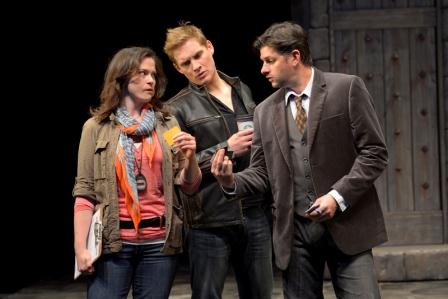 Jessica Wortham, Craig Marker and Gabriel Marin
in The Understudy (Photo by: Kevin Berne)
The final moments of the show have a Kafka-esque beauty that could only happen in a live performance. If you can't make it down to San Jose for this production, you might enjoy renting 1980's The Stunt Man, a sorely neglected film starring Peter O'Toole as a mercurial, and often unnerving, film director.
To read more of George Heymont go to My Cultural Landscape