In 1944, Hallmark Cards adopted its marketing slogan: "When you care enough to send the very best." Often, when receiving a lame card or gift, someone will try to cover their disappointment by saying "That's okay, it's the thought that counts."
For many people in relationships, it's often a lack of thought on the part of their spouse or partner that can lead to a growing sense of betrayal. An unexpected attack or threat to one's vulnerability, coupled with a growing awareness of another person's faults, can launch a growing tally of tiny paper cuts that slowly kill a relationship.
If, like Michelle Obama, you have a healthy sense of perspective, you learn to cope with your spouse's weak points. In this clip from a recent appearance on The Ellen DeGeneres Show, the First Lady talks about the realities of living with President Barack Obama.
I have always treasured this clip of Mary Martin and Robert Preston performing "Nobody's Perfect" from the 1966 Tom Jones & Harvey Schmidt musical, I Do! I Do!
While it's easy for couples to knowingly take aim at each other's weak points, something peculiar happens when a couple consists of two people who are in the same profession. What might not have been perceived as a dig or insult by the person who delivered it can be taken to heart quite deeply by the person on the receiving end of a casual assumption.
* * * * * * * * * *
Early into Annie Baker's new play, Body Awareness, Phyllis makes an offhand remark to her lesbian partner, Joyce, which provokes an unexpectedly tense response. Without meaning to sound condescending, Phyllis (who is a Professor of Feminist Psychology at Vermont's Shirley State College) tells her lover that only academics are granted a particular kind of status in the educational landscape. When Joyce protests that she, too, considers herself to be an academic, Phyllis matter-of-factly explains that a person has to have a Ph.D. and publish articles in order to be taken seriously as an academic whereas Joyce only teaches social studies in a public high school.
Ouch!
But that's not the only problem confronting the couple.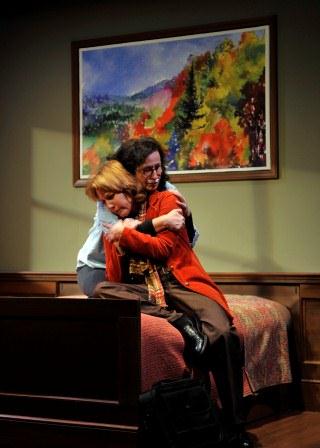 Phyllis (Amy Resnick) and Joyce (Jeri Lynn Cohen) are a stressed-out
lesbian couple in Body Awareness (Photo by: David Allen)
Phyllis is in the midst of presenting a program called "Body Awareness Week" that includes the requisite workshop on eating disorders as well as performances by a dance troupe of Palestinian refugee children. Although she does not hate men, she is deeply suspicious of male photographers who shoot female nudes through what feminists call the "straight white male gaze." When the visiting artist arbitrarily assigned by the college to stay with Phyllis and Joyce turns out to be none other than the photographer whose pictures of nude women are on display, Phyllis becomes increasingly hostile and defensive.
Joyce (who was once married and has a grown son) is the more sensitive half of the couple. Curious about the photographic exhibition and the questions it raises about her own body image, she is eager to converse with a male artist who might be able to provide some fatherly advice for her troubled 21-year-old son.
Frank Bonitatibus is the photographer visiting Shirley State College who is being hosted by Phyllis and Joyce. Needless to say, he has been greeted with varying levels of suspicion, curiosity, and dread.
Jared is Joyce's 21-year-old son who worships the OED (Oxford English Dictionary), has a passion for etymology, and proudly considers himself to be an autodidact. Like many young people with Asperger's syndrome, he lacks empathy and can barely hold down a job because of his severe lack of social skills and intolerance of stupid people. Nevertheless, Jared knows how to fight back against his parents, boasting that if he has already managed to read Crime and Punishment and Joyce has not, then by simple logic his mother must be an idiot.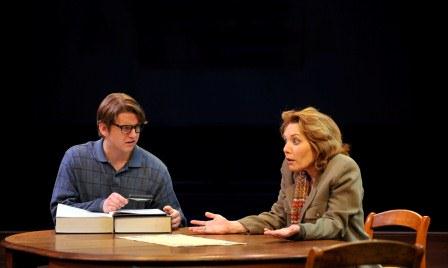 Jared (Patrick Russell) argues with Phyllis (Amy Resnick) in
Body Awareness (Photo by: David Allen)
As Baker's play unfolds, tensions continue to mount.
Phyllis's staunch feminism keeps getting undermined by reality as Joyce reacts to Frank as a human being (rather than a male oppressor) and becomes increasingly interested in his work.
Jared, who uses his electric toothbrush as the adult equivalent of an infant's pacifier, has decided to become a lexicographer in order to impress girls and make them think he's desirable. After quitting his job at McDonald's, he turns to Frank for the kind of fatherly advice about sex and dating that he obviously can't get from his two lesbian mothers. Alas, the best Frank can suggest is to become a master at cunnilingus.
After being invited to attend Phyllis's big speech at the climax of Body Awareness Week, Joyce instead uses that time to pose for Frank. Not having Joyce in the audience for moral support is a crushing defeat for Phyllis, who is a rabid control freak.
When Phyllis makes a grand gesture of writing a check to pay for Frank's photograph, she is flabbergasted by Joyce's declaration that one of the reasons she decided to pose for Frank was so she could have something in her life that Phyllis didn't own.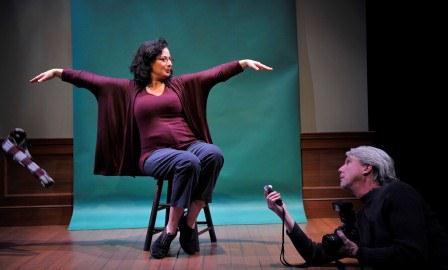 Joyce (Jeri Lynn Cohen) poses for Frank (Howard Swain)
in Body Awareness (Photo by: David Allen)
All of these roiling passions must suddenly be put on hold when Jared does something dangerously stupid that requires support and guidance from both of his parents. Although Frank plays the straight man to everyone else's hysterical outbursts, he is obviously not the kind of person who should be giving much advice to anyone.
Joy Carlin has directed the Bay area premiere of Body Awareness with a keen sensitivity to the kinds of remarks that can blow up in one's face and quickly escalate a simple misunderstanding to the point where two people might seem close to ending a relationship. She also does a beautiful job of balancing Jared's antisocial behavior with his emotional and psychological vulnerability.
While Amy Resnick and Jeri Lynn Cohen do a solid job of portraying two lesbians with varying degrees of antipathy toward men, it is Patrick Russell whose raging identity crisis as the angry and confused Jared lies at the core of Baker's play. Russell's performance is as powerful and impressive as his work last year in the Shotgun Players' world premiere of Care of Trees by E. Hunter Spreen. This is an actor to watch.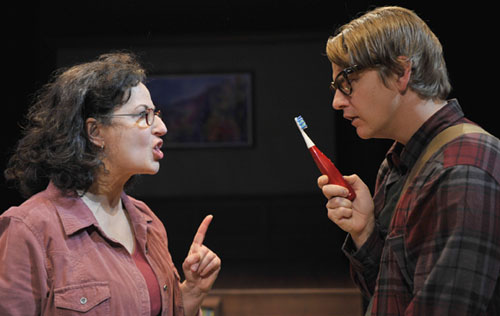 Joyce (Jeri Lynn Cohen) and her son Jared (Patrick Russell) get
into an argument in Body Awareness (Photo by: David Allen)
I'm always amazed at how cleverly set designers utilize the tiny performing space at the Aurora Theatre Company. The scenery and lighting designed by Kent Dorsey for this production give the auditorium its warmest and most nurturing feeling in recent years.
To read more of George Heymont go to My Cultural Landscape