In 1989, Don Bluth's animated feature film All Dogs Go To Heaven was released. Anyone who has witnessed the painful birthing of a musical knows that heaven is rarely its final destination. Dori Berinstein's 2005 documentary, ShowBusiness: The Road To Broadway, followed four shows (Wicked, Taboo, Caroline, or Change, and Avenue Q) from their pre-production meetings through to their Broadway openings and the 2004 Tony Awards.
Not every musical becomes a money machine like The Phantom of the Opera, Les Misérables or Mamma Mia! Many a musical has closed out of town without ever getting a chance at a Broadway opening. Among the notable fiascos are:
1962's We Take The Town (which starred Robert Preston as Pancho Villa) -- closed in Philadelphia
1966's Chu Chem (which was originally set to star Molly Picon and Menasha Skulnik) but also closed in Philadelphia
1967's Mata Hari, which closed in Washington, D.C.
1971's Prettybelle (which starred Angela Lansbury as a sheriff's widow who becomes an alcoholic nymphomaniac in a small town in the Deep South) -- closed in Boston.
1978's The Prince of Grand Street (which starred Robert Preston) -- closed in Philadelphia.
1995's Busker Alley (which starred Tommy Tune) -- closed in Tampa.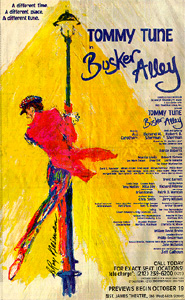 Poster art for Busker Alley
Breakfast At Tiffany's, Let It Ride, Sophie, Hot Spot, Jennie, The Vamp, The Fig Leaves Are Falling, Something More, Carrie, and Kelly were miserable failures that lost lots of money. Occasionally, there are shows that may not have been initially successful but, with a little bit of tinkering, achieve a new, improved status.
Such properties usually find new life in regional, community theaters and college productions.
Although I did not get to see the world premiere of Everything's Ducky down at TheatreWorks in 2000, I was delighted with its second incarnation, Lucky Duck, which was recently given a splendid production by the folks at Berkeley Playhouse. Created by Bill Russell, Jeffrey Hatcher, and Henry Krieger (who wrote songs for Captain Kangaroo before gaining fame for Dreamgirls and Side Show), Lucky Duck is an updated version of Hans Christian Andersen's famous tale of The Ugly Duckling.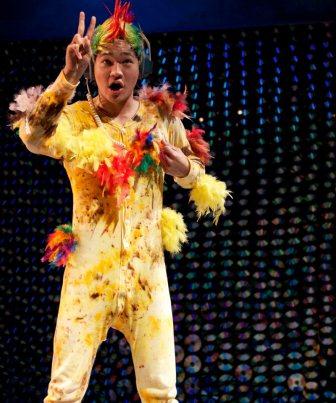 Matt Ono as Free Range Chicken #1 in
Lucky Duck (Photo by: Larry Abel)
Directed and choreographed by Kimberly Dooley with a grand sense of humor (Wendy Kaufman's costume designs are a hoot), the show was the inspiration of Bill Russell, who had always wondered what happened to the ugly duckling after it blossomed into a swan. As Russell recalls:
"The whole idea of becoming beautiful and being celebrated for that is the flip side of being ugly (you're still defined by your looks). Wanting to be beautiful and famous are narcissistic concerns. Our characters find they have to engage in the world a little more because if they don't, it won't matter if they're beautiful."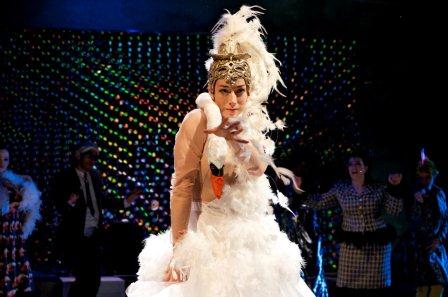 Naomi Hummel stars as Serena in Lucky Duck
(Photo by: Larry Abel)
One of the most interesting things about Lucky Duck is that, while designed to capture the attention of an audience filled with restless young kids, Russell's puns and Dooley's sight gags whiz by with the glee of an extremely snarky creative team. Plenty of jokes that may be lost on kids will bring hearty laughter from their parents.
When his authority is challenged, one villain doesn't hesitate to ask Chicken Little if the sky isn't looking just a little bit crooked to him.
The hero who wants to love a swan is a direct descendant of the Big Bad Wolf.
The show is set in a mythical kingdom ruled by ducks where vegetarianism is the law.
A minor character named Kim Chi can't pronounce the Crown Prince's name properly and keeps addressing the libidinous playboy as "Dlake" instead of "Drake."
Mention is made of the fact that Daffy Duck was gay and that Donald Duck was equally difficult to deal with.
The wolf and the villainous Coyote Brothers fantasize about feasting on a menu of barnyard fare that features dishes made of "duck, duck, goose."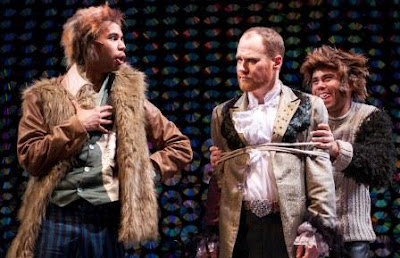 Wolf (William Hodgson), Drake (Benjamin Pither) and Carl Coyote
(Billy Raphael) in Lucky Duck (Photo by: Larry Abel)
Krieger's rowdy score is highly energetic and -- in comedy numbers like "That's One Ugly Duck," "Helping Paw," "Wolfiloquy," "Wipe That Egg Off Your Face (And Make A Great Big Omelet)," and ""You Look Good Enough To Eat" -- lots of fun. Ballads like "Average, Simple, Mega Superstar" and "I'd Love To Sing A Love Song" go down nicely, especially when sung by the likes of Naomi Hummel as Serena (the swan who is "down on her luck but still full of pluck") and William Hodgson as the wolf who is sorely tempted to lead a carnivore revolution.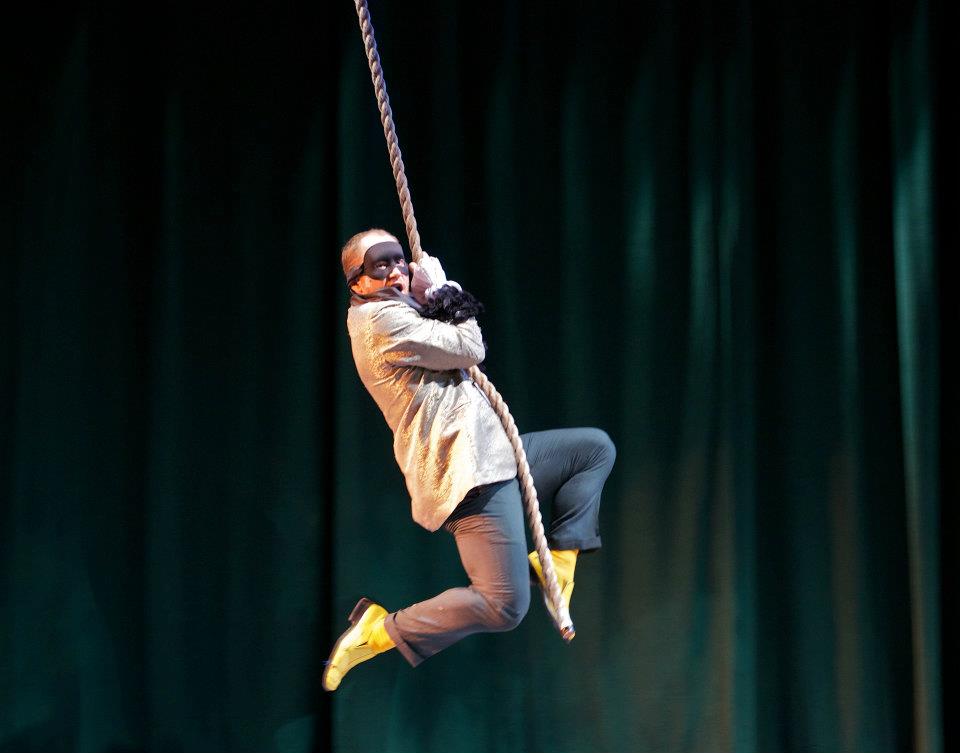 Benjamin Pither flies through the air as Prince Drake
in Lucky Duck (Photo by: Larry Abel)
Strong support came from Benjamin Pither as Crown Prince Drake, Nicole C. Julien (doubling as Goosetella and Sally Storkola), Melinda Meeng (doubling as Mrs. Mallard and the Queen), and the hilarious Nick Nunez (doubling as fashion photographer Armand Dillo and the King). Katherine Cooper, Brian Dauglash, Aubri Kahalekulu, Billy Raphael and Matt Ono added to the fun in a wide variety of minor roles.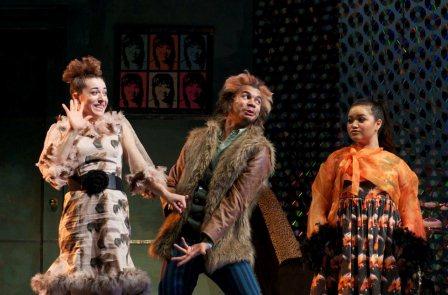 Naomi Hummel, William Hodgson, and Aubri Kahalekulu
in Lucky Duck (Photo by: Larry Abel)
Theater producers looking for a new "family-friendly" Christmas show would do well to consider Lucky Duck for future seasons. Its running time is about the same as The Nutcracker, it has several roles for children and, with good direction and an energetic cast, the show whizzes by in a flash without ever sagging. Rest assured, everyone at the Berkeley Playhouse performance I attended left the theatre with happy grins on their faces.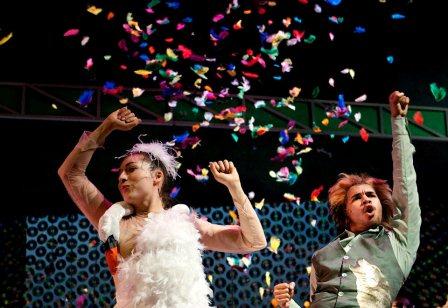 Naomi Hummel and William Hodgson in Lucky Duck (Photo by: Larry Abel)