When Dreamgirls opened on Broadway in 1981, audiences were thrilled by the dancing light towers that were a key element in Robin Wagner's set design (and that were used to brilliant effect by director/choreographer Michael Bennett). The 2010 revival of Dreamgirls (also designed by Wagner) made such spectacular use of Howard Werner/Lightswitch's computerized multimedia effects that the show's original Broadway production looked downright primitive and almost geriatric by comparison.
Some producers like to get their opening night audience in a receptive mood by plying them with free wine. Although last month's opening night of Bring It On: The Musical obviously had several cheerleading teams in San Francisco's Orpheum Theatre, their excited screams were not what set the tone for the evening. That task was neatly accomplished (and smoothly guaranteed) by two angled digital signboards performing an electronic countdown to the beginning of the show.
With the help of set designer David Korins, lighting designer Jason Lyons, and video designer Jeff Sugg, director/choreographer Andy Blankenbuehler has been able to give this production a fluidity that is rarely seen onstage. With four digital signboards that can travel horizontally, vertically, and rotate around a vertical axis while screening pre-programmed visuals, the creative team for Bring It On: The Musical has found a way to make the physical production as agile and mobile as their dancers.
It's been a long time since I enjoyed a new musical quite as much as Bring It On: The Musical, which played San Francisco as part of an extended pre-Broadway tour. With a sassy libretto by Jeff Whitty and a songwriting team that includes Lin-Manuel Miranda, Tom Kitt, and Amanda Green, Blankenbuehler has fashioned a spectacle whose exceptionally high levels of energy keep audiences rooting for the dancers and cheerleaders (as opposed to their opposing schools).
Bring It On: The Musical received its world premiere in January 2011 in Atlanta at the Alliance Theater (which launched Elton John and Tim Rice's Aida and the musical version of The Color Purple ). It has clearly been designed to reflect a teenager's experience strictly from an adolescent perspective. Unlike Wicked, Billy Elliot the Musical, The Tap Dance Kid, Oliver!, Annie, and other "family entertainment" musicals, there isn't a single major character in Bring It On: The Musical who represents an adult authority figure.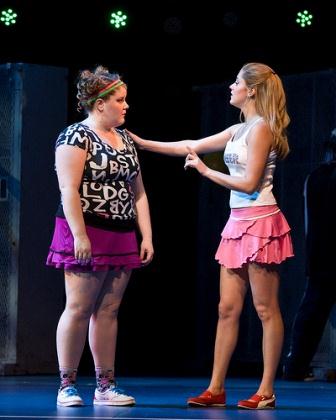 Bridget (Ryann Redmond) gets some advice from Campbell
(Taylor Louderman) in Bring It On: The Musical
(Photo by: Craig Schwartz)
Not only do the four moving signboards combine with the show's cheerleading stunts to give an extra sense of verticality to the production, each time a major stunt gets set up onstage, its energetic, high-spirited execution resembles the frenzied, frequent ejaculatory releases of male teenagers that can be appreciated by audiences of all ages and genders.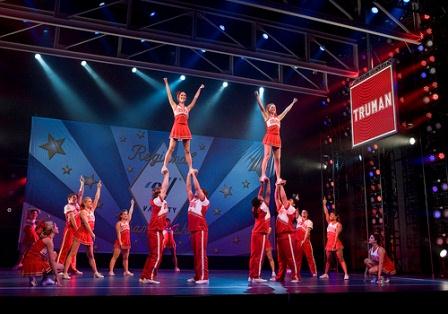 The cheerleading squad from Truman High School in
Bring It On: The Musical (Photo by: Craig Schwartz)
The show begins at the very white Truman High School, whose students include:
Skylar (Kate Rockwell), the school's top cheerleader, a grandly shallow senior who is proud that, after much practice, she can expect to graduate as a world-class "beeyotch."
Kylar (Janet Krupin), Skylar's fawning disciple.
Campbell (Taylor Louderman), the new head of Truman's cheerleading squad.
Steven (Neil Haskell), Campbell's very white, puppy-love-style boyfriend.
Bridget (Ryann Redmond), the enthusiastic but goofy overweight student who has been relegated to playing the team mascot.
Eva (Elle Mclemore), a ruthless adolescent version of Eve Harrington.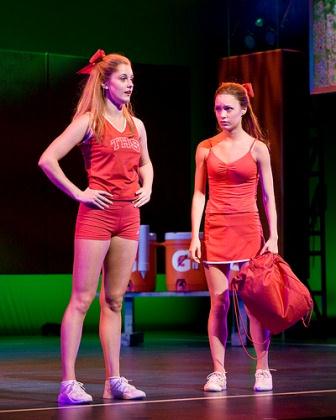 Taylor Louderman and Elle McLemore in a scene from
Bring It On: The Musical (Photo by: Craig Schwartz)
Campbell's cozy little world would seem ideal for a teenage girl until her hopes and dreams are shattered. Suddenly, and quite bizarrely, the school board enacts a redistricting plan which sends Campbell and Bridget to a school for lower-income kids that doesn't even have a cheerleading squad. It does, however, have a much more diverse student body with an established social pecking order. Among the students at Jackson High are:
Danielle (Adrienne Warren), a sexy young black woman who, in addition to heading up her school's top hip-hop dance crew, has a part-time job at the local mall's Burger Pagoda.
Nautica (Ariana Debose), one of Danielle's closest friends and a member of her crew
La Cienega (Gregory Haney), a sassy black drag queen who is also a member of Danielle's crew.
Randall (Jason Gotay), a sweet and lanky Caucasian who finds a perverse joy in his ability to leave Campbell speechless.
Twig (Nicolas Womack), a horny Hispanic rapper and sweet chubby chaser who is attracted to Bridget because she has an extra load of "junk in her trunk."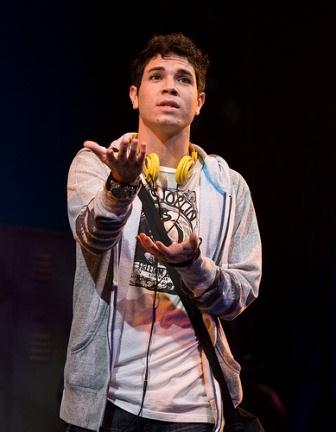 Jason Gotay as Randall in Bring It On: The Musical
(Photo by: Craig Schwartz)
Much like Glee, Bring It On: The Musical shows high school students as they are, rather than as they are idealized. The show's clear message is that the key to success lies in building confidence instead of begging others to accept you. As a result:
Bridget (the fat girl who was scorned but tolerated by a crowd of mean and petty cheerleaders at Truman) finds a different level of acceptance at Jackson that does wonders for her self esteem.
Twig helps the other male students at Jackson learn that it's all right to be attracted to a hefty woman.
Campbell, who has always operated from a position of white privilege, gets numerous lessons in humility (I love the moment when she asks the black drag queen how he could possibly know what it's like to feel as if you'll never fit in with everyone else).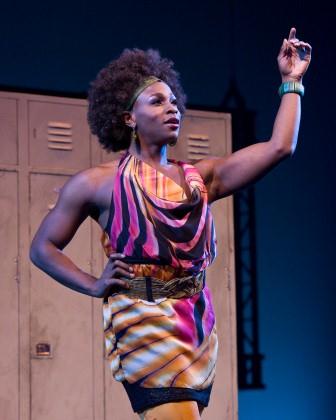 Gregory Haney as La Cienega in Bring It On: The Musical
(Photo by: Craig Schwartz)
When Jerome Robbins was rehearsing the cast of West Side Story for its 1957 premiere, he insisted that the actors playing the Sharks and the Jets not socialize with members of the opposing gang offstage in order to keep the intensity of their rivalry real onstage. Although the score to Bring It On: The Musical may sound as if it is through-composed (no song list appears in the program), there were actually two different songwriting teams involved in the production. In the following clip from the Alliance Theater's world premiere production, they discuss the challenges of merging the musical identities of two competing high schools.
This article was cross-posted on My Cultural Landscape. To continue reading, click here.
To read more of George Heymont go to My Cultural Landscape
An earlier version of this post mistakenly identified an image of Jason Gotay as Randall as one of Nicolas Womack as Twig.