It's a hard lesson to learn and often a very painful one. Suffering a profound disillusionment or a deep personal loss is what helps to build character. Prior to performing Stephen Sondheim's classic "I'm Still Here" at a White House gala, Elaine Stritch opined that the song should only be sung by people who are at least 80 years old. Allowing that some women in their sixties could probably do the song justice, she cringed at the memory of hearing a singer in her forties trying to make Sondheim's lyrics believable.
Young actors eager to strut their stuff may be more inclined toward portraying action adventure heroes or romantic leads. However, as an artist ages and accumulates more life experience, their wrinkles, scars, and a certain kind of sadness in their eyes become unexpected and extremely powerful professional assets. Think of performers like Stritch, Angela Lansbury, Christopher Plummer, Maggie Smith, Peter O'Toole, Judi Dench, and so many others who became great character actors later in their careers.
Or think about Ruth Gordon, whose career included silent film, numerous stage appearances and multiple movie roles. The author of several books detailing her life in the theatre, Gordon won the 1956 Tony Award for Best Actress for her portrayal of Dolly Gallagher Levi in Thornton Wilder's play, The Matchmaker. Late in her career Gordon became a cult figure for her role in 1971's Harold and Maude. Here she is, at the age of 72, accepting an Academy Award for Best Supporting Actress for her performance in Rosemary's Baby.
Some ballet dancers, as they age, take on character roles ranging from the evil von Rothbart in Swan Lake, Herr Drosselmayer in The Nutcracker, and Dr. Coppelius in Coppelia, to a wide assortment of kings, queens, witches, nurses, and friars. Famous drag roles include the ugly stepsisters in Cinderella, Mother Ginger in The Nutcracker, and the Widow Simone in La Fille Mal Gardée.
In opera, there are two paths to character roles. There is the comprimario artist, who makes a specialty out of bringing numerous small roles (Goro, Spoletta, Guillot de Morfontaine, Suzuki, Ping, Pang, Pong, etc.) to life in a wide variety of operatic styles. But there is also a career path which allows artists to keep performing late in their careers.
Beverly Sills finished off a career highlighted by Massenet's Manon, Bellini's I Puritani, and Donizetti's three Queens (Maria Stuarda, Anna Bolena, and Queen Elizabeth I in Roberto Devereux) with more light-hearted fare such as Lehar's The Merry Widow and the soubrette role of Adele in Johann Strauss's Die Fledermaus.
Monsterrat Caballé graduated from the verismo and bel canto repertoires to guest stints as the Grand Duchess of Krakentorp in Donizetti's La Fille de Regiment.
Leonie Rysanek (who sang everything from Aida, Lady Macbeth, Kostelnicka, Desdemona and Tosca to Turandot) specialized in many Wagnerian roles (Senta, Kundry, Sieglinde, Elisabeth, and Elsa) as well as the Strauss repertoire (Der Marschallin, Der Kaiserin, Salome, and Ariadne). Late in her career, she moved down to mezzo-soprano roles such as Ortrud, Herodias, and the Old Countess in Tchaikovsky's Pique Dame. Rysanek holds the distinction of being the only soprano to have sung all three roles in Richard Strauss's Elektra. Not only did she perform Crysothemis and Klytemnestra on numerous operatic stages, she starred in a 1981 Unitel film of Elektra opposite Astrid Varnay's grotesque portrayal of Klytemnestra.
For ballet dancers and opera singers there is always the music and a great historical tradition to provide musicodramatic reference points as they move into more specialized character roles. Great film actresses can use years of experience playing to the camera (pay careful attention to Susan Sarandon's masterful confrontation with Shia LeBeouf in The Company You Keep).
However, it's difficult for young stage actors to show their potential for character roles unless they are working with a script that calls for a great deal of internal acting. This usually happens with a character who quietly reacts to another character onstage or when a character's speech is frequently interrupted, resulting in lots of false starts and incomplete sentences.
Two productions new to the Bay area showcased the work of two young men who are familiar faces on Bay area stages in roles which stretched their talents in admirable directions.
* * * * * * * * * *
San Francisco Playhouse presented Neil LaBute's play, Reasons To Be Pretty, with a talented ensemble of four actors whose faces are familiar to Bay area audiences. LaBute's script (which joins Fat Pig and The Shape of Things in his attempts to analyze the American obsession with physical beauty) is notable for its vehemence, defensiveness, misogyny, homophobia, and a wealth of constantly interrupted sentences that pave the battleground in the war between the sexes.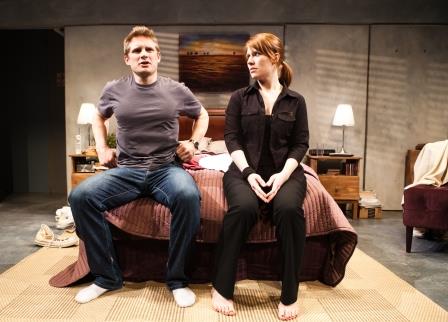 Greg (Craig Marker) and Steph (Lauren English) in
Reasons To Be Pretty (Photo by: Jessica Palopoli)
While LaBute's women might seem to constantly be laying traps for their men, there are moments when nothing their men say to defend themselves can possibly acquit them of genuine assholery. Words that sounded like pure gold in their brains turn to toxic shit as they pass their lips and reach the ears of their lovers. Whether a woman is battling low self esteem or a man is struggling with his inability to clearly articulate his thoughts, LaBute creates many lose-lose situations for his hapless (and hopeless) young lovers.
Under Susi Damilano's aggressive direction, the characters in LaBute's drama include:
Stephanie (Lauren English), an angry young woman who has lost her patience with her boyfriend's verbal clumsiness as well as his attempts to manipulate her into caving whenever they argue. Like some women, Stephanie always has to have the last word in an argument and can never leave well enough alone.
Greg (Craig Marker), Stephanie's boyfriend, is a night worker in a factory who hates confrontation and is going nowhere in life. Greg would much rather sit back and read a book than put up with a wide variety of bullshit.
Kent (Patrick Russell), Greg's close friend at work, is a selfish, jockish jerk who has never outgrown his years as a schoolyard bully. A stereotypical macho pig, you'll find Kent's picture in a dictionary if you look up the term "male douchebag."
Carly (Jennifer Stuckert), one of the graveyard shift security guards at the factory where Greg and Kent are employed, is close friends with Stephanie. She is also married to Kent and becomes increasingly pregnant as the play progresses.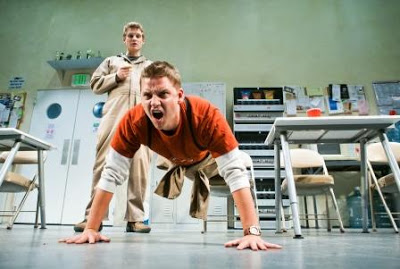 Greg (Craig Marker) and Kent (Patrick Russell) in
Reasons To Be Pretty (Photo by: Jessica Palopoli)
LaBute's script follows the angry breakup of Greg and Steph's relationship. After they split, both characters find themselves growing in surprising directions.
Although her heart still longs for Greg, Steph meets a man who treats her with respect, sincerely loves her, and asks her to marry him.
Caught in a web of lies while trying to cover for Kent's extramarital shenanigans, Greg has a violent showdown with the man who has been bullying him since they were students in grade school.
The musicality of LaBute's writing is fascinating: he manages to capture the angry, syncopated rhythms of a lover's spat with numerous interruptions (as well as the aborted conversations that suffer from too many false starts). Lauren English's portrayal of Stephanie shines with the kind of indecisiveness which can drive a person crazy. Patrick Russell's temper tantrum as the insecure, bullying Kent is frightening to witness, yet admirable for its horrific dramatic power.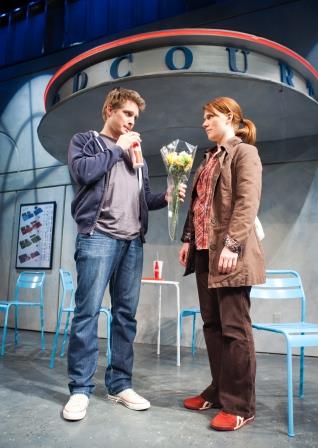 Greg (Craig Marker) and Steph (Lauren English) in
Reasons To Be Pretty (Photo by: Jessica Palopoli)
If you pay careful attention to Craig Marker's performance as Greg, you'll see an extremely versatile young actor who is starting to show signs that he could easily move into character roles as his career progresses. Having witnessed Marker in a variety of leading roles in both contemporary as well as classic plays (Iago, Macbeth, Trigorin), it's exciting to see him head into the kind of dramatic territory where an actor accomplishes more by speaking less as he uses his body language to communicate a wealth of conflicted emotions. It's a performance that merits a different kind of attention and respect from the audience. Here's the trailer:
* * * * * * * * * *
Magic Theatre presented the Bay area premiere of Julie Marie Myatt's play, The Happy Ones. A much darker dramedy than LaBute's, the action is set in Orange County, California in 1975. As the play begins, there is an almost ridiculously idyllic tone of middle class smugness as Walter Wells (Liam Craig) puts on some music and mixes drinks for a cocktail party while his two children play in the family's back yard swimming pool.
Walter lives in a world of double-knit pants, plaid sport jackets, pleather, and plastic. A successful small business owner, his loyal customers are thrilled with the avocado-colored refrigerators and other appliances Walter has sold them over the years.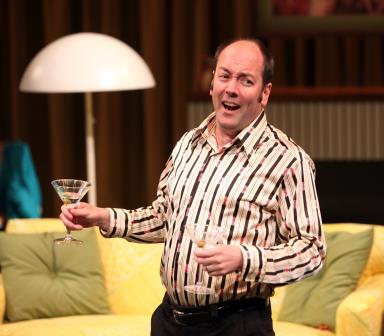 Liam Craig as Walter Wells in The Happy Ones
Photo by: Jennifer Reiley
Among the evening's guests are his best friend, Gary Stuart (Gabriel Marin), the minister at the local Unitarian Universalist Church, and a new arrival in the community -- a single woman named Mary-Ellen Hughes (Marcia Pizzo) who loves to party and might just be an alcoholic (the following morning she arrives to apologize for blacking out and confesses to having no idea how she got home after the party).
Walter's happiness, however, is short-lived. While at work in his appliance store, he receives a phone call informing him that his wife and children have been killed in a head-on automobile collision. Upon visiting the Vietnamese man responsible for the tragic turn of events as Bao Ngo (Jomar Tagatac) lies recovering in a hospital bed, Walter is shocked by the man's eagerness to do anything for Walter that will help to compensate him for the loss of his family.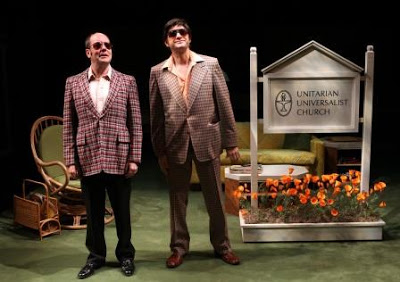 Liam Craig and Gabriel Marin in The Happy Ones
Photo by: Jennifer Reiley
After Walter's world crumbles, The Happy Ones sets out to demonstrate how grief sets a person apart from his friends and leaves him in a no-man's land where very few can understand his emotions. Walter's closest friend (who is an easily manipulated doofus) quickly admits that he has no talent as a grief counselor and is amazed that the church allows him to continue in its employ.
Mary-Ellen (who has no respect for personal boundaries) will do anything to create an excuse to have a drink. Whether she is accompanying Walter and Gary on a golf outing, barging into Walter's house with a pitcher full of egg nog and a Christmas tree, or seducing a confused stranger, Mary-Ellen is an aging narcissist with a desperate need to be desired.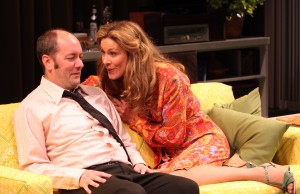 Walter Wells (Liam Craig) with Mary-Ellen (Marcia Pizzo) in
The Happy Ones (Photograph by: Jennifer Reiley)
Much to his surprise, Walter has not seen the last of Bao, who arrives on his doorstep desperate to cook, clean, or do anything for Walter. The audience soon learns that, like Walter, Bao (a former pediatrician who is now working in a friend's bakery) has lost his family. Bao's wife and children were killed by the Communists after he fled Saigon to accompany his American patients back to the United States. Alone and miserable, he had just started to turn a corner on his grief when he rammed into the car carrying Walter's wife and children.
While Walter wishes that Gary and Mary-Ellen would just leave him the fuck alone, Bao shares his confused emotions and continues to do chores around Walter's home. Eventually the two men become a sort of odd couple from vastly different cultures who can quietly play checkers or watch television together without feeling the need to say anything (or attend a big holiday dinner because that's what everyone expects them to do).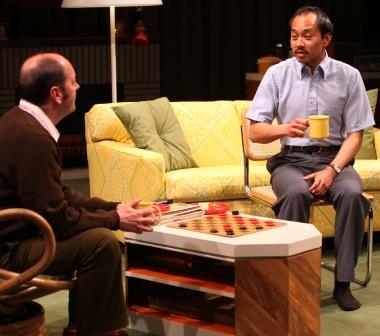 Walter (Liam Craig) and Bao (Jomar Tagatac) in
The Happy Ones (Photo by: Jennifer Reiley)
Jonathan Moscone has directed Myatt's play with his usual acute sensitivity to repressed emotions. But what makes the evening special is not Walter's transformation through grief, or Mary-Ellen's over-the-top behavior. The crux of the evening lies in Bao's quiet presence (communicated through a body language that denotes a crushed soul who is just as desperate for redemption as he is eager to die).
I've seen Jomar Tagatac perform on numerous occasions in which he has been cast as an aggressive idealist or athletic airhead. But he wears tragedy especially well in The Happy Ones, communicating far more emotional and intellectual depth through his sunken silences than all the noise created by the Caucasians around him. Tagatac's quiet performance is beautifully etched -- and intensely effective in its overwhelming sense of grief. As he continues to grow, he may have a wealth of character roles waiting for him as his craft strengthens and he matures as an artist.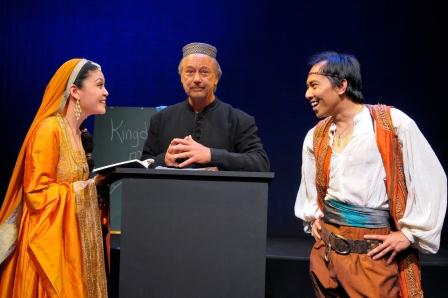 To read more of George Heymont go to My Cultural Landscape