There's an old saying: "If it ain't broke, don't fix it." The hidden meaning behind that pearl of wisdom is that if you've found a way to do something exceptionally well, then the smartest approach to your craft is to keep at it.
Like a set of master chefs who have conquered the finer points of butchering, boning, braising, and browning, the creative team at Central Works Theater has become increasingly adept at experimenting with herbs and spices as they develop new narratives through their organic process of playwriting. While I have often sung the praises of this tiny theater company (which may well be the best kept secret in the circle of Bay area nonprofit arts organizations), I remain consistently astonished by the courage of their artistic choices and the quality of their process-driven artistic product.
Forget Dorothy Gale's awed amazement at encountering lions and tigers and bears. When you've got whips and chains, and Eleanor of Aquitaine at your fingertips, who could ask for anything more?
From a bisexual Crusader clad in chain mail on a quest to conquer Jerusalem to a whip-brandishing Jewess eager to exact her revenge on the King of England who killed her family, the new Central Works trilogy based on the life story of Richard the Lionheart is one of the most tightly-wrapped and deliciously spiced dramatic offerings on 2012's Bay area arts calendar.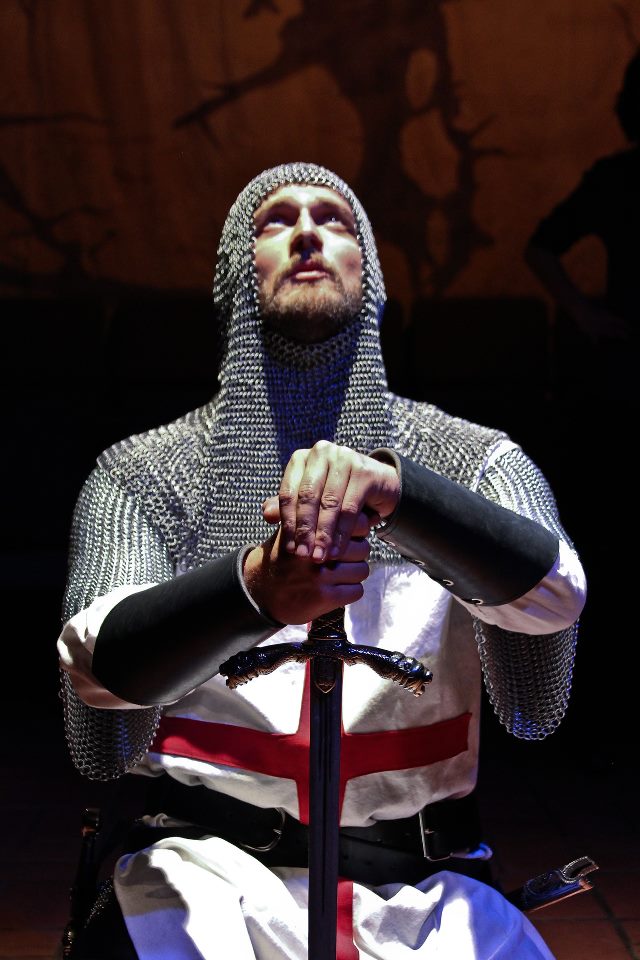 Joshua Schell as Richard the Lionheart (Photo by: Jim Norrena)
Central Works certainly isn't the only local theater company to sink its teeth into epic tales of human conflict.
The Shotgun Players staged Jon Tracy's thrilling adaptations of Homer's epic poems, Iliad and Odyssey in 2010's production of The Salt Plays.
In 2011, the San Francisco Opera staged three cycles of Richard Wagner's famous tetralogy, Der Ring des Nibelungen.
In October, Berkeley Repertory Theatre staged Lisa Peterson and Denis O'Hare's adaptation of Homer's poem, An Iliad.
Last month, the San Francisco Opera presented the Bay area premiere of Jake Heggie's magnificent new Moby-Dick (based on Herman Melville's tale of Captain Ahab's obsession with an albino/white sperm whale).
While each of those productions was inspired by a classic piece of literature, the creative team at Central Works used James Reston's book, Warriors of God: Richard the Lionheart and Saladin in the Third Crusade, as their primary source and inspiration for weaving a tale about England's King Richard I. Written by Gary Graves and directed by Jan Zvaifler (with the ever resourceful sound designer, Gregory Scharpen, doubling as a musical curator of sorts), the trilogy was staged in the 49-seat performance space at the Berkeley City Club.
The trilogy begins with a rush of Middle Eastern music as the Muslim mystic, Joachim (Armando McClain), states "You are all my prisoners." If there's a better way to define a captive audience, I have yet to encounter it!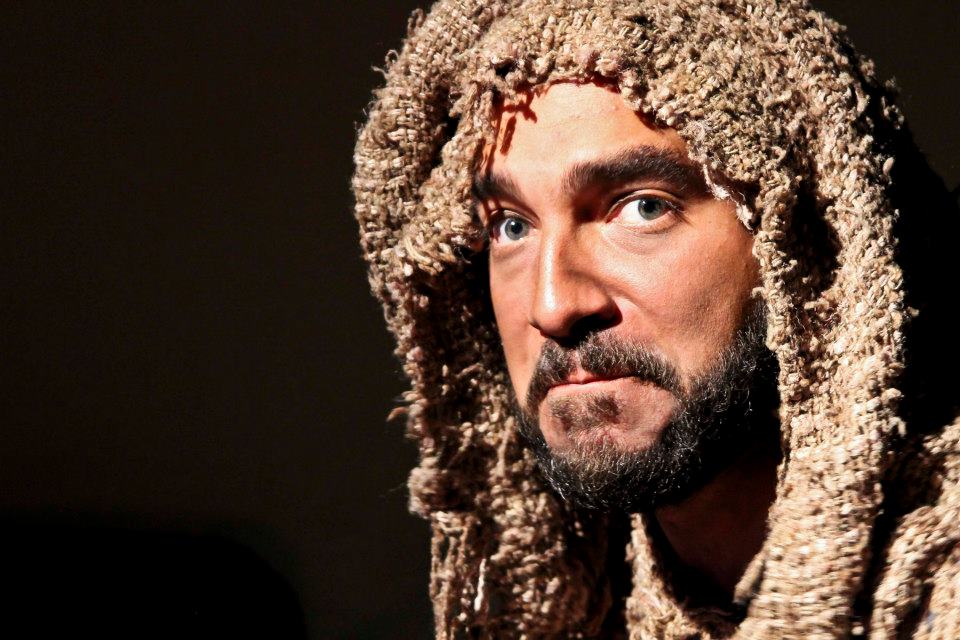 Armando McClain as the Muslim mystic, Joachim
(Photo by: Jim Norrena)
Those opening moments do a solid job of warning the audience to discard any and all preconceptions.
If you're a feminist who has been horrified by the Republican Party's loathsome War on Women, you'll be aghast at the way princesses are used like chattel in arranged royal marriages and thrilled to see an angry Jewish peasant (Kathryn Zdan) taking her revenge on an arrogant king.
If you think that warrior kings who go on Crusades to the Holy Land to defend Christianity against heathens are strictly heterosexual heroes, think again. Central Works doesn't shy away from the love shared between Richard and France's King Philip II (John Patrick Moore) or Richard's attraction to the supple joys of teenage boys.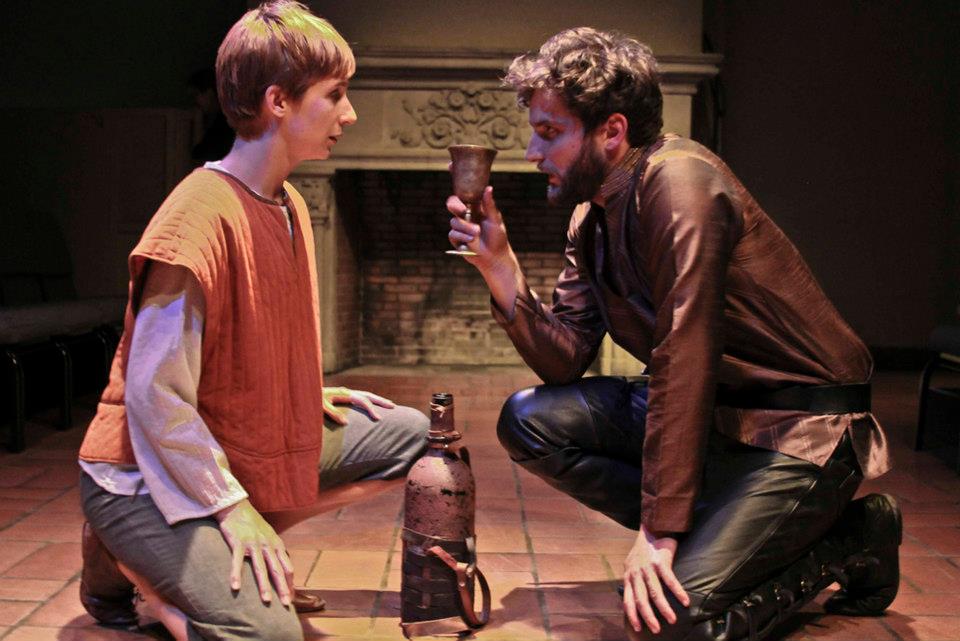 Kathryn Zdan and Joshua Schell in Richard the First
(Photo by: Jim Norrena)
If you've got visions of Katherine Hepburn's Eleanor of Aquitaine dancing in your head, get rid of them. Milissa Carey's characterization of Eleanor speaks with a thick French accent and is a more manipulative and toxic maternal monster than Gypsy Rose Lee's mother.
If you think that England's King Richard I is going to be speaking in standard Shakespearean style, think again. Both Richard (Joshua Schell) and his younger sister, Joanna (Megan Trout) maintain thick Cockney accents throughout the trilogy.
If you think there is no hope for peace in the Middle East, you'll be astounded by the scenes in which Richard I attempts to negotiate a truce with Kalil (Armando McClain), the brother of the Kurdish Muslim sultan Saladin, who would let himself be baptized in order to marry Richard's sister, Joanna.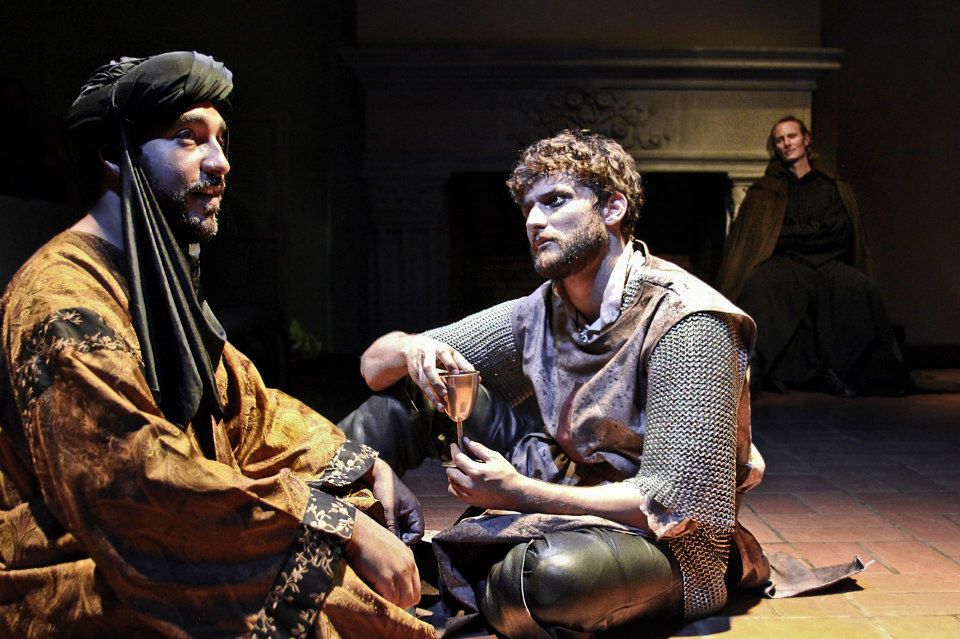 Kalil (Armando McClain), Richard (Joshua Schell) and
King Philip II of France (John Patrick Moore) in Richard the First
(Photo by: Jim Norrena)
In his program note, Gary Graves writes:
"Most people know very little about England's King Richard the First (known as "The Lionheart"). Or perhaps they may remember that Richard is the absent king in the story of Robin Hood ("Good King Richard" who returns at the end of the story). But where was Richard all the while Robin was busy robbing the rich to give to the poor? He was on crusade. In many ways, the situation in the Middle East today has its roots in a struggle begun a thousand years ago.

The First Crusade took place almost a century before Richard's, beginning in 1095 with Pope Urban II's call to all Christians to join in Holy War against the forces of Islam. At the Pope's instigation, a vast army gathered in France, marched overland to Palestine, and eventually captured Jerusalem. For almost 90 years thereafter the Christians maintained a kingdom in Palestine with Jerusalem as its capital. But in 1187, the sultan Saladin united the armies of Syria and Egypt and obliterated the Christians in the Battle of Hattin. With the recapture of Jerusalem by Saladin once again, another Pope called for yet another Holy Crusade to take back the Christian possessions in the Holy Land from the armies of Islam."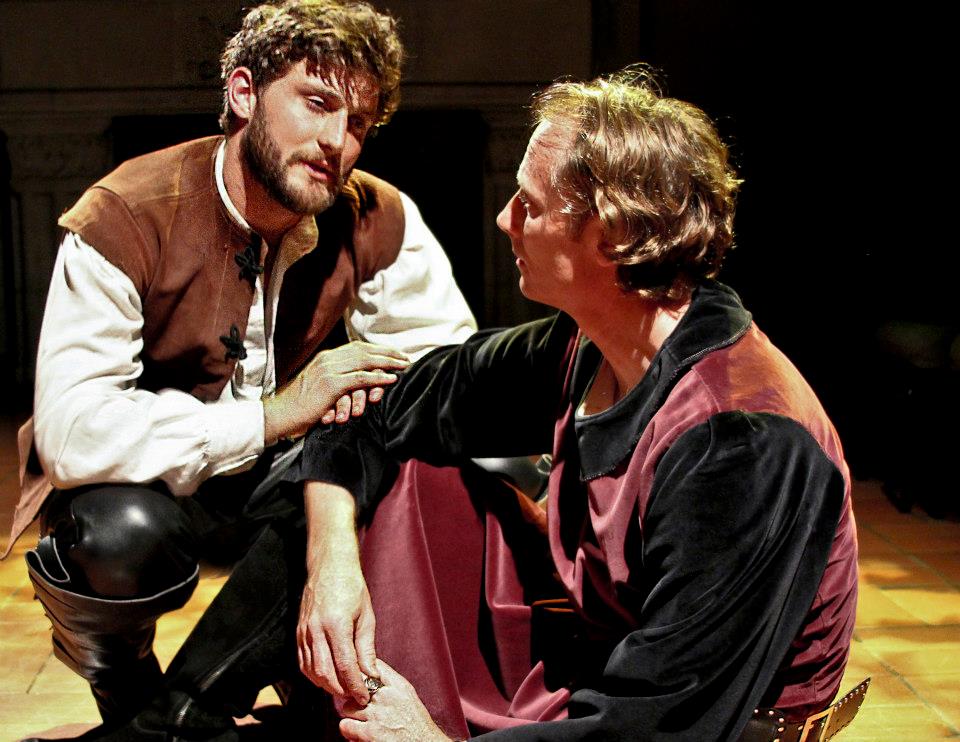 Richard (Joshua Schell) and Philip (John Patrick Moore)
(Photo by: Jim Norrena)
"The political (and personal) tensions between Richard and Philip soon led to division among the Christians. In 1191, the crusade reached a stalemate and halted on the coast, just 30 miles from inland Jerusalem. It was then that an extraordinary peace initiative emerged. The fact that this proposal was made is virtually incontestable as numerous references to the plan appear in both Christian and Muslim sources. But historians have puzzled and debated over the actual motive and intent behind the initiative ever since. Our play takes this historical mystery as its departure point and looks at the conflict from several different viewpoints. There were other interests at stake beside those of just Christians and Muslims (as there still are today)."
Under Jan Zvaifler's meticulous direction, the Central Works trilogy crackles with dramatic tension, largely due to Joshua Schell's bravura performance as a cockney-accented Richard who must fight his way through hostile territories, negotiate an arranged marriage for his sister, fend off his mother's conniving attempts to control his life, and deal with the mysterious Jewess who tried to kill him.
Megan Trout, Kathryn Zdan, John Patrick Moore, and Armando McClain contribute powerful performances in supporting roles. Milissa Carey's Eleanor of Aquitaine nearly steals the show as a brutally political woman who, in addition to forging documents and ransoming her son, could teach Lady Macbeth a few tricks about seizing power.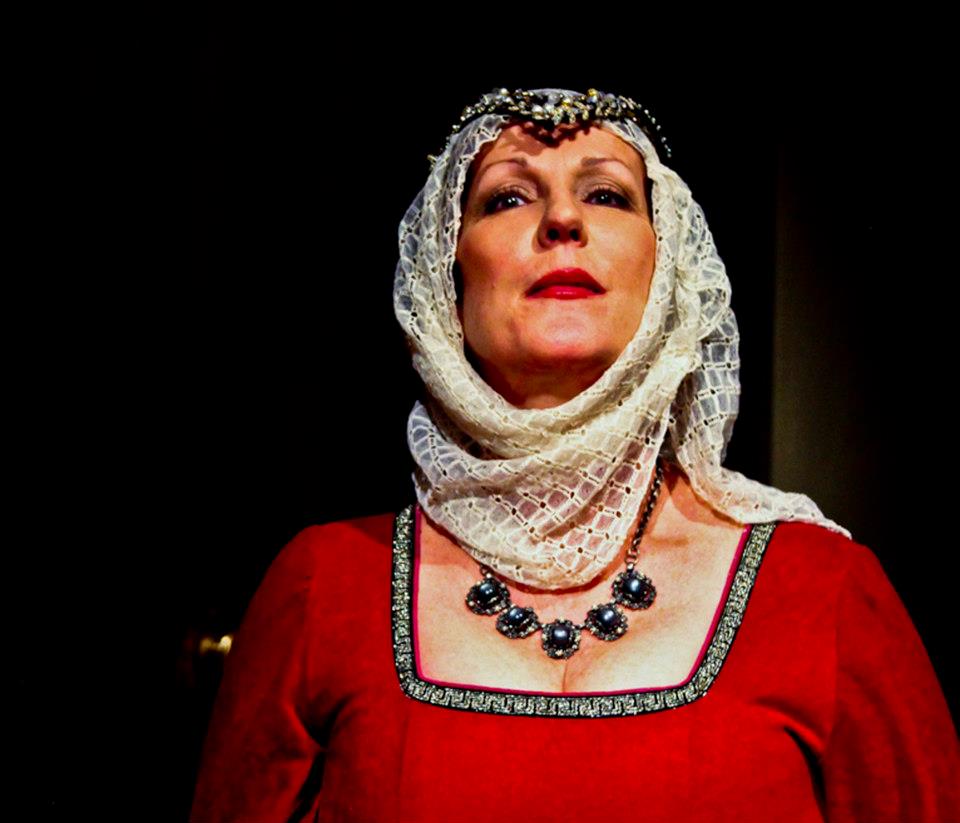 Milissa Carey as Eleanor of Aquitaine
(Photo by: Jim Norrena)
The wonder of this trilogy lies in the creative team's ability to compress a huge amount of narrative exposition into a lean, mean dramatic machine while eliciting some stunning work from their tightly-knit ensemble. If one compares this production's artistic quality to the price of its tickets, Richard the First easily becomes one of the best buys in the Bay area -- an extremely rare theatrical event which offers a severely limited number of lucky people the chance to get the biggest bang for their theater-going bucks.
Performances of Richard the First continue at the Berkeley City Club through Nov. 18. The entire trilogy will be performed in sequence on Sunday, Nov. 11 and Sunday, Nov. 18. Here's the trailer:
To read more of George Heymont go to My Cultural Landscape