I'm old fashioned. I have deep respect and undying love for great songs. Some of them were written for Broadway shows; others to be performed at parties and in nightclubs. Some became popular over the radio or because they were included in beloved movie musicals.
Few songs are written as mere throwaways. Most are carefully crafted by composers, lyricists, and given a specific musical imprint by their original arrangers. Just as legendary scenic designers like Oliver Smith, Boris Aronson, Jean-Pierre Ponnelle, and Franco Zeffirelli put their personal stamp on great works of opera and musical theatre, orchestrators whose work is so often taken for granted have sculpted the emotional impact of many famous (and not so famous) songs.
Think of the orchestrations created by Ralph Burns for "The Music That Makes Me Dance," Philip J. Lang for "Put On Your Sunday Clothes," and Don Walker for "If I Loved You." Think of the great work done by such legendary Broadway orchestrators as Robert Russell Bennett, Leonard Bernstein, and Jonathan Tunick. Then think of how their contributions created a vocabulary of rhythmic punctuation, harmonic structure, phrasing, counterpoint, modulation, and musical bridges.
Often, when listening to a concert or cabaret performer who has substandard arrangements, I'm shocked that their music director could display such a basic misunderstanding of a song's musical intent that he would throw its melodic line completely out of whack with wholly inappropriate sounds. One hears this most often when a pianist is fumbling to keep up with unfamiliar sheet music or experimenting with chords that are counterproductive to the vocal line.
During one wonderful week this fall I had the rare fortune to attend two performances in which musical intelligence left no room for artistic ineptitude. Both evenings featured a female vocalist with rare talents whose voice was not only in radiant health, but who knew how to make the most of the music by using her instrument wisely.
* * * * * * * * * *
When Christine Ebersole returned to the Bay area to entertain audiences at Feinstein's at the Nikko, she was accompanied by Don Shelton on reeds, Pat Klobas on bass, and John Oddo on piano. Oddo (who spent three years playing with Woody Herman and 18 years as musical director for Rosemary Clooney) also crafted the superb arrangements for Ebersole's program.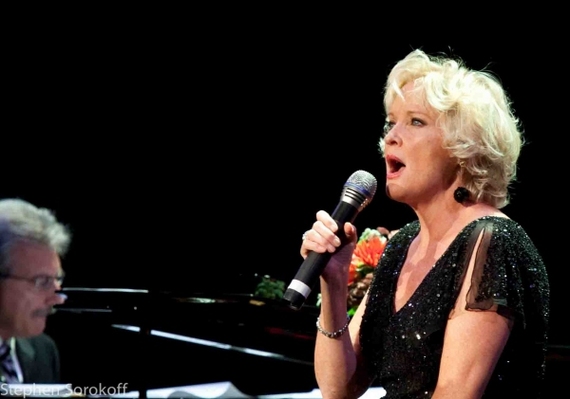 John Oddo with Christine Ebersole (Photo by: Stephen Sorokoff)
Ebersole's The End of The World As We Know It show included a wide variety of songs ranging from "Go Down Moses," "Show Me The Way To Get Out Of This World," Irving Berlin's "Get Thee Behind Me Satan" (from 1936's Follow The Fleet) and Cole Porter's "Blow, Gabriel Blow" (from 1934's Anything Goes) to such classics as Rodgers and Hart's "Johnny One Note" (from 1937's Babes in Arms) and the title song from George and Ira Gershwin's 1927 musical, Strike Up The Band.
Novelty songs like Noel Coward's "What's Going To Happen To The Tots?" and Sophie Tucker's "Max From The Income Tax" offered a sharp comic foil to Albert E. Brumley's gospel classic, "I'll Fly Away," and Yip Harburg's sobering lyrics to "Brother, Can You Spare A Dime?" (from 1931's New Americana).
As she heads into her sixties, Ebersole retains a stunning array of gifts: an incredible vocal range, a voice that is in magnificent health, and the acquired knowledge of a mature artist who knows how to focus all of her assets on a song's lyric. Listening to her sing Harold Arlen's achingly beautiful "Right As The Rain" (from 1944's Bloomer Girl), Gershwin's incredible "I Loves You Porgy" (from Porgy and Bess), and an almost ethereal arrangement of the title song from 1936's Pennies from Heaven proved to be a rare pleasure. A rare pleasure, indeed.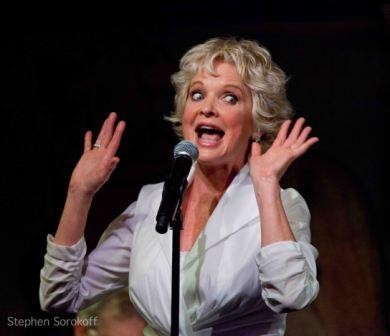 Christine Ebersole (Photo by: Stephen Sorokoff)
* * * * * * * * * *
Although some people insist that imitation is the sincerest form of flattery, I've never been a big fan of lip syncing as an art form. While the entertainment industry is littered with drag queens appearing as Carol Channing, Cher, Barbra Streisand, and numerous other celebrities, few of them use their own voice for singing. Legendary drag comics like Craig Russell and Charles Pierce were also powerhouse performers.
Some female impersonators are actually biological females (kudos to Connie Champagne's interpretation of Judy Garland and Klea Blackhurst's tribute to Ethel Merman). Occasionally an extremely talented artist like Christine Pedi gets to strut her stuff.
Not all larger-than-life performers lend themselves to easy impersonation. For example, you won't find anyone doing tribute concerts to Beverly Sills, Totie Fields, Leonie Rysanek, or Luciano Pavarotti. But if you know the difference between a scat queen and the Queen of Scat, you'll really appreciate Yvette Cason's performance in Jeffrey Hatcher's Ella The Musical, a biographical evening about the great and much beloved jazz singer, Ella Fitzgerald, that opened Center Rep's 2013-2014 season.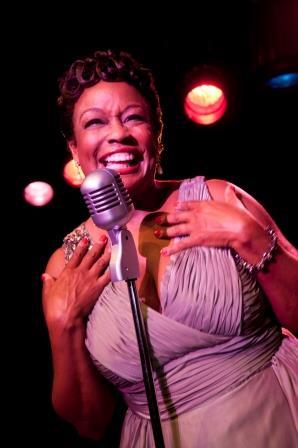 Yvette Cason as Ella Fitzgerald (Photo by: Ryan Montgomery)
Born in Newport News, Virginia in 1917, Fitzgerald's early years were far from glamorous. Her stepfather abused her. Although she worked as a lookout for a local bordello (and ran numbers for a group linked to the Mafia), she ended up spending time in an orphanage, a state reformatory, and was homeless for a period of time.
On November 21, 1934, the 17-year-old singer won an amateur contest at Harlem's famous Apollo Theatre but was considered too homely to be allowed onstage for a regular gig. Her big break came when bandleader Chick Webb took her under his wing. Early hits included "Mr. Paganini" and "A-Tisket, A-Tasket."
As directed by Robert Barry Fleming, Ella takes place in 1966 in a concert hall in Nice after Fitzgerald has returned from a transatlantic trip to attend the funeral of her half-sister, Frances. By this time, she is a mature artist who has gained international fame for her "scat" style of singing.
Although Hatcher's musical steers clear of the problems Fitzgerald faced in her career due to racial discrimination, she later confessed that:
"I owe Marilyn Monroe a real debt. It was because of her that I played the Mocambo, a very popular nightclub in the '50s. She personally called the owner of the Mocambo and told him she wanted me booked immediately, and if he would do it, she would take a front table every night. She told him -- and it was true, due to Marilyn's superstar status -- that the press would go wild. The owner said yes, and Marilyn was there, front table, every night. The press went overboard. After that, I never had to play a small jazz club again. She was an unusual woman. A little ahead of her times and she didn't know it."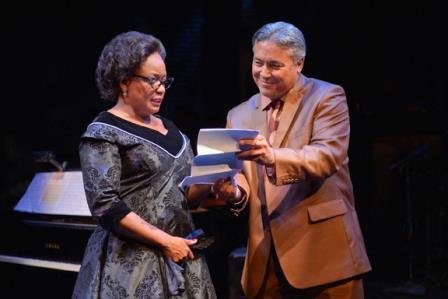 Yvette Cason and Cassidy Brown in Ella the Musical
(Photo by: Kevin Berne)
During the course of her 59-year career, Ella Fitzgerald sold more than 40 million copies of the 70 albums she recorded and was awarded the National Medal of Arts and the Presidential Medal of Freedom. Although she died in 1996, her musical legacy lives on as one of the world's most respected and beloved jazz singers.
While Ella The Musical rests on the shoulders of the talented Yvette Cason (who gives a dynamite performance as Fitzgerald), one of the major assets of the show is Danny Holgate's phenomenal musical arrangements. Backed by an ensemble that includes Mark Lee on drums, Joe McKinley on bass, Mark Wright on trumpet, and Kelly Park on piano, the cast also includes Cassidy Brown as Fitzgerald's manager, Norman Granz, and Anthony Rollins-Mullens as some of the men in Ella's life.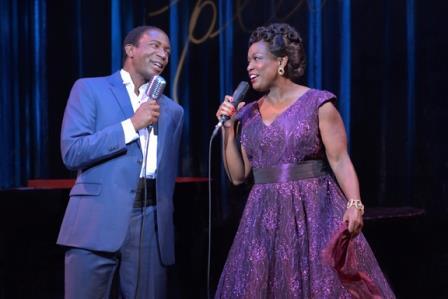 Anthony Rollins-Mullens as Louis Armstrong and
Yvette Cason as Ella Fitzgerald in Ella The Musical
(Photo by: Kevin Berne)
The following video clip offers a sampling of Ms. Cason's strengths as a vocalist.
To read more of George Heymont go to My Cultural Landscape