I'm always amazed by some of the historical gems that have been uploaded to YouTube. Who knew you could see Sarah Bernhardt as Hamlet in the fencing scene with Laertes from an 1899 London production of Shakespeare's tragedy? Or a clip of "the Divine Sarah" as Queen Elizabeth in a silent film from 1912?
Some people dread falling into a K-hole. My weakness is falling into a Y-hole and bouncing around YouTube for several hours while watching archival footage -- like this pristine videotape of the original Broadway production of 1976's Pacific Overtures.
While it's easy to find clips of Mary Martin and Cyril Ritchard in the 1954 television version of Peter Pan, several musicals from the 1950s were broadcast live or performed before a studio audience.
On February 28,1954, audiences watching The Colgate Comedy Hour were treated to a live television version of Anything Goes starring Ethel Merman, Frank Sinatra, and Bert Lahr.
On March 31, 1957, CBS broadcast the world premiere of a new musical written exclusively for television by Rodgers and Hammerstein. Cinderella starred Julie Andrews (a year after her Broadway triumph as Eliza Doolittle in My Fair Lady). The premiere was watched by more than 100 million viewers.
In 1957, NBC recorded a live performance of Annie Get Your Gun starring Mary Martin and John Raitt.
In 1958, CBS taped a performance of Wonderful Town starring Rosalind Russell and Jacqueline McKeever (the full show is available on YouTube starting with this clip):
Despite the criticism of Carrie Underwood's performance as Maria in the recent live television production of The Sound of Music, NBC has announced that it will pursue plans to telecast future live stagings of classic Broadway musicals. It isn't often that a television executive makes me laugh out loud, but this comment from Robert Greenblatt (Chairman of NBC Entertainment) did the trick:
"There is no snarkier universe than the Broadway world. It just sort of invites it. It's okay. I'd rather have people deeply engaged than ignoring it. Somebody I once worked for said to me once, 'Everybody hated it but the audience.' And I'll take that."
Each year, performing arts organizations search for something new to offer audiences during the holiday season. With an increasing sense of political correctness, many impresarios try to avoid anything that will seem too religious or preachy (like Gian-Carlo Menotti's one-act opera, Amahl and the Night Visitors). This year Marin Theatre Company presented a brilliant production of Jacob Marley's Christmas Carol directed by Jon Tracy while Berkeley Rep hosted Kneehigh Theatre's production of Tristan and Yseult.
Based on the popular film Miracle on 34th Street, Meredith Willson's 1963 musical, Here's Love, proved to be a real holiday turkey. If I had my druthers, I'd like to see a regional theatre company take a crack at Celebration, a 1969 musical by the creators of The Fantasticks (Harvey Schmidt and Tom Jones) and see what might happen if San Francisco's 42nd Street Moon exhumed 1961's Subways Are For Sleeping (with its Act I finale, "Be A Santa").
In Beverly Hills, the Wallis Annenberg Center for the Arts recently scored a hit with an adaptation of Miklós László's charming Parfumerie (which provided the inspiration for films like The Shop Around the Corner, In the Good Old Summertime, and You've Got Mail). Of course, it's never too soon for another production of 1963's She Loves Me.
For some theatre companies, the challenge of the holiday season is to find a way to make an old story seem relevant to contemporary audiences. Two of 2013's Bay area productions (based on classic pieces of literature) offered audiences an unintentional opportunity to do just that.
I'm sure that Hans Christian Anderson never intended his lengthiest fairy tale, The Snow Queen (1845), to be viewed through the lens of a young man suddenly developing a critical drug addiction. Nor would anyone suspect that Louisa May Alcott's 1868 classic, Little Women, might have audiences wondering if the tomboyish Jo was little more than a clueless lesbian. But Christmas is supposedly a time of miracles and, if one chose to examine these stories through such modern lenses, at least the opportunity to do so was lurking in the subtext.
* * * * * * * * * *
Each December, TheatreWorks stages a holiday musical in the intimate environment of Palo Alto's 300-seat Lucie Stern Theatre. While some of their productions (Into The Woods, The Secret Garden) have been magical, almost transformative theatrical experiences, I think the hidden ingredient to their success has always been that the audience genuinely cares about the characters it encounters onstage. As the company's artistic director, Robert Kelley, notes:
"When I saw the Broadway production [of Little Women] in 2005, the soaring music, engrossing characters, and superb performances swept me away. But one element was missing in the elaborately produced world of the Great White Way: the intimacy of a close-knit household that America had long since claimed as its own. The show continued to haunt me, however, especially its comic focus on Jo's development as a young writer (which mirrored Alcott's own progress from the popular Gothic sensationalism of much 19th-century fiction to the highly personal introspective voice that made Little Women one of America's best-loved novels).

The idea of revisiting the musical grew on me after our exuberant holiday productions of The Secret Garden and Big River flourished in the cozy confines of the Lucie Stern Theatre. Perhaps its intimate stage would summon the attics and anterooms, parlor sing-alongs, and back porch proposals that made the March family seem so endearing and familiar. Musical Director Bill Liberatore was soon on board, committed to giving the glorious songs the welcoming feel of a chamber musical, and designer Joe Ragey imagined a warm and flexible setting that could evoke many scenes and seasons -- from a snowbound New York City to a cluttered Concord attic."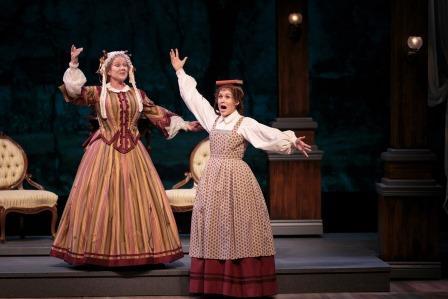 Aunt March (Elizabeth Palmer) tries to teach Jo (Emily Koch)
a lesson in posture and etiquette in Little Women
(Photo by: Mark Kitaoka)
From Joe Ragey's elegant show curtain (and the Currier & Ives-style paintings on the set's sideboards) to the sensitive sound design by Jeff Mockus, this production was blessed with the kind of theatrical assets which should be standard fare (but, unfortunately, have become endangered species).
First and foremost is a narrative with momentum (a book by Allan Knee that knows where it's going and gets there without ever losing focus).
Second is a score by Jason Howland (with lyrics by Mindi Dickstein) that keeps the story within an identifiable musical framework without any fear that the performers will ever be overwhelmed by the musicians in the pit.
Third is an ambiance of Civil War era gentility, captured in Fumiko Bielefeldt's costumes as well as the smooth and sensitive stage direction by Robert Kelley.
Fourth is yet another radiant performance by Sharon Rietkerk as Meg, the oldest of the March sisters who is the first to break their covenant by accepting a marriage proposal from John Brooke (Justin Buchs).
Last, but certainly not least, is Emily Koch's deliciously spunky yet unexpectedly poignant characterization of Jo (the tomboy and aspiring writer whose devotion to her sisters drives the narrative).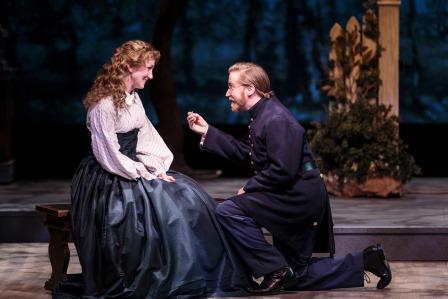 John Brooke (Justin Buchs) proposes to Meg (Sharon Rietkerk)
in Little Women (Photo by: Mark Kitaoka)
Excellent work in supporting roles comes from Christopher Vettel as Professor Bhaer; Richard Farrell as the neighboring Mr. Laurence; Matt Dengler as his nephew, Laurie; Justin Buchs as Mr. Brooke, and Elizabeth Palmer doubling as Aunt March and Mrs. Kirk. Others in the March household include Elizabeth Ward Land as the stoic Marmee (whose husband is doing duty on the battlefield as a Civil War chaplain), Julia Belanoff as the sweet and ill-fated Beth, and Arielle Fishman as the social-climbing Amy.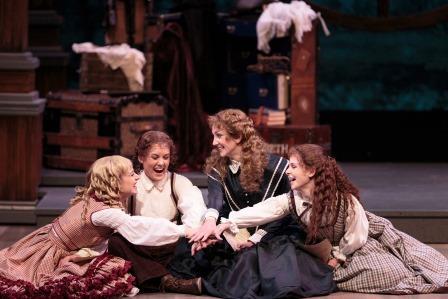 Amy (Arielle Fishman), Jo (Emily Koch), Meg (Sharon Rietkerk) and
Beth (Julia Belanoff) are the four March sisters in Little Women
(Photo by: Mark Kitaoka)
This production could easily disarm the most hardened cynics and warm the hearts of those who have grown inured to the appeal of standard holiday fare.
* * * * * * * * * *
I wish I could be as enthusiastic about the new musical adaptation of a Hans Christian Anderson fairy tale that recently received its world premiere from the San Jose Repertory Theatre. The marketing blurb describes The Snow Queen as:
"...a fantastical coming-of-age adventure. As you follow Gerda through an unimaginably dangerous and whimsical world with singing flowers, a chattering crow and a talking river to save her friend, Kai, you'll realize this isn't your average bedtime story. An original pop rock score, alluring ballads, urban steam punk flair and the enigmatic Snow Queen turn this traditional fairy tale into an epic quest."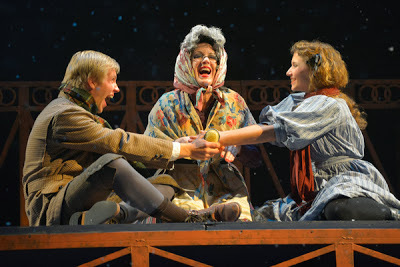 Kai (Tim Homsley), Grandmother (Lee Ann Payne), and Gerda
(Eryn Murman) in The Snow Queen (Photo by: Kevin Berne)
With the company's artistic director, Rick Lombardo, acting as stage director and choreographer (in addition to co-authoring the book and lyrics with producing artistic director Kirsten Brandt and composer Haddon Kime), this new holiday venture aimed to take advantage of some impressive young talent from San Jose State University's theater and music departments. David Lee Cuthbert's excellent lighting and projection designs (coupled with the versatility of Erik Flatmo's break-away unit set) helped to spark the audience's imagination. Many of Frances Nelson McSherry's costumes were fancifully designed.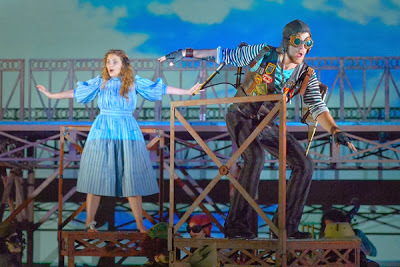 Gerda (Eryn Murman) and the Old Crow (Jason Hite)
in The Snow Queen (Photo by: Kevin Berne)
Unfortunately, at the performance I attended, there were noticeable problems with Steve Schoenbeck's sound design (which often transformed some of the cast's legitimately trained voices into unnecessarily strident squawking). This sound distortion was especially unwelcome during moments when the voice of Jane Pfitsch's Snow Queen rose above the staff, making her lyrics barely intelligible.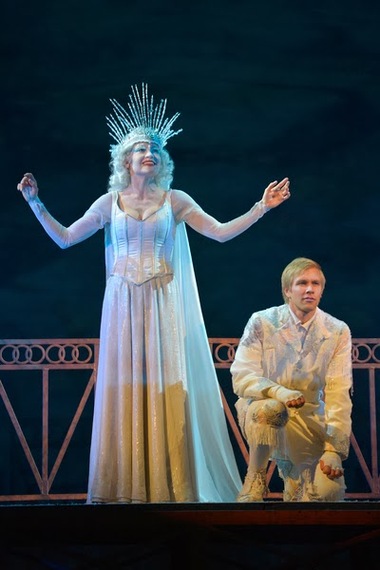 Jane Pfitsch as the Snow Queen and Tim Homsley as Kai
(Photo by: Kevin Berne)
Credit goes to Eryn Murman, whose lively portrayal of Gerda took her around the world in weighty ways. As the evil Snow Queen who seeks the secret to eternity, Jane Pfitsch demonstrated a powerful, near-operatic range with a solid stage presence.
Hans Christian Anderson's fairy tale about a young boy who sees the world with an icy realism instead of a child's awe (after being stabbed in the eye and chest with shards of cynicism from a magic mirror) is meant to tell a story about the bonds of friendship. However, with Tim Homsley's excellent portrayal of Kai as an impulsive young math whiz who, having been kissed by the Snow Queen, craves the sensuous touch of her deadly lips like a meth addict craves his next fix, Kai's troubles took on a startling resemblance to a drug dependency whose evil spell is broken by a kiss from his best friend.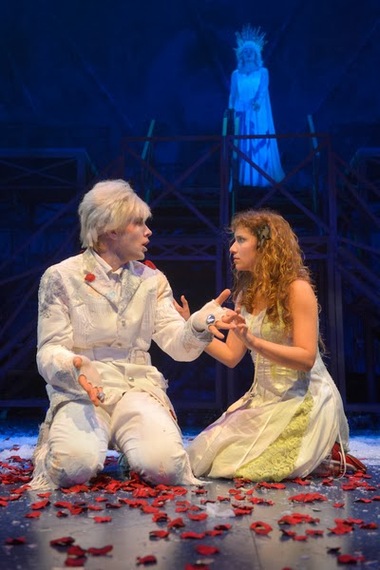 Tim Homsley (Kai) and Eryn Murman (Gerda) in The Snow Queen
(Photo by: Kevin Berne)
Others in the cast included Rhett George (as a troll, a river prince, a reindeer, and a snowflake), Cindy Im (as Rose, a princess, a bullying robber girl, and a snowflake), Lee Ann Payne (as the children's grandmother, a witch, a robber, a mother, a wise woman, and a snowflake), Jason Hite (as a flower, an old crow who accompanies Gerda on a magical journey, a robber, a gang member, a pigeon, and a snowflake), Janice Engelgau (as a flower, a snowflake, and a pigeon), Summer C. Latimer (as a flower, a lady, a crow, a snowflake, and a pigeon), and Jomar Martinez (as a flower, a snowflake, and a pigeon).
Although roughly the same length as Little Women, San Jose Rep's new musical painfully meandered back and forth across the stage with plenty of sound and fury that amounted to much less than the sum of its parts. That's not to say that the show (which boasts 30 songs) lacks assets -- only that they fail to gel into a cohesive whole.
I left the theatre with the feeling that The Snow Queen's creative team had thrown everything they had onstage in the hopes that something would stick. Unfortunately, they ended up with a Christmas musical that, despite all the energy exerted by its young and appealing cast, proved to be surprisingly tiresome. Here's the trailer:
To read more of George Heymont go to My Cultural Landscape