Few people would deny Eve Ensler credit for the impact she has had on women's lives around the world. It's easy to understand why Newsweek named Ensler as one of its "150 Women Who Changed Our World."
Since her play, The Vagina Monologues, received its off-Broadway premiere in 1996, it has has been translated into nearly 50 languages.
Created by Ensler in 1998, V-Day has evolved into a global movement to end violence against women and girls.
Ensler has been a driving force behind 2014's One Billion Rising event.
Ensler has been an avid supporter of the City of Joy project.
With help from Ensler, V-Girls has been created as an online social networking service on which young women can empower and inspire one another.
On June 18, 2012, Ensler took part in a performance of The Vagina Monologues that took place on the steps of the Michigan State Legislature before an estimated crowd of 5,000.
Susan Medak (the Managing Director of Berkeley Repertory Theatre) states that:
"At Berkeley Rep we always hope that the work we produce will speak to the moment in which we live. It is always our goal that people should leave each show with a new insight, a fresh perspective, an impulse to take action. Eve Ensler's intention is to inspire you to get out of your seat and transform the world. Eve is drawn to the theatre for its capacity to touch people in profound and personal ways. In fact, there may not be another living playwright who has forged such a powerful link between theatre and social change or who makes a more essential link between watching and doing. Eve Ensler has the zeal of a missionary which, when combined with her intelligence and capacity for empathy, makes her a powerful agent of change. Eve is unabashedly on a mission to empower women, particularly young women, around the world. She is a force of nature. There is simply no other way to describe her. Her favorite message-delivery system has been and continues to be theatre."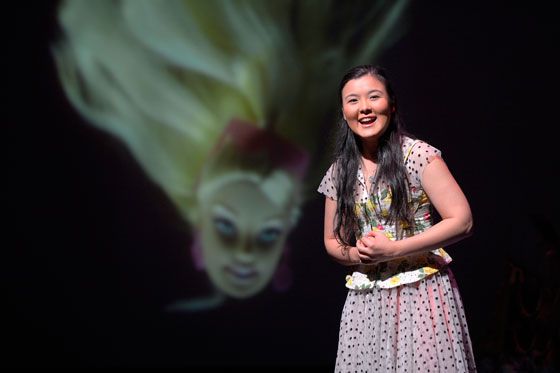 Olivia Oguma in Emotional Creature (Photo by: Kevin Berne)
Directed by Jo Bonney and choreographed by Luam, Ensler's latest work is based on her book entitled I Am An Emotional Creature: The Secret Life of Girls Around The World. With sets and costumes by Myung Hee Cho and music (and music direction) by Charl-Johan Lingenfelder, Emotional Creature strings together a series of fierce monologues by women whose girlhood was crushed, whose innocence was stolen, and whose basic human rights were stripped from them -- often under unbelievably horrible circumstances.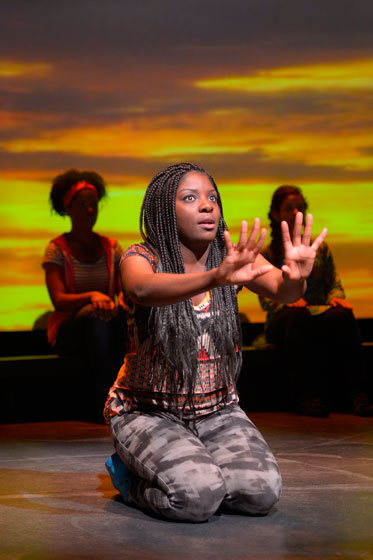 Joaquina Kalukango in Emotional Creature
(Photo by: Kevin Berne)
Emotional Creature features an appealing ensemble of young women with poignant stories to tell.
Sade Namei portrays a young girl whose family tricked her into undergoing a painful rhinoplasty so that she would be more marketable as a bride when, in truth, she had always liked her nose and thought it gave her character.
Joaquina Kalukango describes the excruciating ordeal of a young African woman who was repeatedly raped until she finally managed to escape on a boat.
Olivia Oguma easily wins over the audience as she describes the experience of a young Chinese factory worker who tries to channel her thoughts into the Barbie dolls she helps to assemble.
Ashley Bryant, Molly Carden, and Emily S. Grosland also contribute poignant vignettes to the evening.
As much as Ensler's writing shapes the drama, the huge video contribution from Shawn Sagady (whose work is projected on a cyclorama behind the playing area) takes the audience into the inner minds and physical worlds of each character in Ensler's play with a poetry and lyricism that is often breathtaking. Emotional Creature will open at the Romulus Linney Courtyard Theatre in New York's Pershing Square Signature Center on November 12. I'm willing to bet Ensler's show will develop as devoted a following as all the young girls seeking stories of female empowerment who have purchased tickets to see Wicked.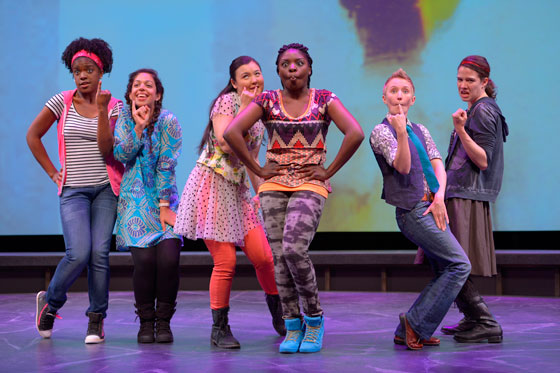 The ensemble from Emotional Creature (Photo by: Kevin Berne)
* * * * * * * * * *
In 2006, when Mark Jackson directed a production of Oscar Wilde's Salomé for Aurora Theatre Company, his research took him down a fascinating rabbit hole that had a surprising San Francisco tie-in.
He stumbled across the story of Maud Allan, a San Francisco native who took Europe by storm in the early 1900s with her version of the "Dance of the Seven Veils" which she called "The Vision of Salomé." After Maud's brother, Theodore Durrant, murdered two young women at the San Francisco Emanuel Baptist Church (which was located at the same Mission District intersection that once hosted the 21st Street Baths), her mother encouraged Maud to change her name and stay in Europe.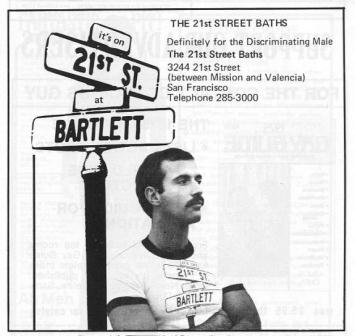 Jackson, who teaches at San Francisco State University and is a member of the Shotgun Players, was fascinated by what he read. In describing what inspired him to write Salomania, he notes:
"Important social issues raised during Maud Allan's trial (such as media sensationalism, freedom of expression, gender equality, gay rights, and hysteria in the face of change) remain points of great struggle for us nearly a century on. Sensationalism is still a major escapist drug of choice in our society, with celebrity scandals perpetually stealing the headlines from far more important matters. Despite how far civil rights have come, those who remain different from the majority of the population still struggle not to be the scapegoat for the fears of that majority. This play is less about its characters than it is about the anxious, hysterical society that shapes them. The mystery as to how so many intelligent, prominent people could say and do so many stunningly outrageous things is indeed the question that grabbed a lasting hold of me when I first encountered this story. Not having an answer to that question has baffled and compelled me."
In 2011, when Jackson and noted Bay area set designer Nina Ball worked on the world premiere of his play, God's Plot, for the Shotgun Players, they made brilliant use of a simple scenic trick that placed some of the action out onto a river raft moved by actors pushing poles against the stage floor. They've done something very similar in Salomania by creating a pull-out platform which two cast members can then move up and down the length of the playing space and rotate before the audience.
This theatrical trick is especially effective in scenes which depict a young soldier meeting a pretty girl in a pub or the captivating moment of magical realism in which the ghost of Oscar Wilde counsels Maud Allan following her trial in London.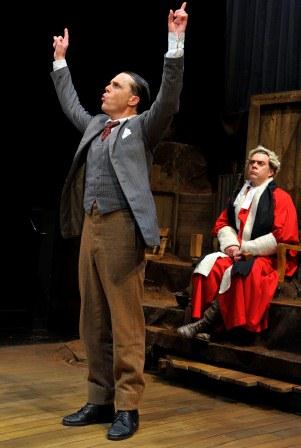 Mark Anderson Phillips and Kevin Clarke in a
scene from Salomania (Photo by: David Allen)
As the belligerent Noel-Pemberton Billing (a bellicose Member of Parliament whose ignorance about the law was matched by his lack of knowledge about female sexuality), Mark Anderson Phillips did a splendid job of spraying spittle all over the courtroom while proving himself to be a world-class fool. Alex Moggridge shone as Maud's legal counsel, Sir Ellis William Hume-Williams and a lonely soldier home from the war. Liam Vincent cut a dashing figure as Lord Alfred Douglas (Oscar Wilde's former lover).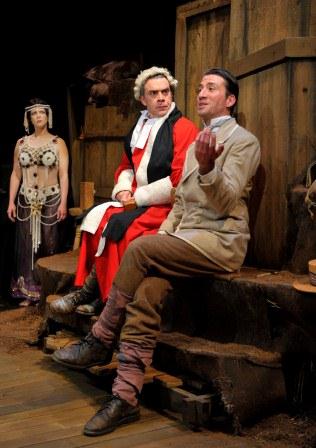 Madeline H.D. Brown, Kevin Clarke, and Liam Vincent in
Salomania (Photo by: David Allen)
Marilee Talkington appeared in several small roles while Anthony Nemirovsky drew plenty of laughter as the incompetent double agent, Harold Spencer. Although Madeline H.D. Brown gave a fascinating performance as Maud Allan, the cast member who continually held my attention was Kevin Clarke (who doubled as Judge Darling and the ghost of Oscar Wilde).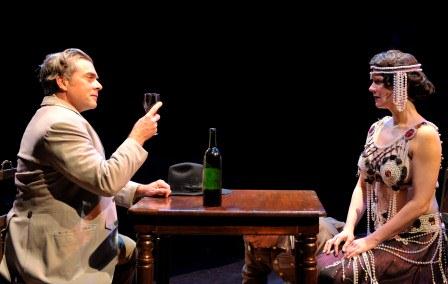 Oscar Wilde (Kevin Clarke) and Maud Allan (Madeline H.D. Brown)
in a scene from Salomania (Photo by: David Allen)
As playwright and director, Mark Jackson has done a fine job of placing a highly sensationalized trial against the background of World War I. The fine performances (especially those by Kevin Clarke, Liam Vincent, and Mark Anderson Phillips) demand a larger audience. While Salomania should definitely be seen for its theatrical bite and historical relevance, it also offers audiences a solid demonstration of theatrical craft by the team of Jackson, Ball, and costume designer, Callie Floor.
To read more of George Heymont go to My Cultural Landscape