If one were to look for unlikely social climbers in literature, one of the most obvious examples is Eliza Doolittle. The character created by George Bernard Shaw for 1912's Pygmalion was further immortalized in the 1956 hit musical by Alan Jay Lerner and Frederick Loewe entitled My Fair Lady.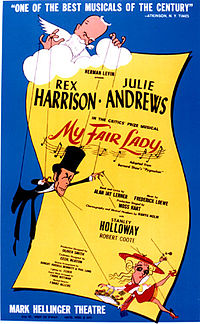 Poster art for My Fair Lady
While My Fair Lady has a long history as one of the most beloved and opulent musicals ever staged (not to mention George Cukor's lavish 1964 film adaptation), several years ago I was fascinated to learn about a downsized version of the show that had been presented by the McCarter Theatre in Princeton, New Jersey, in May of 2004. Why? In 1992, I had seen a brilliant production of 1956's "other" major musical, The Most Happy Fella, performed at the Booth Theatre with a two-piano reduction of Frank Loesser's semi-operatic score.
Alas, it seemed as if I might never get to hear the two-piano version of My Fair Lady (which is performed with a cast of 11). However, thanks to the artistic leadership of Bill English, SFPlayhouse has come through with a delicious surprise.
The history of this two-piano version of My Fair Lady is quite interesting. Apparently, under Frederick Loewe's supervision, a two-piano arrangement of My Fair Lady's score had been written by Trude Rittman, one of the great Broadway dance arrangers of the 1950s. It had disappeared until 1999, when Amanda Dehnert staged a production of My Fair Lady at the Trinity Repertory Theatre in Providence, Rhode Island using two pianos and a cast of 27 actors.
In April 2002, the Court Theatre (which is affiliated with the University of Chicago) staged a production in which director Gary Griffin and musical director Tom Murray tried to give My Fair Lady a makeover that would work well in smaller theatres.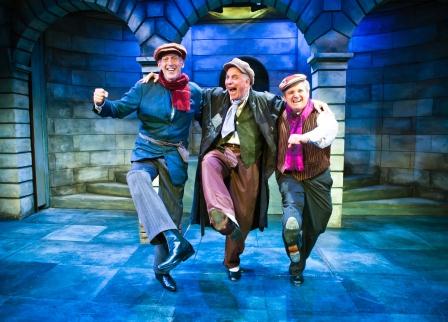 Luke Chapman, Charles Dean, and Kenneth McPherson
sing "With A Little Bit of Luck" (Photo by: Jessica Palopoli)
Although they eliminated the scene at the Embassy Ball, the team was able to develop "ensemble tracks" so that each supporting performer could play multiple roles without sacrificing an ounce of the story's clarity. The result was a happy emphasis on character. As Griffin explains:
"Musical theatre is now a 100-year-old tradition in the United States. It's at a point where there are classics, just like there are classic plays. These classic shows are going to stand up to being reexamined -- they won't be threatened by that. We hope that people come to the show already knowing it, in a way. For them, this will be a new way of looking at My Fair Lady. It's sort of like another way of looking at Shakespeare.

People will still do My Fair Lady the original way, but we are just hoping that audiences will focus on the core drama of the show. We're not saying we think this is better. We're saying it's a good piece and we're just doing it differently. Encountering the work in this defamiliarized way helps the artists and audience zoom in on the musical's core. We're talking about charting Eliza's emotional journey and transformation from Eliza's arrival at the study to Ascot, it should all feel like one long montage (as opposed to 'Scene. Scene. Scene. Scene'). Everything is about that, every production decision is about that. We're just focusing on what Eliza does."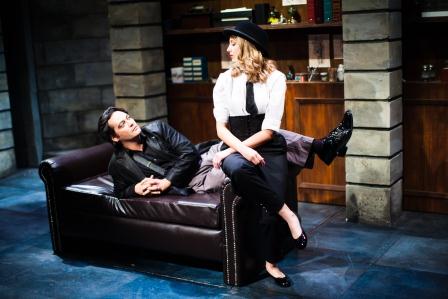 Henry Higgins (Johnny Moreno) with Eliza Doolittle (Monique Hafen)
in My Fair Lady (Photo by: Jessica Palopoli)
By transforming a traditional Broadway chorus into an intimate quintet, Murray had more time to work with his singers. "I can do ensemble numbers by coaching each person individually now," he stressed. "It becomes a fabric of ten individuals bringing their own voices to a number (as opposed to thirty people singing the same vowel)."

A century after Pygmalion was first published, Shaw's writing (especially Alfred P. Doolittle's discourse about "middle class morality") remains brilliant. However, one cannot ignore the equally delicious lyrics by Alan Jay Lerner. Take a moment to read the following lyric out loud to relish its sublime combination of unabashed sentimentality and brazen eloquence:
"Are there lilac trees in the heart of town?
Can you hear a lark in any other part of town?
Does enchantment pour out of every door?
No, it's just on the street where you live."
The irony, of course, is that one of My Fair Lady's greatest popular hits, "On the Street Where You Live," didn't score well at an out-of-town tryout and was almost cut from the show. Yet Shaw tried to balance romance with the battle of the sexes (he envisioned Eliza marrying Freddy Eynsford-Hill rather than returning to continue living with Professor Higgins).
In the SFPlayhouse production, Bill English has carefully added tiny gestures of tenderness in which Henry Higgins (Johnny Moreno) briefly holds his student's face in his hands or, in a lovingly paternal way, pats Eliza (Monique Hafen) on the arm. In those moments, one can see internal flashes of yearning that evidence Eliza's genuine hunger for male affection; something rarely depicted in productions of My Fair Lady.
The two leads received ample support from Richard Frederick (Colonel Pickering), Justin Gillman (Freddy Eynsford-Hill), and Karen Hirst (who did double duty as Mrs. Pierce and Mrs. Higgins). Charles Dean enjoyed some of Shaw's best lines as Eliza's father, Alfred P. Doolittle.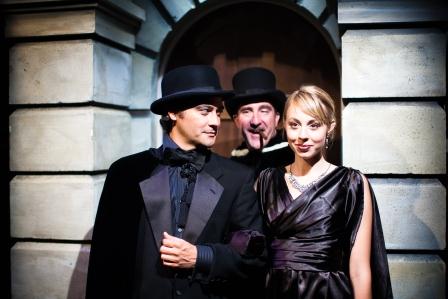 Higgins (Johnny Moreno), Pickering (Richard Frederick) and
Eliza (Monique Hafen) depart for the Embassy Ball in My Fair Lady
(Photo by: Jessica Palopoli)
Nevertheless, it takes a great deal of imagination to squeeze a major musical like My Fair Lady onto a postage stamp-sized stage like the one at SFPlayhouse. I tip my hat to the ever-inventive Nina Ball, who matched Bill English's peculiar gift for jigsaw-puzzle stage designs by creating a pillared atmosphere that worked for Covent Garden, the Ascot Racetrack and (with the clever use of two sliding panels), was easily transformed into the living room of Professor Higgins' home at 27-A Wimpole Street as well as his mother's garden.
On my first trip to London in 1984, I made a pilgrimage to Wimpole Street, only to discover that there was no 27-A. Trivia fans will be delighted to know that Elizabeth Barrett Browning lived at 50 Wimpole Street from 1838-1846 and Paul McCartney lived at 57 Wimpole Street from 1964-1966. Two hit songs made famous by The Beatles ("I Want To Hold Your Hand" and "Yesterday") were written at this address.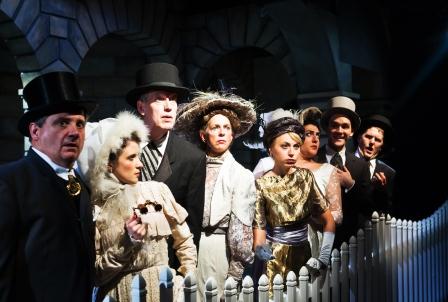 The Ascot Gavotte (Photo by: Jessica Palopoli)
In recent years it has become a rare treat to hear a classic of the American musical theater performed without amplification. SFPlayhouse's production does a beautiful job of demonstrating how the chamberization of beloved musical comedies can show that less is sometimes more. Enhanced by Abra Berman's costumes, the "Ascot Gavotte" remains a brilliant stroke of musical theatre.
My Fair Lady continues through September 29 at the SFPlayhouse (click here to order tickets). Here's the trailer:
To read more of George Heymont go to My Cultural Landscape