Once upon a time, the concept of authentic masculinity was encapsulated in a Marlboro-smoking cowboy with weathered skin who paused to take in the natural beauty of the American West. Then reality (cigarettes cause cancer) struck and men started to back away from some of their superbutch, gender-defined roles. As the years passed, the concept that "real men don't eat quiche" grew tired and stale.
Nowadays, real men perform monologues. Whether at Fringe festivals or poetry slams, real men are examining their lives before audiences. Who hasn't been thrilled listening to Taylor Mali?

Lacking Mr. Mali's linguistic skills and poetic stylings, today's monologues usually fall into three categories:
Narrative in which the performer weaves together a story based on his travels, the people he's met, or his dysfunctional family.
Argumentative in which a performer seizes an opportunity to vent about the insults and humiliations he has suffered in life or get something else off his chest
Informative in which the performer wishes to educate his audience about a specific topic or cause.
As men open up to discuss their sexual evolution, revolution, and revelations, it's clear that "sharing" is no longer anathema to them. Three of the manly monologues performed at the 2012 San Francisco Fringe Festival focused on masculinity issues that folks like Mitt Romney would much prefer to discuss "in quiet rooms" (if at all).
* * * * * * * * * *
Based on a variety of people he has known, Nigel G. Mentis is the protagonist of Christopher Spurrell's charming Health and Efficiency. Starting with Nigel's early obsessions for the way Ozzie Osbourne wore his underwear over his pants and a British naturist magazine entitled Health and Efficiency, Nigel sets out on a photographer's quest to learn about the world at large. Growing up in an era of sex, drugs, and rock'n'roll, he's startled to learn that pegging (a sexual practice he's willing to try with prostitutes) is something his girlfriend would especially like to do to Nigel.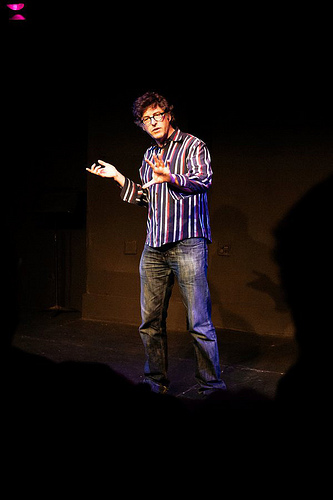 Christopher Spurrell as Nigel in Health and Efficiency
As the years pass, Nigel breaks up with his beloved Liz and relocates to California, where he continues to shirk responsibility until his teenage daughter informs him that she's pregnant and tells him he's going to become a grandfather. Several years later, when his grandchild says "I love you, Grandpa" over the phone, something finally clicks within Nigel. He returns to Liz, hoping that by marrying him she will allow Nigel to "do the right thing." As Spurrel explains:
"Nigel's adventures and misadventures show us a man conflicted by the experiences of his childhood and confused by his situation in adult life. These confusions resonate and clash throughout his experience. How will he come to some measure of peace? Will it be through his relationships with the women in his family or the women who tug at his heart? I like to think it is not the events that constitute our history that define us but our relationship to those events. It is not ignoring our history that dooms us, rather it is our identification with it. That is what seems to trap us in these patterns."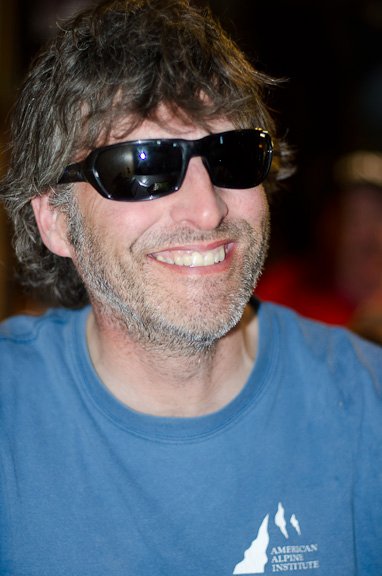 Photographer/monologist Christopher Spurrell
Although I experienced Health and Efficiency at a sparsely-attended late night performance, I found Spurrell to be a charming monologist who prefers to work barefoot. A handsome British expatriate willing to talk about getting caught by his father while masturbating (as well as getting down on his hands and knees to grimace as his girlfriend shoves a dildo up his ass), Spurrell allowed his character to grow and develop with a combination of adolescent curiosity and an adult's willingness to compromise.
* * * * * * * * * *
A self-proclaimed "porn nerd" and "intellectual homosexual" (check out his website at TopToBottomNYC.com), Lucas Brooks describes himself as follows:
"I am a writer, performer, and sex educator livin' it up (kinda) in New York City. I sell sex toys for a living (which is beyond awesome) and, in my spare time, I record my observations of LGBT culture and sexuality. Sex has always mystified me. Gay men have always flabbergasted me. I'm much more focused in my sexual exploration. Not to sound pretentious, but it's almost become an artform for me. My main focus is on the mental and physical construction of the gay man. What makes us tick? Ya gotta admit... we're a pretty fucked-up bunch."
In his monologue entitled VGL 5'4" TOP, Brooks describes his sexual evolution from a horny (if somewhat naive) Midwestern gay boy into a sophisticated kinkster trying to navigate the intricate contradictions of New York's gay community. Brooks finds himself continually challenged by rudeness masquerading as attitude, internalized homophobia attempting to pass itself off as superiority, and vapidity eclipsing vitality.
Nowhere is this more frustrating than the highly-addictive landscape of on-line gay male social networks such as Adam4Adam, Manhunt, Gay.com, and Craigslist. As someone who is not easily stereotyped (he's too smart to be a twink, too smooth to be a bear, too short to impress people as a top, and too protective of his asshole to be a power bottom), Lucas is hardly the first gay man to suffer from on-line overobjectification. Confronted by an on-line questionnaire which asks "If you could dress up your asshole, what would it wear?" he offers a simple response: duct tape.
Clad only in a pair of briefs, Brooks manages to keep the audience's attention above his crotch with his strong storytelling skills, laser-sharp wit, and appealing personality. Here's the trailer for his show:
* * * * * * * * * *
Last, but certainly not least, is Canada's Glen Callender, whose monologue, The Revolution Will Not Be Circumcised, offers the kind of sex education that is never encountered where it is most needed: in school. Wearing little more than a T-shirt, this exuberant actor/model/activist doesn't hesitate to take matters (his own penis and foreskin) in hand to give his audience a sorely-needed lesson in human anatomy.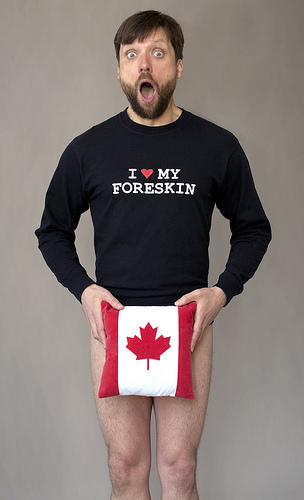 Canadian foreskin rights activist Glen Callender
Callender starts his free lecture by demonstrating how few texts on human anatomy actually show a penis with foreskin. The outspoken Vancouver-based founder of the Canadian Foreskin Awareness Project (CAN-FAP), this ecstatic exhibitionist claims that "I feel like I won the stupidest lottery in the history of the universe by escaping the early 1970s with my foreskin when most boys at that time were cut." Unlike established actors who align themselves with more neutral charitable organizations, Callender is determined to promote foreskin education and appreciation while advocating for the human right of all children (whether male, female or intersex) to grow up with intact genitalia.
While Callender is happy to share videos of himself experiencing multiple (and copious) orgasms simply by touching his frenulum, he is quick to point out that removing the foreskin removes the hypersensitive Meissner's corpuscles which bring so much pleasure to sexual activity. Once his audience has been sufficiently apprised of the finer points of lubrication and foreskin anatomy, he shows a graphic video of a male infant being circumcised.
Stressing that urologists and mohels are in complete denial about the pain they inflict on infants (as well as debunking popular social, religious, and hygienic justifications offered for continuing the practice of circumcision), Callender shows the exposed, bloody raw tissue of a newly circumcised penis. As I watched this video, I realized that it might be an excellent teaching tool for self-righteous Republican politicians who are so eager to regulate women's bodies.
Why? My guess is that some of the men in Congress know as little about their own anatomy as they do about female anatomy. If forced to undergo the trauma of watching someone getting circumcised, they might start to wonder about the depths of their sexual ignorance -- and the sexual pleasure they may have missed out on for much of their adult lives.
No matter how squeamish one feels while watching some of Callender's video clips, the sight of a terrified, screaming infant with a glass of Mogen David wine standing next to his head and a Mogen clamp on his foreskin offers plenty of food for thought. Here's the trailer for Callender's show:
To read more of George Heymont go to My Cultural Landscape