In recent years, media coverage of same-sex marriage has led to incessant bloviating by conservatives who feel it is their duty to attack the ability of same-sex couples to do a credible job of parenting. Although far too little attention was paid to the integrity of their own offspring (including irresponsible heterosexuals who create children they can't support or parent through their formative years), this onslaught of criticism against gay parents who shoulder such responsibilities continues to seem like fair game to them because, you know, Jesus.
I like to think of this phenomenon as rancid milk bitterly spewing from sour ilk. Considering how many willfully ignorant conservatives refuse to understand that gay adults are a byproduct of heterosexual intercourse, perhaps "fucking ingratitude" would be a better choice of words. Whatever you do, don't ask these mostly male hypocrites to utter the word "vagina" in legislative chambers.
Thankfully, the media has finally begun to comprehend the traumatic impact of bullying on LGBT students and its effect on teen suicide statistics. The It Gets Better Project launched on September 21, 2010 by Dan Savage and his husband, Terry Miller, has helped millions of people start talking about bullying and the perils of trying to survive one's teen years while stuck living at home and/or constantly battling a hostile school environment.
Without doubt, LGBT suicides continue. But more people are now paying attention to what's happening and, when possible, fighting back against incompetent school administrators. Meanwhile, social networking (whether on Facebook or other platforms) has given LGBT youth access to far more information than was available to gay teens of previous generations. LGBT seniors could not have imagined hearing someone like Savage giving them the following advice during their formative years:
Today, there are Gay-Straight Alliances in many schools and the idea of a same-sex couple attending a high school prom has become far less threatening. Not only are LGBT teens starting to look out for each other, they're taking ownership of their lives in ways that are not defined by their parents.
With pedophilic priests unable to serve as role models, many LGBT youth now aspire to lead a fully-integrated lifestyle rather than compartmentalize their lives in order to avoid detection. At an age when most parents don't even want to think about their children becoming sexual creatures, LGBT teens are refusing to let themselves be categorized as second-class citizens.
The recent folly of the Boy Scouts of America reluctantly announcing that it will allow gay boys to serve as Scouts but, once they turn 18, still prohibit them from being Scout Leaders, has only emphasized that "the kids are all right." In far too many situations, it's the adults who are in need of psychiatric help.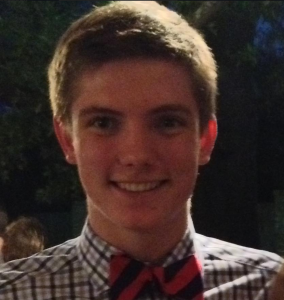 Texas teenager Mitch Anderson
The salutatorian at Belton High School's graduation ceremony, Texas teenager Mitch Anderson, made reference to the cultural icons (Madonna, Zachary Quinto, Harry Potter, Beyoncé Knowles and Lady Gaga) to whom he looks for strength and inspiration (click here to read his magnificent speech).
For some people, it's astonishing to watch newer generations of LGBT people embracing the word "queer" and taking ownership of a term that was once used as a bitter pejorative. For others, addressing the types of mental illness and suicidality that result from having to constantly live a lie (or quash one's own true feelings) has brought people together to advocate for social change.
While some look to network and cable television for LGBT characters they can relate to, independent filmmakers frequently offer a viewpoint that is not dependent on advertisers and now, thanks to the wonders of crowdsourcing, can be funded over the Internet. Religious homophobes and political ignoramuses who still imagine that NAMBLA (rather than the Catholic Church) is trying to prey on innocent young children would do well to watch some of the offerings at gay film festivals which showcase the experiences of LGBT youth, for better or worse, through their own perspective.
Out of a total of 238 films, June's Frameline Film Festival included 82 features and 155 shorts from a total of 27 nations. Frameline 37 also included 14 first-time feature filmmakers. Among the films which show that "the kids are all right" are the following:
* * * * * * * * * *
Written and directed by Evan Roberts, Yeah, Kowalski! is an endearing 10-minute short about 13-year-old Gabriel Kowalski (Cameron Wofford), whose mind is maturing much faster than his body. Gabe perceives his lack of armpit hair as being a deal breaker when it comes to impressing Shane (Conor Donnelly), the boy upon whom he has an adolescent crush.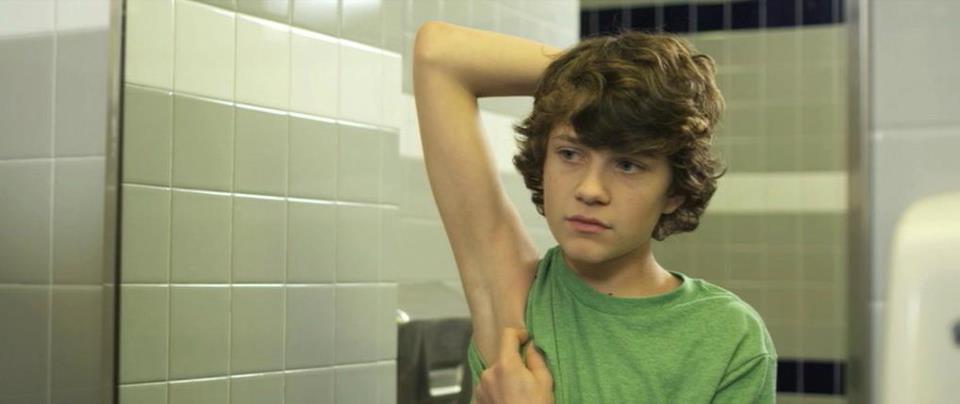 Cameron Wofford as Gabe Kowalski

Two years ago, when Frameline screened another short by Roberts (33 Teeth), I was impressed by the filmmaker's writing and sensitivity. As Roberts explains:
As a new filmmaker, I'm focused on writing about what I know. With my teens nearly two decades behind me, I feel I can walk safely through the minefields of my puberty years with a sense of humor. I remember growing up and not having a model for my particular blend of masculinity in the media. When media makes you invisible, you cut your own path. Fortunately, teenagers today have many more LGBT personalities in the media than 20 years ago. And yet, the stories that queer youth have of themselves abundantly depict depression, suicide, bullying, and trouble at home. Yeah, Kowalski! was an attempt to go against that tide, to show a character who is completely out in school, out to his father, and whose sexuality is a non-issue. If queer youth feel like they are being spoken to directly, and if everyone else can relate to Gabe Kowalski and his pubertal angst, then our short little film has done its job.

My previous film, 33 Teeth, dealt with similar themes about the developing body, the threat of humiliation, and emerging from that threat a better person. Similarly, Yeah, Kowalski! depicts a coming-of-age story that allows people from any sexuality to relate to the main character's goals and desires. This isn't a coming out story. This isn't a story about a father dealing with his son's sexuality. This isn't a story about a gay kid who secretly lusts after the macho star quarterback. No character's sexuality is overtly declared. This is a story that everyone can relate to, men and women, straight or gay, but that spotlights a less visible kind of teen in our society.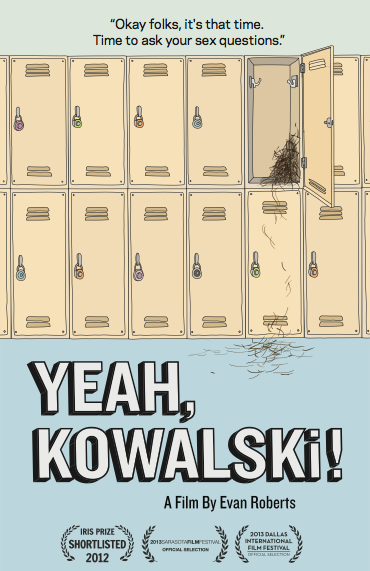 Poster art for Yeah, Kowalski!
* * * * * * * * * *
Adam Baran's short, Jackpot, touches on a subject most gay men who came out before the Internet was available can easily relate to: the struggle to acquire some gay porn. Back in the days when smut was sold in plain brown wrappers (or didn't come in the flavor one desired), it was all one could do to find images of men -- whether prurient or artistically homoerotic -- that were obviously created for the enjoyment of other gay men.
Some young men made do with copies of Playgirl, stashing them under a mattress or in someplace where they thought such treasure could avoid detection. I remember purchasing lots of egg creams in the newsstand beneath the BMT's station at Kings Highway in Brooklyn so that I had an "excuse" to peruse the covers of beefcake magazines like Iron Man, Young Adonis, Strength & Health, Muscleboy and Tomorrow's Man.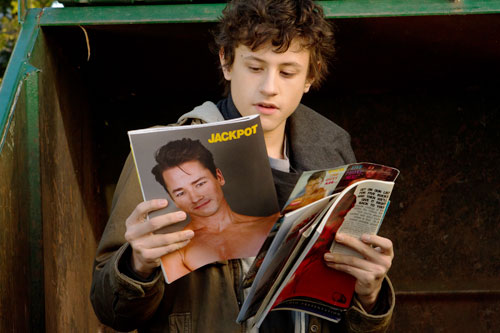 Ethan Navarro as Jack Hoffman in Jackpot
In Baran's short, Jack is a 14-year-old boy living in New Jersey who is bullied at school. It's 1994 and, when a friend mentions that someone dumped a bunch of gay porn in a local dumpster, he knows he has to save those magazines (magazines I used to write for!) from a fate worse than death. In a video for his Kickstarter campaign, Baran describes the unusual series of rewards he has planned for the film's donors:
Those who grew up in an age of easy accessibility to gay beefcake may be confused by some aspects of Baran's film. But for those who lacked physical ideals to aspire to, his message is simple. As Baran explains:
I've always been committed to trying to find new ways to present queer stories beyond some of the classic ones we see repeated over and over. I wanted to make a new queer movie that would illuminate my experience growing up as a bullied gay teen without any outlet to figure out who I was besides the underwear section of the Sears catalog. Part of my commitment to telling these stories comes from my feeling that queer people are often deprived of a very vital experience that straight people have: a right to see themselves represented onscreen and learn, in the same way straight people do, how to deal with the basic questions that are posed to us each day in our lives. How do we have relationships? How do we deal with adversity? How do we survive our darkest moments? The core of cinema attempts to answer these questions, but unless we transpose our experiences onto straight characters, we have nothing to learn from them about our own lives. Instead, stereotypical or tragic characters often informed us of our unwanted place in society throughout history. Would I have fought back against my bullies, come out of the closet, and been a fearless gay teen if I had seen, as a 13-year-old cinephile, a gay character fighting back to get what he wants? You bet! Instead, I hid myself, ran away from fights, and to this day I regret that (even if I know that there could have been very dire consequences for fighting back).
* * * * * * * * * *
Not every country is as uptight as the United States when it comes to issues of gay sex. In Denmark (where the age of consent is 15), parents may have a better understanding of what to expect as their children begin to mature. In Lasse Nielsen's delightful 24-minute short entitled Fødselsdagen (Happy Birthday), Thomas is a 14-year-old country boy who has already started collecting erotic images of men on his computer. After creating a profile on a gay dating site named Boyfriend, he's delighted to chart chatting with someone who agrees to meet him.
Having lied about his age, Thomas has done a good job of scaring away the older man (who turns out to be his neighbor). However, when his mother mentions to the neighbor that Thomas is about to celebrate his 15th birthday, the man invites Thomas over for an intimate birthday dinner.
One of the many beautiful touches in Nielsen's film is the choice of Ludwig Minkus's ballet music as a foundation for Thomas's sexual awakening Transposing the lush purity intended for the Kingdom of the Shades sequence in La Bayadere and using it to signal a teenager's entrance into a new world of male beauty, homoeroticism and love, brings an amazing state of grace to this film. Here's the trailer:
* * * * * * * * * *
Written by George Northy and directed by Darren Stein, G.B.F. requires an acutely skilled ear to keep pace with the way its high school students speak to each other. Acronyms and code names whiz by like greased lightning. References to fashion and pop culture will mean much more to younger viewers.
While there are many things G.B.F. accomplishes in spades, one of its most squirm-inducing moments comes when Mrs. van Camp (appropriately played by Megan Mullally) tries to show her openly gay son how supportive and "with it" she is by insisting that they watch Brokeback Mountain together. As G.B.F.'s director notes:
Teen films have always held a special place in my heart. What excited me about George Northy's script for G.B.F.was that it had all the hallmarks of the teen films we know and love, but with a relatable gay character in the lead. We've seen gay teens on TV, but there's never been a teen movie with a gay hero. In today's world of all-access, information overload, the Queen Bees are no longer of a hive mind, but rule their own domains like neighboring warlords. So naturally they'd battle over the school's token gay kid if it meant improving their social status. Gay Best Friends are everywhere -- from Instagram to the pages of Teen Vogue. The trend is funny, absurd and also heartening -- a step in the direction of tolerance. All high schoolers have insecurities that keep them in a variety of closets; G.B.F. uses the gay closet as a way in to explore a high school experience familiar to us all.
G.B.F. is currently working its way around the festival circuit prior to its theatrical release. Here's the trailer:
To read more of George Heymont go to My Cultural Landscape