I had a dream. It wasn't a prophetic dream, like the Reverend Martin Luther King, Jr.'s dream. Nor was it a nightmare. Instead, it was a rather stupid dream in which some Republican jackass kept demanding that the San Francisco Silent Film Festival produce a certificate of authenticity before Congress could allow it to screen Kevin Brownlow's definitive restoration of Abel Gance's 1927 silent film, Napoleon.
I was lucky enough to be in the Castro Theatre last July when Brownlow (who received an Academy Honorary Award in 2010 for a lifetime devoted to film preservation) gave a lecture on Gance's Napoleon, followed by the announcement that the San Francisco Silent Film Festival would present his complete restoration of the film with Carl Davis conducting the Oakland East Bay Symphony. The following clip from 1980 shows a 42-year-old Brownlow explaining what makes Napoleon such a landmark of silent film.
At the time of the Silent Film Festival's announcement, no one could have predicted that The Artist would be nominated for 10 Academy Awards and win the Oscars for Best Picture, Best Actor (Jean Dujardin), Best Director (Michel Hazanavicius), Best Costume Design (Mark Bridges) and Best Original Score (Ludovic Bource). I was especially pleased that Bource was recognized for his musical contribution to The Artist for, with many silent films, music is a driving force behind the experience.
As I sat inside Oakland's Paramount Theatre for the dress rehearsal for Napoleon, I was greeted with a ritual sound that I have loved since childhood. It's a sound that can only be heard live, in a theatre or rehearsal room. It's the sound of an orchestra warming up.
When Brownlow's first restoration of Napoleon was shown in 1980, two musical scores for the film were commissioned. Because I never saw the 1980 release, I did not hear the music composed by Carmine Coppola (who had composed the scores for Apocalypse Now and The Godfather series) for American audiences. The following video review of the 1980 release shows some of Gance's groundbreaking cinematic techniques.
I was curious to discover what made Carl Davis's score so preferable to Coppola's. What I realized over the course of the next eight hours was that nearly 80% of Davis's score is taken from Beethoven's Third Symphony (The Eroica), the storm scene from Beethoven's Sixth Symphony (The Pastorale) and some of his ballet music from The Creatures of Prometheus. Add in a hurdy gurdy, the French national anthem (La Marseillaise ), some excerpt's from Tchaikovsky's popular Marche Slav, a tinkle of Mozart, and a Corsican folk tune that bears an uncanny resemblance to "For He's A Jolly Good Fellow" and the only thing missing is a theme worthy of a great hero.
"What next?" I wondered. "Perhaps a piece of Mahler? I'll drink to that!" But none were Mahler.
Instead, Davis followed in the footsteps of Richard Wagner, who attached numerous leitmotifs in his 19-hour tetralogy, Der Ring des Nibelungen, to its characters, curses, swords, rings, castles, and dramatic themes. In the following video clip, Davis explains the process which led him to create his theme for Napoleon and the eagle.
What makes Napoleon such a great film? There are times when not knowing your limits -- and refusing to accept the limited horizons of others -- can be the defining strength of someone with a unique artistic vision. As I watched Napoleon unfold on the giant screen, I couldn't stop thinking about Norma Desmond's great line from Sunset Boulevard: "We didn't need dialogue, we had faces!"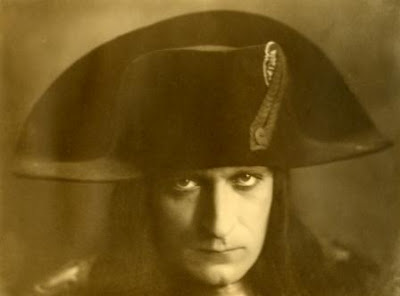 Albert Diuedonné as Napoleon
Gance cast his late 18th-century epic with character actors whose physical imperfections and honking noses fill the giant screen with a primal energy one rarely finds in modern cinema. Today's bland, BoToxed faces can't compete with the total lack of comprehension that clouds the face of Marie Antoinette (Suzanne Bianchetti).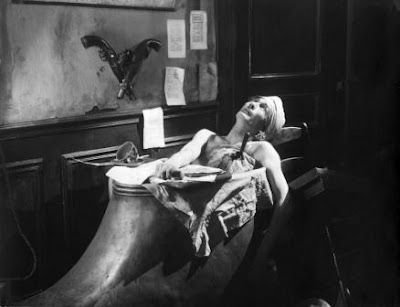 Jean-Paul Marat (Antonin Artaud) lies dead in his bath.
Many of the battle scenes in Napoleon are thrilling, but at times I found myself more impressed with those set in the National Assembly. I also found myself amused by certain personal associations with characters from the French Revolution who appear in the film.
André Chénier? I've seen that opera!
Jean-Paul Marat? I still remember the controversy caused by Peter Brook's production of The Persecution and Assassination of Jean-Paul Marat as Performed by the Inmates of the Asylum of Charenton Under the Direction of the Marquis de Sade for The Royal Shakespeare Company.
Nevertheless, 5-/12 hours of gorgeously -- and appropriately tricolored -- tinted film covering the French Revolution and the Reign of Terror is bound to have some weak points. I found large parts of Act III (which centers on Napoleon's relationship with Joséphine) to be quite tedious. In the back of my mind, I kept hearing Anna Russell's description of what happened to the warrior maiden, Brunnehilde, after she met Siegfried ("Love certainly took the ginger out of her!").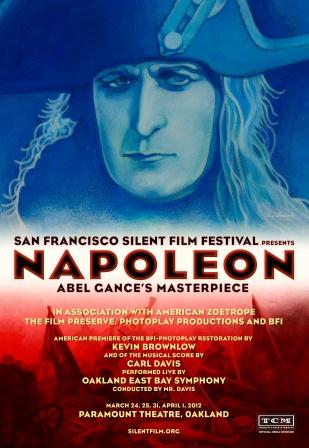 Poster art for Napoleon
The sheer size and scope of Gance's film makes one wonder if this is all about someone with a Napoleon complex or the portrayal of a complex Napoleon. Most silent film fans can't wait to see the final 20 minutes of the film (when Napoleon explodes onto three huge screens for Gance's famed triptych). This coincided with the sequence when the theatre's organ joined forces with the Oakland East Bay Symphony to acoustically anchor an unforgettable cinematic experience.
To read more of George Heymont go to My Cultural Landscape