The Tohoku earthquake and tsunami that struck Japan on March 11, 2011, has a curious distinction. Not only was the event the most thoroughly documented disaster in history, many of the observers, survivors (and even some of the victims) filmed the destruction as it happened before their horrified eyes.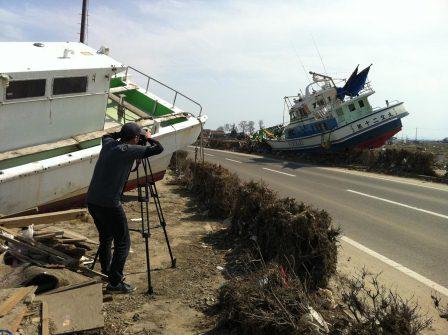 Two boats resting on land after the March 11, 2011 tsunami
A poignant new documentary by Lucy Walker fills in some of the cultural complexities that were not covered by American media. Not only does Walker use footage of the tsunami's destruction, she adds subtitles that allow those who don't speak Japanese to understand what people were screaming. Thus, as the water rises and homes crumble like toothpicks, the viewer understands that one voice is screaming in grief for his grandmother, who has undoubtedly just been killed.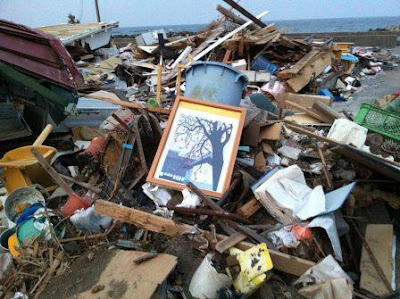 Wreckage and debris following the tsunami
In another scene from The Tsunami and the Cherry Blossom, observers on a hill watch people from a nursing home struggle to climb to higher ground. Some make it to safety, others don't. One man describes how he lost his best friend because the other man had just bought a new car and went back to the auto, hoping to move it to higher ground. The water was too fast for him and he died in the raging waters.
Martin's film was nominated for this year's Academy Award for Best Documentary (Short Subject). But in so many ways, the graphic design for the film's poster says everything about the film that you need to know.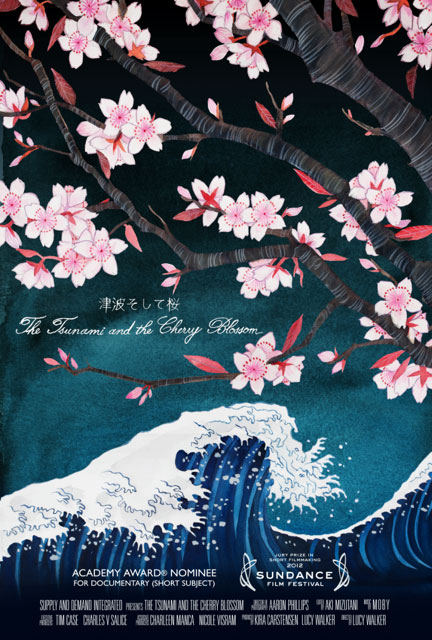 Poster art for The Tsunami and the Cheery Blossom
What Martin's film stresses was that the earthquake and tsunami hit Japan a month before the start of the traditional cherry blossom season (a fact that was completely ignored by the mass media). The arrival of cherry blossoms is a cherished moment in Japanese culture that contains a message of new life, renewal, optimism, and the persistence of nature.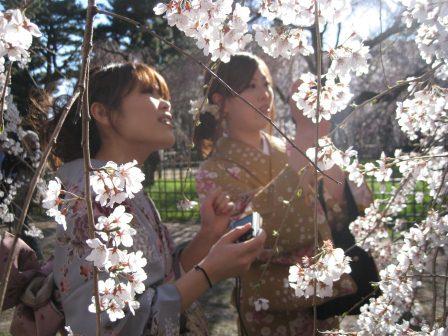 Japanese girls dressed in kimonos examine cherry blossoms
Because cherry blossoms only last for a brief period of time, their fragility offers a delicate yearly reminder that all life is temporary and there are no guarantees of longevity. The Tsunami and the Cherry Blossom is a remarkable film which captures the scope of last year's disaster, the devastating economic and personal effect on the Japanese people, and the philosophical approach they take to such events. Here's the trailer:
* * * * * * * * * *
Few food documentaries have received such extensive coverage as Jiro Dreams of Sushi, the debut feature film by Daniel Gelb (whose father went from heading the American division of Sony Classical Records to becoming the General Director of the Metropolitan Opera). During his family's numerous trips to Japan, Daniel fell in love with sushi. "I always felt that sushi is the most visually creative food and the sushi chef is the ultimate showman."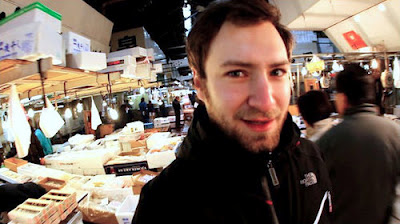 Filmmaker Daniel Gelb
As he toured Tokyo's leading sushi restaurants with food critic Masuhiro Yamamoto, Gelb was introduced to Jiro Ono, an 85-year-old shokunin who is considered to be the greatest sushi chef in the world. Jiro's legacy is so huge that many wonder if his oldest son will be able to live up to Jiro's high standards.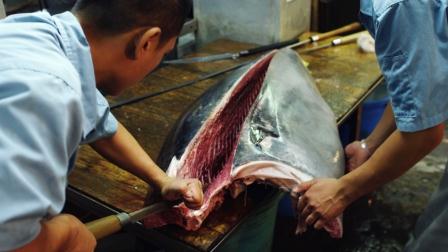 Tuna being tested for freshness at a Tokyo fish market
Jiro Dreams of Sushi is nicely balanced between telling the story of a remote and complex father (whose youngest son once wanted to know the identity of the strange man who had spent the night with his mother) and capturing the fine art of making sushi and photographing it in the immediacy of its freshness. It is also filled with surprises -- like watching how someone gets a live octopus into a plastic bag!
With the oceans being depleted of fish stocks, there are days when certain items are simply unavailable. Those who only think of sushi as a means to a higher profit margin will be astonished to witness the intensity of Jiro's quest to find the best ingredients, learn how to appreciate and perfect the process of cooking rice, and his ability to hone in on the culinary magic of fresh sushi. Gelb is quick to stress the huge difference Jiro's method of preparing rice makes in the taste of his sushi:
"A lot of sushi restaurants in the United States (even the high-end ones) still overlook the rice. Jiro's rice is a little more vinegary than we might be used to and it's more body temperature. They cook it at very high pressure, which allows the rice to be fluffy but, at the same time, each grain retains its shape. When you eat it, you get this wonderful blend between the fish and the rice. Jiro's mastered the process so that it ends up tasting like something completely new."
For some people, making sushi is akin to an art form. For shokunin like Jiro, it involves a love of one's craft and a life-long dedication to striving to achieve perfection.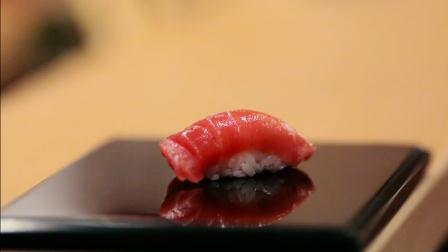 Sushi as fine art
The film also captures many cultural differences in the ways that Japanese and Americans view their work. When a reporter asks Jiro's oldest son if he resents the fact that his younger brother, Takashi, has his own restaurant, Yoshikazu (who has always worked for his father and is now in his early fifties) looks up in astonishment and explains that, in Japan, the oldest son is expected to follow in his father's footsteps.
While devout foodies may find themselves hovering on the brink of orgasm as they watch the film, what makes Jiro Dreams of Sushi so special is the way Gelb frames tiny moments which transform this documentary into a much more personalized exploration.
Although the Gelb family has had a long involvement in the world of classical music, the filmmaker credits food critic Masuhiro Yamamoto (who plays a prominent role in the movie) with the concept of likening Jiro's approach to serving sushi to the experience of listening to a classical concerto.
In many parts of the film, however, the devil is in the details:
Aspiring sushi chefs are willing to serve under Jiro as apprentices for ten years before embarking on their own careers.
One apprentice relates how he cried with joy on the day his tamago preparation finally met with Jiro's approval.
Jiro's son, Yoshikazu, pedals to and from the fish market each day on his bicycle (where he personally tests the fish he will buy).
One of Jiro's vendors refuses to sell his rice to a huge client on the grounds that only Jiro knows how to cook it properly.
Jiro's restaurant was the first of its kind to receive a three-star Michelin review.
Even though people make reservations months in advance to dine at Sukiyabashi Jiro (which is located in a Tokyo subway station and only seats ten people at its counter), many confess to being intimidated by Jiro's stern presence behind the counter.
Jiro (who is left-handed) always watches to see how someone picks up his first piece of sushi. If he notices that a customer is also left-handed, he will alter the position of the sushi on future plates so that it is more convenient for a left-handed person.
Jiro serves smaller portions to female diners.
At 85 years old, Jiro sees no reason to retire.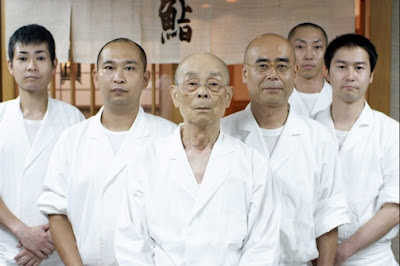 Jiro Ono and his son,Yoshikazu, with their apprentices
For many Americans, the Japanese work ethic described in the film would be unthinkable. For food lovers, the quality of preparation and presentation in Jiro's restaurant is simply breathtaking. For a feature film debut, Mr. Gelb has done himself proud. Here's the trailer:
To read more of George Heymont go to My Cultural Landscape