On October 19, 1959, William Gibson's powerful drama The Miracle Worker had its Broadway premiere at the Playhouse Theatre. Starring Anne Bancroft as Anne Sullivan and a very young Patty Duke as Helen Keller (by the time I saw the production, Suzanne Pleshette had replaced Anne Bancroft), Gibson's drama portrayed the crucial moment when Helen Keller (who was deaf, blind, and mute) was able to connect the dots and start to associate signed words with sounds. In the following news clip from 1930, Keller and Sullivan recall that breakthrough moment.
Keller's realization that "I am not dumb now" marked a huge step forward from the conventional terminology which had labeled her as "deaf, dumb, and blind." As modern medicine developed a deeper understanding of people with hearing and visual disabilities, new technologies led to the development of pioneering treatments with stem cells, bionic eyes, cochlear implants, and a greater sensitivity to the needs of those who are deaf and/or blind.
With more and more professional resources available to people with visual and auditory handicaps (and greater support networks for them), many have been able to live independently in ways that were previously unimaginable. A charming six-minute short film by Chaitanya Gopinath titled Lunch with Yoshi (which was screened during the 2014 San Francisco International Film Festival) follows a blind woman around Bangkok as she shops, rides the city's mass transit, and prepares lunch for a visiting friend.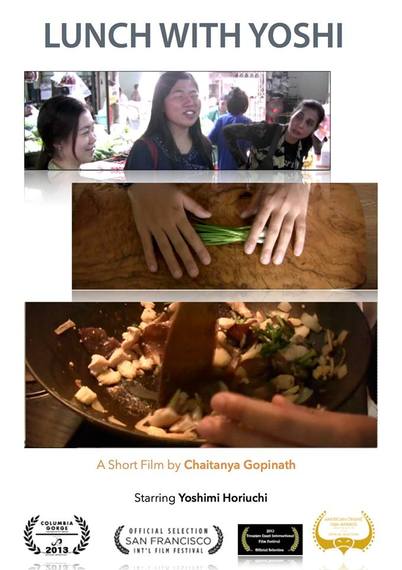 Poster art for Lunch With Yoshi
As part of his research and preparation for filming, Gopinath tried his luck riding Bangkok's Skytrain while blindfolded so that he could experience what it is like for his protagonist to rely on the kindness of strangers to help her navigate her way through a busy city. Not only did the experience help him understand the challenges someone like Yoshimi Horiuchi faces on a daily basis, it made him acutely aware of his own abilities as a sighted person.
* * * * * * * * * *
The death of actress Phyllis Frelich brought back memories of my first exposure to Mark Medoff's award-winning play, Children of a Lesser God. Back in the 1970s, the New York City Opera used to perform at the Los Angeles Music Center following its fall season at Lincoln Center. Having attended many performances by New York City Opera while I was in college, I didn't hesitate to travel to Los Angeles for a week's vacation.
During one trip late in 1979, I caught a matinee performance of Medoff's play at the Mark Taper Forum and was completely blown away by Frelich's impassioned performance as Sarah Norman, a deaf woman who was formerly a student of James Leeds (played by John Rubinstein). Following its transfer to Broadway, Children of a Lesser God won the 1980 Tony Award for Best Play. Both Frelich and Rubenstein won Tony Awards for Best Actor.
Flash forward 35 years to the Berkeley Repertory Theatre's new production of Tribes, the award-winning British dramedy by Nina Raine which deals with the plight of a young deaf man who was raised by parents who didn't want him to learn sign language. Instead, Billy (James Caverly) was taught how to read lips and became quite proficient at it. Unfortunately, Billy's nuclear family is a toxic mess.
His father, Christopher (Paul Whitworth), is an academic bully who talks over everyone else and derives a somewhat perverse pleasure from intimidating people he assumes to be his intellectual inferiors. Try to imagine John McCain as an extremely condescending, long-tenured university professor who has stayed too long at the fair.
Billy's mother, Beth (Anita Carey), has literary aspirations which are frequently derided by her husband. Although she often manages to hold her own against Christopher's narcissistic bullying, after long years of marriage her admiration for his intellect has worn thin. With her three grown children having recently returned to live at home, she has plenty to deal with.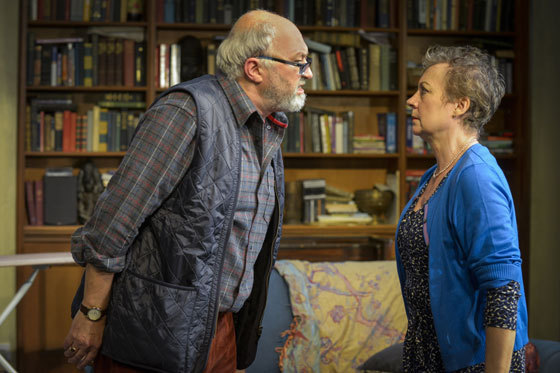 Paul Whitworth (Christopher) and Anita Carey (Beth)
in Tribes (Photo by: Mellopix, Inc.)
Billy's sister, Ruth (Elizabeth Morton), is desperate to find a boyfriend and wonders what she lacks that could make her life so boring. Despite a lack of any talent or training, she imagines she could become an opera singer. Some members of the audience might find Ruth (who is nowhere near as intellectually gifted as the rest of her family) to bear a striking resemblance to Meg Griffin on Family Guy.
Billy's brother, Dan (Dan Clegg), is a selfish, depressed, and desperately lonely soul who suffers from auditory hallucinations. He is terrified that Billy might become independent and leave him alone.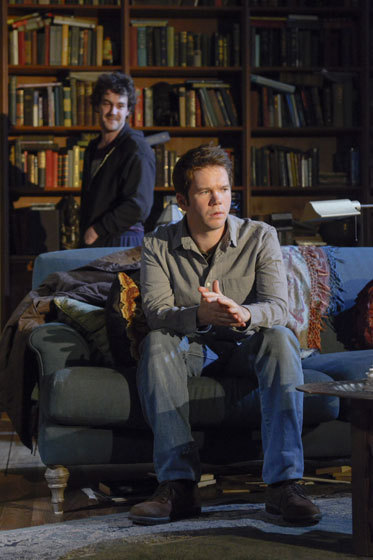 Dan Clegg (Dan) and James Caverly (Billy)
in Tribes (Photo by: Mellopix, Inc.)
One night, Billy goes to a party for deaf people and meets an attractive young woman named Sylvia (Nell Geisslinger). The daughter of deaf parents, Sylvia has been able to hear and speak since birth but is starting to lose her hearing.
Whereas Billy has gone through life lip reading, Sylvia has always used sign language to communicate with her parents. She sees herself belonging to the "Deaf Community" (where deaf people communicate by signing) as opposed to the "deaf community" (where deaf people essentially rely on lip reading).
Not only does Sylvia's interest in Billy inspire him to learn sign language, it also leads to a peculiar job opportunity which, as Billy shows increasing talent, raises the possibility of him leaving his family's home and moving in with Sylvia.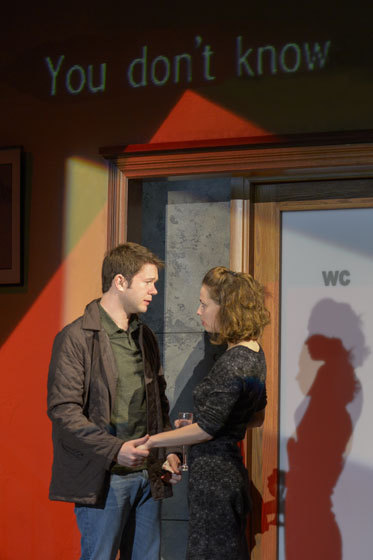 James Caverly (Billy) and Nell Geisslinger (Sylvia)
in Tribes (Photo by: Mellopix, Inc.)
The bookshelves in Todd Rosenthal's intricately designed set are overflowing with the kind of collection that would make any university professor proud. But in many ways, the inability of Billy's family to truly listen to what he is trying to say (or even try to understand his feelings) leads to a bitter confrontation when Billy realizes that he belongs with a tribe of deaf people who sign rather than his nuclear family. The Act I finale -- in which the family gathers around the piano to listen to Sylvia play music as Billy stands silently, not hearing any sound and unable to participate in a group activity with the people he loves -- is heartbreaking.
Jonathan Moscone has done a superb job of staging Tribes for Berkeley Rep with a keen focus on demonstrating how some people don't listen and, whether by choice or because of a physical disability, some people don't hear. Thanks to Jake Rodriguez's sound design, the audience is able to understand the difference in the types of noise that Billy's family hears, Billy doesn't hear, and Sylvia is starting to hear replacing the sound of her voice and what she has grown up able to hear.
As Billy's situation with his family, with Sylvia, and with his new job starts to deteriorate, it's a rare treat to witness Caverly's impassioned performance rise to the boiling point. The following clip from the show's 2010 world premiere in London offers fascinating insights into the research Raine did while writing the play and how some of her consultants reacted to its premiere. To my mind, this clip offers the best advertisement to convince theatergoers they should purchase tickets to a performance of Tribes (Sacramento's Capital Stage will open its 2014-2015 season with its own production of Tribes in September).
To read more of George Heymont go to My Cultural Landscape