Have you ever felt ecstatically lucky when you found a coin or a dollar bill? When the supermarket cashier forgot to charge you for an item? Or when you treated yourself to a calorie-laden dessert and didn't gain any weight the next day? Perhaps you aced a dreaded exam or got to your car a few seconds before the meter maid showed up.
Some illicit thrills are better than others. While squeakers often feel like the best kind of triumph, they can also have an insidious effect upon people who forget that winning streaks inevitably grind to a halt. The undeniable exhilaration of getting away with something is bound to evaporate, leaving folks wondering how they ever managed to sustain their luck for so long (or whether they'll ever again experience the intoxicating thrill of briefly riding a rocket to success).
Whether in fact or fiction, a lucky streak can affect people in bizarre ways. For the neurotic, paranoid types, it can increase the sense of imminent danger, the risk of being caught and punished (as well as the enticing possibility of being humiliated in front of one's peers). For others, it can simply stretch the desire to attempt one or two more petty crimes before calling it quits.
Whether one thinks of the chain smoker who lights up another cigarette while boasting that he can stop smoking whenever he wants to -- or the person who insists that "I'm in control of the drugs, the drugs aren't in control of me" -- pride (and often sloppiness) usually goes before a fall.
* * * * * * * * * *
Is there is anyone in the Bay area who can milk excessive glee from merely thinking about bad behavior like Josh Kornbluth? A master storyteller who quivers with delight at the mere thought of being caught and punished for trivial pursuits, Kornbluth's hilarious monologues have included Red Diaper Baby, The Mathematics of Change, Love and Taxes, and Andy Warhol: Good For The Jews?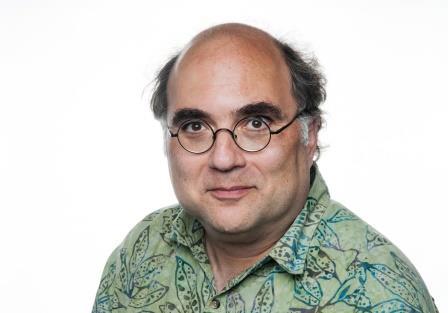 Josh Kornbluth (Photo by: Tue Nam Ton)
Shortly after he moved to San Francisco in 1987, Kornbluth began performing a series of one-man shows (some of which were developed at The Marsh). To help celebrate The Marsh's 25th anniversary, its founder and artistic director, Stephanie Weisman, invited Kornbluth to perform an updated version of one of his most famous shows: Haiku Tunnel.
Although this monologue was expanded into a film in 2001 (which is available on Netflix), Kornbluth has tweaked some of its content to incorporate the challenges faced by an incompetent temp worker at the "S&M Law Firm" who is confronted with today's technology. It's not so much that Kornbluth's character (also named Josh) is incompetent -- it's that the minute Josh's status changes from that of a temp worker to a permanent employee, he can't stop finding ways to sabotage his future. Shakespeare may have suggested that music is the food of love but, in Kornbluth's case, procrastination is the phenomenon which feeds his pixie-like paranoia.
Having written numerous shows perfectly tailored to his dramatic gifts and comic persona as the kind of schlubby Jew who could make Woody Allen seem overly confident, Kornbluth's opening night at The Marsh had the audience rolling with laughter at his misadventures in the dangerous territory encountered when a self loathing schlemiel enters corporate America and thinks he's gotten "a pass." What struck me as even more delightful was the fact that Kornbluth seemed to relish his chance to once more perform Haiku Tunnel as much as Carol Channing would if she could turn back time and hit the road with one more tour of Hello, Dolly!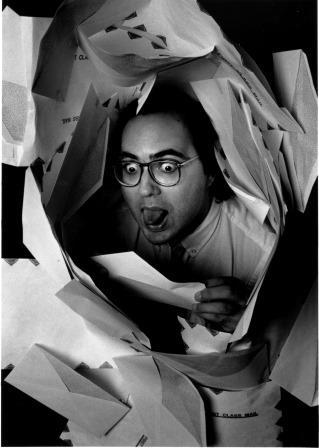 Josh Kornbluth in Haiku Tunnel
(Photo by: Josh Kornbluth)
For those who live outside the Bay area, I heartily recommend watching the filmed version of Haiku Tunnel and then contrasting it with this video of Kornbluth's live performance (recorded at the San Francisco Public Library on May 28th, 2013 as part of its annual Schmulowitz Collection of Wit & Humor Exhibit). Both versions offer an intimate taste of his strengths as a writer, performer, and anxiety-ridden clown. For those who have worked in highly dysfunctional law offices, Haiku Tunnel is guaranteed to bring back plenty of memories (both good and bad). Enjoy!
* * * * * * * * * *
Prior to performing Haiku Tunnel, Josh Kornbluth likes to give his audience a "wink-wink" disclaimer stressing that, even though they may seem totally believable, none of the characters he describes are real. What happens when the frauds of fiction are contrasted with the fraudulent acts of a talented artist? You get a documentary like Beltracchi -- The Art of Forgery, which was screened at the 2015 Berlin and Beyond Film Festival.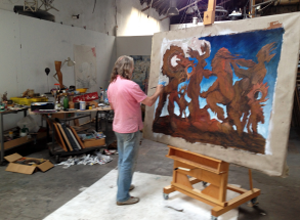 Wolfgang Beltracchi at work in his studio
If the goal of a talented painter who can create forgeries of great works is to deceive the experts, credit should also go to writer/director Arne Birkenstock for the deftness and skill with which he entertains, educates, and confuses viewers as he introduces them to Wolfgang Beltracchi and his wife/accomplice, Helene.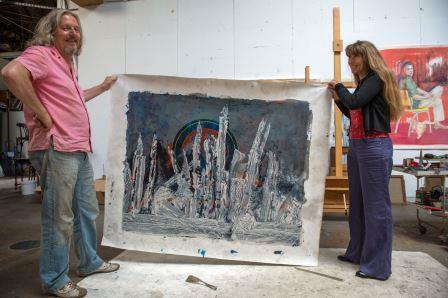 Wolfgang and Helene Beltracchi with one of his forgeries
Beltracchi's casual approach to art forgery was so laid back that even his children had no idea what he was up to (they just knew that their father liked to paint and didn't seem to work very hard at it). For nearly four decades, Beltracchi succeeded in duping the international art world with forgeries of paintings that people assumed were lost originals by early 20th-century masters.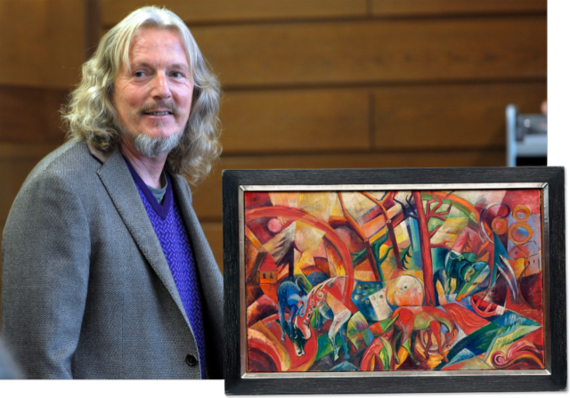 Wolfgang Beltrcchi with one of his best forgeries
One of the greatest assets in Birkenstock's film is that his protagonist doesn't take art very seriously. Unlike Peter Greenaway's meticulous dissections of great works of art like -- Nightwatching (2007) and Rembrandt's J'Accuse (2008) -- or Teller's forensic film adventure, Tim's Vermeer (2013), Beltracchi -- The Art of Forgery feels much more like a romp and frolic guided by a talented artist who has developed a unique approach to forging and marketing the [supposed] lost work of great artists.
Because the film jumps back and forth in time between archival footage of Beltracchi as a young artist (he claims to have first copied a Picasso painting at the age of 14); the period when he and his wife spent six years in prison serving an open sentence (during which Beltracchi could go to his studio every day to paint); and the artist's second career using his own name, there are segments which [chronologically] can be as confusing as a game of Three Card Monte.
The cleverness of Beltracchi's scheme, the artist's basic affability, and the astonishing ease with which he produces forgeries strong enough to convince auctioneers, collectors, and art historians that his work must actually be paintings which were alluded to (but never found) in the catalogs of such famous artists as Max Ernst, Heinrich Campendonk, Raoul Dufy, and Auguste Herbin transforms Birkenstock's documentary into a delightful chase through the landscape of early 20th century art. Here's the trailer:
To read more of George Heymont go to My Cultural Landscape