On his first day in office, President Barack Obama proudly signed the Lilly Ledbetter Fair Pay Act of 2009 into law. According to former Secretary of State Hillary Rodham Clinton:
"If a country doesn't recognize minority rights and human rights, including women's rights, you will not have the kind of stability and prosperity that is possible. We see women and girls across the world who are oppressed and violated and demeaned and degraded and denied so much of what they are entitled to as our fellow human beings. I believe that the rights of women and girls is the unfinished business of the 21st century."
If the past 18 months have taught us anything about the deeply misogynist leadership of the Republican Party, it's that although many of its grumpy old white men may be married and have fathered children, they don't know jack shit about women or female anatomy. Whether insisting that a woman's reproductive system can magically shut down in order to ward off a rapist's invading sperm -- or that there's nothing wrong with requiring women to undergo a transvaginal probe for political purposes -- the jaw-dropping willful ignorance of conservative policy makers (anyone for masturbating fetuses?) is a prime example of the toxicity of denial.
When asked about Congressman Todd Akin's talk of "legitimate rape" and the time that House Republicans invited five male religious leaders to testify about whether or not it was appropriate for birth control to be covered by Obamacare, Cecile Richards (President of Planned Parenthood) noted that:
"Some folks in Congress are so wrapped up in their political ideology, they forget that women are part of the equation. Todd Akin is not an outlier. He made the mistake of actually laying it out there on a TV talk show. This type of discussion is pretty common in the House. When someone asks you, 'Did the rape guy win?' and you have to ask which one, that's a bad sign."
Some think that the War on Women is a conscious effort by conservatives who should know better. Based on a fierce combination of male chauvinism, cultural blindness, hyperreligiosity, a severe distrust of science, sexual naivete, biological illiteracy, willful ignorance and a craven lust for power, I'm convinced they really don't know any better.
* * * * * * * * * *
Recently screened at the San Francisco International Film Festival, Tall As The Baobab Tree focuses on two young Senegalese women, Coumba (Dior Ka) and her 11-year-old sister, Debo (Oumoul Ka), who are the first generation to leave their family's remote village in order to attend school in a nearby city. Life at home is still quite primitive, with meals being cooked over open fires. There is no electricity, water is drawn from local wells, and many young girls between the ages of 8 and 12 are forced into arranged marriages.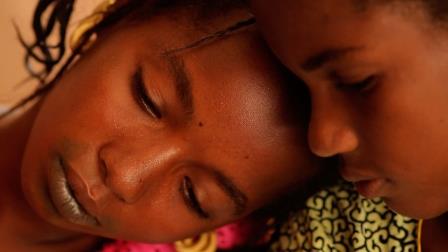 Coumba (Dior Ka) and her sister Debo (Oumol Ka)
The two sisters enjoy learning and have great respect for their teacher (Birame Ndour). Coumba, in particular, sees her education as the key to previously unimaginable opportunities. When her older brother, Silèye (Alpha Dia) is injured in an accident, her father (Mouhamed Diallo) can only think of one way to raise the money to cover Silèye's hospital bills: selling Debo into an arranged marriage with an older man who wants a second wife.
Coumba, who is horrified that her younger sister's future could be sacrificed so easily, voices her objections to her father (who is angered that she would defy his wishes). Following her father's refusal to spare Debo, Coumba devises a plan to earn the funds required for her brother's medical care by working as a housekeeper in a local hotel.
The basic arithmetic that Coumba has learned at school allows her to calculate how many days she will have to work to earn sufficient funds. After warning Debo that this plan must remain a closely-guarded secret between the two sisters, she persuades Amady (Cheikh Dia), a young man who is fond of Coumba, to watch her father's herd of cows each day while she goes into the city to perform housekeeping work.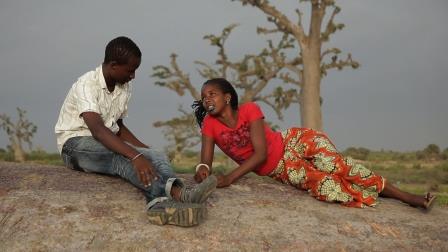 Amady (Cheikh Dia) and Coumba (Dior Ka)
As filmmaker Jeremy Teicher explains:
"When I first visited the village of Sinthiou Mbadane, Senegal, the trip by horse cart traversed through wide open fields that stretched uninterrupted across the horizon. After turning off the paved roads, the concrete houses of the city would melt away, giving in to rolling hills populated only by massive baobab trees. Clusters of straw huts would eventually pop up between the trees, surrounded by herds of cows. This was Sinthiou Mbadane. Even though it was only a few miles from the city, it felt like a completely separate world. Village life is now in the midst of a transformation. A new generation, with access to school for the first time in history, is coming of age. Roads from the city stretch deeper into the countryside and straw huts are steadily being replaced by new, concrete buildings.

I wanted to tell a story that captures the emotions of the old and new worlds colliding. Tall As The Boabab Tree explores the tensions, quiet victories, and heartbreaks that come with this change. This film is about standing up for your beliefs and doing what you feel is right, no matter what. To me, the film speaks to the energy and idealism of youth while portraying a very stark and realistic world where change is two steps forward and one step back, where the invincibility of youth bends beneath the harsh realities of life -- but is not stamped out."
Teicher's film (the first to use the colloquial Pulaar language, an ethnic language spoken mainly across West Africa) was inspired by his 2011 documentary short, This Is Us, about the impact of education on the daily lives of children in West Africa. Although Coumba's mother (who entered into an arranged marriage as a girl) tries to explain that her life has not been so bad, after Debo is taken away by her husband-to-be, Coumba must plan for her own future. Her hope? That she and Amady will be able to attend university together. Here's the trailer:
* * * * * * * * * *
There's a certain type of play that aims to shock and largely succeeds in its goal. Written by Melissa Fall and directed by Claire Rice, You're Going To Bleed (which was presented at the EXIT Theatre as part of the 2013 DIVAfest) falls into the category of "dangerously ambitious" work.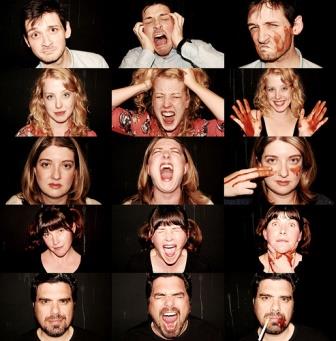 The cast of You're Going To Bleed (Photo by: DivaFest)
Fall's black comedy has a lot to do with the battle of the sexes, incoherent misguided fantasies, laying blame, radical feminism, and avenging a spouse's never-ending insults. It puts both the "man" and the "fester" back in manifesto while leaving the audience with some cringe-worthy images. You're Going To Bleed is the rare play that can use a broken unicorn, a woman who suffers a spontaneous miscarriage while clad in bright yellow jeans, and a bowl of soup containing ground bits of glass instead of alphabet pasta as engines of comic relief. As director Claire Rice explains:
"When writing the press release for this show, we ran into trouble with the word "period." Should we use it or find a euphemism? It had to be pointed out to us that 'on her period' was itself a euphemism. The play asks that we be able to openly converse about a bodily function as natural as any other. It asks that the shame associated with it be put away, and yet here we were trying to come up with a euphemism for a euphemism because some people may be uncomfortable with the topic. Yet, the fact that Anne is on her period when this play begins is the most comfortable and conforming moment in the play. The rest is squirm-inducing to say the least. Having a vagina doesn't make me a feminist. Wanting to say 'period' without having to worry about losing male audiences just might."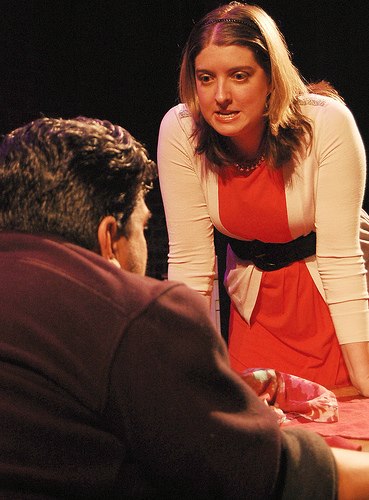 Anne (Megan Briggs) confronts her husband (Paul Jennings)
in You're Going To Bleed (Photo by: Claire Rice)
You're Going To Bleed revolves around the following unfortunate souls:
Anne (Megan Briggs) is a female attorney who wants to have sex with her husband despite the fact that she is having her period. Fed up with being the family's underappreciated breadwinner and frustrated by the glass ceiling she faces at her law firm -- "What am I supposed to do, file a class-action suit against a bunch of lawyers?" -- she is very close to her breaking point. Will menstruation be enough to send her over the edge or will the arrival of her idiotic kid sister be the more potent catalyst?
John (Paul Jennings) is Anne's unemployed husband who has been giving acting lessons to local teenagers. When first seen, John is masturbating to thoughts of having sex with one of the women from Arthur Miller's play, The Crucible (which was written about the Salem witch trials but is ostensibly about McCarthyism). Although John has needs, he has learned to tiptoe around that time of each month when his wife is menstruating. He has never fully recovered from the trauma of the first time they had sex. Anne was having her period (but didn't tell him), there was blood all over the sheets, and after they finished fucking he felt like Lady Macbeth trying to watch the blood off his hands. John's other misfortune is that, whenever he thinks he is safely "monologuing" his inner thoughts to the audience, the women he is talking about can hear him.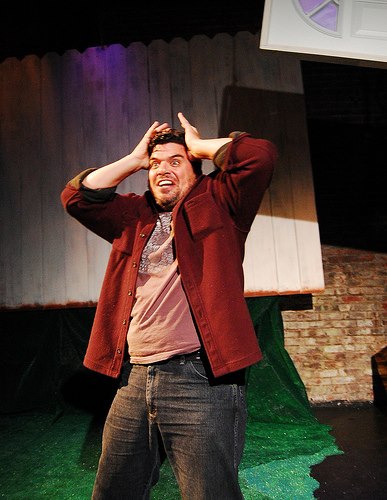 Paul Jennings as John in You're Going To Bleed
(Photo by: Claire Rice)
Abigail (Margery Fairchild) is one of John's teenage students. Inspired by the character of Abigail Williams in The Crucible, she is having lurid sexual fantasies about her acting coach.
Helena (Eden Neuendorf) is Anne's younger sister. After surviving a horrible childhood, she has always been hungry for Anne's approval. Helena has stalked, seduced, and married a man who looks and sounds quite like Hugh Grant because, after all, what woman doesn't want to have sex with Hugh Grant?
Grahame (Sam Bertken) is a generic buffoon based on the supposedly irresistible appeal of Hugh Grant.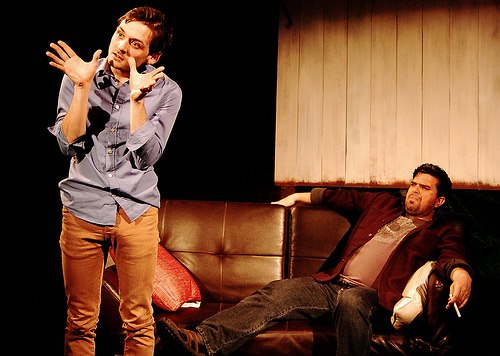 Sam Bertken (Grahame) and Paul Jennings (John) in
You're Going To Bleed (Photo by: Claire Rice)
At the very least, Melissa Fall's writing is provocative. There are some moments when her play sounds like a feminist tract (in one of John's more frustrated monologues) and others when it turns into the kind of feminist revenge scene that makes men believe in the fearsome monster known as vagina dentata. At the core of You're Going To Bleed is a battle over who owns the power to define the narrative: men or women. Rest assured that when a frustrated wife feeds her husband a dinner containing glass shards, he'll never again trivialize her complaints about her monthly bout with internal bleeding.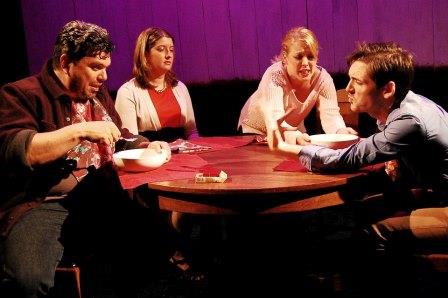 John (Paul Jennings), Anne (Megan Briggs), Helena
(Eden Neuendorf), and Grahame (Sam Bertken) sit down to
dinner in You're Going To Bleed (Photo by: Claire Rice)
With sets by Joshua Saulpaw and video by Colin Johnson, You're Going To Bleed offered its actors some ripe opportunities for chewing the scenery. Paul Jennings did a fine job as a sexually frustrated, bull-chested husband whose murderous rage only leaves him feeling more impotent than ever. Megan Briggs and Eden Neuendorf portrayed the two unlucky sisters whose marriages continue to deteriorate.
The evening's top honors, however, went to Margery Fairchild for an inspired haunting (it ain't easy to keep wheezing while you've got a glass unicorn grasped between your teeth) and Sam Bertken for his riotously funny performance as a Hugh Grant knockoff.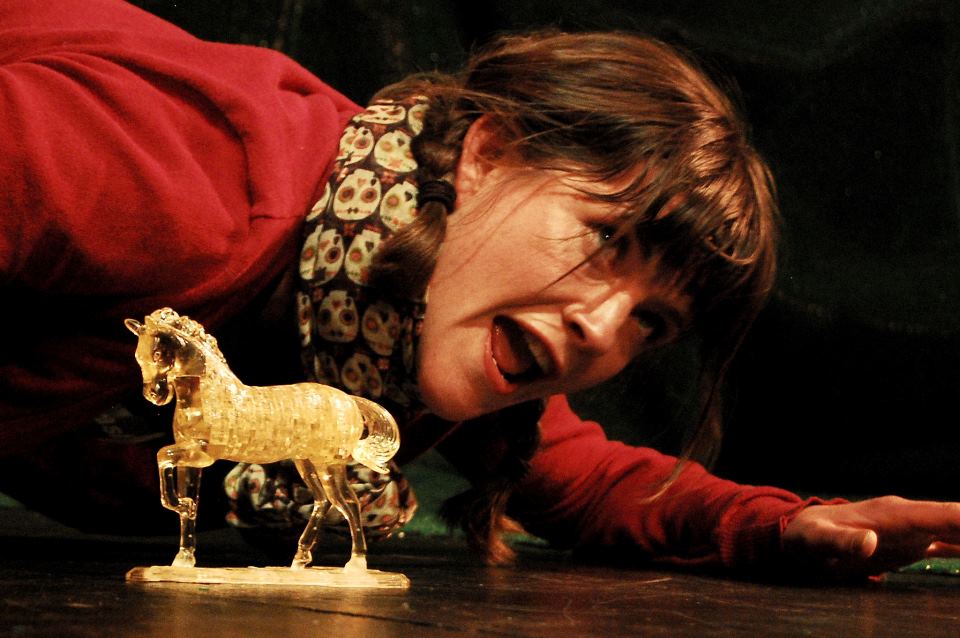 The ghost of Abigail (Margery Fairchild) and a unicorn haunt
Anne's family in You're Going To Bleed (Photo by: Claire Rice)
As one watches You're Going To Bleed , it's tempting to think about the kind of poetic justice that could be inflicted on conservative Republicans by locking them in the theatre and forcing them to experience Melissa Fall's feminist revenge play.
To read more of George Heymont go to My Cultural Landscape