In December 2012, the totally unnecessary massacre that occurred at Sandy Hook Elementary School in Newtown, Connecticut took the lives of 26 innocent people who just happened to be in the wrong place at the wrong time. On April 15, 2013, early reports from the Boston Marathon bombings indicated that 8-year-old Martin Richard was one of the victims.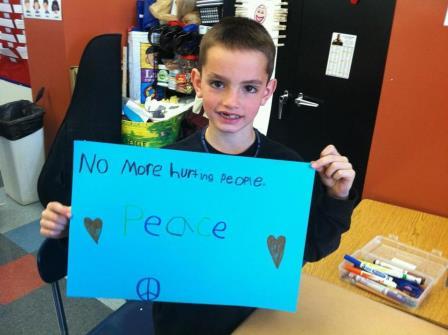 Since then, the news has been filled with headlines about children (often less than 10-years-old) who have accidentally or even willfully managed to shoot and kill one of their siblings with a gun that was left around the house. While several news stories have focused on efforts by gun manufacturer Keystone Sporting Arms to develop a younger market with its "My First Rifle' campaign (especially through sales of its Crickett and Chipmunk brands) -- as well as provocative ads in its magazine entitled "Junior Shooters" -- one basic question keeps getting ignored.
What kind of parent leaves a loaded gun where an unsupervised child can pick it up and use it? Is that parent (a) unfathomably stupid, (b) a careless housekeeper, (c) irreconcilably irresponsible, (d) hopelessly inattentive and/or (e) dangerously dysfunctional?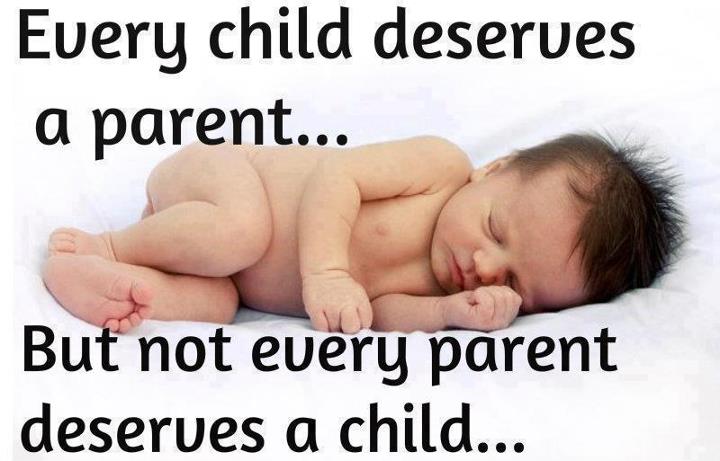 The sad truth is that many parents are not fit to raise children. Whether this is due to to their basic lack of maturity (some are essentially children raising children) or their inability to value life sufficiently to teach their child about the value of life, it's not enough to self-righteously proclaim that "Guns don't kill people, people kill people."
Sometimes bad parenting kills people. No amount of input from a teacher can save a child who has not yet even learned how to read. Nor can it always prevent a child from being harmed by his parents' hyperreligiosity, laziness, substance abuse, tendency to commit acts of domestic violence and/or gun fetish.
Two short films screened during the 2013 San Francisco International Film Festival focused on the development of a child's critical thinking skills (both won honorable mentions in the Family Film award category). In one, a child reached a surprisingly mature decision when confronted with a difficult choice. In the other, a child caught in a highly dysfunctional living situation was forced to take matters into his own hands in order to make his parents behave like adults.
* * * * * * * * * *
Written and directed by Laurel Cohen (a freshman at Northwestern University), Jonah and the Crab may be one of the sweetest shorts I've seen in a long, long time. It begins as Jonah (Oscar Vasquez III) finds a hermit crab on the beach and, fascinated by his discovery, decides that the crab could be the perfect pet. Infatuation quickly takes over as Jonah tries to learn as much as he possibly can about hermit crabs while attempting to bond with his new best friend. As Cohen explains:
"I first got the idea from my own childhood. While I had many pets growing up, from guinea pigs to fire-bellied toads, I never had a hermit crab. I thought that a friendship between a child and a hermit crab would be a humorous one, as hermit crabs are not always the most exciting of creatures. I played a lot with contrasting Jonah's amped-up, youthful enthusiasm with the hermit crab's aloof, crustacean nature and just continued from there."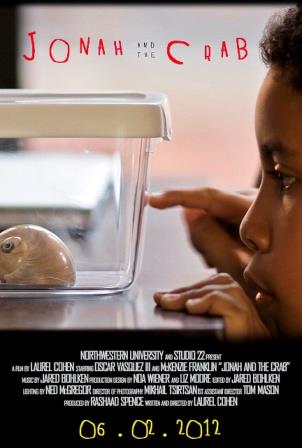 Poster art for Jonah and the Crab
Everything seems to be going beautifully until he runs into Mindy (McKenzie Franklin), a sweet young girl who has been posting "missing pet" flyers and claims that Jonah's new hermit crab is really hers. After giving the matter some thought, Jonah delivers the crab to Mindy at her home. This act of generosity allows Jonah to make a new friend and go back to the beach in search of a replacement for the crab of his dreams. The following teaser gives a sense of Jared Bohlken's beautiful musical score, which greatly enhances this film.
* * * * * * * * * *
Life is a lot less pleasant down in Auckland, New Zealand for eight-year-old Jacob (Duane Wichman-Evans). Having divorced, his parents are now using Jacob's custody rights as a battle ground for pissing each other off.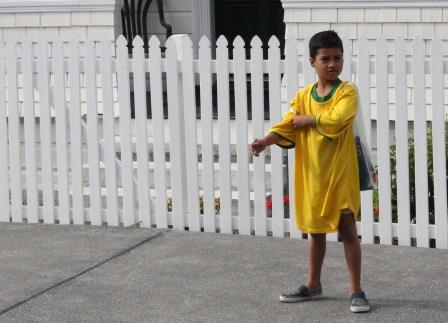 Duane Wichman-Evans as Jacob in I'm Going to Mum's
On the days when Jacob is due to stay with his father, Gwen (Narelle Ahrens) dresses her son in clothes that are either old and torn or too small for him as a means of reminding her ex-husband that he needs to make his child support payments. In classic form, Anthony (Jarod Rawiri) responds to his ex-wife's pleas for money to buy their son some new clothing with a simple ultimatum: If you need money, sell the house.
In Lauren Jackson's 13-minute short, I'm Going to Mum's, Jacob decides to find his own way to stop the arguing and bullying. Fed up with his parents' spiteful and childish behavior, he agrees to let them put whatever clothes they wish on his body. He just refuses to take the clothes off when he gets to the other parent's house.

Jacob (Duane Wichman-Evans) and his father (Jarod Rawiri)
get into a confrontation in I'm Going To Mum's
Although the kid is adorable, his parents are acting like selfish assholes. One day, as his parents are arguing, Jacob spots a convenient garden sprinkler. As his clothes come off, he is transformed into a happy child. His parents suddenly realize the folly of their vendettas and start to talk to each other (click here to watch a teaser of I'm Going to Mum's).
* * * * * * * * * *
From King Lear to Long Day's Journey into Night, from Electra to August: Osage County, dysfunctional families continue to litter the literary landscape. A perfect example of a dysfunctional nuclear family landed at the Orpheum Theatre in May when the national touring company of Mary Poppins arrived in town for a brief run.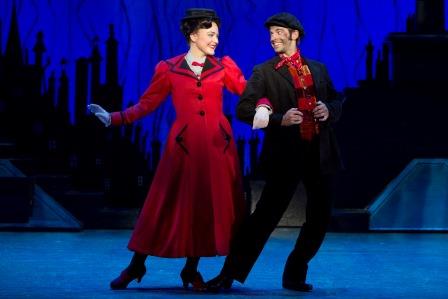 Mary Poppins (Madeline Trumble) with Bert (Con O'Shea-Creal)
Photo by: Jeremy Daniel
Just think: A former actress married to a noncommunicative banker whose two precocious little brats keep terrifying a steady succession of nannies. As Cole Porter would say: "Who could ask for anything more?"
Written by P. L. Travers, the series of children's books featuring Mary Poppins that began in 1934 introduced readers to a no-nonsense, "practically perfect" British nanny whose magical powers and crisp sense of self ("I never explain anything") combined a sense of compassionate conservatism with a tidy appetite for discipline. When Walt Disney's musical film adaptation starring Julie Andrews and Dick Van Dyke was released in 1964, it became one of the most popular movie musicals of all time.
Adapting the Disney version for the musical stage, however, required some major changes. The animated farm animals and perky penguins which added so much to the "Jolly Holiday" number had to be scrapped, as did the the scene in which Uncle Albert (Ed Wynn) laughed so hard that he began floating in mid-air.
The new version, which premiered in London's West End in 2004 with a book by Julian Fellowes has taken material from the Travers books as well as the Disney movie and created sort of a hybrid version of Mary Poppins. While many of the songs written by the Sherman Brothers have been retained, seven new songs written by George Stiles and Anthony Drewe ("Cherry Tree Lane," "Practically Perfect," "Being Mrs. Banks," "Precision and Order," "Playing The Game," "Brimstone and Treacle," and "Anything Can Happen") have been added.
The dancing statues and the visit to Mrs. Corry's shop that are in the Travers books now appear in the stage production (as does Miss Andrew, the nanny from hell who took care of George Banks when he was a child). Some of the stage effects are especially charming, most notably the vivid lighting during the "Jolly Holiday" production number which performs magical transformations on an English garden. I tip my hat to set designer Bob Crowley and lighting designer Natasha Katz for their superb work on the physical production.
Unfortunately, the curse of the Orpheum Theatre with regard to sound design seems to have returned with a vengeance. From the opening moments of the show, it was obvious that the amplification had been cranked up to a level where it was distorting the speech of some performers. This became particularly alarming with regard to the performance by Madeline Trumble in the title role. Although Ms. Trumble is an energetic performer, her voice has a fearsome vibrato which is rapidly heading toward Renata Scotto-land. The sound design by Paul Groothuis served to further distort (rather than enhance) this problem, which compromised a great deal of Ms. Trumble's singing.
Another change in artistic balance begins at the top of the show, when it becomes obvious that the character of Bert (Con O'Shea-Creal) has been transformed in the production's narrator with a darker, more foreboding tone. This creates an odd imbalance as Bert becomes the more empathic lead, with Mary Poppins often seeming quite cold and clinical. Matthew Bourne's energetic choreography puts Mary so far upstage at the climax of one number that it would be easy to assume she was a supporting character.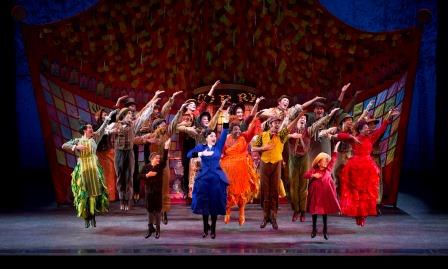 Madeline Trumble leads the cast of Mary Poppins in
"Supercalifragilisticexpialidocious" (Photo by: Jeremy Daniel)
Thankfully, the stage version does a better job of showing how the Banks children learn to become more compassionate and develop their critical thinking skills under the keen tutelage of Mary Poppins. This version also clarifies the reasons for Mary's ultimate departure and makes Bert's observation ("It's tonight, isn't it?") all the more poignant.
The supporting cast included Chris Hoch as George Banks, Kerry Conte as his wife, Winifred, Tregoney Shepherd as Mrs. Brill, and Leeds Hill as Neleus (the statue-come-to-life). Alexa Shae Niziak and Eli Tokash appeared as the Banks children. Karen Murphy doubled as the bird woman and the evil Miss Andrew.
At times, the opening night performance (particularly Trumble's Mary) felt like an oddly mechanical experience (that's not to say that many of the children and parents in the audience weren't screaming with delight at curtain calls). I often wondered if the show shouldn't have been named Bert!
Not only does Mary Poppins depict a family whose parents are too distracted to pay attention to the needs of their children, it goes to great lengths to teach children the importance of learning to care about people other than themselves. That spirit is captured in the following video, made by the cast of the first North American touring production of Mary Poppins.
To read more of George Heymont go to My Cultural Landscape