Often, when people think of Holocaust films, their attention is focused on events in Germany, Poland, and Austria. France (which fell to Hitler's forces in June of 1940) is not always depicted onscreen as a source of Jews being sent to concentration camps. Three dramas give viewers a very different concept of the French connection.
* * * * * * * * * *
Old friendships accompanied by dangerous memories lie at the core of Emotional Arithmetic. With some films, it takes less than five minutes to telegraph a clear sign to the audience that a movie is going to be a class act from start to finish. This is one of them.
Set in eastern Quebec as the fall leaves are turning color, Paolo Barzman's acutely sensitive drama features a stellar ensemble cast with Christopher Plummer, Gabriel Byrne, Max von Sydow, and Roy Depuis lending solid support to Susan Sarandon's star turn as Melanie Winters (who, to no one's surprise, is an emotional wreck)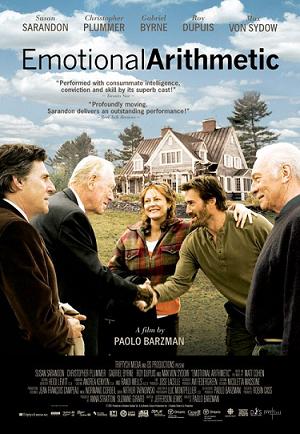 As a child living in Paris, Melanie was separated from her parents (American Jews who, no doubt, died in a concentration camp) and sent to the transit camp at Drancy, just outside of Paris. There she was befriended by a young man, Jakob Bronski, and a shy young boy named Christopher. Bronski is later revealed to have bribed a Nazi guard to take the names of Melanie and Christopher off the list of children slated to be killed at Auschwitz.
Now married to an older man who was one of her university professors, Melanie has spent her adult life keeping track of victims of oppression as news of their existence surfaced around the world. Forty years after her liberation from Drancy, Melanie receives word that Jakob Bronski is still alive. Painfully aware that Melanie has stopped taking her antidepressants, her curmudgeonly husband mutters "A storm is coming, not that anyone listens to me......" After inviting Bronski to come visit her in Canada, Melanie goes to meet him at the airport, only to discover that he has Christopher in tow.
Director Barzman (who studied painting and worked with Jean Renoir) uses the vivid hues of the Canadian landscape in autumn to magnificent effect, framing each shot with intense colors to match the turgid emotions roiling about the farm where Melanie lives with her husband, son, and grandson. With masterly support from cinematographer Luc Montpellier, Barzman shapes a story of unrequited love, buried memories, horrifying emotional scars, seething passions, crushing frustration and, at long last, forgiveness and acceptance. With the help of his incredibly strong ensemble of actors, Barzman tells his tale with a searing sensitivity that is torched by Sarandon's flaming red hair, blazing passion, and emotional instability.
By the end of the film, the storm has passed and Melanie's life-long friendships have survived new and critical torments. After seeing this film, I couldn't help but reflect on how fortunate I am to enjoy some friendships that are now closing in on the half-century mark.
I wonder: How do you equate more than 45 years of soul sharing and intellectual intimacy with an IM from a total stranger who asks "R U there?" I wish someone could explain that to me. In the meantime, here's the trailer:
* * * * * * * * *
With a history as powerful as what happened to the Mayer brothers of Hoffenheim, one would be hard pressed to develop a more compelling narrative. Written and directed by Ofra Tevet, Menachem and Fred tells the story of a Jewish family that was evicted from their home on Kristallnacht by their Nazi neighbor, the head of the Hopp family. It is a story filled with tragedy, confusion, loneliness, and redemption, a drama whose twists and turns will leave your jaw hanging in disbelief, your hands clutching your heart with suspense, and your eyes filled with tears.
It's that kind of film.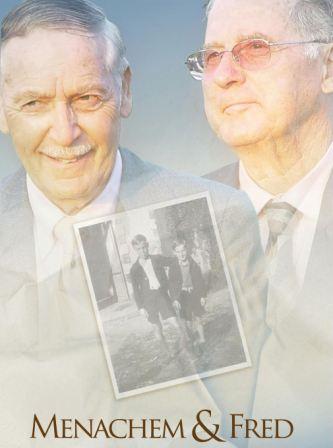 Heinz (Menachem) and Manfred Mayer were 6 and 11 years old when their family was forced to board a train bound for the tiny town of Gurs in the south of France. Along with their parents, they ended up in the Camp Gurs Concentration Camp. Their parents, fearing the worst, agreed to relinquish the two boys and volunteered to have them placed in a local orphanage -- a desperate move that saved their lives (the boys' parents subsequently died at Auschwitz).
When World War II ended, Manfred relocated to America, where he eventually became a NASA space engineer working in the Los Angeles area. When his wife became ill, a black healthcare worker who helped care for her became a part of the family for the course of a 13-year terminal illness. After his wife died, Manfred (who, upon arriving in America as a young man without a country, had changed his name to Fred Raymes) married the healthcare worker.
Fred's children grew up in nonreligious households -- some of his grandchildren have been raised as Christians. Since coming to America he had done everything in his power to forget the horrors of World War II -- until he came across a package containing the last letters he had received from his mother (including a letter in which she begged him to look after his younger brother).
Menachem, however, had chosen to relocate from Switzerland to Israel, where he raised a family and became a deeply religious Jew. Upon receiving the package of letters from his brother, he tucked it away, out of sight. Despite his daughter's pleadings, he didn't want to look at its contents.
Eventually he succumbed and, upon reading the letters, understood the sacrifices made by the Mayer family. As Menachem and Fred developed an email relationship, they decided to use their mother's letters (as well as their own correspondence) as the basis for a book entitled Are The Trees In Bloom Over There?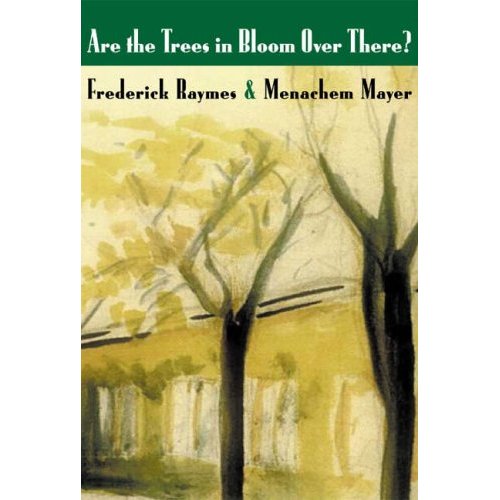 That's when things got even stranger. The success of the book led to Ofra Tevet's request to make a documentary about their lives. As they began visiting places from their distant past, both men found themselves seized with regrets for having embarked on the project.
Meanwhile, Paul Hopp, who used to play with Menachem when they were six years old, learned of the book and managed to contact his old friend. By that time, Paul's younger brother, Dietmar Hopp (one of the founders of SAP AG), had become one of the wealthiest men in Germany.
The Hopp brothers, who sought permission to publish the German translation of Are The Trees In Bloom Over There? didn't want their father's Nazi affiliation to be listed in the book. However, the Mayer brothers (now in their seventies), were insistent that, just as the Jews who died in the Holocaust had names, so did the people who acted as enablers.
The film follows the two brothers as they return to Hoffenheim and are shocked to hear Paul Hopp tell them stories about how much their mother meant to him. Unfortunately, the two Mayer brothers have no memories of their parents.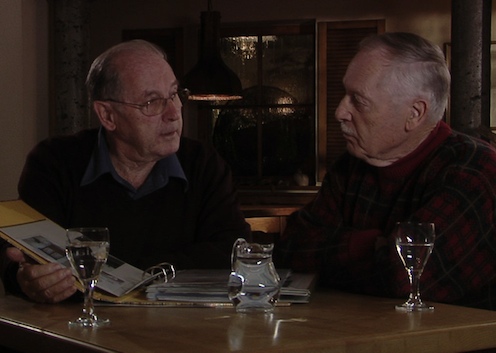 Tevet's film crew travels with Menachem and Fred as they return to Gurs to visit the French orphanage that effectively saved their lives. There, they pose for an exact replica of a picture taken 60 years ago of two young boys, one with his arm on the other's shoulder.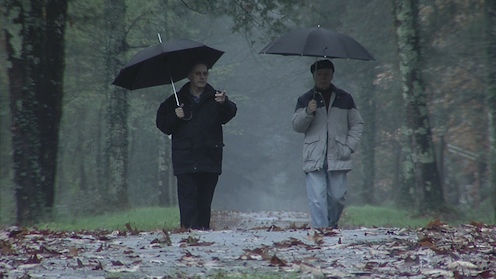 Near the end of the film, as the Hopp brothers try to help heal the wounds of the past, Dietmar underwrites a reunion of all the remaining relatives of the Mayer family by bringing the American and Israeli contingents together in Hoffenheim. Menachem's children have decidedly mixed emotions about accepting Dietmar Hopp's largesse, but the reunion provides an emotional catharsis that helps to continue the healing.
Menachem and Fred is the kind of film that will grab you in the kishkes. Filled with guilt feelings, moments of doubt, and repressed emotion, it unfolds with the diligence of a murder mystery, the confusion of so many lost years and opportunities, and the aching pain of a family loss spread over six decades. Here's the trailer:
* * * * * * * * * *
While it sounds tacky to describe a movie as "one of my favorite Holocaust films," that dubious honor definitely belongs to Christian Faure's A Love To Hide. I saw this film (originally made for French television) several years ago at the Castro Theatre on the last day of San Francisco's Frameline LGBT Film Festival By the time the final credits started to roll, portions of the audience were weeping openly.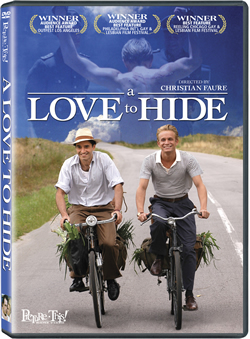 Set in Paris in 1942, A Love To Hide begins as a young girl named Sara Morganstern sees her parents brutally slain by members of the SS. Once she comes out of her hiding place, she seeks shelter with her childhood friend, Jean Lavandier (with whom she spent several vacations) and his lover, Philippe. Jean's family runs a popular laundry service.

Jean's brother Jacques (the black sheep of the family who has always been jealous of the preferential treatment received by Jean) maliciously makes a decision that identifies Jean to the Nazis as a homosexual and ends up sending his brother to Dachau. Astonishingly, Jean manages to survive innumerable horrors (including a lobotomy) and makes it home to Paris after the war has ended.
A Love To Hide packs the kind of emotional wallop that makes 1997's Bent seem like a walk in the park. Here's the trailer:
To read more of George Heymont go to My Cultural Landscape