Many Christians believe that the Bible was actually written by God. Anyone who has done a comparative study of the world's religion, however, cannot help but conclude that godly actions and philosophies were created by mankind and projected onto fictional supernatural beings.
Accepting the existence of one or many gods as a fictional foundation allows one to see how the gods mirror human behavior (rather than humans being created in the image of their gods). Whether one examines the actions of Norse, Hindu, Egyptian, Greco-Roman, Hawaiian, or any other gods, the bottom line is simple: In far too many ways, it looks like the gods must be crazy.
One of the more delightful entries in the recent San Francisco Olympians Festival was Athena! The Musical, a nifty one-acter written by Roberta D'Alois and Marilyn Harris Kriegel (who kept their script short and furiously funny, with laughs and venom flowing freely from start to finish).
As a leading figure in Greek mythology, Athena was noted for her wisdom, her courage, and her ability to inspire warriors. She could also be a jealous, conniving bitch. As the play's co-authors explain:
"We chose to write about Athena because, while neither of us are virgins, we share personal attributes that Athena is known for. Just as she sprung from Zeus fully formed, we both have been grownups since early childhood. We've been known to give the men in our lives headaches. Reading about these two strong and stubborn women [Athena and Arachne], we found ourselves drawn to explore the dark sides of the attributes we admire. Although our play is set in modern times, it resonates with the ancient themes of competition, jealousy, privilege, and power from the original myth."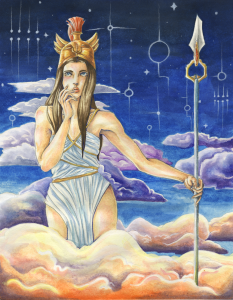 Emily Barber's poster art for Athena! The Musical
We've all been exposed to ruthless control freaks (Margaret Thatcher, Martha Stewart, Cruella de Vil) who will stop at nothing to accomplish their goals. In Alois and Kriegel's musical, Marley Nathena (Kim Saunders) is a filthy rich Silicon Valley CEO who likes to throw her money around.
Imagine Betty Bowers as a political predator. Better still, imagine Cora Hoover Hooper laughing all the way to the bank while letting her ruthless business tactics and bottomless checkbook (at least $25 million) pave her way to landing the top spot on the Republican party's ticket.
Two male party hacks (Richard Wenzel and Andrew Chung) are willing to do almost anything to lure Marley's money into their campaign coffers. But when they spot a naive and intensely likable small town Mayoral candidate named Rhea Weaver (Camerone Galloway) -- whom they're sure will poll better than the wealthy and slick but unlikable CEO -- they have to find a way to get Marley to put her money behind Rhea.
Unfortunately, Marley don't play those games. Soon one of the men is hurt in a strange automobile accident. Then the chartered plane carrying Rhea to an important political event mysteriously falls from the sky.
Oops! Accidents happen, dont'cha know!
One of the nicest things about Athena! The Musical was its brevity. The show's creators made it only as long as it needed to be, with Rebecca Longworth's direction setting an appropriate pace for Marley's soul-crushing climb to the top of the ticket.
* * * * * * * * * *
What happens when you've got a loving husband, 3,000 daughters, and Zeus's wife won't stop nagging you to perform a nearly impossible favor? Meghan O'Connor's one-act play entitled Tethys, or In The Deep examines what happens when, after the war between the Titans and Olympians has ended. Hera approaches Tethys and asks her to relocate the constellations of Ursa Major (the Big Dipper) and Ursa Minor (the Little Dipper) so that she will never have to see those pesky bears again. As O'Connor explains:
"I want to explore the power dynamics between an ancient, powerful Titan and a young, fiery Olympian. I want to explore what it is like to be replaced, even when you're talented. I want to explore Tethys's marriage. She has a good husband and 3,000 daughters. But is that enough?"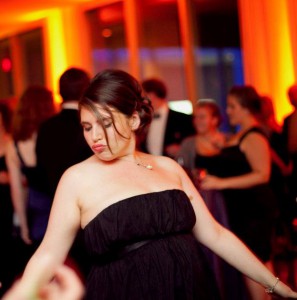 Playwright Meghan O'Connor
With the precision of a rabid control freak, Hera asks her friend to take action so that the bears can never be allowed to touch the waters belonging to Oceanus (who is married to Tethys). O'Connor asks her audience to judge who is more rational:
A loving husband who wants nothing more than to spend his retirement enjoying peace and quiet.
A goddess of the deep ocean and mother of rivers (often depicted as having wings attached to her temples) who has strong nursing instincts.
A jealous control freak and power-hungry bitch who can't leave well enough alone.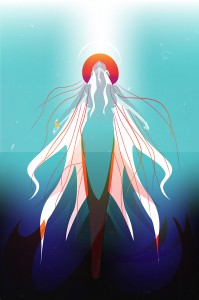 Poster art for Tethys, or In The Deep by Cody A. Rishell
Annie Paladino directed the reading of O'Connor's provocative script with Juliana Egley as Tethys, Tonya Narvaez as Hera, and Tavis Kammet as Oceanus. Needless to say, Hera's meddling reminded me of some annoying people from my past (like the physician who expected my business partner to hop on a plane and fly 3,000 miles so she could argue with him about the placement of a comma).
* * * * * * * * * *
In the hilarious Hermes: The Computer That Wanted to Love, playwright Kirk Shimano followed the trials and tribulations of a shy computer named Hermes (Matt Gunnison) in search of a wi-fi hotspot that could deliver more than just the usual bits and bytes. Directed by Amanda Ortmayer (with the hilarious Allison Page as Hermaphroditus, a child of Hermes and Aphrodite), Shimano's play was aimed at a computer literate audience familiar with the landscape of online dating services and social media.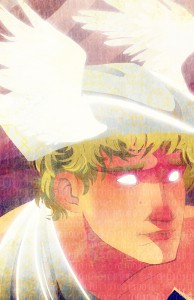 Chelsea Harper's poster art for Kirk Shimano's
Hermes: The Computer That Wanted to Love
Focused on Hermes (the god of invention, communication, and commerce who would obviously be best suited to manipulate technology and deliver information), Shimano recast the messenger of the Gods as the god of the Internet. Strong support came from John Lennon Harrison (Zeus, Apollo, Perseus), Mikka Bonet (Aphrodite, Demeter, Persephone), and Nikolas Strubbe as Krokus.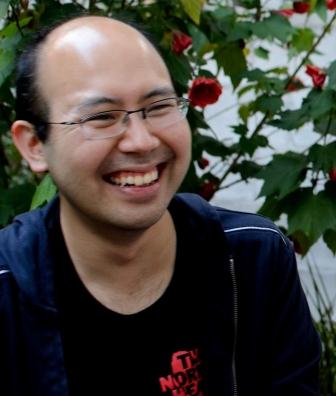 Playwright Kirk Shimano
* * * * * * * * * *
One of the most fascinating plays to premiere during the festival was written by Neil Higgins, a talented actor/director/playwright with a boisterous laugh. Taking his inspiration from the legend of Iapetus (one of the sons of Uranus), Higgins cast his protagonist (the doe-eyed Nikolas Strubbe) as a mysterious newcomer who enters a psychiatric ward on a voluntary basis and inspires so much self-confidence in the patients that they start refusing to take their medications.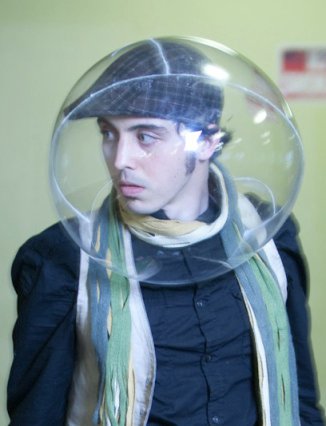 Actor Nikolas Strubbe
Allowing nurse Cassandra (Melissa Clason) to nickname him Elvis, he proceeds to drive Dr Samos, the hospital director (John Lennon Harrison), crazy by resisting authority with a placid smile while enigmatically insisting that he is a pillar to some and the grandfather of all mankind to others. The new intern on the ward, Dr. Hermes (Matt Gunnison), feels as if he can trust "Elvis" enough to reveal the real reason he is working there: his betrothed, Chione (Mikka Bonet), survived a terrible accident that left her with amnesia.
Despite the obvious breach in medical ethics, Dr. Hermes hopes to remain by Chione's side so he can help her to heal. As the audience watches in awe, Iapetus reveals himself to be a laid back yet powerful prophet and healer while Dr. Samos is transformed into a babbling madman who cannot accept that he owes all of his medical knowledge to this strange new patient who claims to be a god.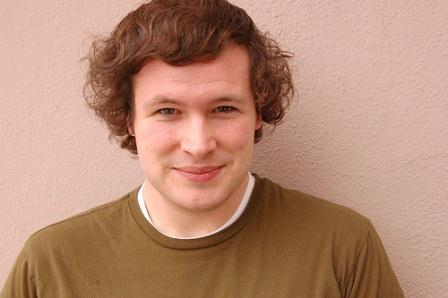 Playwright Neil Higgins (Photo by: Claire Ann Rice)
Iapetus offered one of the most intelligent debates about faith versus science that I've ever seen on a stage. Its multi-layered script was so strong that it left audiences thinking about the power of Iapetus long after they had left the theatre. Higgins shows a remarkable maturity and wisdom for such a young playwright. I look forward to his future efforts as a dramatist.
To read more of George Heymont go to My Cultural Landscape