Some friendships are based on long hours spent together at work, at play, or sharing intimate secrets and thoughts. Others seem to be delivered by software bots on social networking sites.
People now have thousands of online friends who have been culled from various email address books (even if they have never met them face to face). As a result, the expectations and responsibilities of a friendship have undergone dramatic changes.
Whereas a friend could once be counted upon to be a confidante or help you out in a crisis, these days a friendship might be tested by a simple request to "like" something on Facebook.
The handful of friends who have stood by you through thick and thin might be sorely miffed to discover that they've been reduced to mere statistics in your otherwise hectic online existence.
Some friendships lose their potency after people stop working for the same employer, move to a different city, or stop going to the gym.
Some friendships simply cannot survive the radical loss of a shared activity (such as when a person enters a 12-step program and finds it necessary to leave his drinking buddies behind).
Often, when a person gets involved in a romantic relationship, friendships can fade into the background.
Friendships that have stood the test of time for decades are becoming rarer as hen's teeth.
Some friends never really have the potential to evolve into "friends with benefits."
Two new dramedies share some curious turf. Each focuses on a young couple where one of the partners is self-employed and works at home. Each relies on social media for certain plot twists. And in each case, a young couple comes to realize that they may be a whole lot more old-fashioned than they thought.
* * * * * * * * * *
Try to imagine what it would be like if a young playwright looked to Alice in Wonderland and The Wizard of Oz for inspiration and had her insecure, stressed-out protagonist get sucked into her computer and wind up trapped inside her Facebook page. That's pretty much the underlying structure for Status Update, a new play by Dorothy Fortenberry with music by Colin Wambsgans that received its world premiere from Center Rep in Walnut Creek.
Annabel (Rosie Hallett) and Brian (Ben Euphrat) are a young couple who have recently moved to Phoenix. Although Annabel has built herself some kind of weird graphic arts business for which people pay her handsomely to morph their digital images with Photoshop to match their fantasies, Ben has a day job where he interacts with real people in real time. Annabel (who has been working in her pajamas for far too long) has become so addicted to her Twitter and Facebook feeds that she's lost her basic social skills.
The only friends she prefers to interact with can be kept at a safe distance because they are virtual. Between friends and clients, that's 534 people who need her attention!
As if matters weren't bad enough, Annabel's mother has joined Facebook and found a new way to annoy her.
Annabel has just found her old boyfriend online and seems more interested in chatting with him than interacting with Brian.
Instead of a Cheshire cat, YouTube's infamous Keyboard Cat (Joel Roster) occasionally offers Annabel questionable advice and musical diversion.

Keyboard Cat (Joel Roster) and Annabel (Rosie Hallett)
in Status Update (Photo by: Allesandra Mello)
On the spur of the moment, Brian has invited Zar (Lynda DiVito), an older woman he knows from work and her husband, Niko (Darren Bridgett), over to celebrate Anabel's birthday. Because Annabel's dietary habits have disintegrated as a result of working at home, the only food on hand for a birthday celebration is some peanut butter and crackers.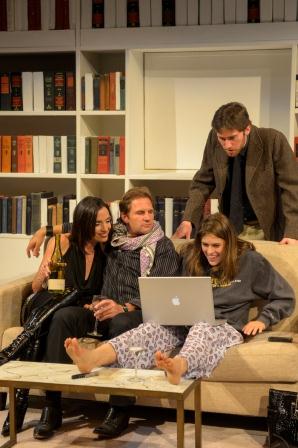 Zar (Lynda DiVito), Niko (Darren Bridgett), Annabel (Rosie Hallett)
and Brian (Ben Euphrat) in Status Update (Photo by: Alessandro Mello)
Although some members of the audience might not be as up to date on the various Internet memes that pepper the script of Status Update, they will have no trouble understanding the fear and stress that propel Annabel to dive headlong into Facebook and Brian's subsequent struggle to retrieve her. What needs no explanation are the predatory moves by Zar and Niko, who seem much more interested in nursing Brian's cock than one of his cocktails.
Becca Wolff directed her energetic ensemble with the kind of rapidly-shifting moods and energy levels that affect people with limited attention spans. While Fortenberry's script will allow future productions to insert the latest memes floating around the Internet for topical punch, Status Update needs some tightening. I did, however, enjoy Kerstin Larissa Hovland's animation sequences and Michael Locher's handsome unit set.
* * * * * * * * * *
If you're looking for an intimate indie film that captures San Francisco in all of its smug and narcissistic -- yet politically correct -- attitudes, look no further than Yes, We're Open. Written by H.P. Mendoza (who also supplied some songs) and directed by Richard Wong, the film revolves around an attractive, young, and overeducated Asian-American couple who like to think of themselves as relatively cool... even if they are not.
Luke (Parry Shen) works at home and is an amateur cook who likes to experiment with recipes for weird food (poached eggs floating in pig's blood). His live-in girlfriend, Sylvia (Lynn Chen), works as a bookkeeper. After several years together, they've reached the stage where sex starts to lose some of its zing. In fact, they've gotten so comfortable with each other than they can afford to laugh when Luke accidentally lets out a Quiznos- flavored burp while French-kissing Sylvia.
Having forgotten his carefully-written notes, when Luke rises to deliver a toast at the wedding of friends Scott (Tasi Alabastro) and Cassy (Theresa Navarro), he ends up launching into the kind of well meant but totally misguided speech about how, thanks to California's Proposition 8, gay people can't get married. Without thinking, he insinuates that Brett (H.P. Mendoza) is gay and manages to offend several of the wedding guests.
On their way home in a taxi, Luke and Sylvia critique one of the wedding guests as they try to decide whether it's proper to call him an asshole or a douchebag. Slightly drunk and extremely satisfied with themselves, their air of superiority even manages to annoy their taxi driver.
While shopping for food at the Alemany Farmer's Market, Sylvia and Cassy start talking about whether or not they would cheat on their partners. An extremely handsome stranger overhears Sylvia's remark about swallowing a man's semen during oral sex and makes an odd comment about her conversation with Cassy.
Later that night, when Luke and and Sylvia arrive at Scott and Cassy's place for dinner, they're introduced to one of Cassy's old friends from Smith College, Elena (Sheetal Sheth) whose partner, Ronald (Kerry McCrohan), is the man who overheard Sylvia's comment about the taste of men's sperm earlier that day. Ronald and Elena have brought Gerald (Dave Boyle) along, a rather nerdy friend who once shared a threeway with them.
After Ronald and Luke exchange contact information on their electronic devices, Luke and Sylvia head home. The next day, Ronald invites the couple over for dinner. As much as Cassy teases Sylvia about being part of "a modern couple," the truth is that Luke and Sylvia are much more modern in theory than in practice. They're great at hypotheticals. But when Ronald and Elena indicate their interest in taking matters to a sexual level, Luke starts to panic and drags Sylvia back home to the safety of his apartment.
That's not to say that Sylvia isn't interested in having sex with Ronald. Or that Elena hasn't set her sights on Luke. As much as Sylvia and Luke have wondered whether they should open up their relationship, they've never been confronted with the reality of how that might happen (or the kind of head trips they might experience from having sex with other people).
Needless to say, opening up their relationship is more than either one of them was ready for. Luke (who has been pretty lukewarm in bed of late) discovers that he's fiercely ticklish in response to Elena's prying touch. Nor does he understand how Ronald and Elena only manage to have sex with strangers on a one-time basis. As Sylvia coyly notes, "Just because we're modern doesn't mean we're mischievous."

Yes, We're Open is filled with many San Francisco-centric jokes that will resonate with hipster haters ("I'm going to a bacon party at an art gallery"). As Luke's hapless friend Brett, H.P. Mendoza gets to wear one the worst neckties ever seen onscreen in the history of cinema.
As a filmmaking team (Colma: The Musical, Option 3, Fruit Fly) Mendoza and Wong like to challenge themselves with little cinematic tricks and jokes. In Yes, We're Open they've included clips from a 1930s Pre-Code style black-and-white sex comedy entitled Devil in the Details (which has been directed and edited by a certain "Richard Wongstein"). The clips offer a nice way of showing how the depiction of marital infidelity onscreen has progressed from the uptight old days to modern times (Yes, We're Open has quite a bit of simulated sex).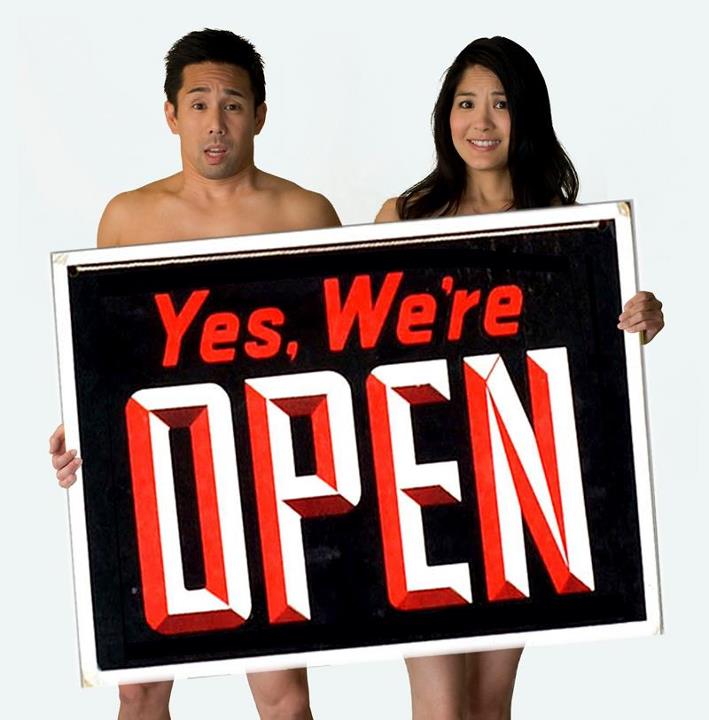 Some people may find the first half of Yes, We're Open annoyingly talky, but that's how some of San Francisco's more pretentious pseudo-intellectuals sound. The sex and bitchiness are fun and Wong's ensemble does a really nice job with this low-budget indie film.
To read more of George Heymont go to My Cultural Landscape