It's amazing how one song can capture a culture's idealized view of women. In 1919, the great American songwriter, Irving Berlin, had been hired by Florenz Ziegfeld to write a musical number which would glorify the showgirls in the 1919 edition of the Ziegfeld Follies. "A Pretty Girl Is Like A Melody" went on to become the theme song for subsequent editions of the Follies and, until 1955, was closely associated with the annual Miss America Pageant.
Ziegfeld's stage spectacles were often devoted to glorifying feminine beauty. In the 1936 movie musical biography, The Great Ziegfeld, "A Pretty Girl Is Like A Melody" became the foundation for a massive production number which, in retrospect, manages to be musically hilarious as well as a showcase of high camp.
Staircases and showgirls returned with a vengeance when Barbra Streisand starred in 1964's Funny Girl. In this clip from the 1968 film adaptation, she sings "His Love Makes Me Beautiful."
The opening number of Stephen Sondheim's 1971 musical, Follies, was dedicated to the memory of the glamorous showgirls who dazzled audiences between the 20th century's two World Wars. Despite Boris Aronson's magnificent set design for the original Broadway production, "Beautiful Girls' has rarely been as lavishly staged as in this clip from a 1991-1992 production at Theater des Westens in Berlin.
The common bond between these musical numbers is the glorification of physical beauty. But what about inner beauty? What about a woman's self confidence and awareness of her sexual power over men? A sampling of entries from he 2014 San Francisco International Film Festival and the Best of Playground 18 Festival shows a remarkable progression from innocence and experimentation on to maturity, cynicism and a desire to be taken seriously as an intelligent human being fully capable of making her own decisions.
* * * * * * * * * *
In Malone Lumarda's simple, yet exquisite short entitled Black Rock Creek, a young girl plays by a stream. Whether picking up a frog or fashioning a large leaf into a makeshift raft for the miniature teddy bear she keeps in her pocket, her afternoon spent wandering through a wooded area is accompanied by the joint sounds of a piano and the natural sounds of a forest. Lumarda's film is a simple, concise portrait of a young girl who seems to be without a care in the world.
Changes in her body are a constant source of wonder for another girl (Vulvah Van Klitt) in Little Vulvah and Her Clitoral Awareness. Sara Koppel's hand-drawn five-minute animated short mocks a well-known scene from Walt Disney's feature-length Cinderella (1950) as it depicts a girl's transformation as she blossoms into a sexually mature woman capable of discovering new sources of pleasure all by herself. A delightful sexual primer, it's no surprise that this sexually liberating film was made in Denmark, Here's a teaser:
* * * * * * * * * *
Written by Misan Sagay and directed by Amma Assante, Belle is based on the true story of Dido Elizabeth Belle (Gugu Mbatha-Raw), the illegitimate daughter of an 18th century sea captain in Britain's Royal Navy named Sir John Lindsay (Matthew Goode). Following the death of Belle's mother (an African woman who might well have been a slave in the West Indies), Lindsay brought the girl to live in the home of her great-uncle Lord Mansfield (Tom Wilkinson) and his wife (Emily Watson).
Lindsay's wish was that his daughter benefit from the wealth and comfort due to her by law -- and that she share in the companionship of her cousin, Lady Elizabeth Murray (Sarah Gadon). Belle's lineage, however, put her in an extremely awkward position. Although she was due to inherit her father's fortune after he died, the color of her skin placed her above the servants in Lord Mansfield's home yet not quite on the same level as the Caucasian members of his family.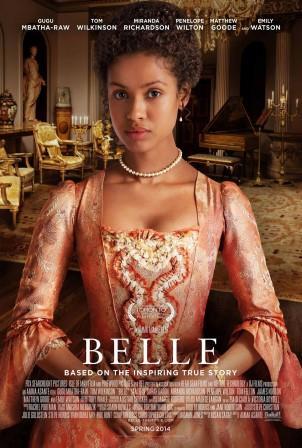 Poster art for Belle
While Belle's cousin was courted for her beauty, as soon as it became known that Lady Murray had no money, she was no longer perceived to be a prize matrimonial catch. As Belle was subjected to the contempt of the neighboring aristocracy (one of the Ashford sons thought her beautiful and wished to marry her; the other was a racist, misogynist creep), Belle soon learned that she would be better off with someone who had little concern for her wealth or the color of her skin, but rather loved her for who she was.
That person turned out to be John Davinier (Sam Reid), a legal apprentice to Lord Mansfield. At the time, Mansfield was about to rule on the Zong ship trial (a case in which a shipload of slaves had been murdered because it was deemed they would be worth more (for insurance purposes) dead than alive.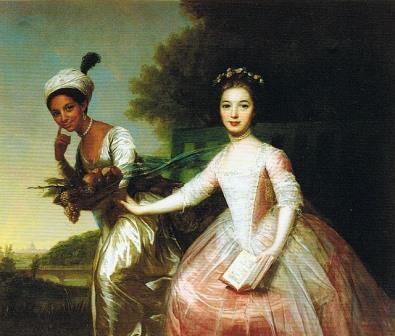 Johann Zoffany's 1779 painting of Dido Elizabeth Belle
and her cousin, Lady Elizabeth Murray
Sagay found the inspiration for her script while touring Scone Palace at the University of St. Andrews in Scotland where she noticed an unsigned painting, created in 1779, that depicted two beautifully dressed girls, one black, one white, seemingly at leisure together. The painting (most likely done by Johann Zoffany, a renowned portraitist of British aristocracy), gave no indication that the black girl was subservient to the white girl. As Sagay notes:
"The black woman [Dido Elizabeth Belle] in the painting was not named in the House Guide, so I did some further research to find the two women were actually relatives. As a writer and a black woman I was dedicated to finding these stories of other black women in a time when they had little voice."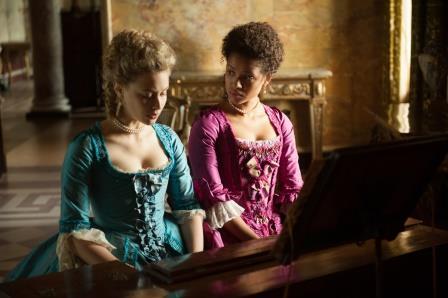 Lady Elizabeth Murray (Sarah Gadon) and Dido Elizabeth Belle
(Gugu Mbatha-Raw) in a scene from Belle
I was initially drawn to Belle because I love the costume detail in period dramas. But Sagay's script deals with much deeper identity issues for a woman of mixed race who has greater wealth than her "pure-blooded" white cousin. Add in the controversial slavery issue in the trial over which her guardian is presiding, and there is much more meat to Belle's script than one might expect. The film's director, Amma Assante, explains that the original painting:
"...is really an outstanding piece of art. It's unusual because it's clear the two girls are equals. It was one of the first paintings in England that we know of to depict a person of color next to a white person. Dido has such a complex identity: She is this combination of black and white, of being rich and coming from a very poor background. I saw her as a girl who grows into a woman by falling in love, and by falling in love, she learns the information that allows her to become a woman. Through her journey with John [Davinier], she comes to learn who she is, where she fits in, and what she wants out of life.

The painting offered a nugget of history, a story that has never been told. Dido transforms from a girl who says 'As you wish, sir' into a woman who says, 'As I wish -- this is what I need, this is what is important to me' She does so not because she is a privileged young woman who wants more, but because she is a woman saying 'I want equality in my household and in the world.' It's a beautiful story of two lovers finding themselves in the other. I was quite intrigued."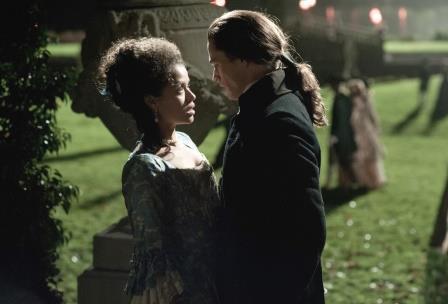 Dido Elizabeth Belle (Gugu Mbatha-Raw) and
John Davinier (Sam Reid) in a scene from Belle
While I was not bowled over by Belle, I found it an intriguing story with a script that managed to challenge many social issues of the time without becoming weighed down in British treacle. The production design by Simon Bowles (coupled with Ben Smithard's cinematography) gave me the visual splendor I had anticipated. Assante's film manages to score its political points without ever lecturing its viewers.
Gugu Mbatha-Raw creates a compelling and complex figure as Belle, with Sam Reid providing plenty of eye candy as the impassioned (and passionate) John Davinier. Miranda Richardson (Lady Ashford), James Norton (Oliver Ashford), Tom Felton (James Ashford), Penelope Wilton (Lady Mary Murray), and Rupert Wickham (Reverend Davinier) score strongly in supporting roles. Here's the trailer:
* * * * * * * * * *
If Belle is struggling to carve out a place for herself in British society, the protagonist of François Ozon's new film, Young and Beautiful, is approaching her newfound sexuality from a much different perspective. Having just turned 17 and lost her virginity, Isabelle (Marine Vacth) has quickly decided that young men -- a handsome German tourist named Felix (Lucas Prisor) and an overly clingy school friend (Laurent Delbecque) -- are a boring waste of her time. As her kid brother, Victor (Fantin Ravat), hungers for details of her sexual encounters, Isabelle turns to the Internet in search of a more rewarding type of hookup. As Marine Vacth notes:
"Isabelle is not at all obsessed with her looks. She's not a flirt, and she's not interested in fashion. Isabelle is no dummy when it comes to herself and others. In fact, she's smarter than most of the kids her age and quite a few of the adults around her. She takes responsibility for her actions. She makes no excuses. Before the shoot, the director asked me to let my hair grow a bit longer. He wanted me to gain a few pounds so I'd have some baby fat and look more like a teenager."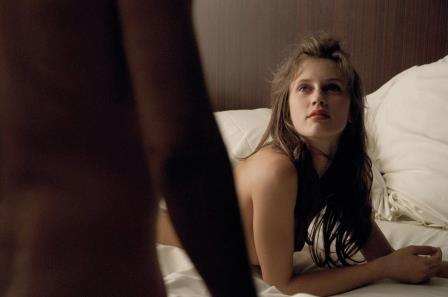 Marine Vacth as Isabelle in Young and Beautiful
Soon Isabelle is turning tricks with older, wealthier men who have had more experience with women than Felix. She enjoys the intrigue -- as well as the ritual -- of going to meet a stranger at a hotel and being able to negotiate her own price. As Ozon explains:
"Adolescence is a fertile period when anything is possible. You're open to the world, unconcerned with morals. Isabelle is experimenting, embarking on a journey, her foray into prostitution is not a perversion. The theme of prostitution provides a way to highlight this, to illustrate the questions of identity and sexuality raised by adolescence (sexuality not yet connected to emotion). Isabelle isn't turning tricks to survive or to pay for school -- she feels a visceral need to do it. She could have just as easily gotten into drugs or become anorexic as long as it was something secret, clandestine, forbidden.

Each season begins with the point of view of a different character. Summer is Isabelle's brother, autumn is her client, winter is her mother and spring is her stepfather. But Isabelle does have a diabolical side. Isabelle's behavior sets off strong repercussions and provokes powerful reactions from those close to her. We can see why her mother's friend doesn't want her husband to take her home. The fact that Marine also models makes her very free with her body (which she uses like a tool). She was more comfortable than some actresses would have been."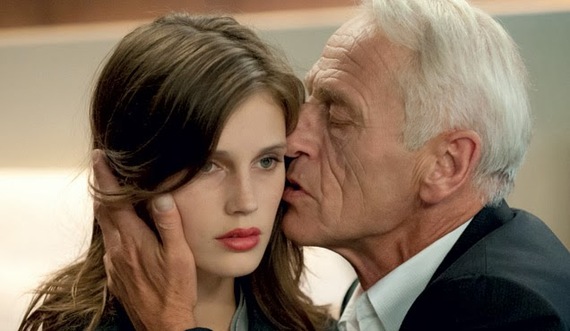 Isabelle (Martine Vacth) and an elderly client named
Georges (Johan Leysen) in a scene from Young and Beautiful
For a while Isabelle is enjoying her sexual adventures. One night, as she accompanies her parents to the theater, she locks eyes with one of her elderly clients, Georges (Johan Leysen), in the audience and sees her mother, (Géraldine Pailhas), tenderly kissing a close family friend named Peter (Djedje Apali) during intermission. Things suddenly take a turn for the worse when Georges suffers a fatal heart attack while fucking Isabelle in a hotel room.
In a moment of panic following his death, Isabelle trips in the bathroom and starts to bleed from a wound to her forehead. When she arrives at home, her mother tenderly applies a bandage to her strangely quiet daughter.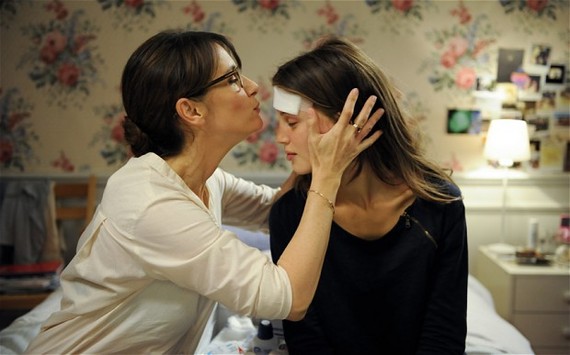 Sylvie (Géraldine Pailhas) comforts Isabelle (Marine Vacth) without
knowing the cause of her daughter's injury in Young and Beautiful
Several months later, Isabelle's mother is contacted by police investigators who inform her that her daughter has been working as a prostitute and was apparently with Georges at the time of his death. The news comes as a total shock to Sylvie, Isabelle's stepfather, Patrick (Frédéric Pierrot), and the family's housekeeper, Mouna (Akela Sari).
However, Isabelle's newfound sense of financial worth has given her a very different perspective on things. Earning 60 Euros for an evening's worth of babysitting is a joke compared to the 300 Euros Georges used to pay Isabelle for the privilege of making love to her. When a psychiatrist (Serge Hefez) suggests weekly sessions, Isabelle asks if she can pay him with the money she made while turning tricks. Needless to say, his professional fee (100 Euros) is much less than hers!
Late in the film, Isabelle has an intriguing encounter with Georges' widow, Alice (the ever exquisite Charlotte Rampling), who confesses that in her youth she toyed with the idea of working as a prostitute. The film ends with viewers wondering whether or not Isabelle will go back to turning tricks or if this was merely "a phase." Here's the trailer:
* * * * * * * * * *
Over at Thick House, the Best of Playground 18 Festival included two short plays which gave Stacy Ross beautiful opportunities to portray severely conflicted middle-aged women. Directed by Tracy Ward, Patricia Cotter's often hilarious When You Talk About This cast Ross as a 43-year-old statistics professor who has recently learned that a woman who was her exact age dropped dead of a heart attack earlier that day.
The play opens with Nina locked in a passionate embrace with William (Adam Roy), a hot and hunky college student who is also an aspiring poet. Unfortunately, William (who is impressed by what a great kisser Nina has turned out to be for an older woman) is flunking her course in statistics because of his severe lack of interest in matters mathematical.
Cotter's script shows how, recognizing her own mortality in the wake of her friend's death, Nina comes to realize that William deserves an equally fair chance at seizing every opportunity in life. She eventually gives in to the young man's pleas and raises his grade from a 68 to a 70, thus allowing him to graduate on time.
In Karen Macklin's bittersweet Stranger in a Stranger Land, Lynn (Stacy Ross) is a conflicted, middle-aged New Yorker who has moved to San Francisco in search of a fresh start in life. As she attempts to re-enter the dating game, she encounters the following men:
Mitchell (Teddy Spencer), a hyperactive health freak on a cayenne-laced digestive cleanse.
Brian (Jomar Tagatac), a charming younger man who is always being interrupted by phone calls from other women.
Paul (Adam Roy), an appealing young man who invites Lynn out for a day at the beach without mentioning that he's taking her to a nude beach. When she freaks and informs him that she can't handle being nude in public, he points her to the nearest bus stop and wishes her well.
Brandon (Howard Swain), an older man whom Lynn meets at an art gallery. No matter how vehemently she asks him to leave her alone, Brandon doesn't give up and shows a rare talent for being willing to listen as Lynn vents her frustrations about the shallowness and callowness she has encountered in the Bay area.
Beautifully written and skillfully directed by Michael French, Macklin's play gives Ross a beautiful opportunity to create another complex, layered, and deeply frustrated character. As always, hers is a winning performance.
To read more of George Heymont go to My Cultural Landscape