It doesn't have to be a dark and stormy night outside for a critic to wonder if reviewing the evening's performance will be a dark and dirty job. All kinds of questions run through a critic's mind as he sits through a less than thrilling night at the theatre.
Is something about the extreme intimacy of this performance space amplifying the play's weaknesses instead of its strengths?
There's a small audience for tonight's show and their level of enthusiasm is way out of proportion to the quality of the performance. Are they all friends of people involved with this production? Am I missing out on a bunch of "in" jokes?
I've seen some of this playwright's other works and they're brilliant plays. Was this one of his early failures?
The actors are doing their best with this script. Does the problem lie with the playwright or with the stage director's decisions?
What's happening onstage isn't all that funny. Why is the woman in back of me laughing so hard that she might wet her pants?
Did I eat something before the show which is spiking my blood sugar and making me feel sleepy or is this play simply boring me to tears?
Those are some of the questions I ask myself when things are not going well. More often than not, what I'm witnessing is the clumsy execution of an idea that has not been properly fulfilled. Some basic variations on this concept include:
A play that sounded like a brilliant idea when the concept first hit, but whose playwright simply couldn't build sufficient dramatic momentum to make it take wing.
A production whose stage director doesn't understand the particular performance style required by a classic.
A play that is so horribly overwritten that its author's infatuation with his own writing (coupled with a penchant for wretched excess) is smothering the work to death.
A play whose comic brilliance rests on a joke which tickled the playwright's fancy but which he has not been able to clearly articulate to the audience.
A creative team that has so completely swallowed its line of artistic bullshit that it has become incapable of editing its own work and/or looking at it through an objective lens.
Few critics enter a theatre lusting for a chance to trash the performance they are about to see. If that was their goal, they would have been better off staying home (most have other activities they enjoy). While many critics look forward to an experience that may instill some change or hope in their perspective, their job is essentially to hold a mirror up to what they have seen and try to analyze the experience for others.
When faced with a presentation that falls into the gray area between theatrical brilliance and sheer disappointment, the best thing a critic can do is offer constructive criticism by pointing out a performance's strengths and weaknesses in the hope that someone involved in the production might learn something. Here are some short takes on recent productions seen by Bay area audiences.
* * * * * * * * * *
The Left Coast Theatre recently presented an evening of short plays under the umbrella title of Family Programming. While most were interesting, and some riotously funny, two of the entries never really achieved liftoff.
Written by Rodney "Rhoda" Taylor and directed by John Anderson Hamner, Baby Christina examines the subject of gay adoption through a severely jaundiced set of eyes. Patrick (Michael Erickson) is a fairly level-headed gay man who doesn't mind dealing with reality. His friend, Dennis (ShawnJ West), is a narcissistic queen who has decided that the accessory he now most desperately needs in his life is a baby. Even an inanimate object (a tablecloth?) could intuit that Dennis is ill-equipped to handle the responsibility of raising a child.
When Patrick and Dennis meet for drinks, Shakyra (Luis Quiroz), the drag queen who is their cocktail waitress, has no trouble seeing that Dennis has talked himself into a ridiculous fantasy. But the joke loses its momentum and this short play has trouble finding an ending.
Watching Baby Christina reminded me of an incident many years ago when I asked a friend if he and his lover were thinking of getting a dog as a pet. "Are you kidding?" he gasped. "How can we take care of a dog? We can't even take care of ourselves!"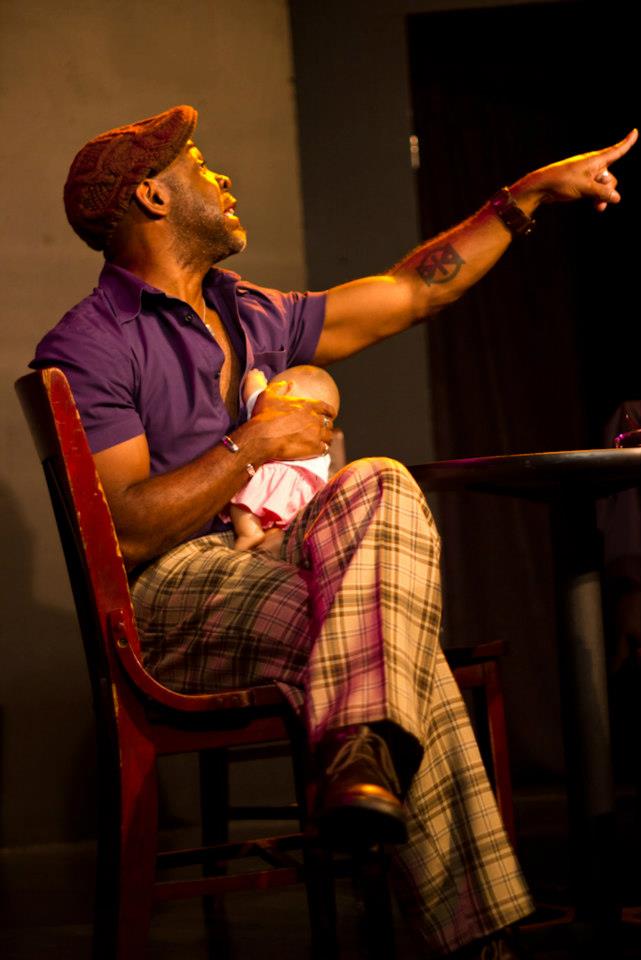 Dennis (ShawnJ West) is convinced that adopting a baby
could be the hottest new gay accessory in Baby Christina
Also on the bill was Rich Orloff's short play, Tough Cookie. Directed by Chauncey Wales, it starred Dawson Montoya as James, an adolescent who brought a gun to school and shot another student in a dispute over a cookie. His mother (Cynthia Abrams) tries to placate her son while his macho father (Francisco Oliva) is a staunch believer in the right to bear arms. His lawyer (Sharmin Sehat) is eager to find the appropriate media angle with which to frame her client's case while the prison guard (Evan Sokol) is interested in the cookie James shows no interest in eating.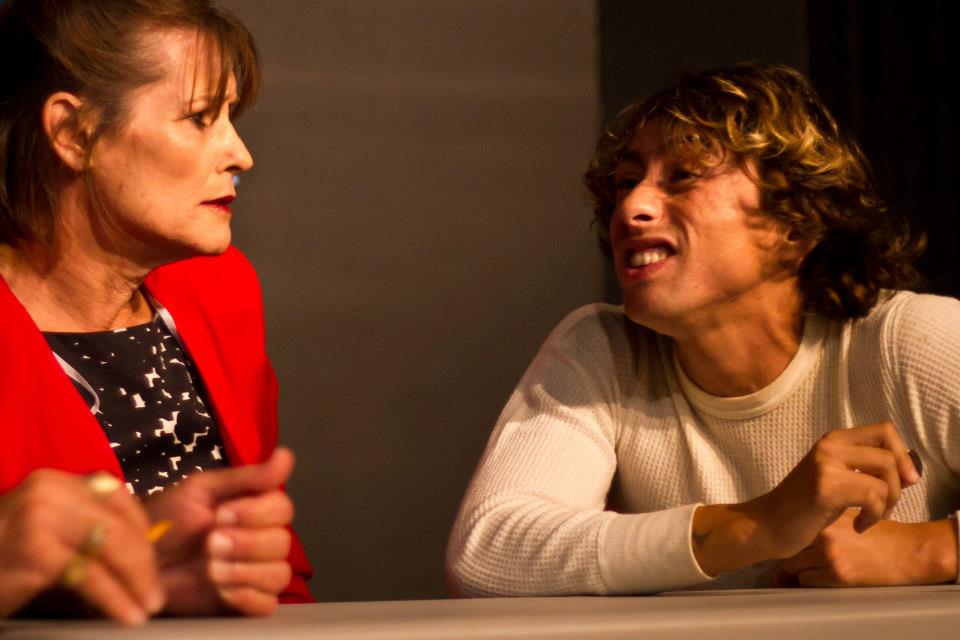 Cynthia Abrams and Dawson Montoya in Tough Cookie
By the time the lawyer meets with James and his parents, it becomes obvious that her teenaged client has already lost interest in the case. Tough Cookie is another example of a playwright with an interesting dramatic concept who had trouble finding closure.
* * * * * * * * * *
Only a fool would dispute Steve Martin's comic talents. Throughout a long and remarkably multifacted career, Martin has performed as a stand-up comic, comedic and romantic film leads, a banjo-playing musician, and hosted the Academy Awards in 2001 and 2003. As a gifted comedy writer he has crafted plenty of jokes in addition to publishing essays, novellas, plays, and film scripts.
In addition to his Emmy and Grammy awards, Martin has received the Mark Twain Prize for American Humor, a Disney Legend award, been named the International Bluegrass Music Association's Entertainer of the Year, and been named as a Kennedy Center Honoree.
In 2002, he wrote an adaptation of a 1910 stage farce by Carl Sternheim entitled Die Hose. Center Rep in Walnut Creek recently staged The Underpants with mixed results. Upon entering the theatre, the audience was greeted by another one of Nina Ball's beautifully stylish unit sets. With colorful costumes by Victoria Livingston-Hall and some outrageous wigs designed by Judy Disbrow, the production certainly had a look and style of its own.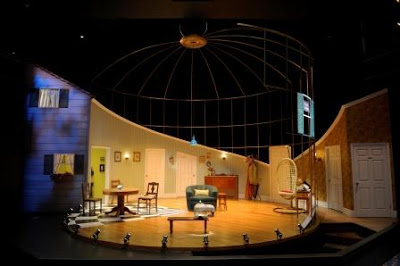 Nina Ball's stylish unit set for The Underpants
Photo by: Kevin Berne
Set in Dusseldorf, the play is based on a simple concept. Louise Maske (Lyndsy Kail) is a pretty young wife who is starved for love. One afternoon, while watching the King's parade, her bloomers fall to her ankles in public, displaying her underpants to two horny German men whose imaginations immediately began to run wild with erotic speculation.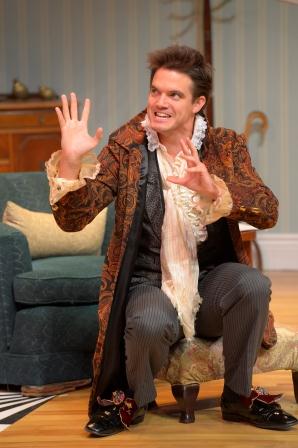 Ben Johnson as the poet, Frank Versati, in The Underpants
(Photo by: Kevin Berne)
Frank Versati (Ben Johnson) is a narcissistic poet who instantly senses the potential for a new conquest. Benjamin Cohen (Cassidy Brown) is a foolish Jewish barber with hypochondritic tendencies. Egged on by their sexual fantasies, each tries to rent the spare room in the Maske's home.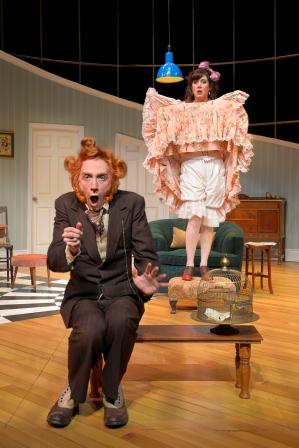 Evan Boomer and Lyndsy Kail in The Underpants
(Photo by: Kevin Berne)
Unfortunately, Louise's husband, Theo, (Keith Pinto) is a smug civil servant who displays no sexual interest in his wife, regards Louise as a brainless twit, and certainly doesn't want her attracting the kind of attention from strange men that could lead to a scandal. He's also the kind of nitwit who says things like:
"What are breasts? Harmless, utilitarian, lumps of flesh. But you squeeze them into a sweater and mountains move. Flesh speaks to men from under coats, under caftans, under furs, from igloos. There's always a small voice calling: I am here. You are much too attractive for a man in my position."
Center Rep's artistic director, Michael Butler, directed the show with the kind of approach that seemed aimed at a television audience, frequently missing out on comic opportunities. Surprisingly, Steve Martin's insistence on repeating certain gags caused them to lose a great deal of impact.
Although the energetic ensemble (especially Jamie James as the nosy neighbor, Gertrude), gave their all, I found myself far less amused than some of the people around me. Instead, I got the impression that Steve Martin had had a great time devising linguistic tricks in the process of translation that tickled his fancy much more than The Underpants actually managed to tickle the audience's funny bone.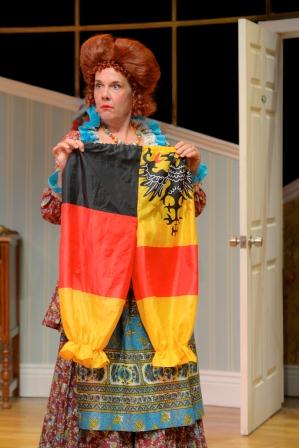 Jamie Jones as Gertrude in The Underpants
(Photo by: Kevin Berne)
To read more of George Heymont go to My Cultural Landscape