Four years have passed since I saw Wayne Harris perform his one-man show, May Day Parade, at The Marsh. A gifted storyteller and former music teacher who began his career as a horn player in a St. Louis drum-and-bugle corps, Harris is one of those performers who gives audiences a sweaty 110 percent whenever he is onstage.
When I first saw him perform, I was bowled over by the carefully-crafted nuances, intensely personal speech cadences, and fine layers of depth that he brought to his extended family and loving cast of characters. As a result, I was eager to see what his newest venture, Tyrone "Shortleg Johnson" and Some White Boys might have to offer.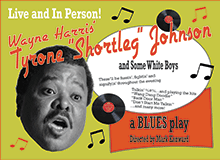 Poster art for 'Tyrone "Shortleg" Johnson and Some White Boys'
Set in 1967 in the studio of a television dance show for teenagers, Harris performs only one role in this show: an angry, frustrated blues singer caught in a difficult period of transition. Not only is the music industry changing too fast for Tyrone to maintain his foothold, he's developed a reputation as a "difficult" artist after a mini-scandal in which he got a little too drunk and started fondling a woman's breast. As Harris explains on his website:
I first met 'Shortleg' when I was having a rum and seven at a undisclosed blues bar in East St. Louis. He was trying to wait out some fellow card players who were hanging out in the parking lot hoping to catch up with him for some gambling debts. He was pretty wasted, and mumbled on and on about his mother, Gert, and the hair salon she ran that was a front for a numbers racket. He claimed to be a blues singer, but could only remember the words to 'Oh, Do You Know the Muffin Man?' Though I was very impressed with the many variations of 'Muffin Man' with which he entertained the patrons in the bar that night, I did not think I would see or hear of him again. Looking at the guys waiting for him in the parking lot also convinced me that Tyrone may not be long for this world.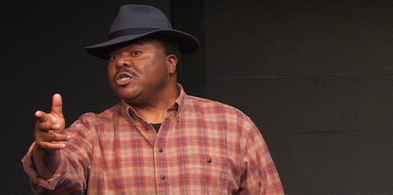 Storyteller Wayne Harris
Mark Kenward, who is directing Tyrone "Shortleg" Johnson and Some White Boys notes that:
Wayne has a seemingly effortless way of entrancing people through cadence, observation, hyperbole, and a generous availability to the audience. In other words, he's a damn good storyteller. For the past five years Wayne and I have played in a rock & roll band (The InTones) with some other friends. Just gigging around, playing a mix of R&B, rock, and country. I play guitar, serve as musical director, and Wayne sings. Over time, he has adopted the stage persona of Tyrone -- a crusty and lascivious old blues singer. Even at the parties and fundraising events that our band was playing, people seemed to love Tyrone, so we began to dream of putting him into a more theatrical context.

We began to think about all those old blues musicians who found themselves sharing the stage with young white musicians back in the 1960s, a time when young black people were turning away from the blues, but the hippies and others were embracing (co-opting?) the blues. This created a lot of internal conflict for blues musicians. On the one hand they were more popular than ever, but they were playing for audiences whose life experiences didn't have a lot to do with where the blues comes from. So we created a set of circumstances that has Tyrone on stage with a bunch of essentially amateur white musicians, and Tyrone ain't happy about that! Of course, there is a way in which the blues is universal. Ultimately a connection is bridged between Tyrone and his back-up band of 'hippies.'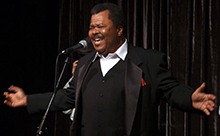 Wayne Harris singing the blues
While the television dance show's director tries to cope with technical difficulties, Tyrone starts sipping booze from his flask, waxing nostalgic about whorehouses he has known, trying to get some dirty-sounding music from a six-piece band comprised of white musicians, grabbing his crotch for effect while singing the blues, and occasionally trying to intimidate the youngest member of the band (whom he likes to address as "Baby Boy").
Tyrone, however, has met his match with the brilliant casting of 18 year-old Jeremy Goodwin as the band's lead guitarist. A gifted musician (whose father plays saxophone in the show), young Goodwin exhibits the innocence of Stan Laurel, the shy inner-steel of Jesse Eisenberg, and the stone-faced detachment of Buster Keaton hiding behind an angelic complexion. If he ever decides to go into comedy, he will be a great straight man for some comedian.
In Harris's new show Goodwin plays guitar dutifully (and effortlessly) as Harris struts and sweats his way through such old time, down and dirty numbers as "Wang Dang Doodle," "Don't Start Me Talkin'" and "Back Door Man." Other members of the band include Steve Ekstrand, Jeff Weinmann, Richard Trafford-Owen, and Dennis Aquilina.
Hopefully, Tyrone "Shortleg" Johnson and Some White Boys will get a longer run at some Bay area venue. The music's hot, Harris is in fine form, and many members of the audience will find it difficult to take their eyes off Jeremy Goodwin's silent, but riveting Baby Boy.
To read more of George Heymont go to My Cultural Landscape