I am getting wistful because "Pit Bulls and Parolees" is starting its new television season.
No, it's not because I miss my dog from childhood, a little fox terrier named Duke. Rather, it's because I miss my grand-daughter Jane, ensconced in England. You see, every summer Jane comes to New York for a few days before going off to camp somewhere. We've been very creative in these precious days, making sure we maximize our time with her.

I'm sure I'm not alone as far as grandparenting is concerned. In this new global paradigm, kids don't live near parents. And that means grandchildren don't live near grandparents. Perhaps how we've handled it might be of interest to others who wonder what to do when the kids visit. We have tried to be creative and make these outings memorable.
Our last excursion with Jane -- who has been enamored of horses and other four-legged animals since she was tall enough to pet them -- was in New Orleans. There, we took in the Villalobos Rescue Center and the tattooed lady who oversees more than 100 rescue dogs and the parolees who care for them. Her name is Tia Maria Torres, and her fascinating reality show, "Pit Bulls and Parolees" is back for another season on Animal Planet, at 10 PM Eastern time.

New Orleans just seems like the perfect spot for this unfolding drama -- in real-life as well as in reality-TV. Hurricane Katrina left tens of thousands animals dead or stranded or abandoned. Stray dogs over-run much of the Ninth Ward, where you can visit the Rescue Center.It is open Tuesday through Saturday, with limited hours. Better call first: 504 948-4505.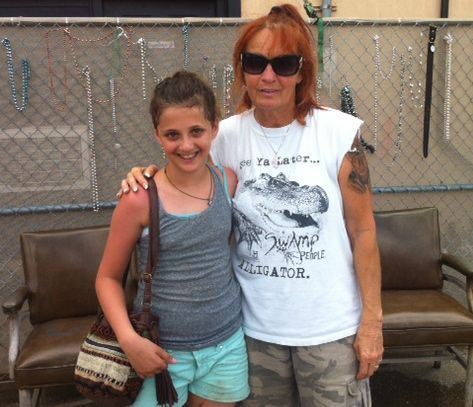 So Tia left California for New Orleans to stay after she originally had come to New Orleans following the hurricane to rescue many dogs and brought them to her California base. In a sense, Tia has created a tourist attraction as well as an unusual halfway house--for both ex-cons and once-vicious dogs. Both are getting used to society, to people treating them kindly and with respect.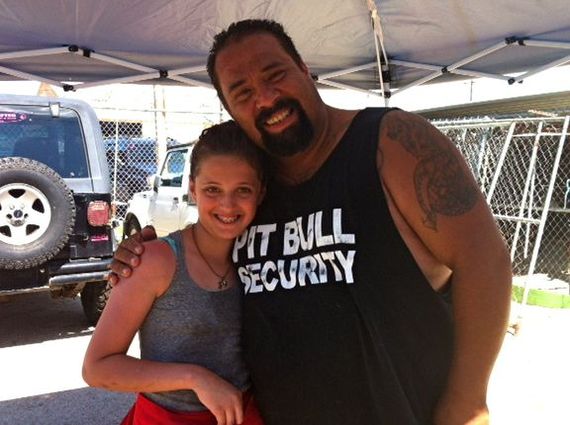 Jane immersed herself among the pit bulls--hardly the fearsome creatures that we read about, usually after they've clamped their jaws on some other animal. She even got to meet Tia, who has made this her calling (I suppose everyone needs to do something that makes them happy). Of all the things we've done with Jane, who recently celebrated her 13th birthday, this was the most inter-active. Tia was engaging and interested in what Jane had to say and expansively answered all her questions.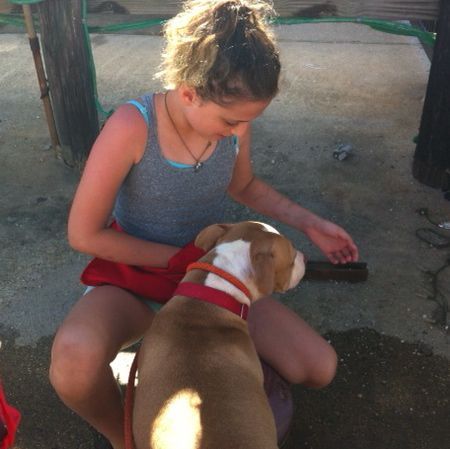 We had started our excursions with Jane when she was 10. Precocious, she had said to her mother some time after they moved to London, "I've seen all the capitals of Western Europe, but I've never seen my own." So we took her to Washington. We had called our Congressman and got one of his aides to give us a tour of the Capitol.
From there, we took her to Chincoteague Island, off Virginia. It is that noted place where "wild" horses roam and the famed children's book "Misty of Chincoteague" takes place. You're not supposed to pet the horses -- they are, after all free-roaming and hence untamed. But what can you do when a foal nuzzles up to you and the mother stands by without making a sound? You pet the cute little thing.
We also visited the Misty museum where, stuffed, Misty looks almost frisky. It is a welcoming place for kids.
Another summertime trip took us up north and the Boston aquarium. There, she petted a baby hammerhead shark (don't tell the attendants), which swims in a shallow elevated pool. Boston is a particularly cool place for kids because there are so many young people, all of them seemingly on way to class somewhere.
Of course, the easiest trip for us has been New York City. We live in the heart of it, a 10-minute walk to Central Park. So we went to the entrance just off Fifth Avenue, where the horse carriages line up, waiting for fares. The drivers encourage you to pat their horses. And just a short walk inside the park is the zoo.
We're already planning next summer's visit. We're thinking about the Animal Medical Center, one of America's largest animal hospitals. It hosts an annual PAW day at Carl Schurz Park, where veterinarians show children how to care for animals, among other al fresco classes.

But for me now, as I wait for the first snowfall, I think of Jane and her immersion into the world of pitbulls and the Ninth Ward and the mystery and failures and reinvention of New Orleans. And how society's outcasts -- those pitbulls, those parolees -- find one another and somehow emerge stronger.