Would you like to know what the world's fastest-growing and largest live-streaming platform has in common with an owlet, disco bunnies, poodles, crazy cats, shiba puppies, squirrels, nesting eagles, bulldogs, chicks, elephants, schnauzers and over 500 Aids orphans in Zimbabwe?
Yes? Then I suggest you read on.
Last week, I had the pleasure of speaking to David Thompson, the senior vice president of Ustream, an amazing organization which helps non-profit broadcasters with very great content and compelling stories to broadcast their stories and help them raise funds for their cause through micro donations.
David explained that the organization was delighted to put together the 12 Days of Cuteness video and to give it to a very serious and worthy cause, the Africa Alive Education Foundation, a non-profit organisation based in New Zealand which I founded in 2007 to sponsor over 500 AIDS orphans in Zimbabwe. He explained that his company has generated a lot of goodwill and is an amazing community with a passion for nature -- and especially animals.
The network is like a 24-hour reality show of pets, animals, wildlife and domestic animals all coming together. It shows the amazing human interaction and devotion to the cause of the earth, as well as preserving the amazing ecosystem that we have on this planet.
"It's in the spirit of that passion and dedication that we think it's great in this holiday season to give. The video is cute and light-hearted, and we can take that cuteness and really channel that energy into something that is not only daunting but truly worthy. The Africa Alive Education Foundation is tackling perhaps one of the hugest health and education challenges that one can imagine; bringing a message of hope and a message of education about AIDS to the people of Zimbabwe who have limited access to healthcare services," David said.
When I asked David what gift had changed his life, he told me a story that touched my heart. He explained that the most profound and transformational life experience he has ever had was finding his son Lucas. David and his partner have been together for nearly 30 years, and about two-and-a-half years ago they decided to have a family. Being a gay couple made it biologically impossible, so they decided to adopt. They worked with a great adoption agency in San Francisco and posted their story on their website.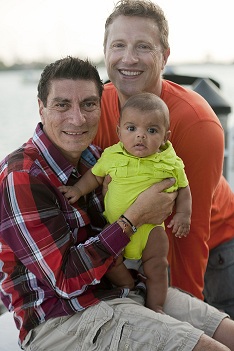 They were delighted to get a response from a 25-year-old woman who was five months pregnant with her third child. She was living in the depths of Tennessee, and she chose them as the adopted parents for her son.
David describes his one-and-half-year-old son Lucas as the cutest little boy he has ever seen, and said that every day when he looks at him it's hard to believe that someone would gift a baby to them; he's a miracle. That is why he is inspired to help orphans in Zimbabwe, because children are a gift to all mankind. He feels that there is a spirit of giving and generosity that comes into focus around the holiday season, and that's why his company Ustream create things like the cuteness video.
David said, "The goal is to transcend giving to any time of the year and to become a global philosophy that frames how we live."
The Africa Alive Education Foundation needs help in the following ways:
1. Become an ambassador or sponsor an ambassador to go on a 10-day trip to Zimbabwe to help.
2. Contribute towards school fees, books and stationery for the children.
3. Contribute to the feeding program at the school. 15 cents will give a child a bowl of porridge every day.
For more about Ustream click here
For more about the Africa Alive Education Foundation click here
For more articles by Getrude Matshe, click here
Follow Getrude Matshe on Facebook