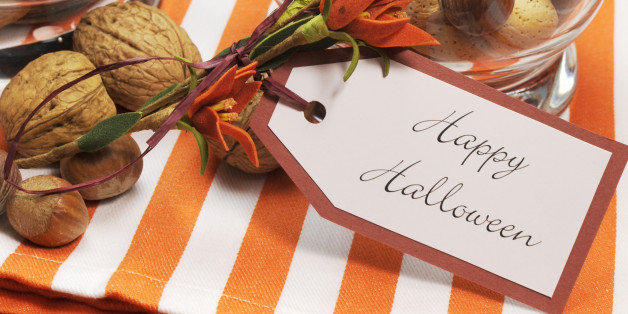 At my house, we are in Halloween count-down mode, and between costume prep, candy shopping, pumpkin carving and general holiday festivities, dinner this week will be stress-free, healthy and yummy. This time of year always inspires me to pull out my slow cooker, and I'm happy to share a sneak peek of some hauntingly delicious recipes included in the Halloween issue of Giada: A Digital Weekly.
Vegetarian ghosts and vegan goblins will enjoy this ghoulishly delicious lentil, kale and mushroom soup, but not to worry if you have flesh-eating zombies coming... just add some a half-pound of cooked kielbasa to the pot for the last few minutes of cooking!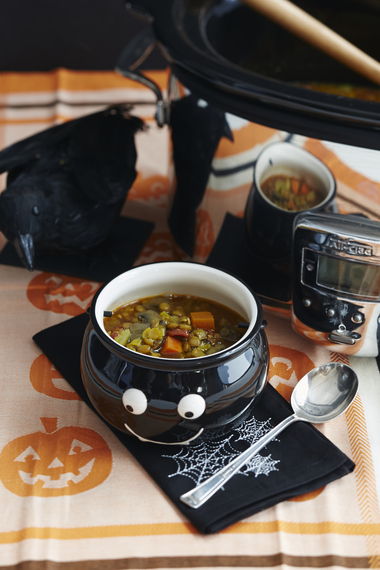 Slow Cooker Lentil, Kale and Mushroom Soup
Serves 6
2 teaspoons extra-virgin olive oil
2 carrots, peeled and diced
2 celery stalks, diced
1 medium leek, cleaned and finely chopped
1 small celery root, peeled and diced
1 teaspoon ground cumin
1 teaspoon ground turmeric
1 teaspoon ground coriander
1/2 teaspoon kosher salt
1/4 teaspoon ground cinnamon
1/4 teaspoon freshly ground black pepper
1 cup sliced cremini mushrooms
1 15-ounce can diced fire-roasted tomatoes
1 cup lentils, rinsed and picked through for debris
4 cups low-sodium vegetable broth
5 large kale leaves, chopped
1 5-6 quart slow cooker
Place the oil, carrots, celery, leek, celery root, cumin, turmeric, coriander, salt, cinnamon and pepper in a slow cooker and toss to coat. Add the mushrooms, tomatoes, lentils and vegetable broth and stir to combine. Cover and cook on high for 4 to 5 hours until the lentils are tender. Stir in the chopped kale and allow to wilt for 5 minutes in the warm soup before serving.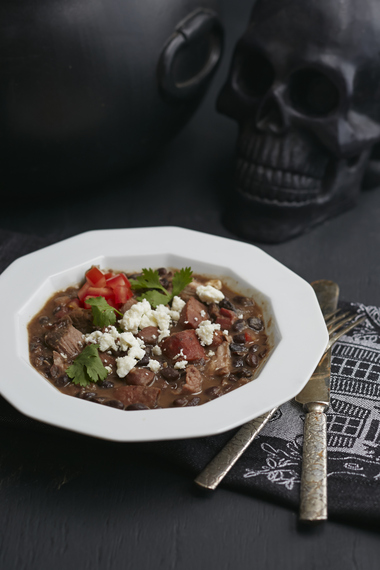 Slow Cooker Black Bean and Pork Stew
Serves 6
Black beans lend this savory, hearty stew a spooky appearance and the mild heat of smoked andouille sausage will warm chilly tricker or treaters and their parents. This is made in a 5-6 quart slow cooker.
4 ounces pancetta, diced
1 large onion, diced
2 garlic cloves, minced
1/2 teaspoon kosher salt
1/4 teaspoon fresh ground black pepper
2 pounds boneless pork shoulder, trimmed and cut into 1-inch cubes
2 pork or chicken andouille sausage links, chopped
2 cans black beans, rinsed and drained
1 1/2 cups low sodium chicken broth
1 cup cooked white rice (optional)
1/4 cup queso blanco
2 plum tomatoes, diced
2 tablespoons chopped fresh cilantro
Place the pancetta in a medium skillet over medium-high heat, and cook about 4 minutes until it begins to brown. Add the onions and garlic and cook for another minute until the onion begins to soften. Transfer the pancetta mixture to the slow cooker. Sprinkle the pork with the salt and pepper and add to the skillet. Cook the pork 1 to 2 minutes per side until the cubes are golden brown all over then transfer the pork to the slow cooker. Add the sausage, black beans and chicken broth, stirring to combine. Cover and cook on high for 4 to 5 hours or low for 8 hours until the pork and beans are tender. Gently break up the pork pieces with a wooden spoon or shred with 2 forks. Serve alone or over rice, garnished with queso, tomato and cilantro.
While Halloween dinner may be frightening healthy, that pile of candy corn is just frightening! For post-holiday recipe ideas, check out some of my great fresh start detox recipes!